I'm starting off fall with these super easy and healthy Air Fryer Apple Fritters. Featuring sweet crisp apples covered in a warm spiced batter filled with cinnamon, ginger, nutmeg and clove. Then "fried" in the air fryer for a crispy bite and then covered with a sweet maple glaze on top. If you have any leftover apples from apple picking this year, you must make these apple fritters! Since they are made in the air fryer, there is less mess and the fritters are healthier and so delicious. These air fryer apple fritters will quickly become your go to fall treat.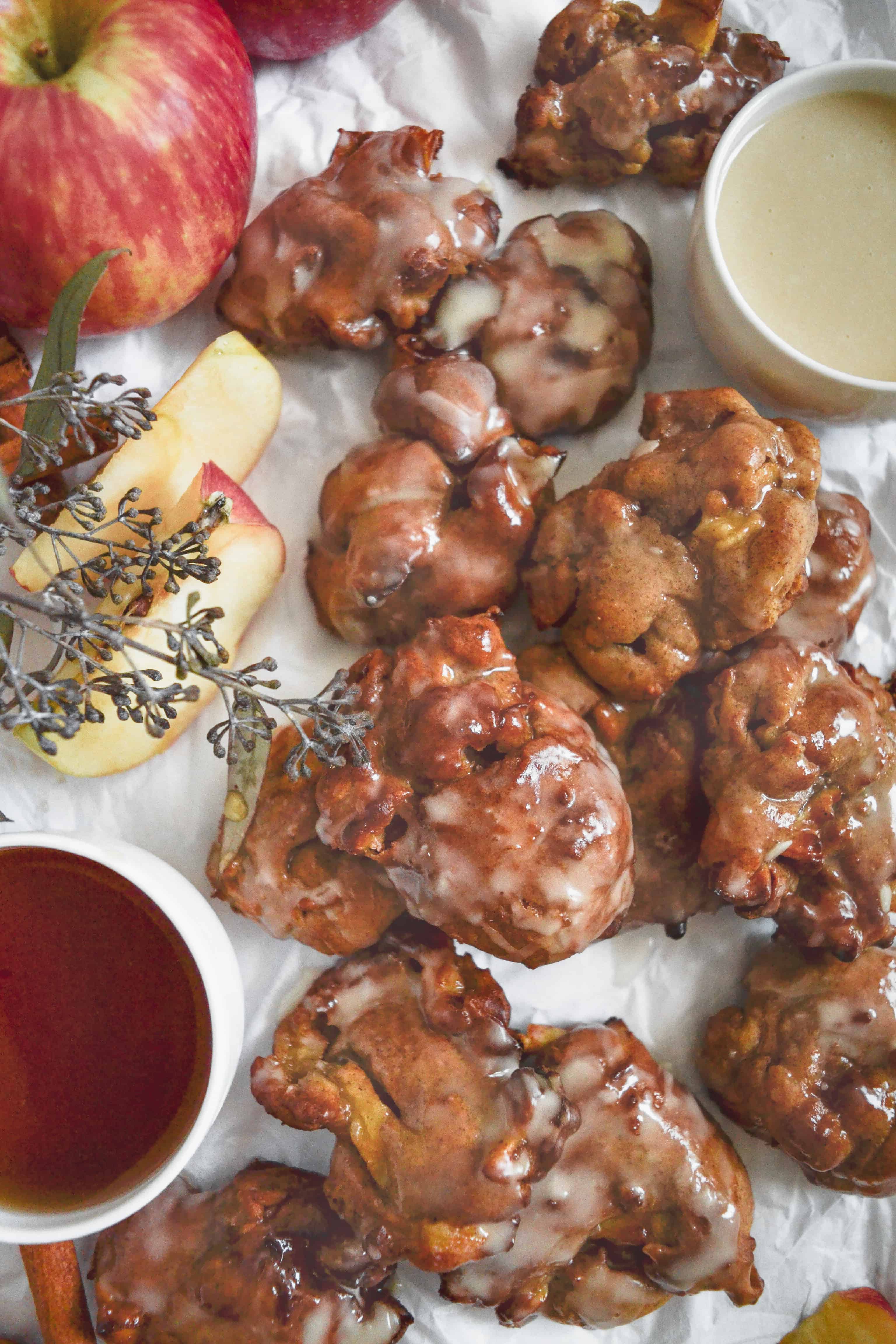 Happy September everyone! The best time of the year! Ok so I guess I am just like every other basic girl because I LOVE FALL. Pumpkin spice everything, scented candles, yellow and orange décor...I love it all! My husband and I grew up in upstate New York, and if you are from upstate New York you know what I mean when I say fall is something special here. It's almost treated like a holiday in and of itself…the rolling mountains covered in red, orange, and yellow leaves, hay rides, apple picking, cider, and fall festivals. I am getting the feels just talking about it! So long story short, about 4 years ago my husband and I moved to the southwest (El Paso, Texas to be exact) so that my husband could attend medical school there. Well let me tell you, the southwest is beautiful but when our first September hit there, I just remember thinking "when does fall happen here?". Then October came and went, then November and still NOTHING! No leaves changing, no festivities, no apple picking. So sad! The southwest is amazing but one thing it doesn't have is seasons (not like in the northeast anyway) and I truly missed that. So anyway we just moved back to NY this year and this will be the first time in 4 years that we will have a "true" fall again. I am so excited I might go extra heavy on the pumpkin spice this year!
So my husband and I went apple picking literally the first weekend in September. We did not waste any time. Apple picking is usually the first activity that puts me in the fall mood and of course we always bring home way too many apples. So then I become determined to come up with new fall desserts in order to use up all of the apples. Well these Air Fryer Apple Fritters are the first recipe that came to mind!
I LOVE apple fritters and they always bring me back to all of those fall festivals where I would get them fresh, hot and right out of the fryer. They are just fall perfection. But who wants to start deep frying anything at home? I mean all the oil, the splattering, the clean up, standing by the stove for hours...just way too much work. But what if I told you you can still have delicious apple fritters without ANY of the headache? My recipe uses the air fryer instead! It is a game changer you guys. I mean it is so much easier, faster, cleaner and even healthier. I will probably never go back to oil frying again!
CAN YOU COOK APPLE FRITTERS IN A AIR FRYER?
YES! Skip the oil and grab an air fryer for an easier, cleaner, faster and healthier apple fritter. These air fryer apple fritters are so easy to make! Start by brushing some vegetable oil on the wire rack of your air fryer as well as the bottom of your fritters. Place your fritters oil side down in your air fryer. Make sure to spread them out and not pile them on top of each other (so you may need to cook them in batches). Brush a little more oil on the tops of each fritter as well. Fry them on 400 degrees for 10 minutes. Then flip them over and brush the tops with a little more oil. Fry them again for another 8 minutes. Once done, top with your glaze and enjoy!
AIR FRYER APPLE FRITTER INGREDIENTS AND SUBSTITUTIONS
Apples. I like Honey Crisp apples the best but Granny Smith are also great in this recipe. But please use up those leftover apples, anything you have on hand will work!
Cinnamon. Cinnamon is one of the main spices in the warm fall batter.
Clove. Not many people like clove but it is not an overpowering amount, especially with the other spices. Clove helps round out the other flavors nicely but you can leave this out if desired.
Buttermilk. I like buttermilk because it makes for a more moist tender batter but if you also have regular milk on hand, feel free to replace it with this.
Maple syrup. I use 100 % real maple syrup. I know it is expensive but it is worth it. Otherwise your glaze will taste like high fructose corn syrup instead of maple!
Lastly, if you try out this Air Fryer Apple Fritters recipe, be sure to leave a comment/rating on how it turned out. I love hearing from you guys and will try my best to reply to every comment! And don't forget to tag me on Instagram!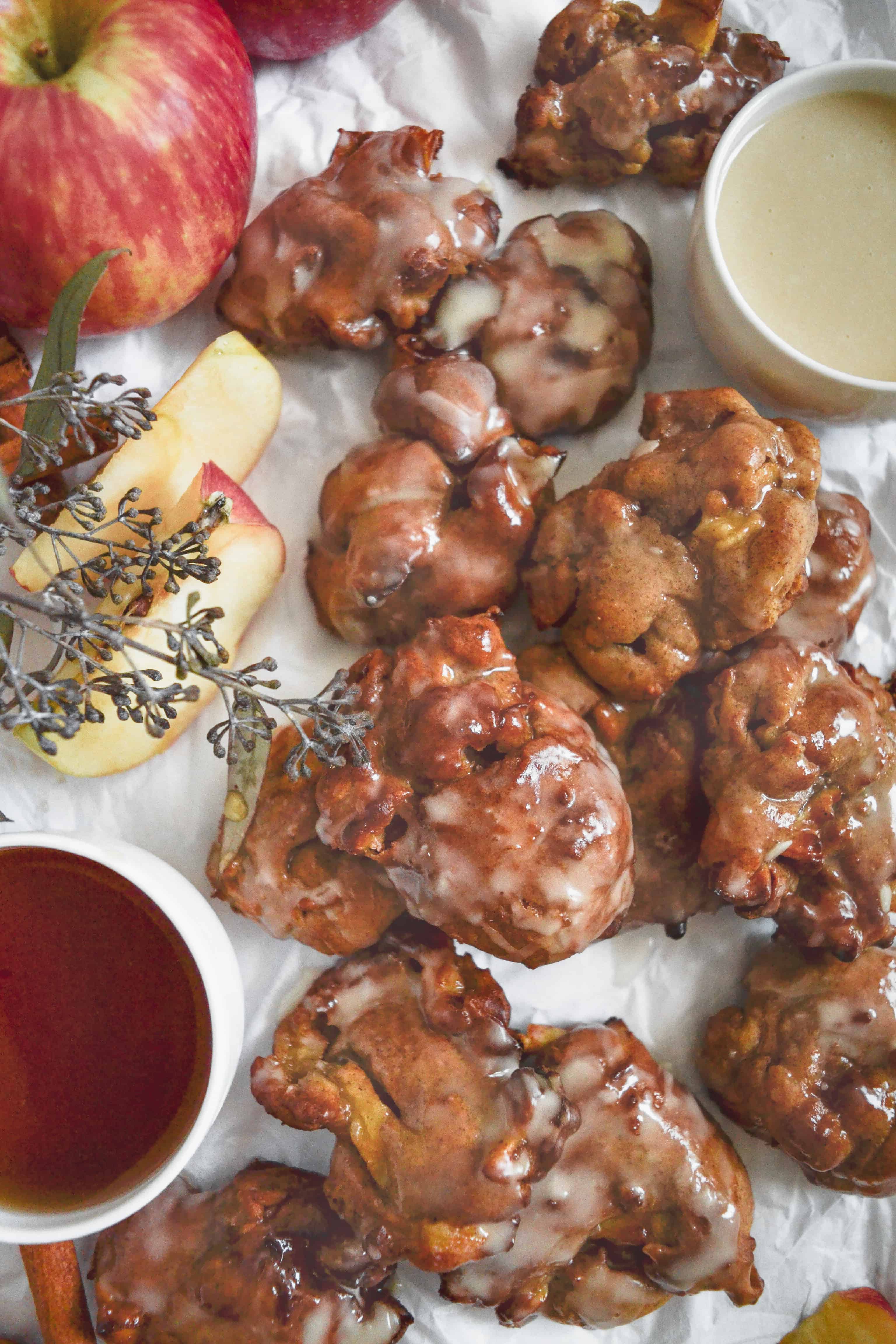 Air Fryer Apple Fritters
Ingredients
Fritters
2 ½

cup

flour

2

teaspoon

baking powder

2

tablespoon

cinnamon

2

teaspoon

ginger

1

teaspoon

nutmeg

¼

teaspoon

clove

1

teaspoon

salt

2

eggs

½

cup

brown sugar

3

tablespoon

salted butter (melted)

¾

cup

buttermilk

4

apples (honey crisp or granny smith)

¼

cup

vegetable oil
Maple Glaze
2

cups

powdered sugar

½

cup

maple syrup

2

tablespoon

milk
Instructions
Fritters
Peel, core and dice your apples. Set aside.

In a medium bowl mix your eggs, sugar, butter, and buttermilk. Then add your flour, baking powder, cinnamon, ginger, nutmeg, clove, and salt. Mix until combined.

Add your apples and mix until combined.

Line a cookie sheet with a silicon mat or parchment paper. Using a table spoon, dollop your fritter batter on your cookie sheet, making about 24 fritters. Place in the freezer for at least 3 hours.

Once chilled, get your air fryer ready. Brush some vegetable oil on the wire rack of your air fryer as well as on the bottoms of your fritters. Place your fritters (oil side down) in your air fryer. Brush the top of each fritter with a little more oil. Make sure to space them out and do them in batches. Do not pile them on top of each other. Keep the other ones waiting in the freezer.

Turn your air fryer to 400 degrees and fry your fritters for 10 minutes. Then flip over your fritters, brush the tops with a little vegetable oil, and fry again for 8 minutes.

Take out your fritters and place on a wire rack. Continue with the remaining batches. I recommend frying them fresh as you eat them for the best, crunchiest result.
Maple Glaze
In a small bowl add your sugar, maple syrup, milk and whisk.

Pour as much glaze as you desire over your fritters.