Sweet, fancy, dainty, lemony, and floral...these Lemon Lavender Shortbread Cookies are perfect for your summer baking. Lightly sweetened buttery shortbread cookies with a touch of lemon and lavender. These lemon lavender shortbread cookies are so dynamic in flavor and so delicately balanced! You are going to feel so fancy and happy eating them! They pair perfectly with a hot cup of tea, morning or night. These cookies are so easy to make, so pretty, and delicious!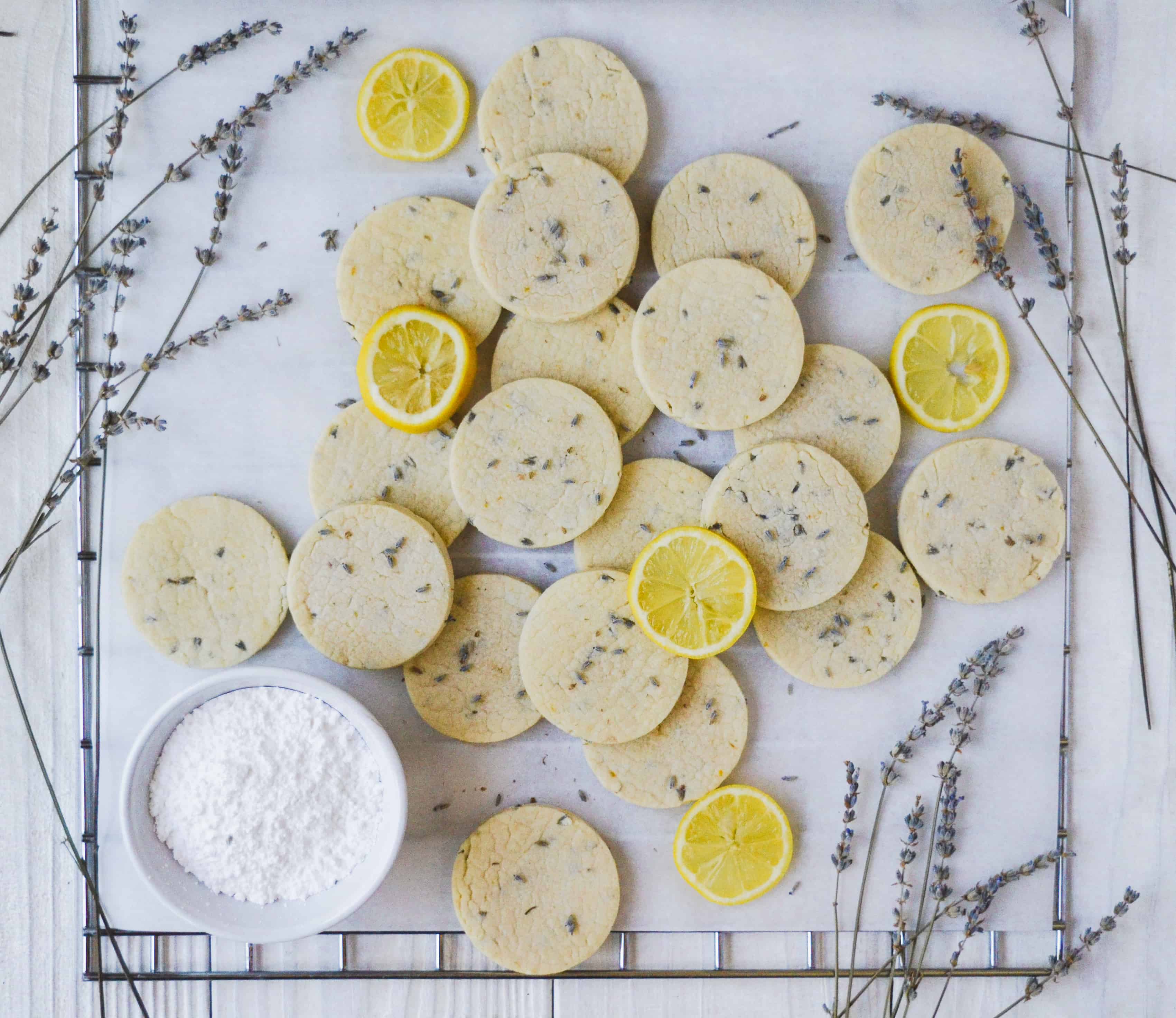 If you follow my blog you know I am obsessed with shortbread. Shortbread cookies, shortbread bars, and shortbread crumble…I cannot get enough! I think it's because they are so simple and it is as close as I can get to eating pure butter without being completely disgusting. These cookies are so buttery that they literally melt in your mouth. I also love that they are not too sweet! So I love to have one or two (or three…) of these cookies for breakfast with my tea. And for some reason I don't feel guilty because I don't feel like I'm eating a cookie? Or at least that's what I tell myself!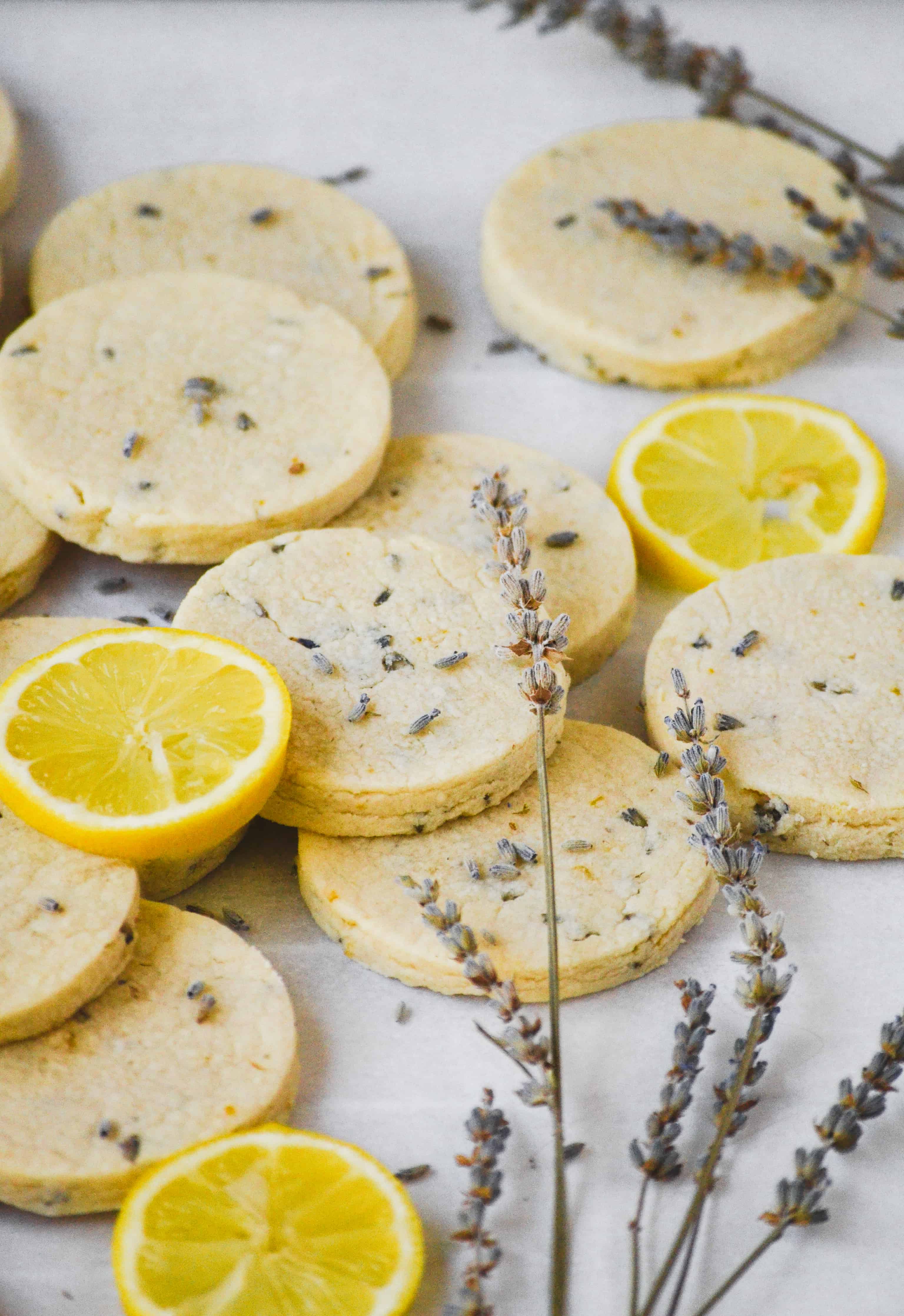 So long story short, I am always coming up with new shortbread cookie flavors. I usually like to pair them with delicate flavors since they are delicate cookies. So what is more delicate of a flavor than lavender? Nothing really... so lavender is perfect for my cookies. It has a delicate floral flavor (which almost has hints of rosemary and mint) and pairs perfectly with lemon. That bright citrus with the floral lavender screams spring and summer!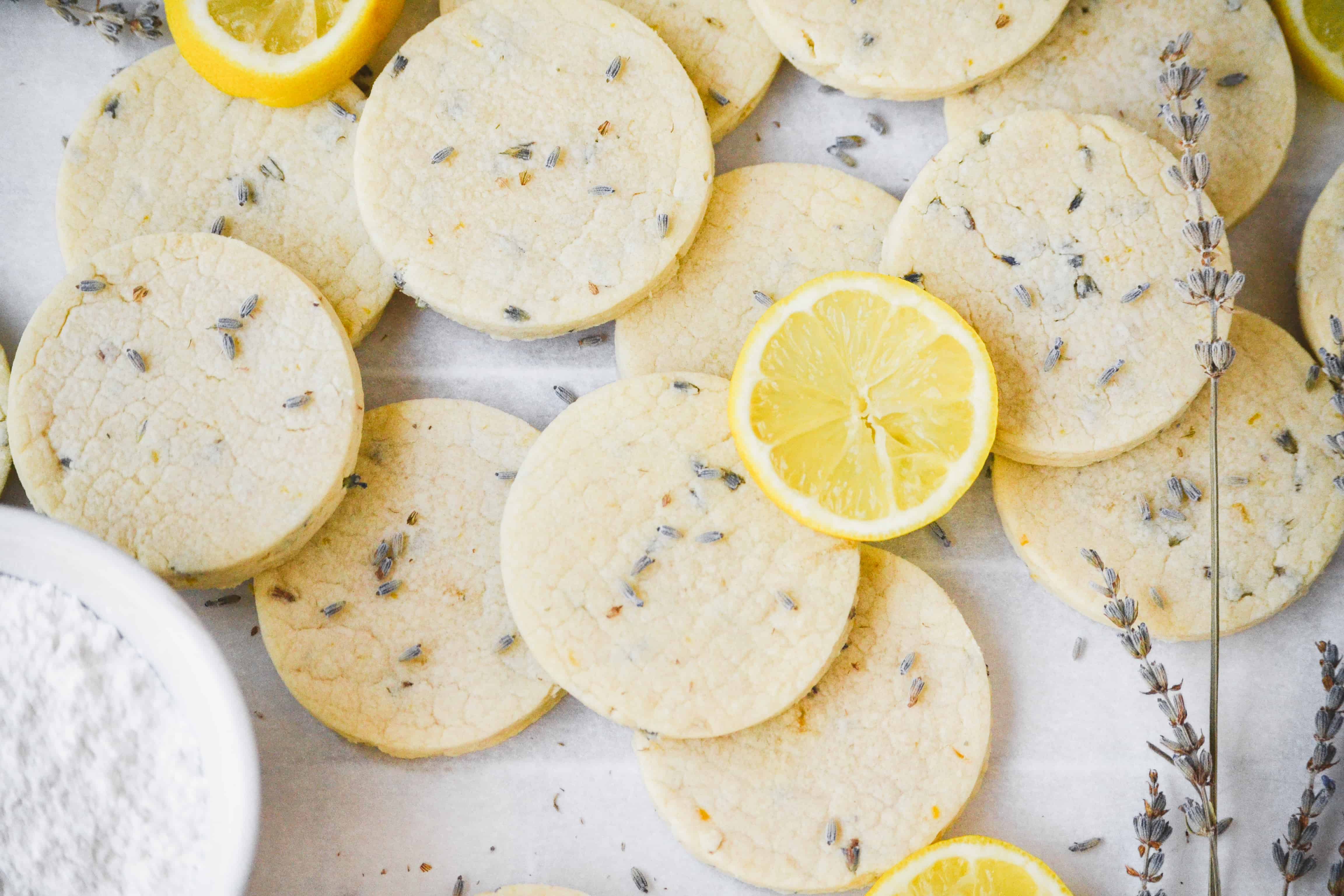 HOW TO MAKE SHORTBREAD COOKIES
Making homemade shortbread cookies is so EASY! This is secretly why I love them so much. They have very few ingredients and are done in minutes! You simply add all of your ingredients to the bowl of a stand mixer and combine until the dough is crumbly, almost like wet sand. Then knead together with your hands. You may think the dough is too dry but trust me it's not. This makes for a very crumbly delicate and soft cookie. From there, roll out your dough to about ½ an inch thick and cut out your cookies! I use a small biscuit cutter to get a simple circle shape but you can also use any cookie cutter. The next step is crucial: make sure to put your cookies in the freezer before you bake them. This helps the cookies hold their shape in the oven. If you don't do this, your cookies may spread to a thin mess. Then bake and eat!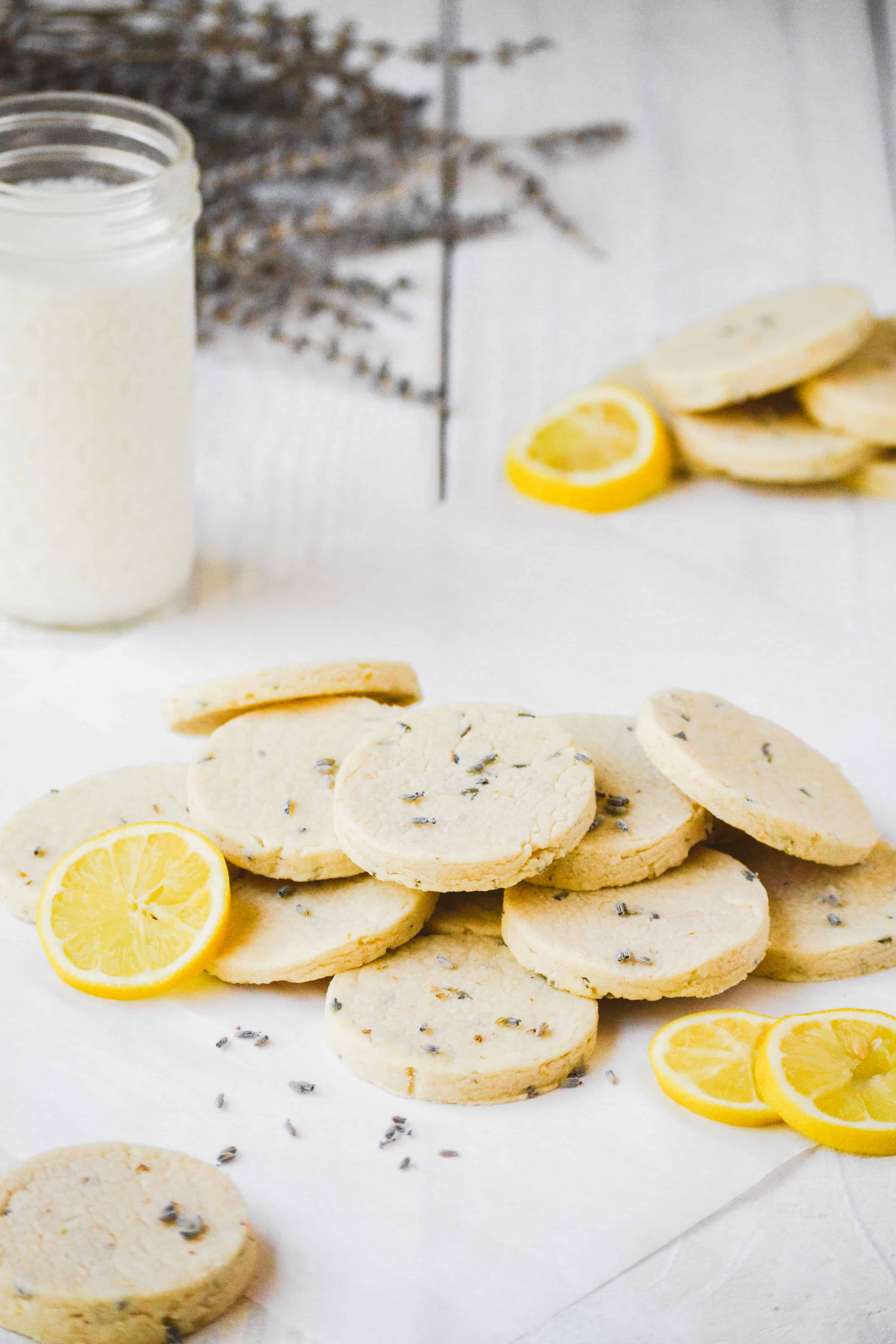 HOW TO BAKE WITH LAVENDER
So baking with lavender is controversial. Some love it (like me) and others are opposed to the flavor and feel and compare its taste to soap. And they are not completely wrong. Yes, if you use too much it can be a very overpowering flavor and taste like you are eating a bar of soap. But if you use it correctly, that shouldn't happen. I used to be so intimated to bake with lavender for this reason, but that is stupid because lavender is just an herb. And like any other herb the more you use it, the more you learn its limits so it doesn't become too overpowering. Since lavender is a strong flavor, make sure to learn its limits and pair it with other strong bright flavors like lemon and blackberry. If using dried lavender, you can literally just pluck the lavender buds off the stem and mix it in your recipe. You can also make your own lavender water or lavender milk by boiling it in water or milk and then using it in stuff like bread or muffins. Have fun and do not be intimidated!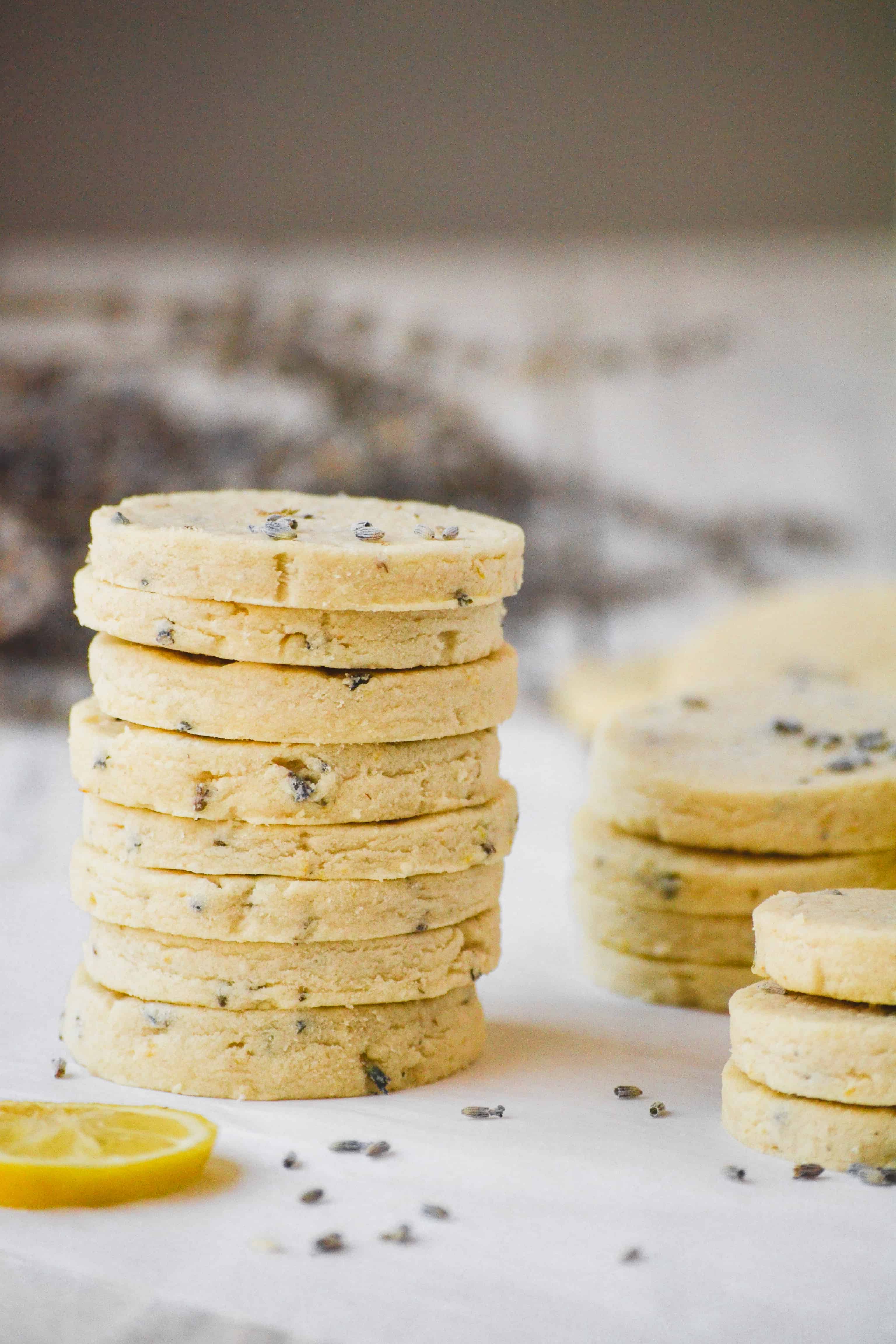 Lastly, if you try out these Lemon Lavender Shortbread Cookies, be sure to leave a comment/rating on how they turned out. I love hearing from you guys and will try my best to reply to every comment! And don't forget to tag me on Instagram!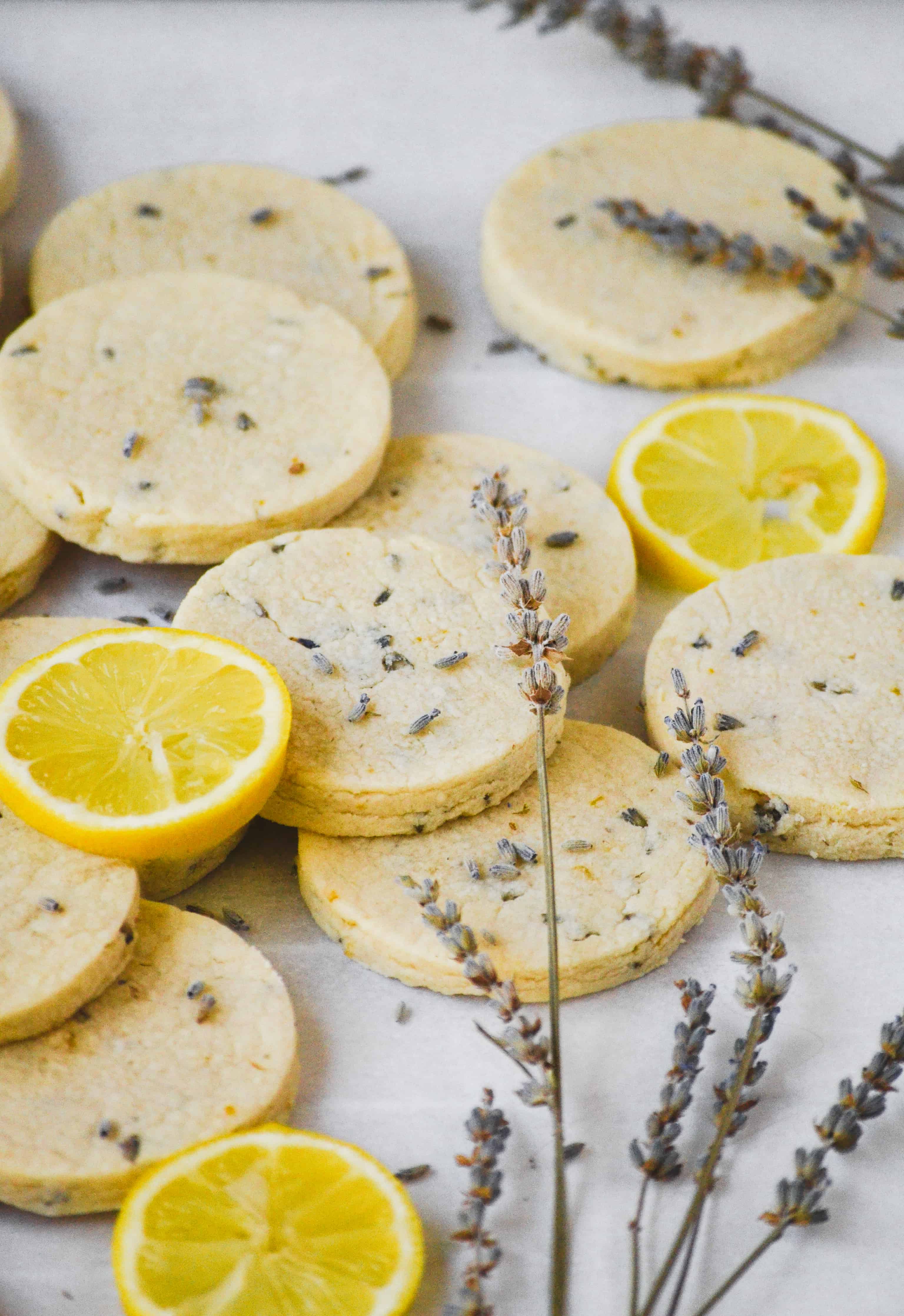 Lemon Lavender Shortbread Cookies
Ingredients
1

cup

salted butter

¾

cup

powdered sugar

2

cups

flour

¼

teaspoon

salt

zest of 3 lemons

2

tablespoon

dried lavender
Instructions
In a large bowl combine your sugar, flour, and salt. Mix until combined.

Dice up your cold butter. Using a pastry cutter, cut in your butter until your butter and flour is about the size of oats and resembles wet sand.

Add your lemon zest and dried lavender. Mix with your hands and start to kneed your dough together. Your dough should be a crumbly dry texture but that is correct. Keep kneading and working until your dough is combined (if you are struggling with that you can use a stand mixer on low speed to combine).

On a heavily floured surface roll out your dough using a rolling pin, until your dough is about ½ inch thick.

Using a small biscuit cutter (or cookie cutter) cut out your cookies and transfer them to a baking sheet (with parchment paper on it). Re-knead your scraps together and repeat until all your dough is used.

Pre-heat your oven to 325 degrees and let your cookies rest in the freezer for at least 15 minutes. (DO NOT skip this step)

Bake your cookies for 12 minutes.