These sweet, sticky, yummy and healthy Tahini Granola Bars are everything you need on the go. These little bars are sweet and salty, nutty and fruity, with a little chocolate drizzle on top. They are packed with so much protein, fiber, and healthy fats. Great for an on the go snack or an energy boost right before a hike. They are delicious and better yet...healthy!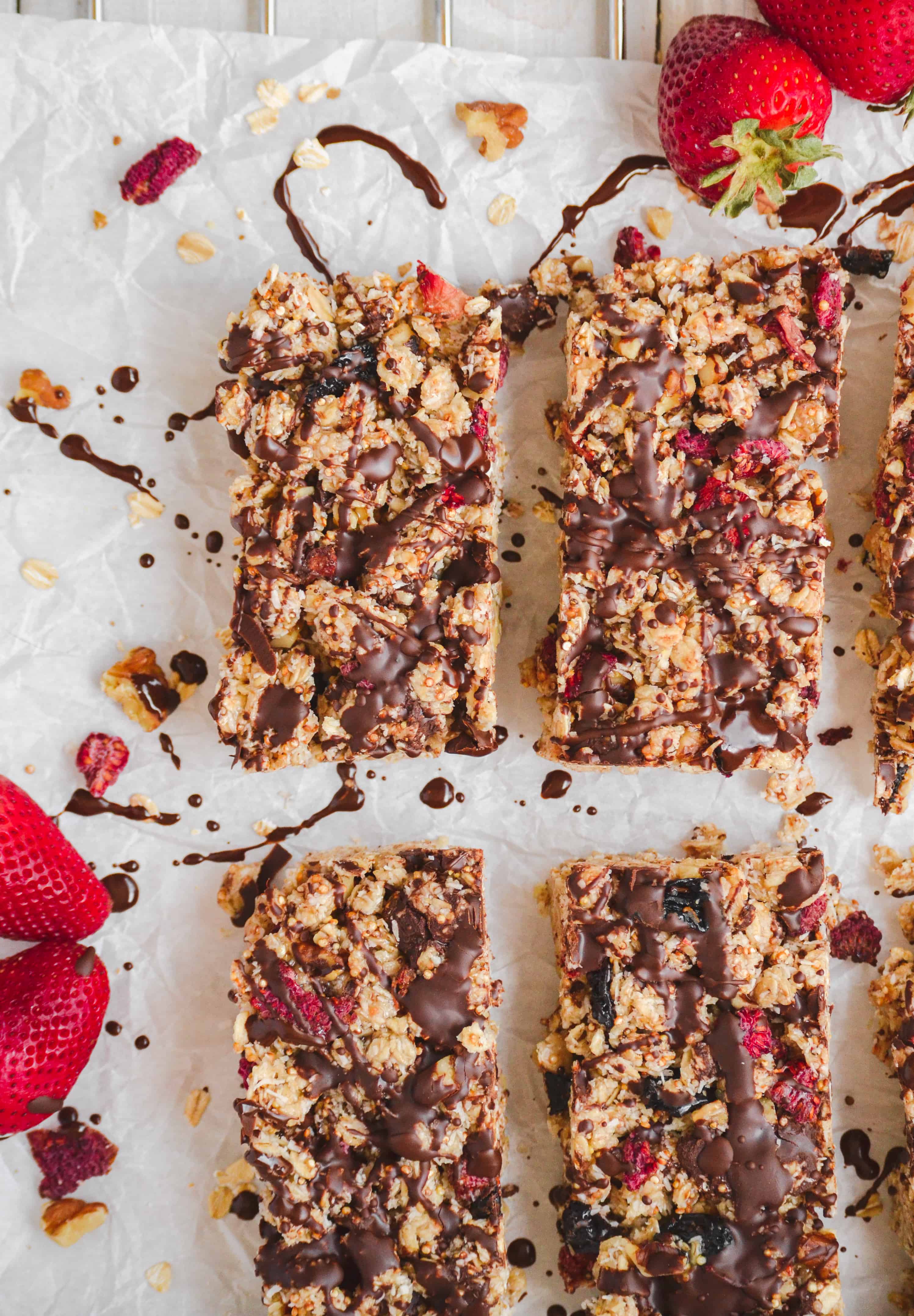 I thought this would be the perfect time to develop a healthy, protein, and energy filled recipe because my husband and I are about to need it! We are about to get on a plane to go on our long overdue honeymoon! So me and my husband actually had a beautiful wedding and honeymoon planed for June of 2020 but, like everything else that year, it got canceled. That was a devastating pill to swallow. We decided to still get married, just us privately because well we couldn't wait anymore (I really love that man!). But now that things are picking back up again, we are finally going on our honeymoon. Our original one was planned for Iceland but we had to switch it to something national so we chose Hawaii! We are so excited! I will have to tell you all about it and just wait for all of the Hawaii inspired baked goods to come! Anyway we have a 14 hour flight so we will need some good snacks that will fill us up and keep us satisfied on that plane ride. And that's where these Tahini Granola Bars come in!
HOW TO MAKE POOPED QUINOA
I love adding popped quinoa in these bars because it is filled with protein and fiber and it gives a nice crunch! You can buy popped quinoa for this recipe which is a lot easier, but it is sometimes hard to find and expensive. So you have a few options: replace it with something else like more oats, puffed rice cereal, or even flax seeds or you can make your own! To make your own pooped quinoa, first dry your quinoa by spreading it out on a cookie sheet and placing it in the oven at 200 degrees for 4 hours. Then heat up a Dutch oven or heavy pot. Add your quinoa to the hot pot. Cover the pot and wait until you start hearing the quinoa pop, then start shaking the pot to prevent it from burning. Done!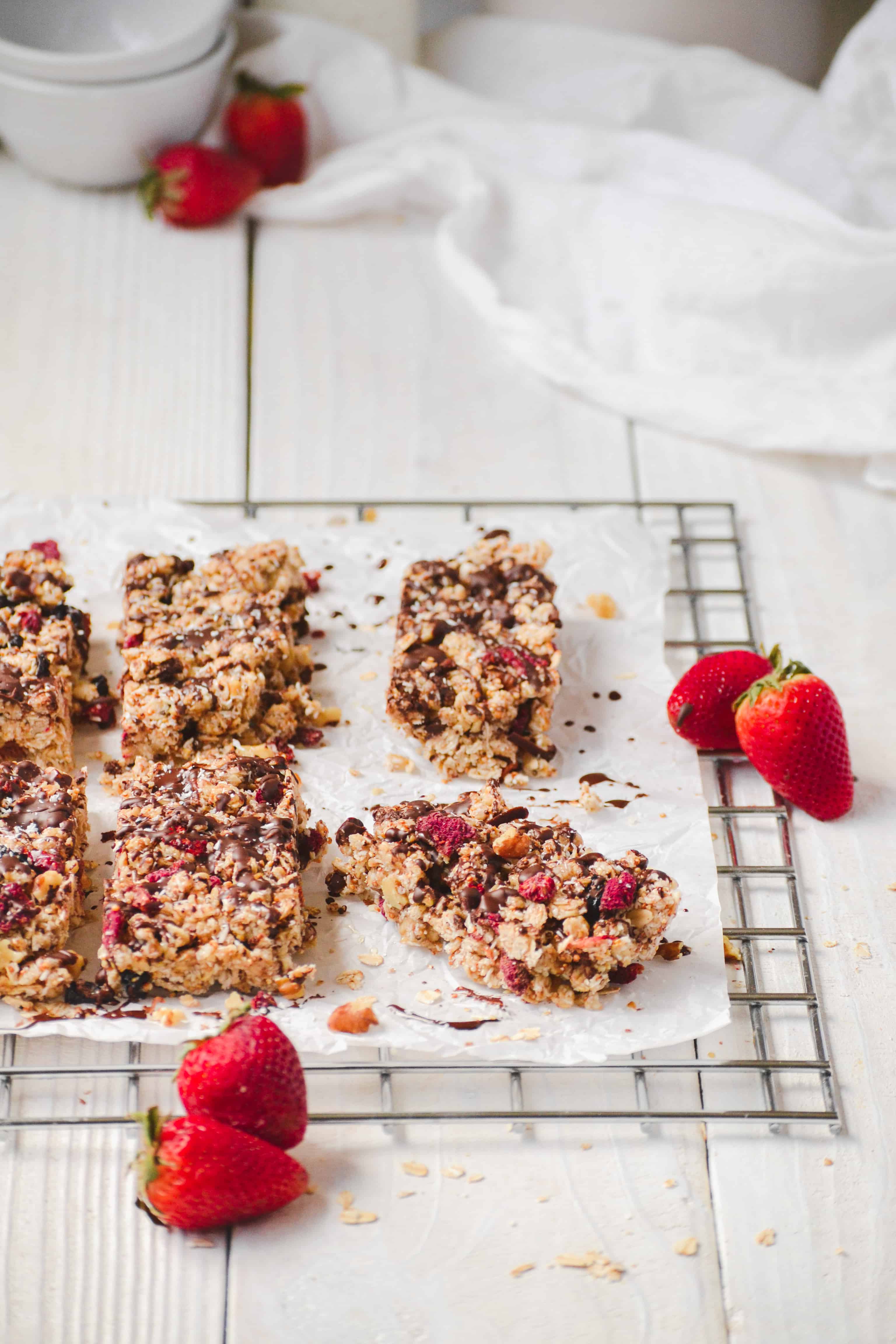 HOW TO DRY YOUR OWN FRUIT
Now I chose a mix of my favorite dried fruits for these bars, but of course you can choose any fruit you want! If you don't want to spend the extra money on fancy dried fruits, you can dry your own fruit! To do this, cut up, dice or slice your fruit the way you desire. Then place the fruit on a cookie sheet lined with parchment paper. Do not use foil and do not combine types of fruit on one pan since they dry at different times. Place these fruits in the oven at 200 degrees for 10 plus hours until they are chewy and fully dried!
GRANOLA OR GRANOLA BARS
So this recipe is for pressed tahini granola bars but you can always use this same recipe for loose granola. Just skip the step of pressing it into a baking dish. Instead lay the tahini granola mixture out loosely on a large cookie sheet and bake it at 325 degrees in two 10 minute intervals stirring it around in-between.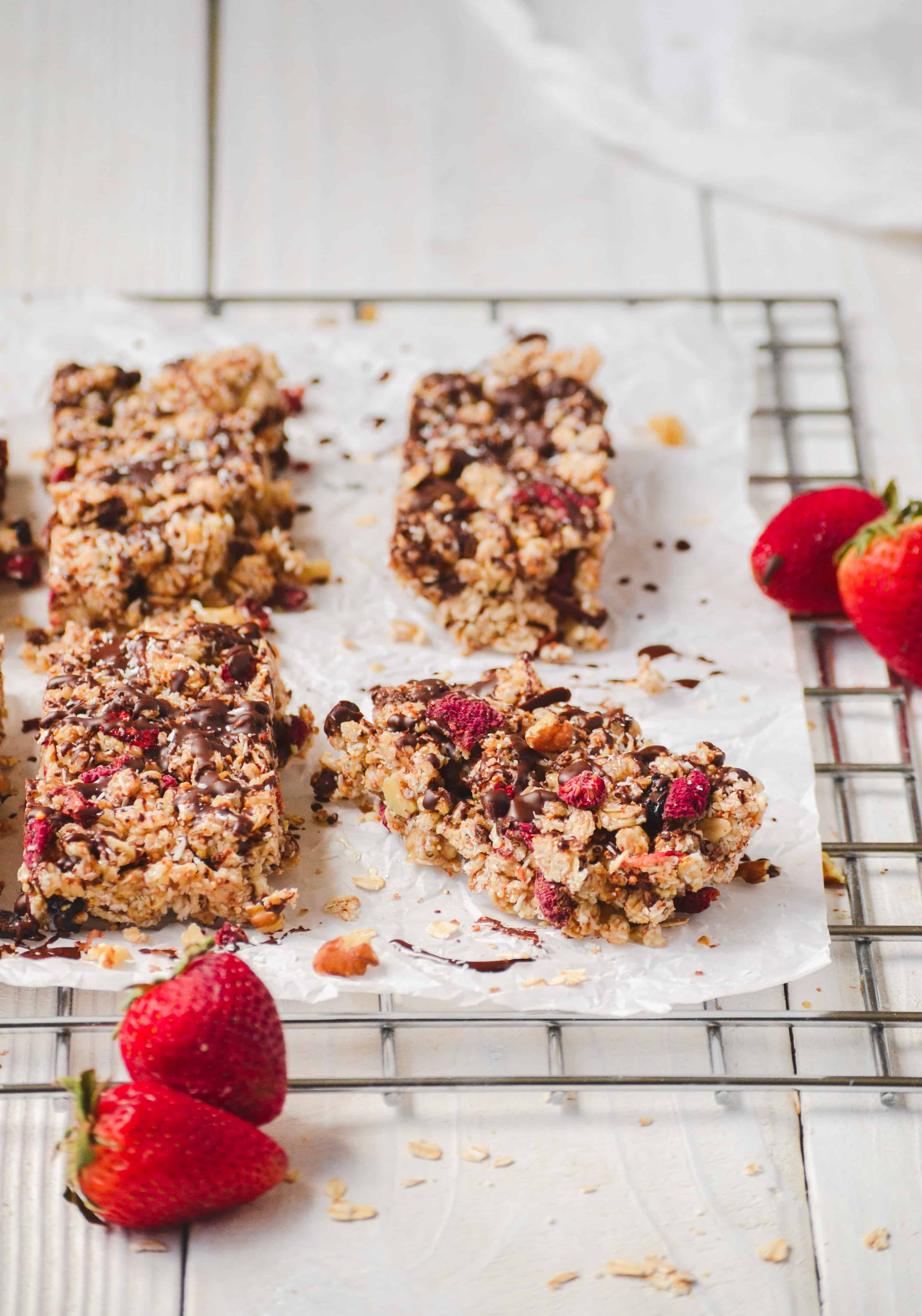 WHAT IS TAHINI
Tahini is a condiment from the Middle East. It is essentially roasted and ground up sesame seeds. It's a major ingredient in hummus and a lot of Middle Eastern foods. It is an oily paste and kind of looks like peanut butter. It has a strong nutty/earthy flavor that can be a little bitter and is not sweet. I like it because it adds the nutty flavor and healthy fats to my granola that peanut butter adds without the sweetness. You can always switch out the tahini for another nut butter like peanut butter if you prefer but I suggest you try it if you can. It's super good for you and packs so many antioxidants in your granola bars!
Lastly, if you try out these Tahini Granola Bars, be sure to leave a comment/rating on how they turned out. I love hearing from you guys and will try my best to reply to every comment! And don't forget to tag me on Instagram!
Tahini Granola Bars
Ingredients
1

cup

tahini

1

cup

honey

1

tsp

salt

2

cups

oats

½

cup

popped quinoa

1

cup

shredded coconut

½

cup

dried raspberries

½

cup

dried strawberries

½

cup

dried cherries

½

cup

chopped walnuts

½

cup

dark chocolate chips
Instructions
In a medium sauce pan add your tahini, honey, and salt and heat it up until you get a light boil. Remove from heat.

In a large bowl combine your oats, popped quinoa, coconut, raspberries, strawberries, cherries, and chopped walnuts. Mix well.

Add your honey and tahini mixture to your bowl and mix well.

Line an 9x9 inch baking dish with parchment paper (allowing the paper to fold over the edges).

Press your granola mixture into the bottom of your pan.

Refrigerate for about 1 hour. Cut and serve.
Nutrition
Serving:
1
bar
Calories:
692
kcal
Carbohydrates:
88
g
Protein:
14
g
Fat:
35
g
Saturated Fat:
10
g
Polyunsaturated Fat:
15
g
Monounsaturated Fat:
8
g
Cholesterol:
1
mg
Sodium:
348
mg
Potassium:
479
mg
Fiber:
8
g
Sugar:
54
g
Vitamin A:
297
IU
Vitamin C:
4
mg
Calcium:
123
mg
Iron:
4
mg