These Tahini Oatmeal Cookies are healthier than your average cookie and oh my...SO DELICIOUS! These are some of the BEST cookies I have ever had; they are rich, decadent, gooey, chewy, and guilt-free. Each bite of these tahini oatmeal cookies is slightly crisp on the edges and chewy on the inside, with melted sweet chocolate chunks and a chew from the dates. It is everything a cookie should be.
Ok guys, so today is actually a special day for me because it is my birthday! I am turning 29 today. That's right, it's my last year in my 20's (such a scary thought). I have never really been a big birthday person. I don't do big celebrations or anything and I usually like to spend it doing something simple like hiking with my husband and my sweet dog Mila. Usually, I make my husband cook for me because honestly, my two favorite things to do in life are hike and eat! Sounds perfect to me!
As for the traditional/obligatory birthday cake, I have a confession...I don't like cake. There I said it. I know it sounds insane, how can a baking blogger not like cake? Also, how can a human being not like cake? But hear me out. It's not that I do not like any kind of cake it just has to be amazing....rich, decadent flavors, super moist, fruity, or chocolaty. If it is a just basic store-bought vanilla cake with super sugary buttercream frosting, I am not eating it. Cake can really be a hit or miss. Sometimes I find a cake to just taste like sugar and nothing else, which I hate, but a really good cake shouldn't, and that I will eat!
So long story short, I grew up every birthday with my mom buying me a cake from the grocery store on my birthday. And well those cakes are just gross... super sugary, too much food coloring...YUCK!! Apparently I even had a mature pallet at age five. So being that I am the baker in my family, I always bake cakes for other peoples birthdays but not for my own. So you guessed it...the grocery store birthday cake still comes around every year. And for some reason I always feel obligated to eat it. But not this year. This year I decided I am going to bake for myself! But why cake when what I really love even more than an amazing cake is...COOKIES!!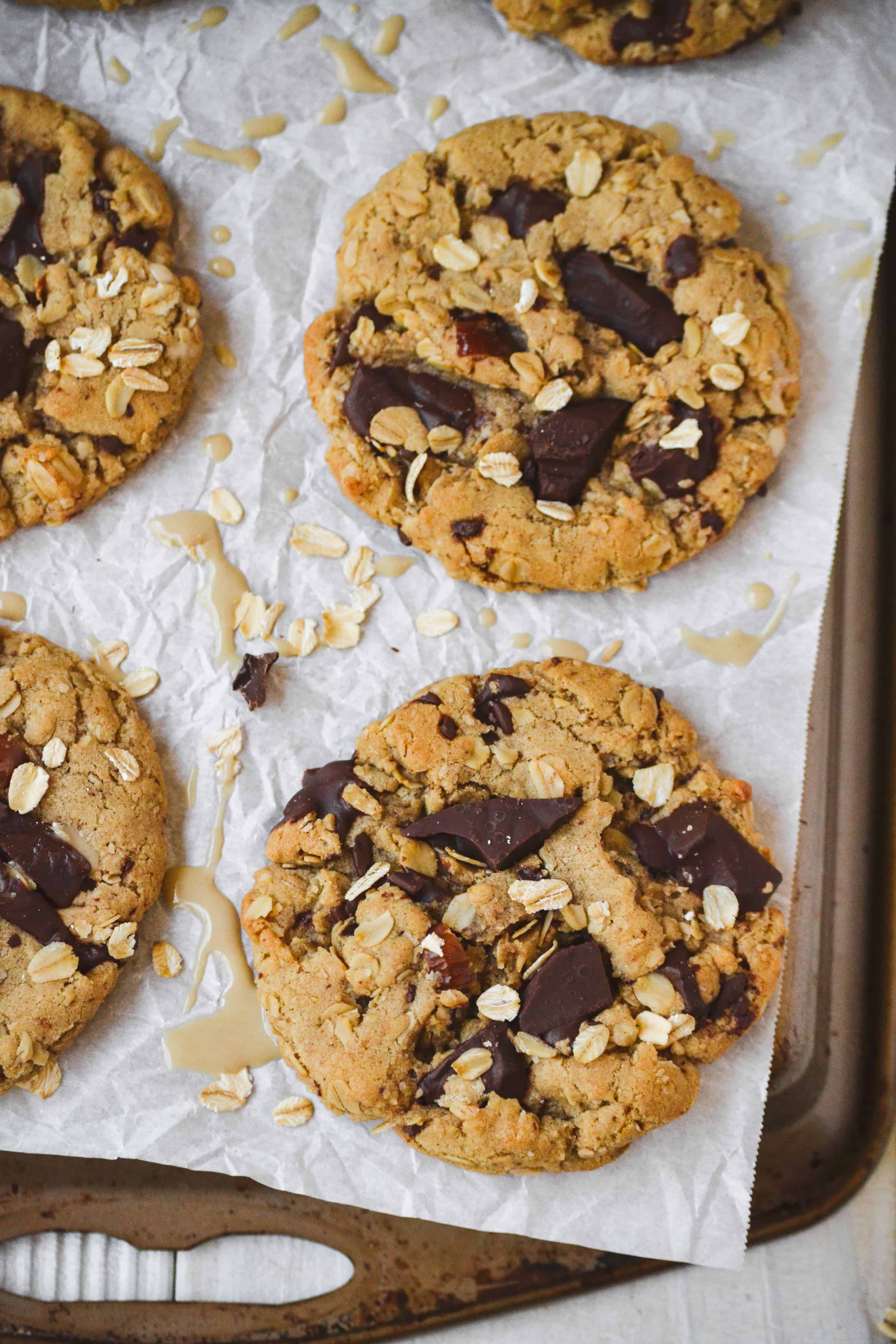 The truth is guys my secret love in life is cookies. I cannot get enough of them. And an even deeper secret is I am a closet raw cookie dough eater. I know it's bad but I cannot help myself. I always save a little dough at the bottom of the bowl for myself (but this is a story for another time). So today I am making cookies for myself and even better, I am making my favorite kind of cookie, tahini oatmeal cookies!
So one of the main reasons I bake is that it's how I show my love for others. I love to bake for my husband mostly, as well as family and friends. But no one in my close circle (especially my husband) likes oatmeal cookies. So even though they are my favorite cookie, I rarely get to have them. But being that today is my birthday, I am treating myself to oatmeal cookies!
WHAT IS TAHINI
Tahini is a condiment from the Middle East. It is roasted and ground up sesame seeds. It's a big ingredient in hummus and a lot of Middle Eastern foods. It is an oily paste and kind of looks like peanut butter. It has a strong nutty, earthy flavor, that can be a little bitter and is not sweet. I like it because it adds the nutty flavor to my cookies that peanut butter might add without the sweetness. You can always switch out the tahini for another nut butter like peanut butter if you prefer but I suggest you try it if you can. It's super good for you and packs so many antioxidants in your cookies!
WHAT TO PUT IN YOUR OATMEAL COOKIES
So I am a big oatmeal cookie girl. I love the texture of the oatmeal! But an oatmeal cookie without any goodies in it would be disappointing. So in these tahini oatmeal cookies, I played around with a few unique flavors like tahini, dates and chocolate chunks. I usually like to add something that provides a chew like either dates, raisins, dried apricot, or dried cherries. Then there are also more fun flavors like chocolate, white chocolate, butterscotch, walnuts, macadamia nuts, pecans, peanut butter, Nutella, honey etc. Have fun with it and play with your pairings!
TIPS FOR GOOEY CHEWY THICK COOKIES
Cold butter. This is why you have to put the dough in the fridge or freezer before you bake them. This helps keep your cookie thick and chewy.
NEVER grease your cookie sheets! This is a big no no and I never do this. I only and always use parchment paper for my cookies. Not only will it make for flat cookies but it will most likely burn the bottom of your cookies.
It is important to use mostly brown sugar instead of white sugar. This provides a nutty molasses taste and contributes to the thick chewy texture.
Make sure to use salted butter. That extra layer of salt enhances the flavor of chocolate and balances the sweetness perfectly. ok this has nothing to do with chewy thick cookies but it is a tip on amazing cookies.
Lastly, if you try out these Tahini Oatmeal Cookies, be sure to leave a comment/rating on how they turned out. I love hearing from you guys and will try my best to reply to every comment! And don't forget to tag me on Instagram!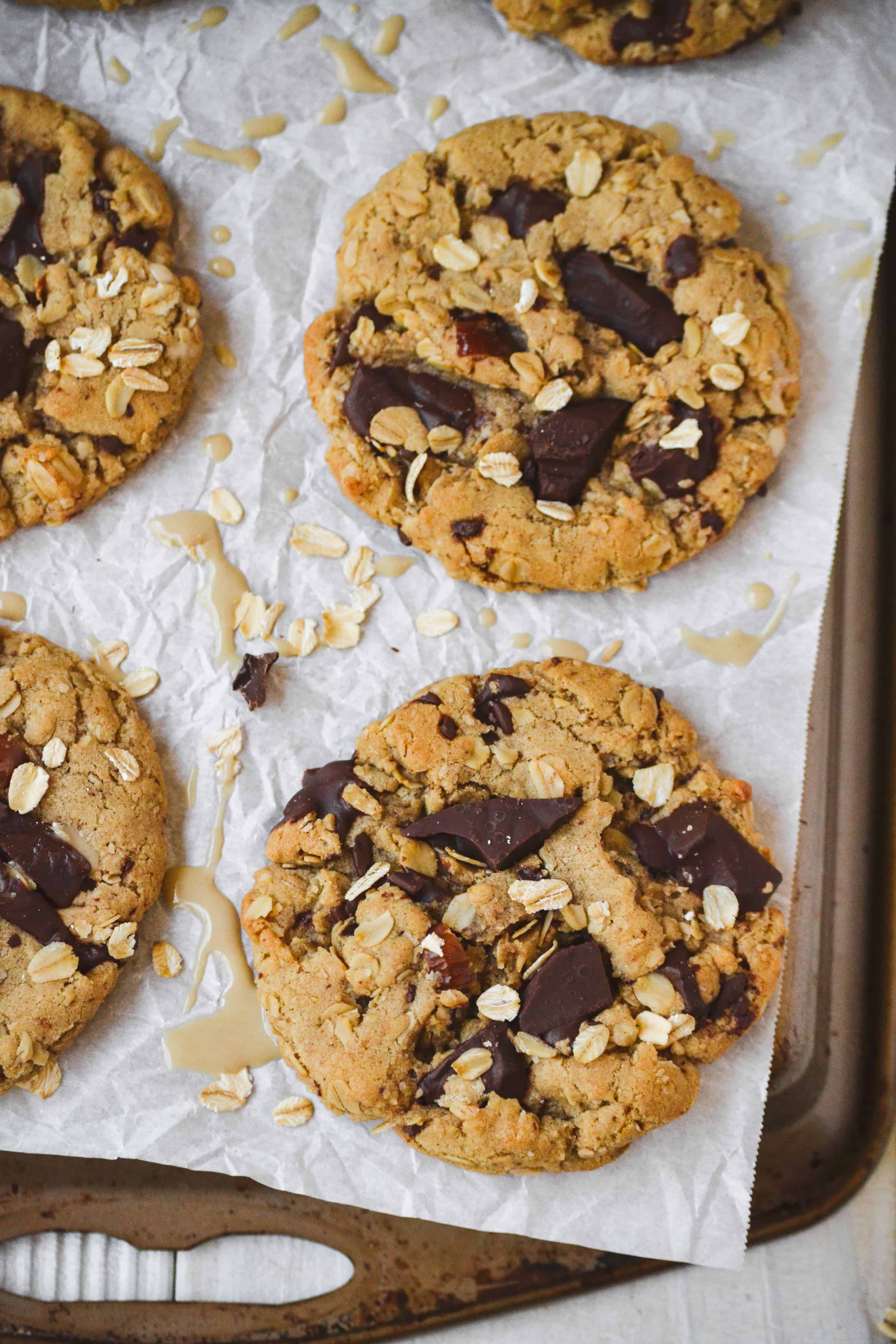 Tahini Oatmeal Cookies
Ingredients
½

cup

tahini

½

cup

salted butter

1 ½

cups

brown sugar

1

cup

sugar

2

eggs

1 ½

teaspoon

vanilla

1

teaspoon

cinnamon

½

teaspoon

salt

2

cups

oats

1 ½

cups

flour

1

teaspoon

baking soda

1 ½

cups

dark chocolate chunks

1

cup

dates (diced up)
Instructions
In the bowl of a stand mixer combine your softened butter, tahini, brown sugar, and sugar. Mix on medium low speed until combined.

Add your eggs and vanilla and whisk again on low speed.

In a separate bowl combine your flour, oats, salt, cinnamon, and baking soda.

Slowly add your dry ingredients to your wet ingredients whisking on low speed.

Using a spatula fold in your chocolate and dates (optional) until combined.

Pre-heat your oven to 375 degrees and line your baking sheet with parchment paper.

Roll out your cookies using a large cookie scoop. Place them on your baking sheet and slightly press them down using your fingers.

Place your cookies in the freezer for 15- 20 minutes (do not skip this step!)

Bake your cookies for 12 minutes or until they look slightly golden on top.