Are you ready to learn how to go viral on Pinterest? Instead of getting frustrated with the Pinterest platform, find out how we've created viral Pinterest pins so you can do the same!
If you're like me, then your Pinterest traffic has dramatically decreased over the years. Pinterest used to be a huge driver of traffic to my blog, but recently, my pins were barely getting any views.
Honestly, I was so close to not using Pinterest at all - but then I tried a few of the strategies below, and I have had multiple pins go viral!
Just look at the stats on the pin I created below.
I created it less than three months ago, and the numbers are staggering!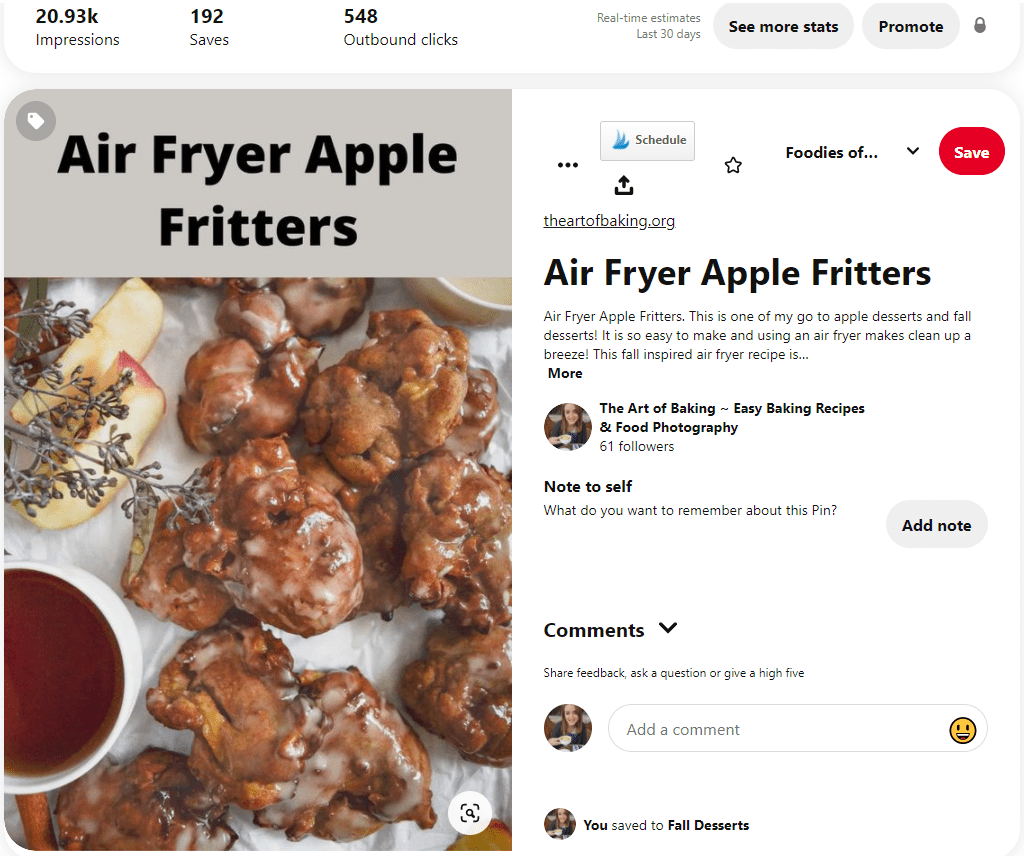 Let's get started on the 21 proven tips for going viral on Pinterest! Sharing success and Pinterest tips is what it's all about!
How To Go Viral On Pinterest
Learn how to go viral on Pinterest with these actionable tips. Viral Pinterest pins are totally still a thing - but there are some things that you need to do!
Turn off rich pins
When rich pins first debuted, it was touted as a feature to help your pins gain more views and clicks. But honestly, it did the exact opposite!
After turning off rich pins, the views on my pins increased dramatically. Here's a quick way to do it for food bloggers:
Use the Pinterest search engine to find the proper keywords for your pins
Just like blog posts use keywords to be found online, so do pins. Your pin title and description should contain appropriate keywords that not only relate to the topic but are also searched by Pinterest users. Let me walk you through it.
Here is a link to the keyword finder. Type a keyword that you are thinking of using for your pin into the search box.
If the keyword is highly searched, a drop-down box will appear automatically containing your keyword, and you can click on it to see how popular it is.
Here is an example:
So based on this broad search using the term "cookies," I would include some of the keywords in the drop-down menu, such as "cookies recipes" and "cookies recipes Christmas", in either my pin title or pin description.
Also, you can click on the keywords in the drop-down menu to get even more detailed keywords that stem from that keyword.
Make sure to include both broad and detailed keywords in your Pinterest description
Now that you have gone through the trouble of finding the right keywords, make sure to use them properly!
You want to use both broad keywords (like "cookies" in the previous tip) and detailed keywords (the keywords that will come up when you click on "cookies" in the drop-down menu).
Your keywords have to relate to the image and content of your pin
Pinterest doesn't literally have eyes, but they do have virtual eyes. They can tell when the keywords in your title and description don't relate to the image and content of your pin.
For instance, if your keyword is "quick vegan meals," but the content of your pin is about traveling, Pinterest will flag it.
So when you create your pin title, make sure the keyword is related to the image of the pin as well as the content of the pin.
Don't stuff your pin description with tons of keywords
Just like Pinterest doesn't like if your keywords don't match your pin content, they also don't like keyword stuffing.
Keyword stuffing is used to describe an SEO practice where a post or pin is filled with tons of keywords to the point that the language doesn't sound natural. When you incorporate keywords into your pin description, make sure they are used naturally in sentences that the average person would use.
For example, if you are using the keyword "cookies recipes," make sure to use it in a natural-sounding sentence like "This is one of my favorite cookie recipes." The keywords don't have to be word for word exact, just close enough.
The important thing is to use the keywords naturally!
Use Canva to create custom pins that are the appropriate size and resolution
Pinterest pins use a specific image size and resolution that you must adhere to otherwise, your image may get cropped.
I like to use the site Canva to create my pins. They have a template for Pinterest pins which gives you an idea of how your image will look on the website.
You just upload your photo, and you're ready to go!
Create your pin from scratch or use one of the preset templates to save time
There is no limit to how you can customize your pin. Canva has tons of preset templates with different color schemes, seasonal themes, etc.
You can either upload your image and start your pin from scratch, or you can upload your image and just use one of the preset themes or templates.
If you have to make multiple pins in a short period of time, using a preset template will save you tons of time!
Keep it simple
After creating hundreds of pins, I've come to learn that people like pins that are simple and straight to the point.
Do not waste time creating pins with crazy designs or animations because, honestly, people don't have time to analyze your pin.
They want to know what it is about based on just the image and title. All the other bells and whistles just get in the way.
Keep it simple!
Quantity over Quality!
I know this sounds crazy but hear me out.
When someone is going through Pinterest, they scroll through hundreds of pins at a time. You are more likely to get someone to click on your pin if your pins show up multiple times vs. one pin that might have a beautiful image and title.
Now, this is not always the case, but if you create multiple pins targeting similar keywords, there is a much higher chance that someone will click on your pin vs. competitors. It is literally just a numbers game!
This doesn't mean creating one hundred low-quality pins, but what I am trying to say is don't overthink and overanalyze your pin design.
It is better to create multiple pins than to focus on creating one "perfect" pin!
Make sure to create a NEW pin every time
People get confused by the definition of a NEW pin.
A new pin is a pin that uses a unique image regardless of whether the title or description has been used before.
This means that in order for a pin to be considered new, the image must not have been used before by you or someone else on the internet.
If you repeatedly use the same image but change the title or description, Pinterest will flag your account as spam and decrease its reach.
Make sure to use a FRESH image every time!
Use warm and neutral colors vs. cool colors
Warm and neutral colors are more inviting and appealing to the eye.
Do the color test with your own eyes and see what you prefer. You'll likely be intrigued to click on images that are not "screaming" at you with bright colors or super light colors - and if you feel this way, others do, too.
Use large font
You literally have seconds to capture the attention of people scrolling on Pinterest. Small fonts just won't cut it.
Use large fonts that are eye-catching and easy to read. And while cursive may LOOK cool, remember that if it's hard to read, it's not going to have a good click-through rate to your blog.
Use a focused image
Having a great image is really, really important. Since Pinterest is a visual platform, people typically click on pins based on the image.
If the image is out of focus, it looks unprofessional, especially if it's for food recipes or for DIY crafts.
Choose the best images possible to use on Pinterest to increase the chance of good engagement.
Share on other social platforms
You can totally share your Pinterest pins on other platforms! Why not? Having people click through to Pinterest and then click through to your site can be a great way to show social platforms that you have a good engagement which can help lead to more views.
Pin manually. (Do not use Tailwind!)
There was a time when Tailwind was used by literally everyone online. It's a great concept, and some people still swear by it.
In my experience, I've had much better results by uploading my pins directly to Pinterest and skipping Tailwind altogether.
And to be honest, I think it just makes sense. Pinterest wants people to use their own platform, right? So utilize the tools that Pinterest created to get the best possible results.
Pin consistently
This just might be one of the biggest tips on how to make a pin go viral. Pinterest has said that they want new pins and consistency in using their platform.
This doesn't mean you need to pin ten new pins daily, but pinning frequently is what is going to help your account in the long run - and possibly help your pins go viral as well.
Try different types of pins and see which works best for you. (Idea pins vs. static pins vs. video pins)
Pinterest gives options on the type of pins that you can create and share with your audience, so see what works best and then use it.
Static pins are fast and easy to make They are just one image with text that users will see as they're scrolling.
Creating idea pins is basically a series of images with text that will change in front of the user to entice them to click through and find out more.
Video pins are just like they sound. Actual videos that you can upload and show tips, tricks, and more.
Depending on your niche, you may find that one type of pin works better than another.
Keep your boards organized. This will help you get more followers.
Pinterest creates boards so that you can pin the same type of pins together for a better user experience.
If you have a board labeled "cakes," make sure that you're pinning pins to that board about cakes. Not cookies, not pies, not shoes...cakes.
There is no limit to the number of boards that you can have, so you can make as many boards as you want to help with the user experience.
Stick to one niche. This will also help you get more followers.
Don't confuse the users. If you have more than one blog, create a separate Pinterest account for each one.
Keep your account on Pinterest niched down to one niche.
Repin other's content
Make sure that you're repinning the content of others, but ones that are similar to your niche.
It's a simple way to share the love and also keep the Pinterest gods happy that you're sticking to your niche, even if the content is created by someone else.
(You'll also get reshares from others, too, as a thank you, which means that your pins will be shared more as a result as well!)
Focus on creating a community
Pinterest is no longer a quick-hitting type of social media platform. When you're creating pins, you have to think long-game.
Viral pins on Pinterest are great but don't forget that some pins will stay relevant for a long time and draw in hundreds of views daily without falling into that "viral" category.
Create a strong community with your pinning consistency and quantity so that you've looked at as an expert on Pinterest. This is huge for user experience as well.
Now that you know how to get viral on Pinterest, it's time to start implementing all these tips.
Can you go viral on Pinterest? Absolutely - just be persistent, creative, and do your research!