I am keeping things chilly today on this hot summer day with some cream No Churn Pistachio Ice Cream. This ice cream is to die for... SUPer Creamy, salty and nutty but also light and refreshing. The best part is it is made with only 4 ingredients, so it takes only minutes to prepare, no eggs are needed and there are no fancy machines. You can not beat this recipe it is so simple and so delicious.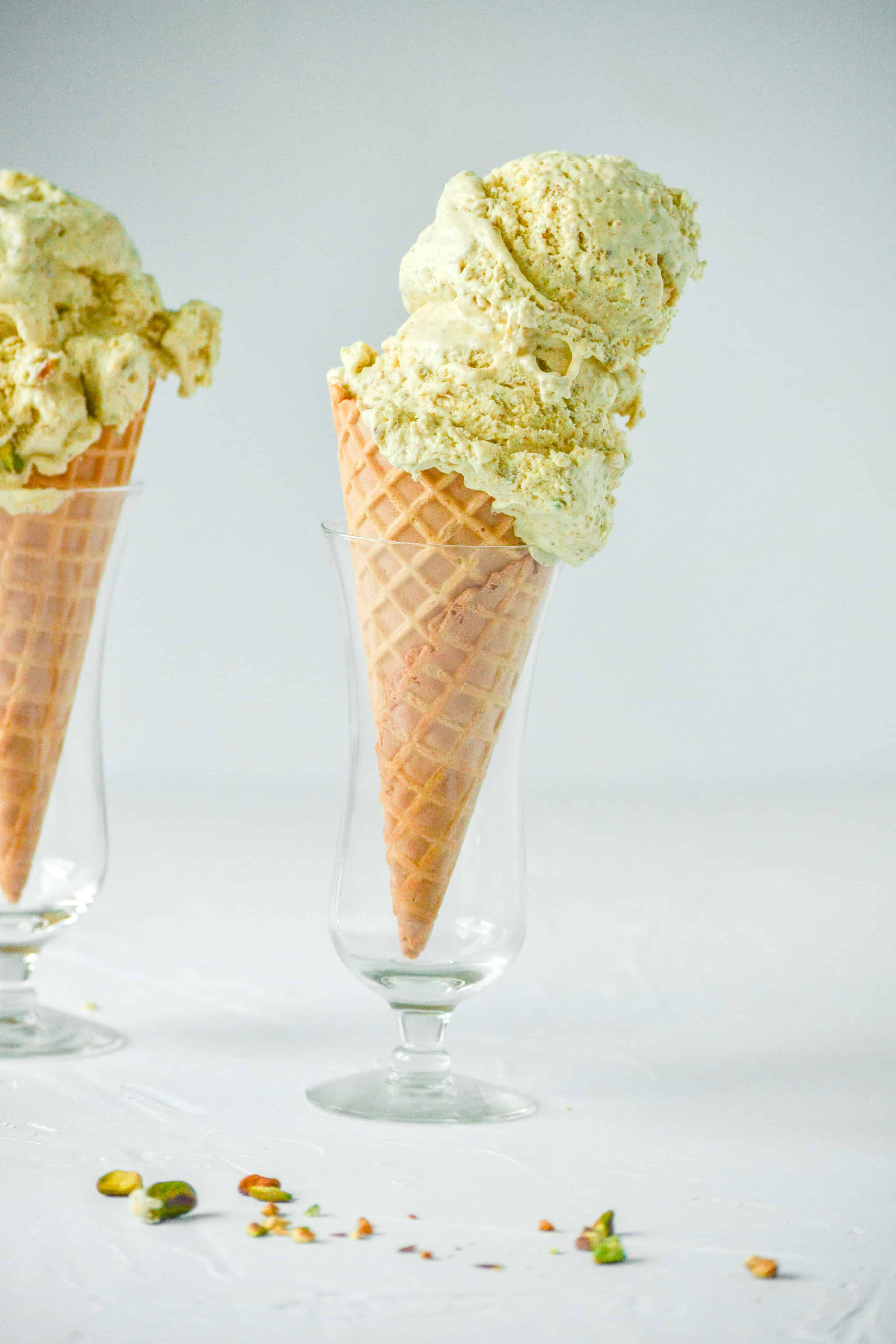 Ok so i believe there are two kinds of people in this world. ones who only eat icecream in the summer and ones who think those people are crazy because they eat it all year around. I am definatly the second one in this senario. I am ice cream OBSESSED. I have few vices in my life and they are cheese, ice cream and the bachelor (thank God i am not lactose intolerant). Anyway... My all time favorite dessert to make is obviously ice cream. I am always trying to create fun and flavors that i cant otherwise get in the stores.
One of my favorite flavors is hands down pistashio. but i can only find that once in a blue moon in some of those specialty brands (that only sell a pint at a time and rae super expensive). So id ecided to take matters into my own hands and solve my need for pistashio ice cream. so i made it my self. and let me tell you. it was even better, cheaper and so easy.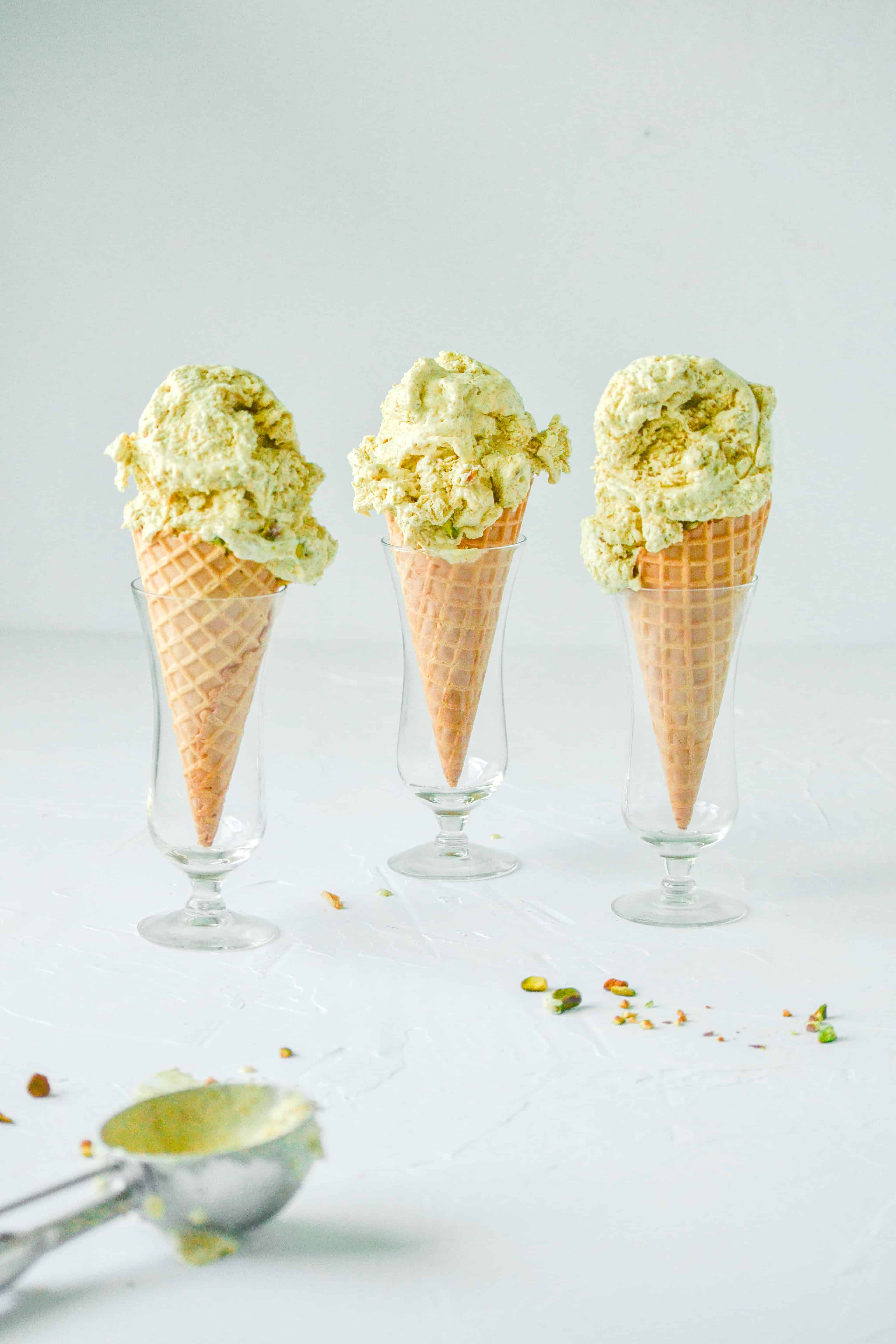 HOW ICE CREAM IS MADE
I use to think making ice cream was something some one did on a whole other planet. it seems foreign to me almost impossible. but once i tried it myself i realized that is so far from the truth. Especially if you make NO CHURN ICE CREAM. To make my no churn pistachio ice cream, first you start by whipping your heavy cream into whipped cream. use a stand mixer and whip on high until soft peeks are formed. Then use a food processor to blend your pistachios until it has a nut butter consistency. Then in a large bowl combine all your ingredients! Start by whisking your condense milk, salt and any flavorings. Then fold in your whipped cream. Lastly fold in and sold mix in like cookie pieces, nuts, chocolate swirl ect. and that is it! Transfer your mixture to the freezer and serve the next day.
HOW TO MAKE PISTACHIO ICE CREAM
Follow my recipe exactly to make the best pistachio ice cream. the only specialty ingredient you need is pistachios! you can also buy pistachio butter instead if you can find it/ afford it but if not i just pop my nuts into my food processor instead and blend it on high until smooth. mix that into your condensed milk and salt. then fold in your whipped cream. place the mixture into your freezer and serve the next day. For exact measurements and step by step instructions take a look at the recipe below.
WHAT MAKES PISTACHIO ICE CREAM GREEN
So another reason why i like to make my own homemade ice cream is because you know exactly what is going into it. the rich green color you see in pistachio ice cream at the store or in ice cream shops is from food coloring and dyes, which are horrible for you! when you make my recipe you will see the color only comes for that natural color of pistachios, which is only in actuality a very very light green/ brown hue. it is also a much more appetizing color to eat!
HOW MANY ICE CREAM SCOOPS IN A GALLON
Depending on the size of your ice cream scoop... if your scoop equals the size of about 1 cup... that would mean there are about 16 scoops in a gallon.
HOW MUCH ICE CREAM IS TOO MUCH
So the standard serving size of ice cream is ½ a cup. but that is crazy talk. no one eats only half a cup. if you ask me a say there is no limit ... but if you ask my husband (who is a doctor) he may disagree. just treat yourself once in a while and do not over do it.
INGREDIENTS/ SUBSTITUTIONS
SWEETENED CONDENSED MILK. So instead of using the stove, and heating up the milk, and melting the sugar, to get that thick consistency.... i skip all of that and just open up a can of sweetened condensed milk. its so much easier.
HEAVY CREAM. the base to all ice cream is heavy cream. it is the only milk product that will whip up to the proper consistency.
SALT. now pistachios are already a little salty but i love that sweet and salty combo. so i like to add a pinch of extra salt.
PISTACHIOS. I simply blend up my pistachios in a food processor until it reaches a smooth consistency. but if you prefer you can always swap this out for another nut.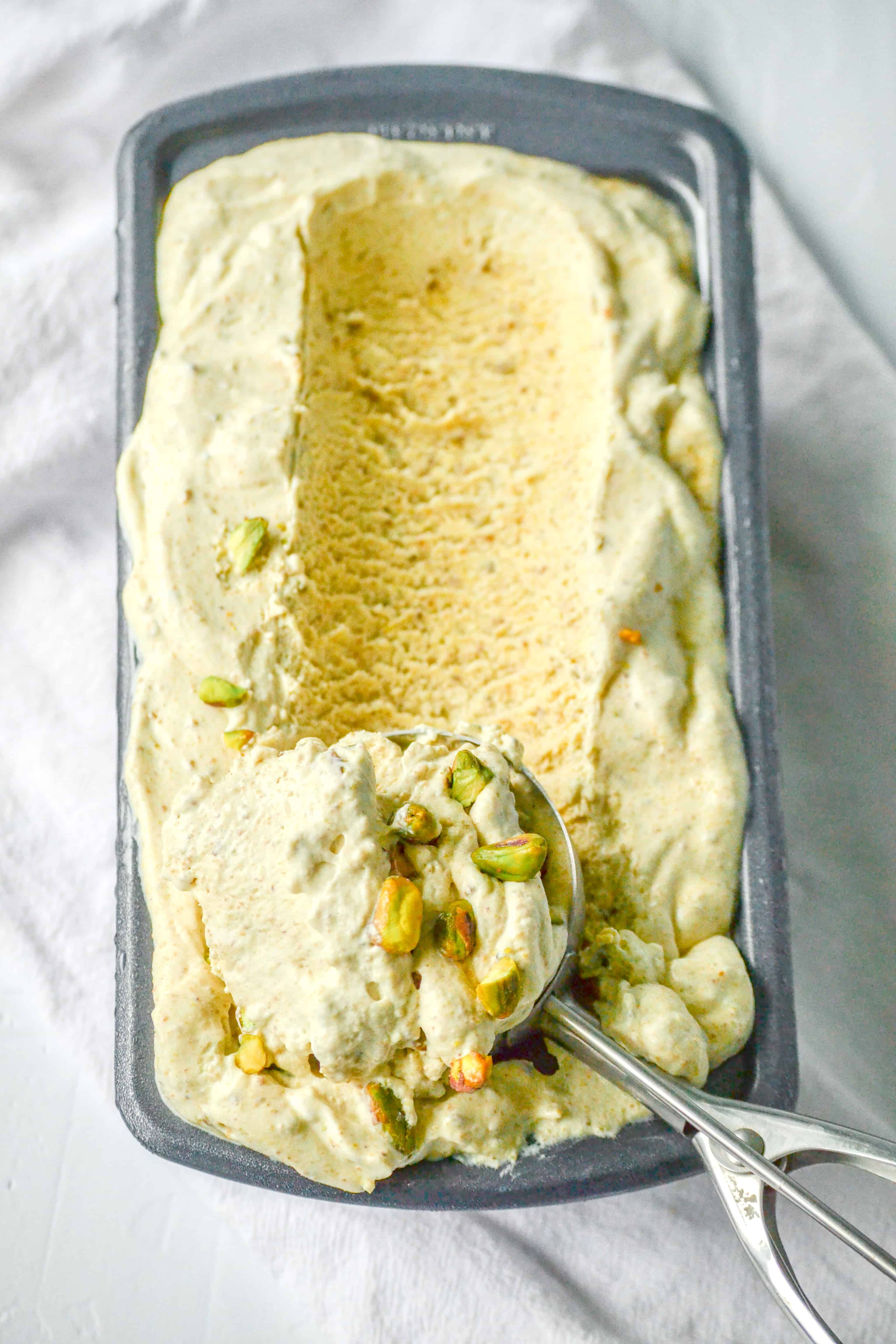 Lastly, if you try out this recipe, be sure to leave a comment/rating on how it turned out. I love hearing from you guys and will try my best to reply to every comment! And don't forget to tag me on Instagram!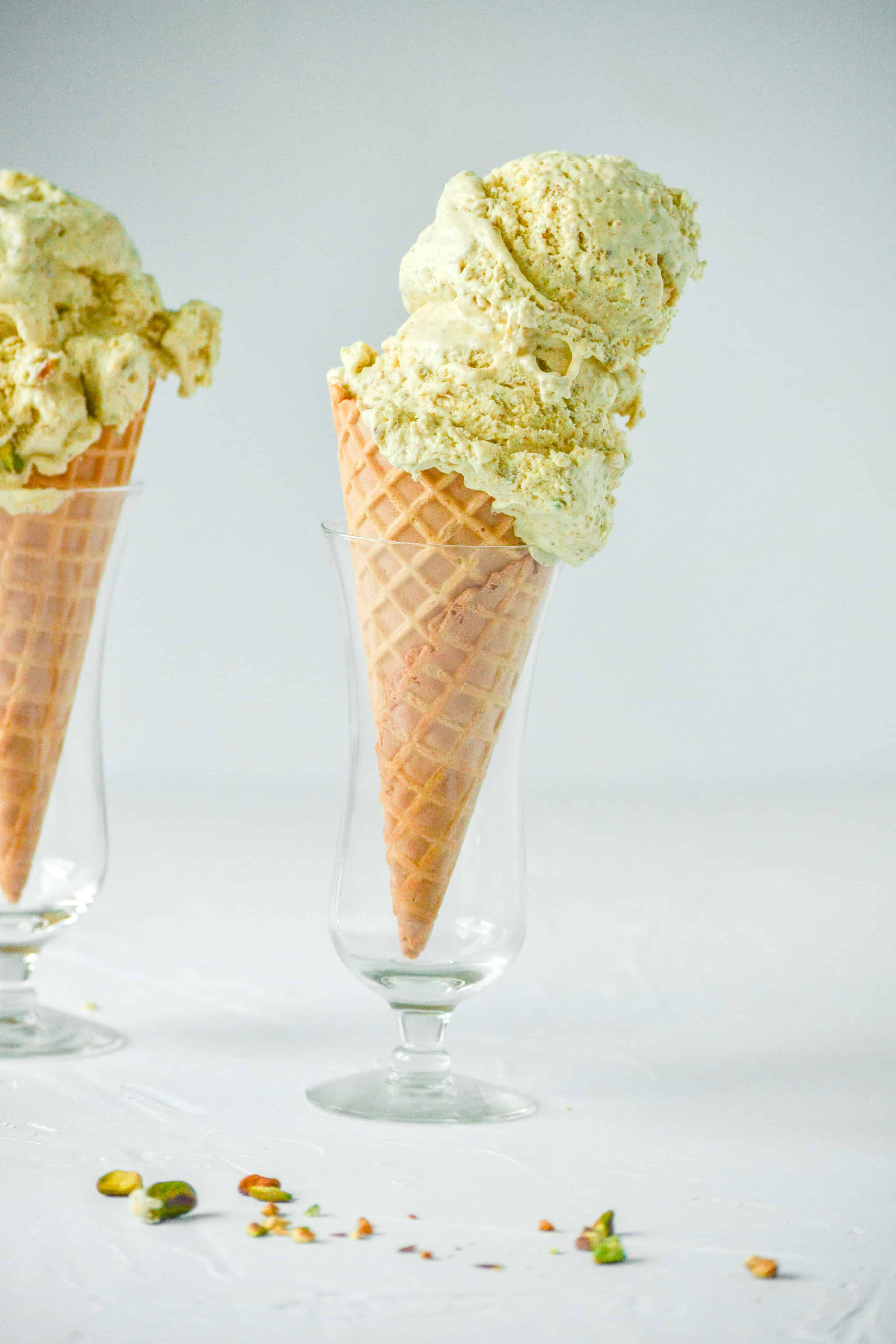 No Churn Pistachio Ice Cream
Ingredients
14

oz

sweetened condensed milk (1 can)

2

cups

Heavy Cream

½

teaspoon

salt

1

cup

pistachios (shelled)
Instructions
In the bowl of a stand mixer, whip your cream on high until soft peeks are formed (looks like whipped cream)

In a food processor blend on high your pistachios until smooth and creamy. (you may need to add a splash of milk or cream in there depending on how powerful your food processor is)

In a large bowl mix together your condensed milk, pistachio butter, and salt. Then once combined, fold in your whipped cream.

Transfer mixture to a loaf pan and place in freezer for 8 hours or over night.