These cookies are two pistachio based cookies that are creamy, nutty and salty, with a rich and sweet chocolate mousse sandwiched inside; then covered with a simple and sweet chocolate ganache. These cookies are little morsels of chocolate pistachio heaven.
One of my favorite things about baking is the nostalgia I feel whenever I make a recipe that I haven't had in awhile. It's crazy how the different warm smells that fill the kitchen bring me back to a specific moment in time. Every recipe is a story, both good and bad, and what makes them special is they are all unique. And I think that is the perfect way to describe these Pistachio Chocolate Mousse Cookies: unique.
I actually haven't made these cookies in about two years. I made them for the first time for Valentines day when me and my now husband, Kevin, were doing long distance. Like I've mentioned in my previous posts, my husband is a simple guy. The only thing it takes to make him happy is freshly baked goods. So every time I make these cookies, it reminds me of our childhood love and it makes me reflect on how much we have grown as individuals and as a couple.
So working from home has been driving me crazy. The only positive is that it has given me more time to make recipes that I haven't in awhile. These Pistachio Chocolate Mousse Cookies take a little effort but I promise you everyone will notice!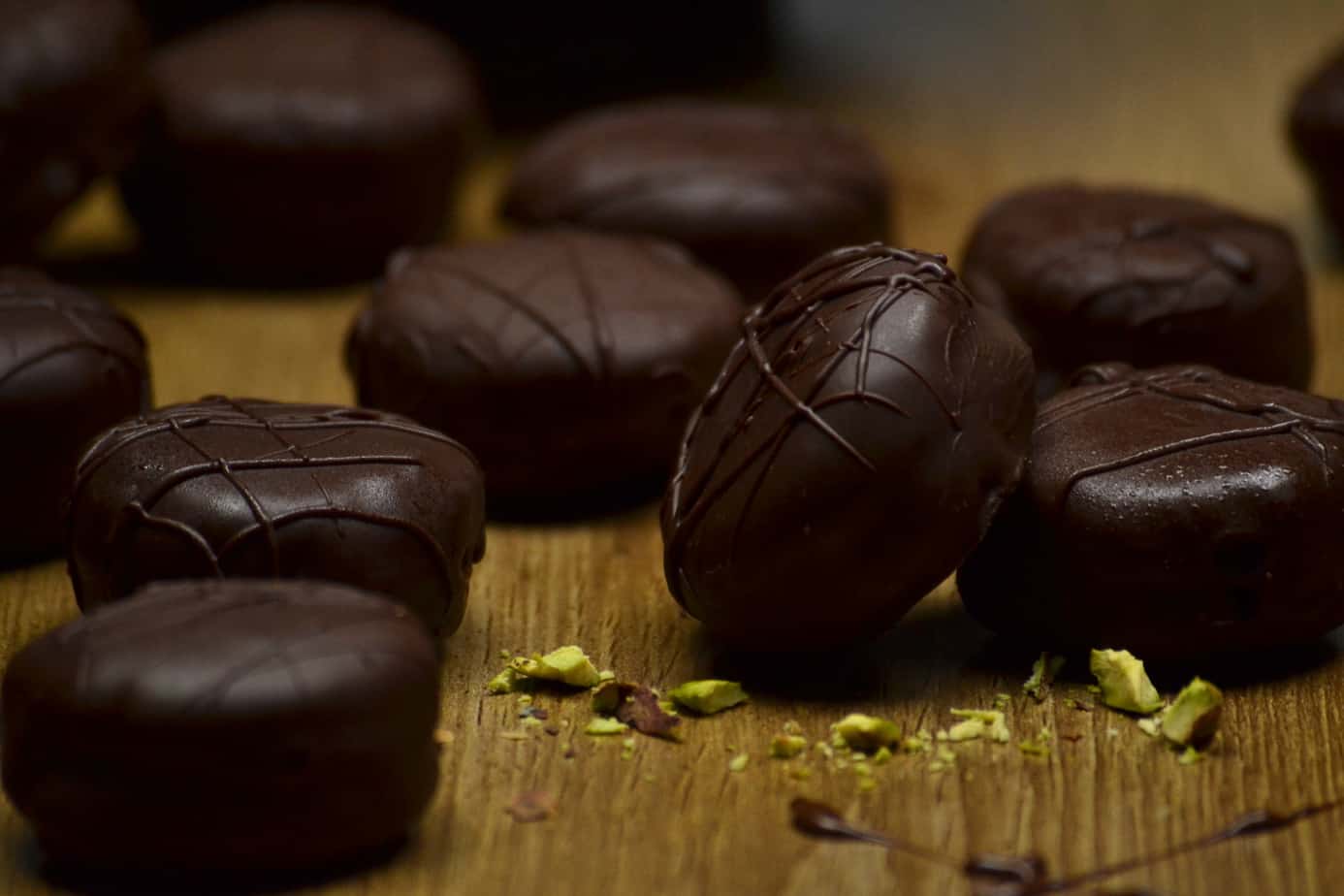 On a side note, pistachios are the most annoying nut. They are so delicious but they take so much effort to eat. Like you have to remove the shell off of every single one, just to eat a small sliver of deliciousness. Sometimes the shells aren't even cracked enough for you to open and its just so disappointing! So for this recipe make sure to buy unshelled pistachios otherwise you will be spending hours removing shells. I know its a little more money but It's worth it.
Tips:
Roast the nuts slightly. Roasting the pistachios will bring out the nutty oils and enhance the flavor of the nuts.
Use a food processor to blend your nuts. If you don't have one you can always use a blender or a mortar and pestle but its just more work.
Temper your eggs. When making the mousse make sure you whisk your eggs in and cook on low heat for about 10 minutes. Continue to whisk low and slow so the eggs are cooked through.
Try to pipe your cookies into equal sizes so the cookies match up perfectly when you sandwich them together.
Use a piping bag to pipe out your cookies with a tip #10 ( or one similar). This helps to keep the look and shape of your cookies consistent.
To help shape your cookies wet your finger with a little bit of water to press down/shape your cookies perfectly.
After you are done sandwiching your cookies together, place them in the freezer before you dip them in the warm chocolate. This helps hold your cookie together. Otherwise they may fall apart in the chocolate ganache.
Store your finished cookies in the fridge. Otherwise the mousse might melt.
Lastly, if you try out this recipe, be sure to leave a comment/rating on how they turned out. I love hearing from you guys and will try my best to reply to every comment! And don't forget to tag me on Instagram!
Pistachio Chocolate Mousse Cookies
Ingredients
Cookies
2

cups

shelled pistachios

2

egg whites

½

teaspoon

vanilla extract

½

cup

sugar

¼

teaspoon

salt
Filling
½

cup

heavy cream

1

cup

semisweet chocolate chips

1

egg

2

tablespoon

sugar

¼

teaspoon

salt
Ganache
8

oz

bittersweet chocolate

1

tablespoon

vegetable shortening
Instructions
Start by making your cookies. Roast your pistachios on a cookie sheet. Bake at 350 for 5 minutes.

In a food processor; blend your nuts until creamy. Then by hand, mix in your egg whites, vanilla, salt and sugar.

Put your pistachio mixture into a piping bag with a #10 piping tip. Pipe out about 46 small round and flat cookies on a cookie sheet. Then dip your finger into a little bit of water and shape your cookies until perfectly flat and round.

Bake your cookies at 350 degrees for 10 minutes.

Once done take your cookies out and let cool.

Start on making your mousse. On the stove warm your cream slightly over a medium low heat. Whisk in your chocolate until melted. Then whisk in your eggs, sugar, and salt. Whisk for about 10 minutes to temper your eggs.

Take it off of the heat and let your mousse cool to room temperature. Then Place your mousse in the fridge to completely cool and thicken.

Once your mouse has thickened (about 30 minutes), sandwich your cookies. Do this by taking two of your pistachio cookies and in-between them layer on about 1 tbls of mousse. Scrape off any extra mousse that is swishing out of the edges. Do this for all the remining cookies. You should end up with about 23 sandwich cookies. Place them in the freezer for 15 minutes to solidify.

Now make your ganache. Over a double boiler melt your chocolate and shortening.

Take your cookies out of the freezer. Using two forks drop each cookie into your ganache to coat. Then place them on a cookie sheet with parchment paper to cool. Do this for all your cookies. Decorate them with an extra drizzle of ganache!

Store them in the fridge. Enjoy!