Did someone say bourbon and pie? This Chocolate Bourbon Pie with a Hazelnut Flour Crust delivers a chocolatey, decadent experience with every bite. This pie has such a deep flavor profile that it will keep you going back for more. You first taste the sweet nutty profile of the hazelnut flour that is in the crust and the filling, followed by the sweetness of the cocoa powder, all topped off with a kick from the bourbon.
This simple chocolate pie is made with eggs, sugar, butter, chocolate, Nutella, and bourbon. Its warm, gooey and fudgy in the center and crackly and puffy on top. The center is still a little melty and molten and it is basically like the best fudgy brownie in a pie. This pie is even more delicious when served warm with a side of ice cream!
In this recipe I chose to add a little bit of instant coffee to the pie filling, not to necessarily give it the flavor of coffee but to bring out the flavor of the chocolate. If you add too much, the coffee might become over powering. For the chocolate filling I use cocoa powder, chocolate chips and Nutella. The Nutella gives it that hazelnut flavor and helps to create the gooey consistency.
The salted butter is key. One of my favorite flavor combinations is chocolate and salt, so both the salt and the salt in the butter balance out all the sweetness perfectly. And last but not least, my favorite part of this pie by far is the BOURBON! You want enough to taste it in the background but not too much that it becomes harsh and overbearing. I would suggest anywhere between 1 and 1 ½ tablespoons depending on your tolerance. Bourbon and chocolate.... is there any other way?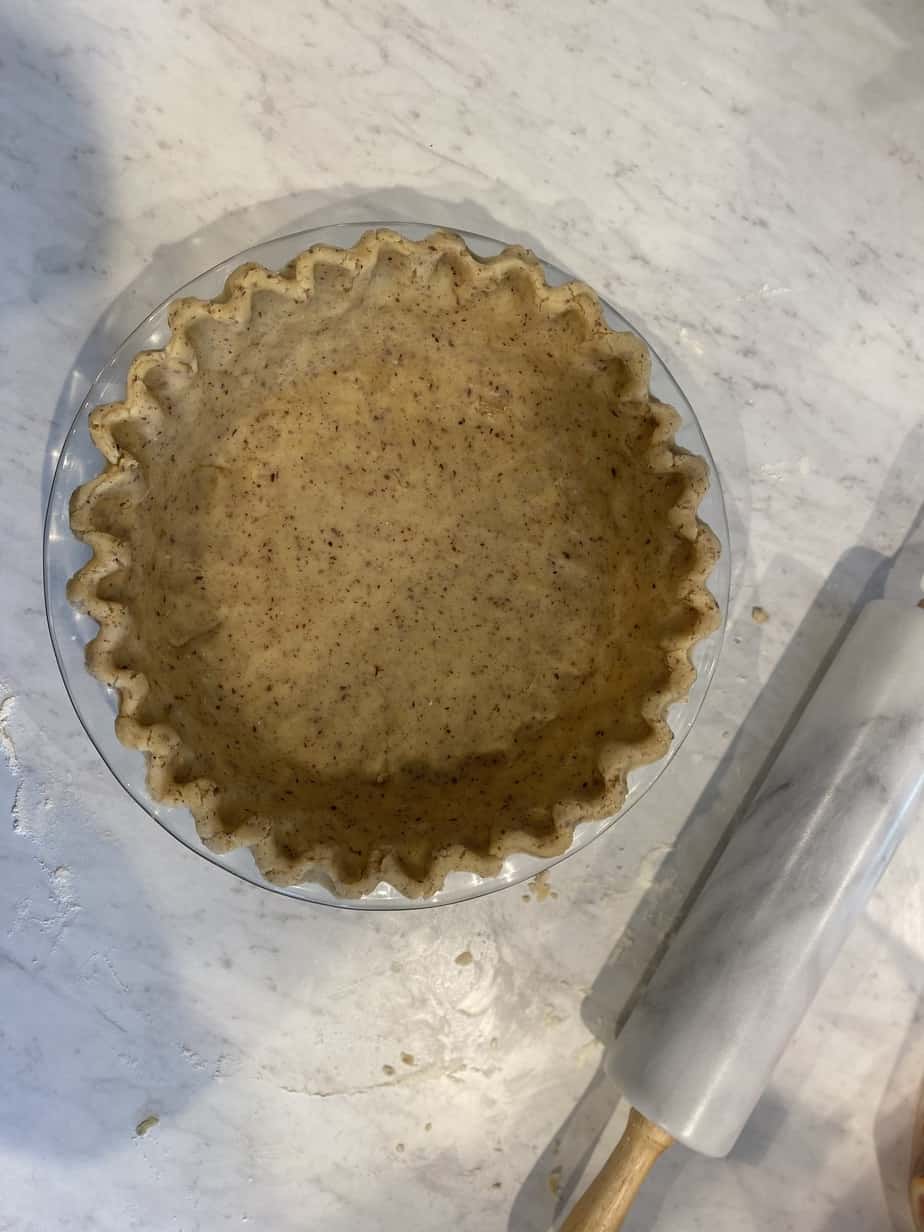 Pie crust is my true love. There is something so special and beautiful about making your own pie crust. While it takes a little bit of practice, its worth it. I have one go to pie crust recipe which I use in this recipe as a base... but I changed it up a little bit by adding some hazelnut flour to it. This adds to the hazelnut flavor. This crust has salted butter and vegetable shortening, which makes it so flaky and buttery. But one of the most important ingredients in your pie crust is the vinegar. The vinegar improves the texture of the pie crust, because it inhibits the gluten from forming and makes for a soft crust. So don't forget it!
This pie crust recipe makes two crusts so since you only need a bottom for this recipe, I like to freeze the second one. Another secret to the perfect pie crust is to refrigerate it before baking! I refrigerate my crust for at least 2 hours to overnight before rolling it out. Then after I roll it out and place it into the pie dish, I then place it back into the freezer for 15 minutes before baking. This is because when you are handling the dough you probably warmed it up with your hands. The colder your dough is when putting it into the oven, the more flaky your crust will be. I like to crimp my pie crust with a classic design. Pie crust design is so much fun to play with so get creative. I will be adding more posts on this to the blog soon!
This is one of my favorite holiday pies but the best thing about it is that you can make this any time of the year. I mean when is it not a good time to eat chocolate and bourbon?
As soon as the pie comes out of the oven, serve and eat warm with a scoop of vanilla Ice cream and enjoy each bite. It is chocolatey, gooey, buttery and so delicious. I promise you will love it.
Lastly, if you try out this Chocolate Pie with a Hazelnut Flour Crust recipe, be sure to leave a comment/rating on how they turned out. I love hearing from you guys and will try my best to reply to every comment! And don't forget to tag me on Instagram!
Chocolate Pie with a Hazelnut Flour Crust
Ingredients
Hazelnut Pie Crust
2 ½

cups

flour

½

cup

hazelnut flour

2

eggs

¾

cup

salted butter

¾

cup

vegetable shortening

1

teaspoon

salt

1

tblsp

vinegar

2-4

tblsp

cold water
Pie Filling
10

tblsp

salted butter

4

eggs

1 ½

cup

sugar

¾

cup

hazelnut spread

2

teaspoon

instant coffee

½

cup

cocoa powder

½

cup

semisweet chocolate chips

½

teaspoon

salt

2

teaspoon

vanilla

1

tblsp

bourbon
Instructions
First make the pie crust. In a large bowl combine your flour, hazelnut flour and salt.

Then add your cold, cut up butter and shortening. Mix until you get a course crumbly consistency.

Then add the vinegar and only ONE egg. (reserve the other egg for your egg wash)

Then slowly add your cold water 1 tbls at a time until your dough is just combined. Don't add too much you don't want your dough to be too wet.

Divide your ball of dough into two. Freeze one half for later use. Wrap your other half in plastic wrap and refrigerate for at least 2 hours but over night is ideal.

Take your chilled pie crust and use a rolling pin to roll out your crust into a circle that is about ½ inch thick. Then transfer this crust into your pie dish.

Next crimp your edges. Cut off any excess and roll in your edges. Then use your pointer finger and thumb on one hand and your pointer finger of another hand to create the crimped edges you see above. For a more fleshed out description of this look out for my future post all about pie crust.

Once this is done brush the edges with an egg wash (one beaten egg). And then sprinkle with a little extra sugar. This will create a golden look to your crust.

Place parchment paper and pie weights into your pie crust and then put in the freezer for 15 minutes. Pre heat your oven to 375.

Bake your crust for 15 minutes at 375 degrees. Then take out your parchment paper/ weights and bake again for 10 more minutes.

Take out and let cool. Lower the temperature of your oven to 350.

Make the filling. In a large bowl combine the eggs, sugar, coco powder, salt and coffee. Then add the melted butter. Make sure the butter has cooled so you don't cook your eggs. Then add the bourbon and vanilla.

Pour batter into the prepared pie crust.

Bake at 350 for 55 minutes.