The air is filled with a delightful mix of spices, and the aroma of freshly baked treats wafts through the kitchen. It's that time of the year again, the cherished Christmas season, when baking becomes a heartwarming tradition.
And what better way to celebrate than with a batch of fragrant, crunchy, and utterly delicious Christmas biscotti?
In this recipe post, we'll guide you through the steps of creating a delightful italian biscotti that will leave your taste buds craving more. So gather your ingredients, preheat the oven, and let's embark on a festive baking adventure together!
So a little about me. I am Italian! My great grandparents immigrated to the USA from Naples. This Italian heritage and family influence is something I am very proud of and cherish. In a lot of my recipes you will see some of that influence especially since I learned a lot of what I know from my Italian mother and grandmother.
I tend to put my own twist on the classic italian desserts that I've grown up with like my cannoli cookies with ricotta cream filling or my gingerbread bread biscotti. However this time I decided to stick with the classic christmas biscotti recipe that has been passed down through my family for generations and I can't wait to share it with all of you!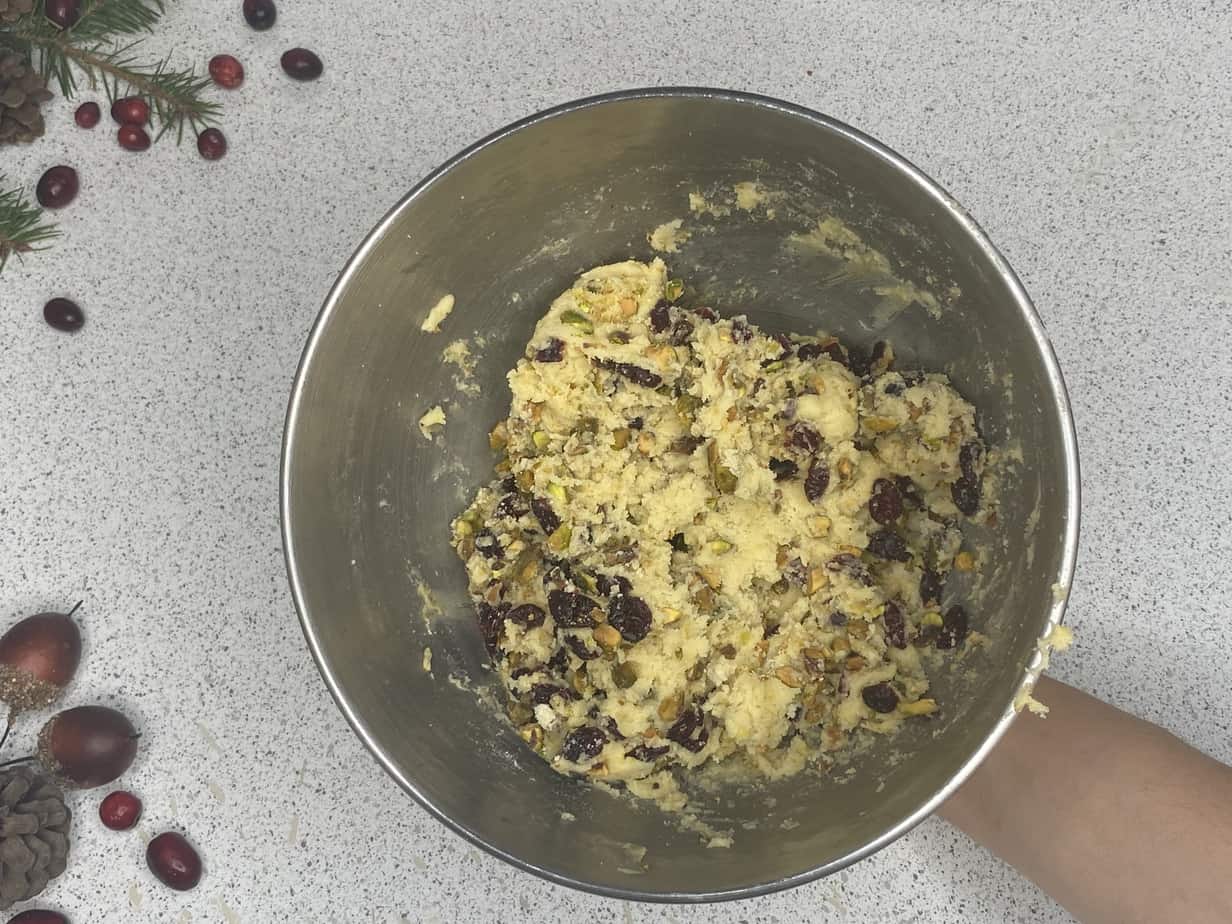 Why you will love this recipe
Festive flavors! The pistachios, cranberries, orange zest, and warm aroma of these biscotti capture the essence of the holiday season. Each bite is filled with the cozy and nostalgic flavors that make Christmas baking so special!
Long shelf life! Biscotti have a longer shelf life compared to other baked goods due to their twice-baked nature, which removes most of the moisture. This makes them a great option for homemade gifts, care packages, or for those who enjoy having a snack readily available over an extended period.
Easy to make! This biscotti recipe is straightforward and does not require extensive baking skills.
Key Ingredients and Substitutions
Salted butter: adds richness and flavor to the biscotti dough, enhancing its overall taste. The fat content in butter contributes to the tender and crumbly texture of biscotti. It helps create a melt-in-your-mouth experience!
Eggs: act as a binding agent, helping to hold the biscotti dough together. Eggs also add moisture to the dough, preventing it from becoming too dry and crumbly. The proteins in eggs contribute to the structure and stability of the biscotti, ensuring they hold their shape during baking.
Pistachios: add a unique nutty flavor to the biscotti. They can enhance the overall taste and provide a pleasant crunch. If you are allergic to nuts you can omit these!
Dried cranberries: add a sweet and tart flavor to the biscotti, providing a pleasant contrast to the other ingredients.
Baking powder: helps the biscotti dough rise slightly during the first baking, resulting in a lighter and less dense texture.
Lemons: adds a refreshing citrusy flavor to the biscotti, brightening up the taste and providing a pleasant aroma.
Lastly, if you try out this Italian biscotti recipe, be sure to leave a comment/rating on how they turned out. I love hearing from you guys and will try my best to reply to every comment! And don't forget to tag me on Instagram!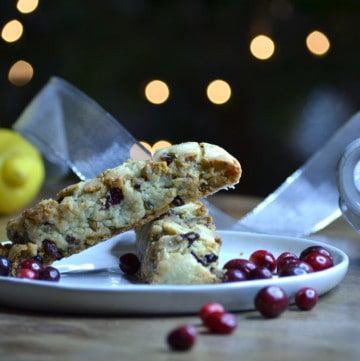 Italian Biscotti
Ingredients
½

cup

salted butter

1

cup

sugar

2

eggs

2

cups

flour

1

cup

pistachios

1

cup

dried cranberries

½

teaspoon

baking powder

¼

teaspoon

salt

zest from 3 lemons
Instructions
In a large bowl combine the butter and sugar. Then add the eggs and lemon zest.

In a separate bowl combine the flour, salt, and baking powder.

Slowly add your dry ingredients to your wet ingredients. Mix until combined.

Add your pistachios and cranberries. Mix until combined.

Line your baking sheet with parchment paper and preheat your oven to 350 degrees. Take your dough and form it into a log on your baking sheet. It should be about 4 inch in width and span the length of your baking sheet.

Bake at 350 degrees for 30 minutes.

Take your log out and slice it into about 10- 12 cookies that are about ¾ inch thick. Spread them out on your cookie sheet and bake again for 15 minutes.

Take them out and serve at room temperature. Enjoy!