Italian Biscotti...a nutty, fruity cookie that is the perfect companion to a fresh cup of coffee. Biscotti in Italian means "twice baked", so these cookies will be baked once in log form and then another time in sliced form. My Italian biscotti recipe is a little softer than the traditional biscotti cookie, which I know is controversial, but it is definitely worth it!
So a little about me. I am Italian! My great grandparents immigrated to the USA from Naples. This Italian heritage and family influence is something I am very proud of and cherish. In a lot of my recipes you will see some of that influence especially since I learned a lot of what I know from my Italian mother and grandmother.
One thing I hear a lot from people is that they don't like biscotti because they are too hard. Now of course biscotti are supposed to be hard because they are meant to be dipped into your coffee, but at the same time I understand why people complain about it. This got me thinking to create a cookie that still holds its own as biscotti but has a more soft and chewy texture. So I did just that with this recipe!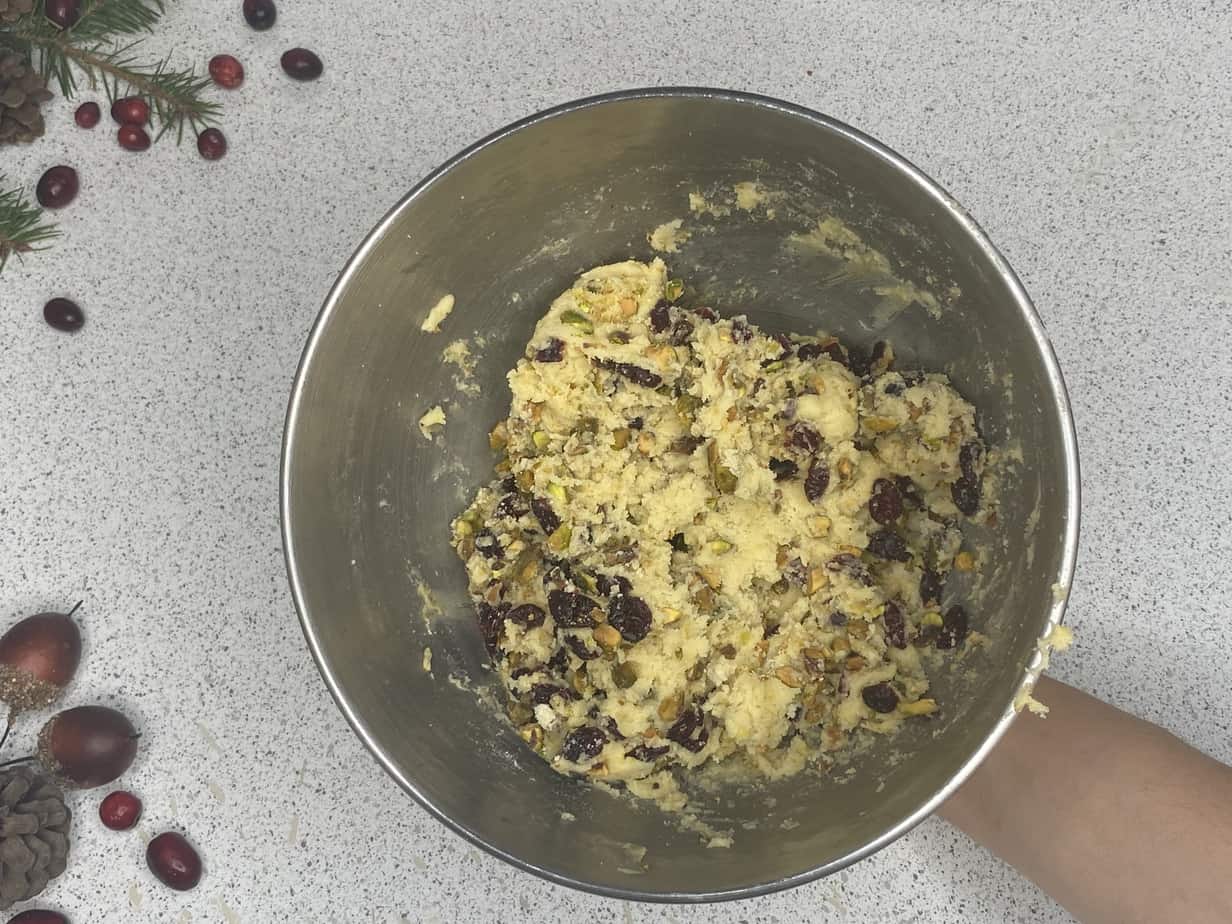 This recipe in particular was one of my grandmas favorite things that I made. She wasn't supposed to eat sugar but somehow always made an exception for these cookies. So of course whenever I make them I think of her!
Because I make these around Christmas, I use cranberries and pistachios to give it that red and green color. But this recipe is very versatile and you can use any fruit and or dried nut that you want. I also use the zest from 3 lemons. One or even two lemons is just not enough. One of my biggest pet peeves is following a recipe that says to use lemon zest but when you taste the finial product, you don't taste the zest! This could also be because I am lemon obsessed, but either way that wont happen here. Lemon, pistachio and cranberries all pair so perfectly together!
These are twice baked cookies. The first bake is to create that log form. Then you cut your cookies into shape and bake them again. Although these biscotti are a little softer (and a little sweeter) than the traditional ones, they are still just as good with your coffee. Plus these are Italian grandmother approved so they have to be good!!
These Italian biscotti are nutty, citrusy, fruity goodness that is the perfect light breakfast to have on Christmas morning.
Lastly, if you try out this Italian biscotti recipe, be sure to leave a comment/rating on how they turned out. I love hearing from you guys and will try my best to reply to every comment! And don't forget to tag me on Instagram!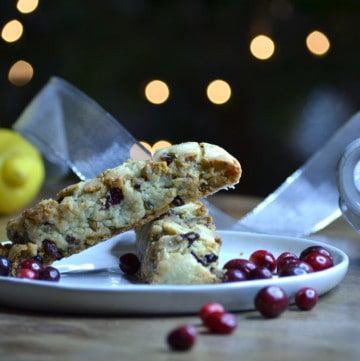 Italian Biscotti
Ingredients
½

cup

salted butter

1

cup

sugar

2

eggs

2

cups

flour

1

cup

pistachios

1

cup

dried cranberries

½

teaspoon

baking powder

¼

teaspoon

salt

zest from 3 lemons
Instructions
In a large bowl combine the butter and sugar. Then add the eggs and lemon zest.

In a separate bowl combine the flour, salt, and baking powder.

Slowly add your dry ingredients to your wet ingredients. Mix until combined.

Add your pistachios and cranberries. Mix until combined.

Line your baking sheet with parchment paper and preheat your oven to 350 degrees. Take your dough and form it into a log on your baking sheet. It should be about 4 inch in width and span the length of your baking sheet.

Bake at 350 degrees for 30 minutes.

Take your log out and slice it into about 10- 12 cookies that are about ¾ inch thick. Spread them out on your cookie sheet and bake again for 15 minutes.

Take them out and serve at room temperature. Enjoy!