It's that time of year where everything is gingerbread flavored and I am all about it! Orange Gingerbread Cookies are a quintessential holiday treat. A spicy, citrusy cookie that brings out the child in all of us! Just like I mentioned in my Ginger Chew cookie recipe, I love EXTRA spice in my gingerbread. That means EXTRA nutmeg, EXTRA cinnamon, EXTRA ginger, and EXTRA clove!! I like to top off my cookies with a simple icing design but you can get as creative as you like!
These sweet orange gingerbread cookies are the Christmas cookies everyone waits for all year. Made with double the spices and sweet brown sugar, these cookies are buttery, soft, sweet and have just enough spice to warm you up! Every Christmas I get carried away baking dozens of different cookies, including my classic family recipes and the new recipes I like to try out each year. But one Christmas I stopped and realized I had baked so many different kinds of cookies but I had neglected the most classic cookie of them all... the OG of Christmas cookies... The Gingerbread Cookie! Once I added this cookie into the mix of Christmas cookies, it quickly became one of my all time favorites. Now it is simply not Christmas without it!
The most important ingredient in these orange gingerbread cookies and the one that makes this recipe stand out is the orange zest! You almost NEED this citrus to balance out all the bitter and nutty flavors of the spices. It is that thing that makes people go "mmm what is that?" so don't forget it! I get this question a lot but don't replace this zest with juice! The reason is that you are trying to eliminate the amount of liquid/water in this dough in order for these cut out cookies to hold their shape. So zest only!
The salted butter is also key, it really helps to balance out the sweetness and the spices nicely.
I think one of the stereotypes of gingerbread cookies is that they are hard, but that is simply NOT TRUE! These cookies are soft and buttery and melt in your mouth.
Like I mentioned before, I love the spices in gingerbread. To me the more spice the better so I think I created a perfect balance in my measurements of ginger, cinnamon, nutmeg and clove. You can always play around with this to meet your preference.
A very important step in this recipe is to chill your dough twice. Once before rolling it out and then again after cutting it into shapes. This helps the dough roll out and cut nicely. I place my cut cookies on a cookie sheet and put them in the freezer for about 15 minutes before I bake them. This is to ensure that the cookies hold their shape.
It is important that when you roll out these cookies you roll your dough evenly using a rolling pin, leaving the dough at about ¾ inch think. I LOVE a thick gingerbread cookie because it provides a nice satisfying bite. If it is too thin it will be too crisp and crack easily. So be careful!
After these come out, its time to ice them. To me the icing is more for aesthetic purposes and less for taste. Since I don't enjoy the taste of biting into a thick layer of sweet icing, I just do a thin line drawing on my cookies to highlight what they are! Get creative with this and feel free to break out the food coloring!
When these cookies are baking be prepared to smell the cozy scents of cinnamon, ginger and orange. You wont be able to wait long before devouring them!
If you try out this Orange Gingerbread Cookies recipe, be sure to leave a comment/rating on how they turned out. I love hearing from you guys and will try my best to reply to every comment! And don't forget to tag me on Instagram!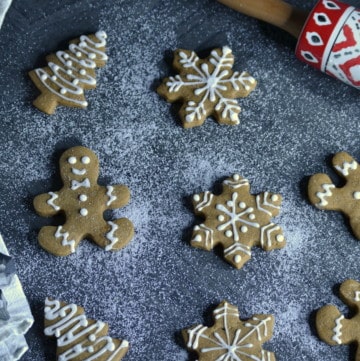 Orange Gingerbread Cookies
Ingredients
3 ¼

cup

flour

½

cup

brown sugar

¾

cup

salted butter

1 ½

teaspoon

vanilla

½

cup

molasses

1

egg

¾

teaspoon

baking soda

½

teaspoon

salt

zest of 1 orange

1 ¼

tablespoon

cinnamon

1 ¼

ground ginger

¾

teaspoon

clove

¾

teaspoon

nutmeg
Icing
2

Cups

Powdered Sugar

2-3

tablespoon

Milk

¼

teaspoon

Vanilla
Instructions
In a large bowl combine the softened butter, brown sugar, and molasses, then add the egg, vanilla and orange zest.

In a separate bowl combine the flour, baking soda, salt, cinnamon, ginger, clove, and nutmeg.

Slowly add your dry ingredients to your wet ingredients.

Form your ball of dough, place in plastic wrap and place in the fridge for 1 hour.

Roll out your dough to about ¾ inch thick and use your desired cookie cutters to cut out your cookies. Re-knead the scraps, roll out again and cut out a few more cookies.

Place these cookies on a cookie sheet and place them in the freezer for 15 minutes. Then Preheat oven to 375 degrees.

Put cookies straight from the freezer to the oven and bake for 7 minutes.

Now make the icing. Mix together the powdered sugar, milk and vanilla.

After the cookies have cooled. Place icing in piping bag and decorate!