Jam Drop Cookies or as my family calls them 'jelly cookies'. These truly are a fruity, buttery, taste of family memories. Everybody has a family recipe that reminds them of the holidays and this is mine. Jam drop cookies are a lightly sweet, jelly filled morsel that packs a punch of nostalgia.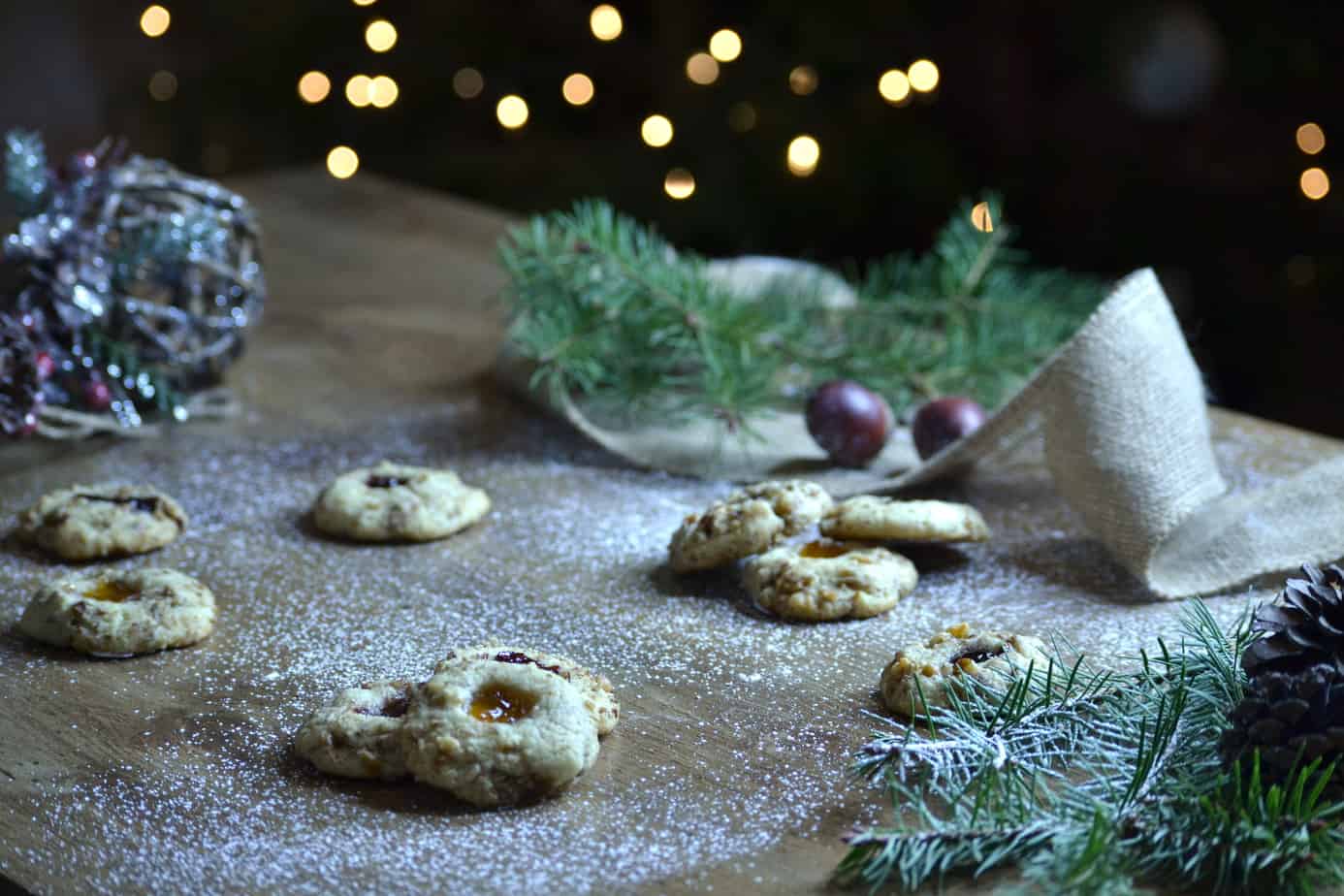 I grew up making these cookies with my mom and sisters every Christmas. My mom got her original recipe in her high school home economics class. She loved it so much she continued to make it every year. This super simple easy recipe was so good it became a family tradition that has spanned over the past 30+ years. We have literally not missed one Christmas without these cookies! It simply would not be Christmas without these cookies.
When me and my sisters were younger, my mom would make these cookies and we would help by pressing our thumbs into each cookie. That is still my favorite part to this day! Then as we got older we would help roll them out, then we were allowed to make the dough itself and then last but not least we were allowed to put the jelly in the center of the cookies. My mom had a very specific way of doing this. She said you can't add too little because it won't taste as good, but you can't add too much jelly because it would bubble over the center and not look pretty. So every year me and my sisters would put the jelly in the cookies and my mom would have to come check them before they could go in the oven; and like clockwork she would always say "Oh no that's not right" and then re-do them until they were perfect. That is truly one of my fondest childhood memories. Even at age 28, I still came home for Christmas this year and to do what? You guessed it.... make the jelly cookies with my mom and sisters. I wouldn't have it any other way!
Although my cookies may not be the perfect mom approved jelly cookies, they are still pretty delicious. Over the years I have altered and jazzed up the recipe. My mom classically uses Welch's grape jelly but my recipe has a variety of different jams in each cookie: grape, strawberry, and apricot. You can use any jelly that you want! I have even made these cookies with apple butter in the center and they are AMAZING!
It is key to roll these cookies out into very small balls, about the size of a nickel. You may think they look too small but trust me they grow! Then press each ball of dough in the center with your thumb or pointer finger. If your cookies crack when you press them, then I would recommend re-rolling them smoother (mostly because that's what my mom made us do). They will just look prettier! Then it's time for the jelly. Alternate between flavors so you have a nice variety. Place just enough jelly to fill your thumbprint but not too much that the jelly is towering over the cookie. This is apparently a hard balance that takes years of practice 😉
One of the most important steps to making jam drop cookies is to chill your dough before you put them in the oven. The reason is so you chill back up your butter creating a thicker cookie. If not, your dough may spread too thin/ flat. If you are impatient like me and are having a cookie emergency, you can also put them in the freezer for about 15 minutes.
As soon as these come out of the oven, serve and eat them warm and enjoy each bite. They are fruity, buttery, soft, and so delicious. I promise you will love them.
Lastly, if you try out this Jam Drop Cookies recipe, be sure to leave a comment/rating on how they turned out. I love hearing from you guys and will try my best to reply to every comment! And don't forget to tag me on Instagram!
Jam Drop Cookies
Ingredients
2

cups

flour

1

cup

sugar

½

cup

salted butter

¾

cup

pecans

¾

cup

walnuts

1

egg

2

egg whites

¼

teaspoon

salt

¼

cup

milk

¼

teaspoon

baking soda

1 ½

teaspoon

baking powder

1

teaspoon

vanilla

Apricot jelly

Grape jelly

Strawberry jelly
Instructions
In a large bowl combine the soften butter and sugar. Then add the one egg, milk, and vanilla. Mix on medium speed. (reserve your egg whites until the end).

In a separate bowl combine the flour, salt, baking soda, and baking powder.

Slowly add your dry ingredients to your wet ingredients. Mix on slow to medium speed.

Combine your walnuts and pecans in a food processer and finely chop. Then place these nuts in a small bowl. In a separate bowl place your egg whites.

Roll out your balls of dough to about the size of a Nickel. Then roll each ball in the egg wash first then in your nuts. Then place on a cookie sheet with parchment paper.

Press the center of each cookie down using your thumb or pointer finger.

Add jelly to the center of each cookie. Alternate between jelly flavors so you have a variety of flavors. ⅓ of your cookies should be grape, ⅓ of your cookies should be strawberry, ⅓ of your cookies should be apricot. Add just enough jelly to fill your thumbprint but not enough that it is towering over the cookie.

Place your cookies in the fridge for one hour or the freezer for 15 minutes. Then preheat your oven to 350 degrees.

Take cookies straight from the fridge to the oven. Bake your cookies for 12 minutes.