Quadruple Chocolate + Peppermint = Christmas in a cookie! Warm and comforting Peppermint Hot Chocolate Cookies...the perfect cookie for the holidays! I remember as a kid I couldn't wait until Christmas time because it meant hot chocolate every day. My parents always bought the powdered instant hot chocolate mix with the dehydrated marshmallows and they would add way too much water. Although my taste buds have definitely matured since then, that powdered watery chocolate mixture still reminds me of Christmas.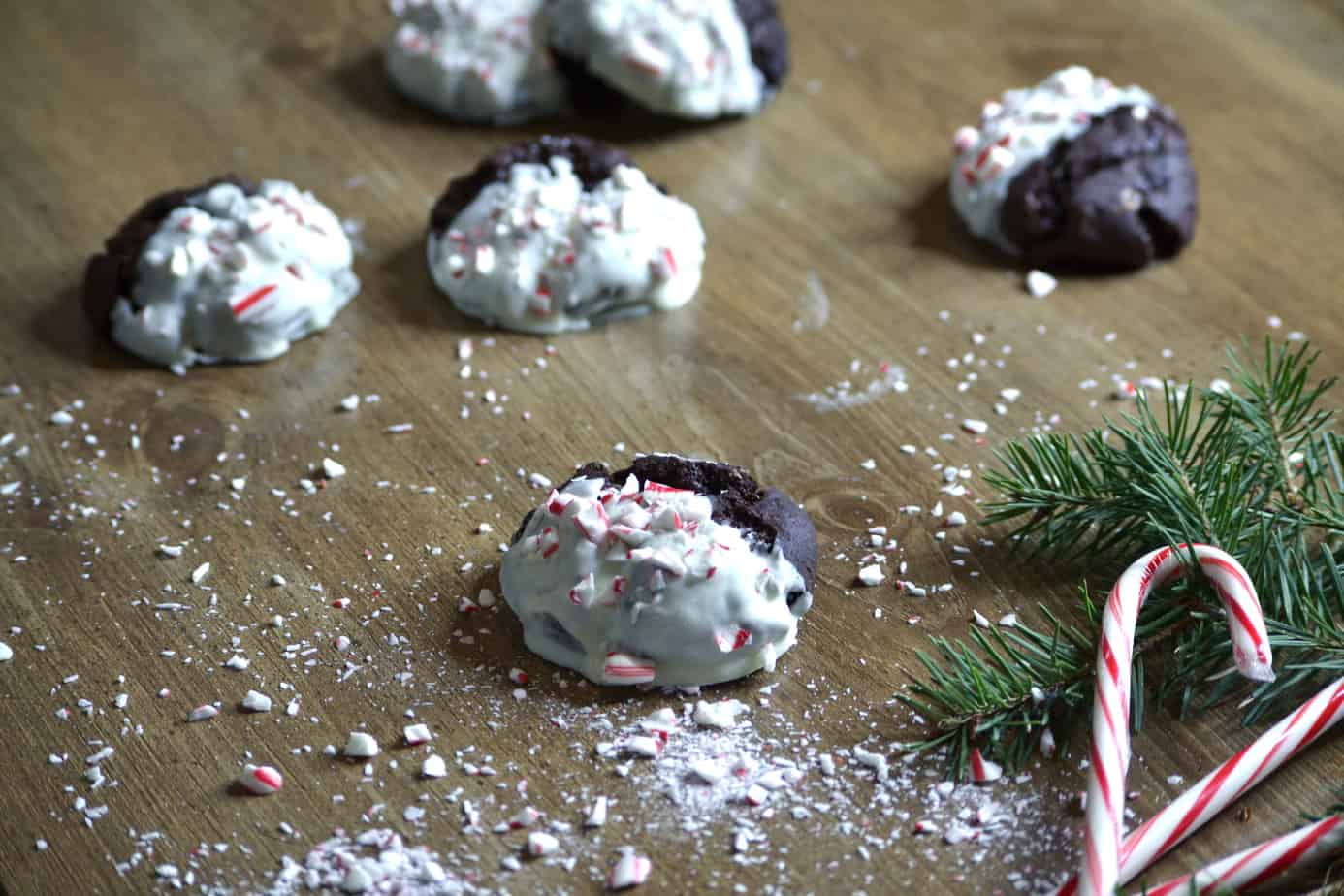 Hopefully this cookie will soon remind you of Christmas! It is a chocolate based cookie with chocolate chips inside of it. It includes both chocolate chunks and chocolate chips giving you a variety of size and texture. We will also be using four different types of chocolate: semisweet chocolate, bittersweet chocolate, white chocolate, and cocoa powder. This leads to a gooey, chocolatey masterpiece! There is almost more chocolate chips and chunks in this cookie than there is dough. And that's how it should be!! These peppermint hot chocolate cookies will quickly become a family favorite!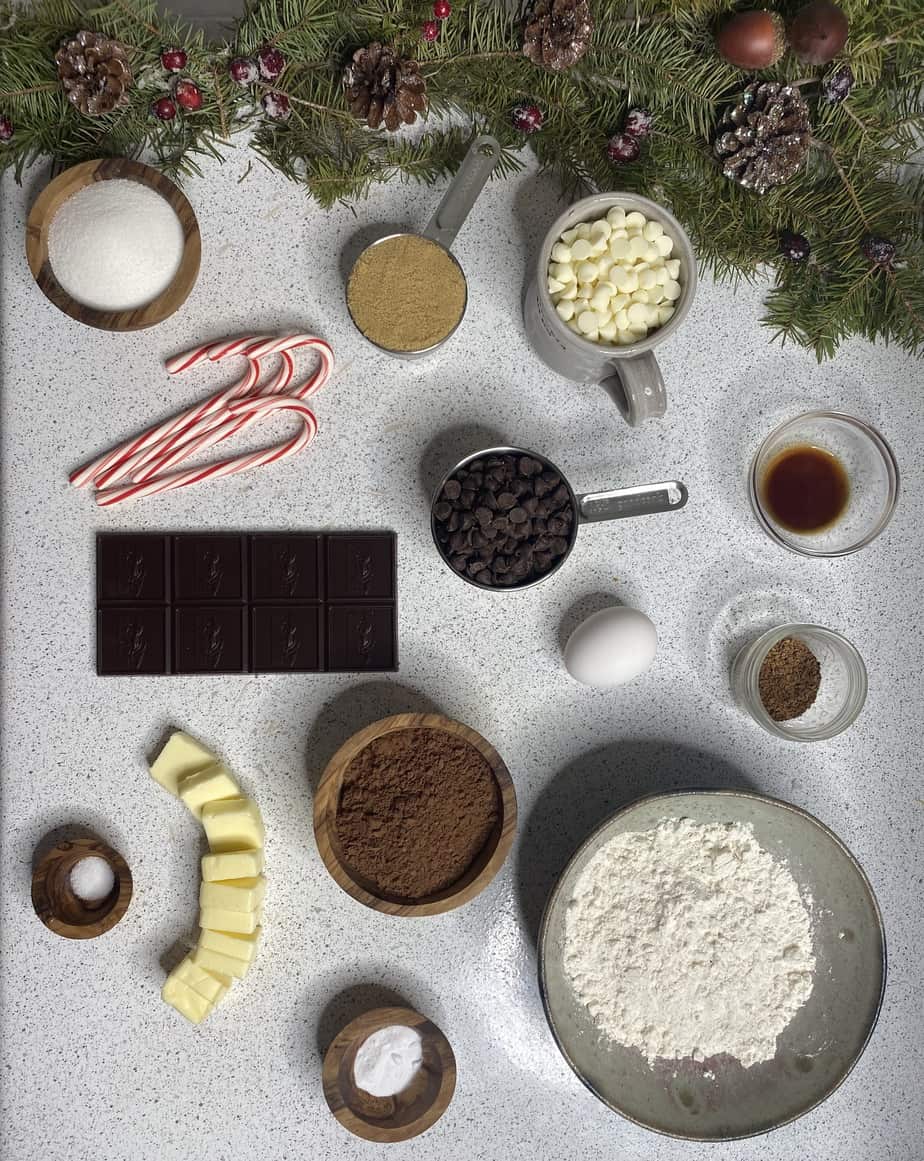 My goal with this cookie was to create a recipe that provides the same tastes and good feels that a classic cup of peppermint hot chocolate provides. So I knew it had to be decadent, rich, and comforting (which is where all the pounds of chocolate come in).
We will be including candy cane pieces in the dough and on top to give it that kick of peppermint. These cookies are going to be THICK, GOOEY and CHEWY! If you are looking for a a thin, crispy cookie, this is definitely not it.
I chose to use candy cane pieces instead of peppermint extract. I am not a fan of peppermint extract (or any extract other than vanilla as a matter of fact) because I feel that it leaves a chemically/artificial taste in my mouth that is just too overbearing. So my candy cane replacement does the trick perfectly! You can add as much or as little of these candy canes as you like. Not to mention they just look so pretty and Christmassy!
I love to use salted butter in this cookie recipe and in most of my recipes. I am a strong believer that a little extra salt is what makes people go "mmmm what is that?". It balances your sweet cookies out perfectly!
One of the most important steps in making peppermint hot chocolate cookies is to chill your dough before you put it in the oven. The reason you chill it is so you chill back up your butter, creating a thick cookie. If not, your dough may spread too thin/flat. If you are impatient like me and are having a cookie emergency, you can also put them in the freezer for about 15 minutes.
As soon as these come out of the oven, serve and eat them warm and enjoy each bite. They are chewy, gooey, rich, soft, and super chocolatey! And if I haven't mentioned this enough, they go perfect with a warm cup of hot chocolate!
Lastly, if you try out this Peppermint Hot Chocolate Cookies recipe, be sure to leave a comment/rating on how they turned out. I love hearing from you guys and will try my best to reply to every comment! And don't forget to tag me on Instagram!
Tips for a thick cookie:
Cold butter - this is why you have to put the dough in the fridge or freezer before you bake them.
2. Don't press your cookie down on the cookie sheet! I leave my balls of dough just as is!
3. Don't over mix your batter! Just mix until combined.
4. NEVER grease your cookie sheets! This is a big no and I never do this. I only and always use parchment paper for my cookies. Not only will it make for flat cookies but it will most likely burn the bottom of your cookies.
Peppermint Hot Chocolate Cookies
quadruple chocolate + peppermint = Christmas in a cookie!
Ingredients
1

cup

flour

1

cup

cocoa powder

½

cup

salted butter

½

cup

sugar

½

cup

brown sugar

1

cup

semisweet chocolate chips

8

oz

white chocolate

4

oz

bittersweet chocolate bar

1

teaspoon

vanilla

2

teaspoon

instant coffee granules

1

egg

1

teaspoon

baking soda

¼

teaspoon

salt

8

candy canes
Instructions
In a large bowl mix together the butter and sugars on a medium speed.

Add the egg, vanilla and coffee

Take 4 of your candy canes and crush them up finely in either a food processer or by placing them in a zip lock bag and crushing them with your rolling pin. Then add them to your batter.

In a separate bowl combine your flour, cocoa powder, baking soda and salt

Slowly add your dry ingredients to your wet ingredients. Mix on low to medium speed.

When your dough is combined, chop up your bittersweet chocolate into medium to large chunks.

Add your semisweet chocolate chips and your bittersweet chocolate chunks to the batter and mix well. Reserve your white chocolate for the end.

Roll out your cookies into large size balls and place on your cookie sheet with parchment paper. DON'T press your cookies down.

Place cookies into the fridge for at least 1 hour or the freezer for 15 minutes.

Pre-heat oven to 350 degrees. Once dough comes out of the fridge place them right into the oven and bake for 12-15 minutes.

While the cookies are cooling down. Melt your white chocolate over a double boiler. Then crush your remaining 4 candy canes but this should be a more course crush.

Once your cookies have cooled completely, dunk half of each cookie into the white chocolate. Then immediately place on a cookie rack and sprinkle with your candy canes.

Once the white chocolate has cooled they are ready to eat! Enjoy!