Cinnamon Toast Crunch Ice Cream. This easy ice cream recipe is guaranteed to bring out the child in all of us! It is so rich and creamy that it is hard to believe that you can make ice cream like this at home! The cinnamon sugar flavor coats your mouth and the pieces of Cinnamon Toast Crunch add a nice crunch and change in texture. Who said that cereal was only for breakfast?
Growing up, I wasn't allowed to eat junk food so the only cereals I ever had were plain Cheerios and Raisin Bran. I mean what eight year old child wants to eat cereal that's labeled as "heart healthy"? Even though I couldn't eat sugary cereal, my mom still bought it for herself. She used to hide it in the top cabinet and my sisters and I would wake up early to try and reach it. Cinnamon Toast Crunch was my favorite. Sugar and cinnamon are just such a great combination and the best part is the sweet cinnamon milk that is left at the bottom. Well this ice cream is basically just that.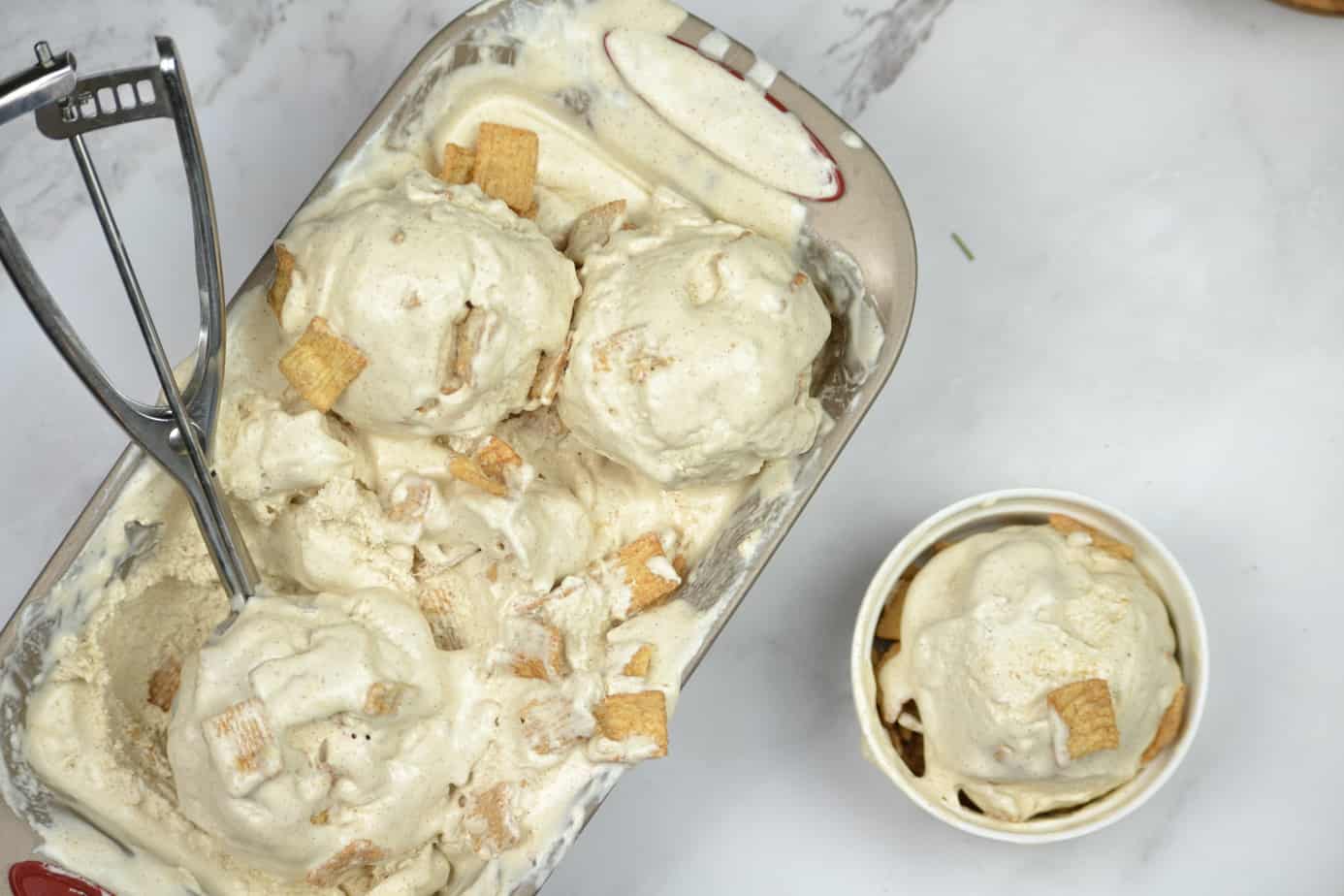 Making homemade ice cream can be intimidating and I will admit it has kept me from trying it for a while. Then I got an ice cream maker attachment to my Kitchen Aid for Christmas one year.... and I haven't stopped making it since (thank you mom!). It's actually pretty easy if you have the right recipe and this one is it. I use this base recipe for all of my ice creams and then flavor it differently depending on what I want. For this recipe you don't have to add the cereal and you would still have a delicious cinnamon ice cream, which is amazing on pies and cobblers etc.
So this recipe calls for vanilla bean, which you might know is SUPER expensive. Of course you can replace this with high quality vanilla extract BUT I can't express this enough: the vanilla bean makes a world of difference. I rarely use vanilla been because it is so pricey so when I do, you know it's for a good reason and this is one of them.
The main secret to this recipe is to not stop whisking. You want to temper your eggs so that you cook them, but don't scramble them. That is why we transfer cream to egg and then back to cream. This slowly increases the temperature of the eggs without scrambling them! So it is key to whisk as you pour and to pour slowly.
Because this recipe does contain eggs, it really does need to be churned. If you do not have an ice cream machine you can place your ice cream in the freezer and mix it every 2 hours for about 6 hours. This will work but the texture wont be as whipped.
Tips:
When tempering your eggs do not stop whisking. Otherwise you may scramble your eggs.
Tempering your eggs will cook them but not scramble them.
When you place your mixture back on the stove, simmer on a medium to low heat for about 30 minutes and DO NOT stop whisking. Again you do not want your eggs to scramble.
You will know when your mixture is done cooking when it coats the back of your spoon.
I like to make the mixture the night before and churn it the next day.
Do not forget to put your ice cream maker in the freezer the night before you plan on using it.
After your ice cream is churned, it still needs to chill in the freezer for at least 4 hours but I prefer overnight.
When you eat this you are going to LOVE how exceptionally creamy it is... better than any store bought ice cream you can buy. I promise you will never go back again!
Lastly, if you try out this recipe, be sure to leave a comment/rating on how it turned out. I love hearing from you guys and will try my best to reply to every comment! And don't forget to tag me on Instagram!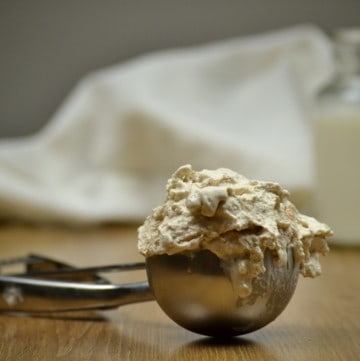 Cinnamon Toast Crunch Ice Cream
Ingredients
1

cup

sugar

1 ½

cups

half & half

2

eggs

1

cup

heavy cream

1

vanilla bean

1

tablespoon

cinnamon

1 ½

cup

Cinnamon Toast Crunch
Instructions
In a medium sauce pan heat your half and half and sugar over a medium low heat until it is simmering. Then remove from heat.

In a bowl whisk your eggs. Then Temper them. To do so slowly pour about half of your half and half mixture into your egg mixture, while whisking vigorously. Then slowly add your egg mixture back to your sauce pan with the remaining half and half mixture. While doing this whisk vigorously.

Add your heavy cream, seeds from your vanilla bean, and cinnamon to your pan.

Place pan back on the stove and heat over medium low heat while whisking continuously. Do so until your mixture as thickened enough that it coast the back of your spoon. About 30 minutes.

Then take off stove and cool to room temperature for about an hour. Then place mixture into fridge for about 4 hours or overnight.

Pour mixture into ice cream mixer and churn until mixture has doubled in volume and it is thick fluffy and creamy looking. About 30 minutes.

Once done pour in loaf pan and place back in freezer for about 2 hours or more if desired.