One day during my baking journey I made it my life's mission to create the BEST chocolate chip cookie....and I succeeded! These Crisco Chocolate Chip Cookies combine three different types of chocolate to form the perfect cookie experience. They are crisp on the edges and have a soft, gooey center with a little crunch from the walnuts! The sea salt pushes them over the edge so don't forget it! Nothing is more comforting than eating these warm right out of the oven.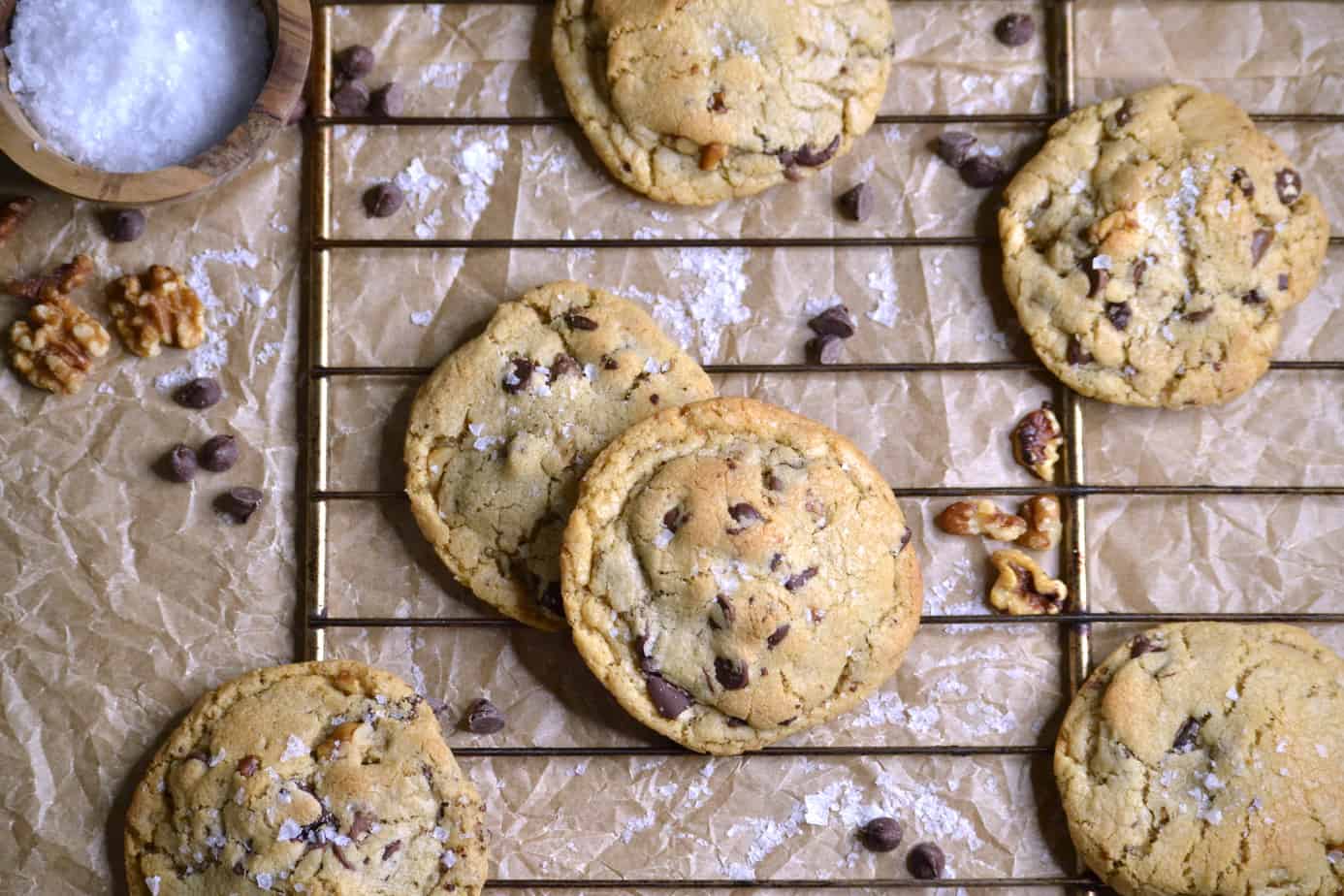 These classic Crisco chocolate chip cookies are famous in our house. My husband is a medical student, which comes with lots of stressful long nights and weekends of studying and the occasional (or frequent) panic attack. One of the few ways I can help him with that is by baking some of his favorite comfort foods. This one is at the top of the list! So every night before a big exam I make these cookies. Eating them warm out of the oven, its almost impossible not to feel good inside. It works every time 😉
Early on in my baking journey I made it my mission to develop the perfect chocolate chip cookie recipe. Everyone wants that but I have it and now I'm sharing it with you! Remember that episode of Friends where Monica went through like 15 batches of chocolate chip cookies in order to find the perfect recipe? Well that was pretty much me and there are a few key secrets that I found out along the way.
The first one is to replace some of the butter with vegetable shortening. This creates a thicker cookie but also provides a very flaky cookie, which is exactly what I wanted. Another important part is to double the vanilla. One teaspoon is just not enough! And of course if you can, getting a high quality vanilla is worth it. It is also important to use mostly brown sugar instead of white sugar. This provides a nutty molasses taste and contributes to the thick chewy texture.
Like with most of my recipes, I also use salted butter. That extra layer of salt enhances the flavor of chocolate and balances the sweetness perfectly. This is the same reason as to why I top my cookies with the flaky sea salt. This is probably my favorite part... when biting into the chocolate cookie and also getting a taste of that flaky sea salt. Its an amazing flavor combination! A common question I get is can I replace the flaky sea salt with regular sea salt? Unfortunately the answer is no! The flaky salt is hard to find and a little expensive but its worth it, especially if you bake a lot. You will find yourself topping a lot of your creations with this. Regular sea salt is way too harsh and will be overbearing in your mouth. If you cant find it then I would leave it out. But its worth the search!
Lastly... the chocolate! Now I am a big believer the best chocolate chip cookies have not only chocolate chips, but also chocolate chunks. The variety in size and shape provides a more complex, gooey and satisfying cookie. You also want to consider the type of chocolate you use. I use a combination of milk chocolate, semisweet chocolate and bittersweet chocolate. This creates a perfect harmony of sweetness and chocolate flavor. I also add walnuts. Now this is controversial but I personally love them. You can decide to add these or leave them out!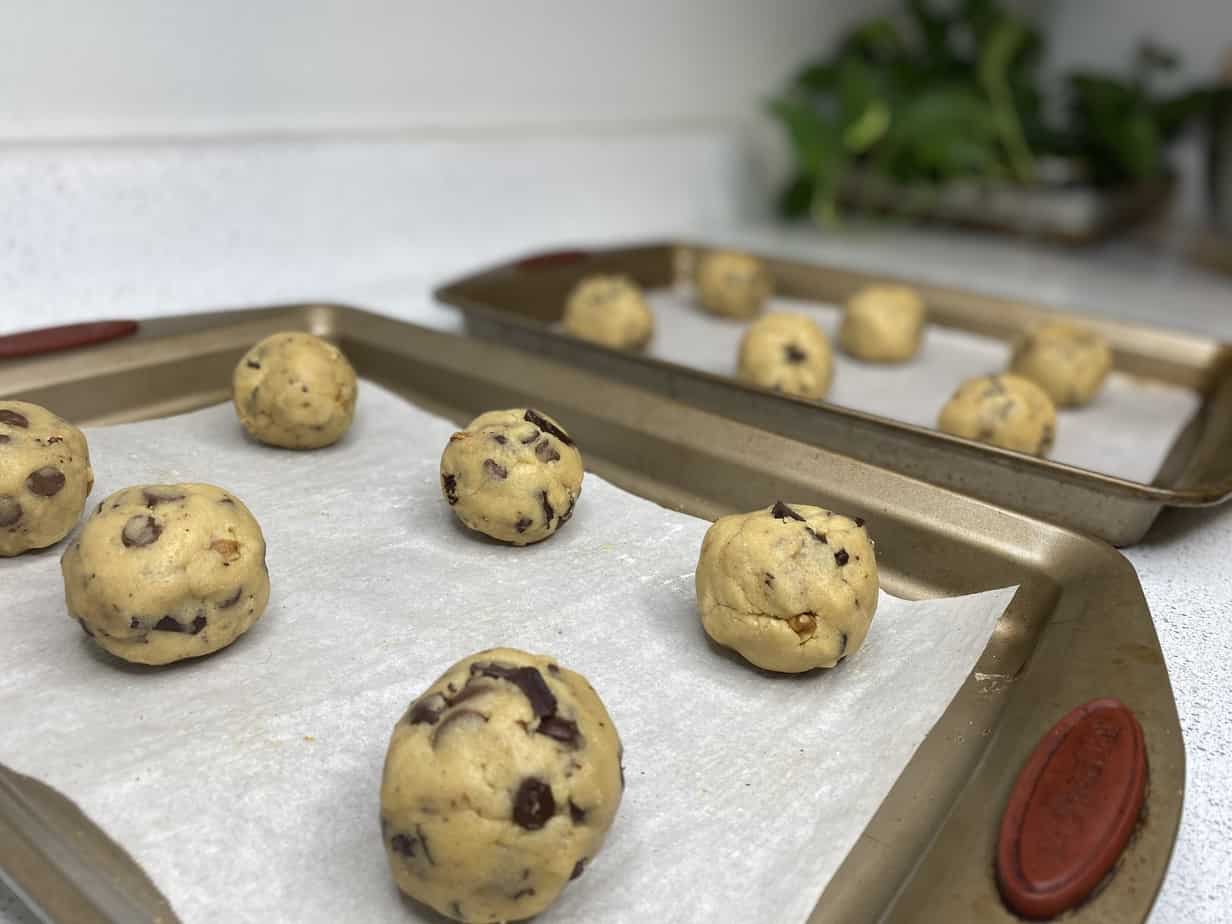 There are two big chocolate chip cookie controversies...
1. Flat and crisp or thick and chewy. I am very passionate about this one but to me there is truly only one right way and that is THICK AND CHEWY which is exactly what this recipe is. First of all it is simply just more cookie so why not. But also this texture is just everything in my opinion. I'm sorry to all the flat and crisp people out there but if you try this recipe I might change your mind 😉
2. Walnuts or no walnuts. So this one I can go either way with but overall I fall on the side of walnuts. I think it just adds a little extra crunch, which is a nice balance to the soft, gooey and chewy texture of the rest of the cookie. Now my husband is not about the walnuts so I usually have to make these without them and honestly they are just as good!
Tips to getting a thick cookie:
Cold butter - this is why you have to put the dough in the fridge or freezer before you bake them.
Don't press your cookie down on the cookie sheet! I leave my balls of dough just as is!
Don't over mix your batter! Just mix until combined.
NEVER grease your cookie sheets! This is a big no and I never do this. I only and always use parchment paper for my cookies. Not only will it make for flat cookies but I will most likely burn the bottom of your cookies.
Use Shortening- This is key! Replacing some of the butter with shortening creates a flaky thick cookie.
As soon as these come out of the oven, sprinkle them with your flaky sea salt and eat them warm and enjoy each gooey bite. They are chewy, gooey, rich, soft, and super chocolaty!
Lastly, if you try out this Crisco Chocolate Chip Cookies recipe, be sure to leave a comment/rating on how they turned out. I love hearing from you guys and will try my best to reply to every comment! And don't forget to tag me on Instagram!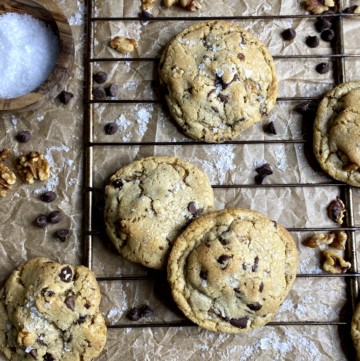 Crisco Chocolate Chip Cookies
Ingredients
1

cup

salted butter

¾

cup

sugar

1 ¾

cup

brown sugar

½

cup

Crisco vegetable shortening

3 ¾

cup

flour

3

eggs

¾

cup

semisweet chocolate chips

4

oz

bittersweet chocolate chunks

1

cup

walnuts, chopped

2

teaspoon

baking soda

¾

cup

milk chocolate chips

1

teaspoon

salt

2

teaspoon

vanilla

Pinch of flaky sea salt
Instructions
In a large bowl combine the butter, shortening and both sugars.

In a separate bowl combine the flour, salt (not the flaky sea salt, set that aside for the end), and baking soda.

Slowly combine the dry ingredients to the wet ingredients.

Add all your chocolate and walnuts. Mix until combined.

Use a ¼ cup measuring spoon to measure out each ball of dough. Then roll out each ball of dough and place them on a baking sheet with parchment paper. Do not press your cookies down. Then put them in the freezer for 15 minutes. Preheat oven to 375 degrees.

Bake cookies for 13-15 minutes

When they come out immediately sprinkle them with a little bit of flaky sea salt. Must use flaky salt do not substitute for regular sea salt.