These white chocolate shortbread cookies are very simple and easy to make but provide a complex experience of flavors. They are light, not too sweet and the perfect addition to your afternoon tea time. I like to make one base shortbread dough and then split that into two, so that I can flavor them differently. To one half I like to add orange zest and then top them off with some dried cranberries. To the other half I add some lemon zest and garnish them with crushed pistachio. So basically I get two cookies in one!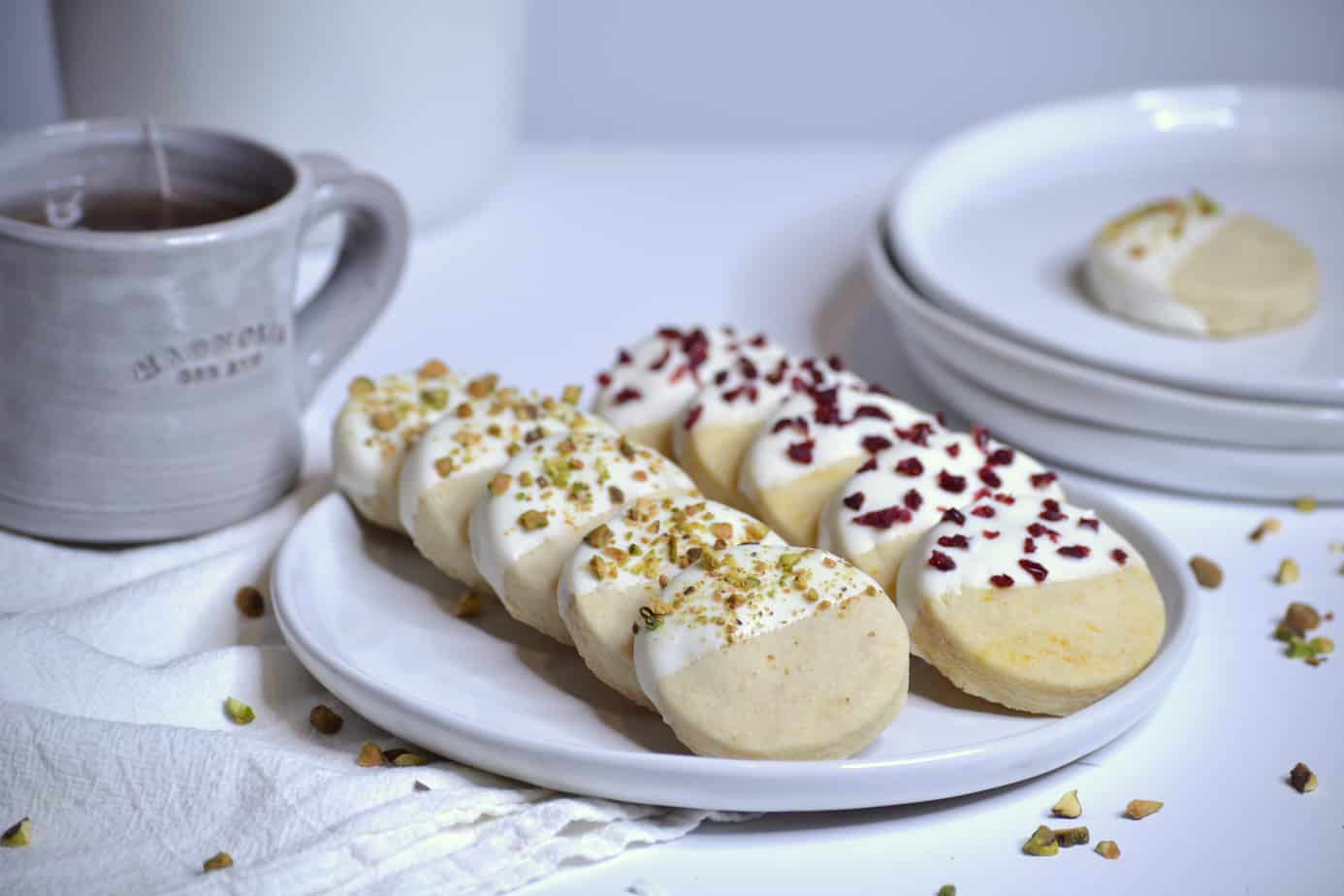 Shortbread is a traditional Scottish biscuit usually made from one part white sugar, two parts butter, and three parts flour. And that creates a buttery cookie that melts in your mouth. These shortbread cookies do not have any leavening agents so that they can maintain their shape, which is where the name "short" comes in because they do not grow.
I love a good classic shortbread cookie, but of course I needed to jazz mine up a little and that's how I came up with these white chocolate shortbread cookies. The addition of orange zest creates fresh and citrusy notes that pair perfectly with cranberry and white chocolate and the lemon zest pairs perfectly with pistachios. These additions not only enhance the dynamic flavor combination but they also look so pretty and delicate. Trust me you will be so proud of yourself after making these that you will find yourself wanting to throw a fancy tea party just so you can serve these.
Tips:
You must chill your dough before baking. I place my cookies in the freezer for 15 minutes before I bake. This chills the butter and helps the cookie hold it shape.
Cutting out your cookies. I use my smallest biscuit cutter for these but you can also use a cookie cutter or press. And if you do not have any of these you can even roll your dough out into a log freeze it and then slice out your cookies.
Don't roll them too thin. I try to never roll them out any thinner than ¾ of an inch thick. This leaves room for a nice soft bite to your cookie.
Keep a close eye on them in the oven. These are delicate and don't need a lot of time to bake. You want to catch them before they start getting golden brown... mostly for aesthetics. Bake them in the center of the oven to help with that.
You may think your dough is too dry but its not. Don't add any more liquids to "help" it. A sandy crumbly consistency is what you are looking for. When you knead it together with your hands it will form together.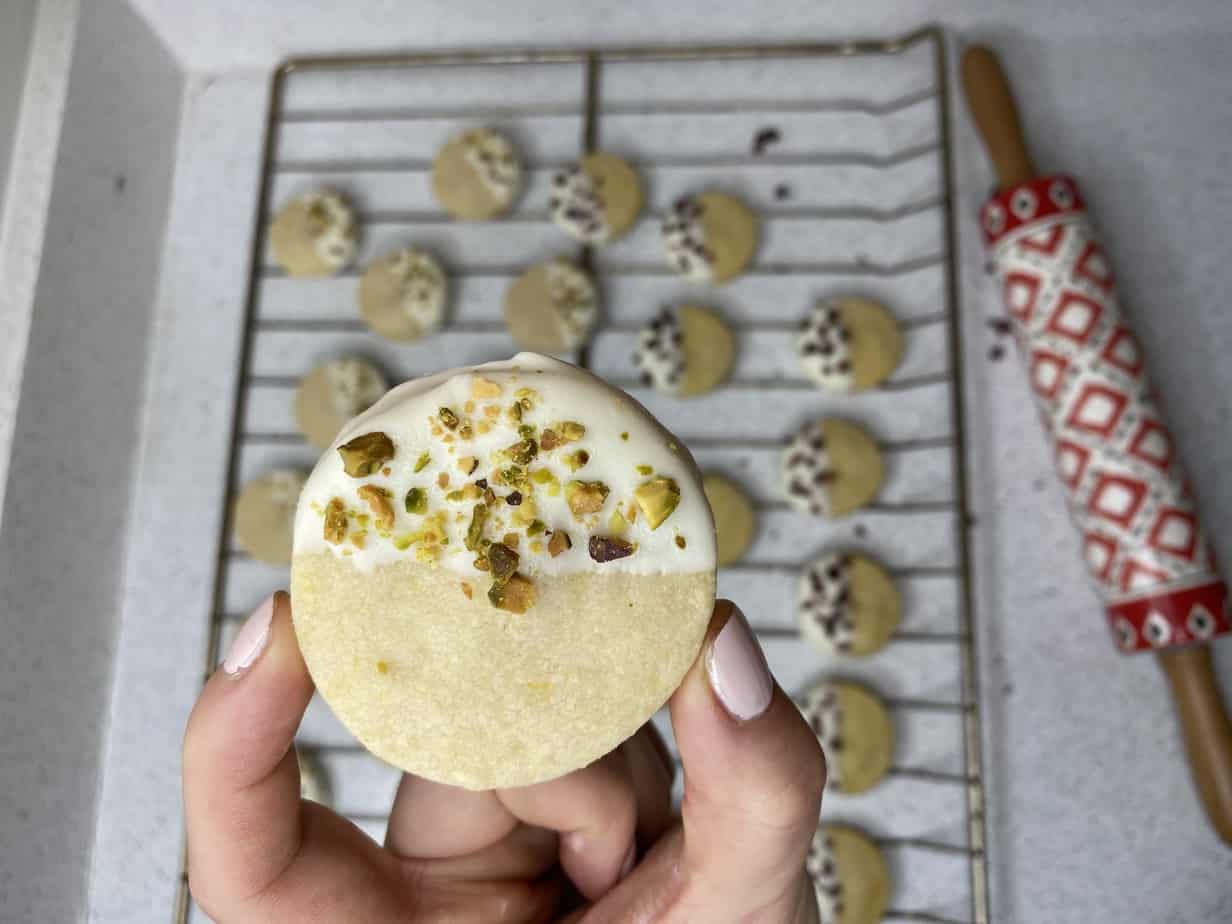 When these are done, let them cool and enjoy every fruity, nutty, citrusy, buttery, melt in your mouth bite.
Lastly, if you try out this White Chocolate Shortbread Cookies recipe, be sure to leave a comment/rating on how they turned out. I love hearing from you guys and will try my best to reply to every comment! And don't forget to tag me on Instagram!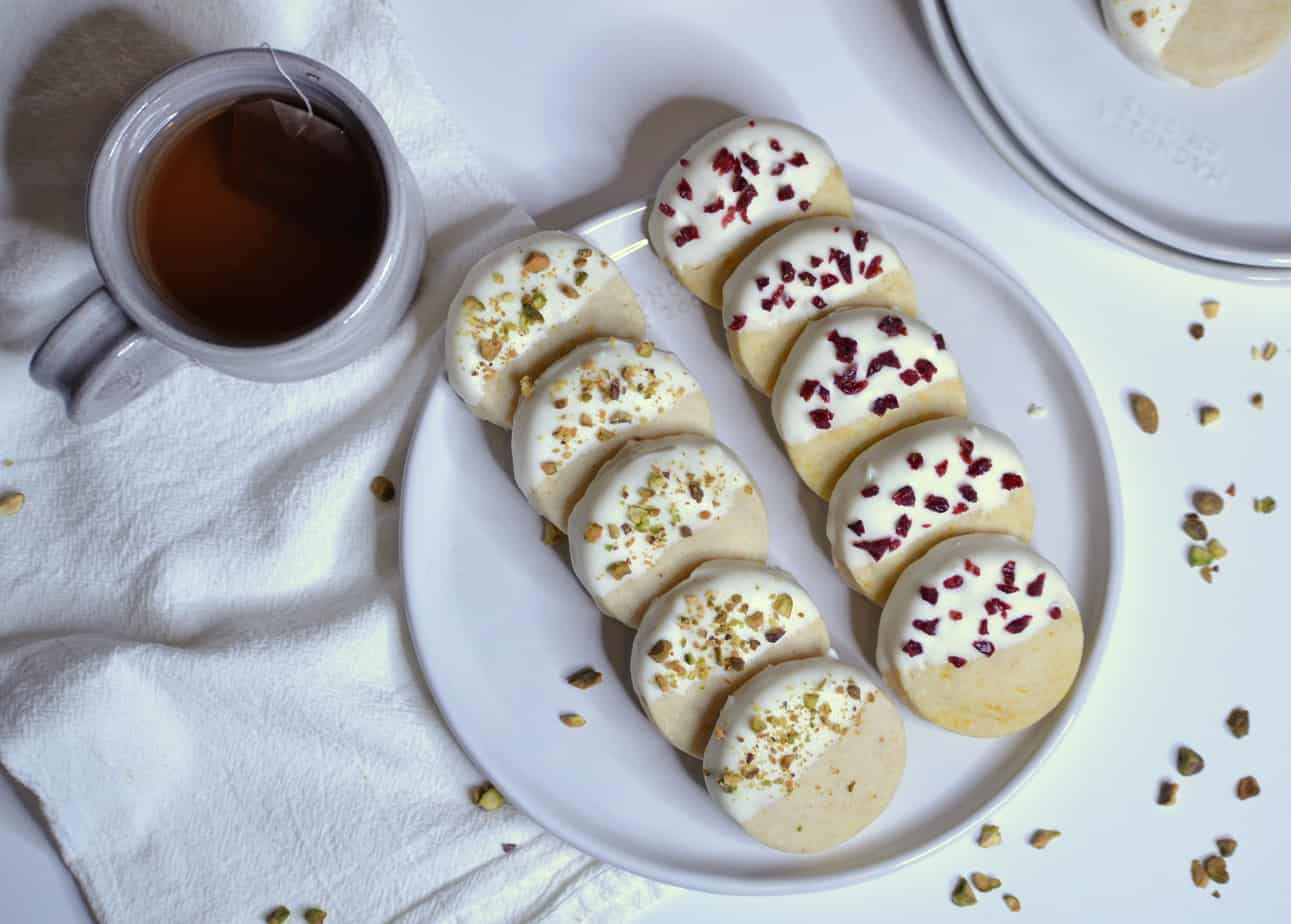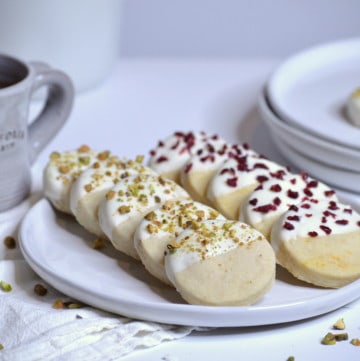 White Chocolate Shortbread Cookies
These white chocolate shortbread cookies are very simple and easy to make but provide a complex experience of flavors.
Ingredients
1

cup

salted butter

¾

cup

powdered sugar

1

teaspoon

vanilla

2

cups

flour

¼

teaspoon

salt

zest from 1 orange

zest from 1 lemon

1 ½

cup

white chocolate chips

small handful of dried cranberries

small handful of pistachios
Instructions
In a large bowl combine your flour, sugar and salt. Then add your butter and vanilla. Mix on low speed until just combined. Your dough should look sandy/ crumbly.

Divide your dough in half evenly into two separate bowls. In one bowl add your lemon zest. In the other bowl add your orange zest. Mix both doughs into a separate ball of dough until just combined.

Start with one ball of dough; using a rolling pin roll your dough out until it is about ¾ inch thick. Then cut out your cookies using a small biscuit cutter or cookie cutter. Repeat with your scraps of dough. Place these cookies on a prepared cookie sheet with parchment paper.

Repeat for the second ball of dough. Keeping each flavor on a different cookie sheet so you don't mix them up.

Place your cookies in the freezer for 15 minutes. This is a very important step. Pre-heat oven to 325 degrees.

Bake cookies for 12 minutes.

While they are baking, melt your white chocolate over a double boiler. Then finely chop up your cranberries and pistachios. Set aside.

Once cookies are done let them completely cool. Then starting with your orange cookies, dip half of each cookie in your white chocolate, then transfer to a cookie rack and immediately top with your cranberries. Once finished switch to your lemon cookies. Dip half of each cookie in your white chocolate, then transfer to a cookie rack and immediately top with your pistachios.

Let the chocolate cool and enjoy!