I'm starting the week off right with a perfect spring cake. This Italian olive oil cake is light and airy, and not too sweet. It is fresh and citrusy. The cake is a moist and tender spongey cake that is almost savory, with a delicious hint of olive oil. Between each layer are fresh juicy blackberries and a tart lemon curd, all wrapped up with a delicious mascarpone frosting. This Italian olive oil cake is the perfect cake for Easter or any spring evening!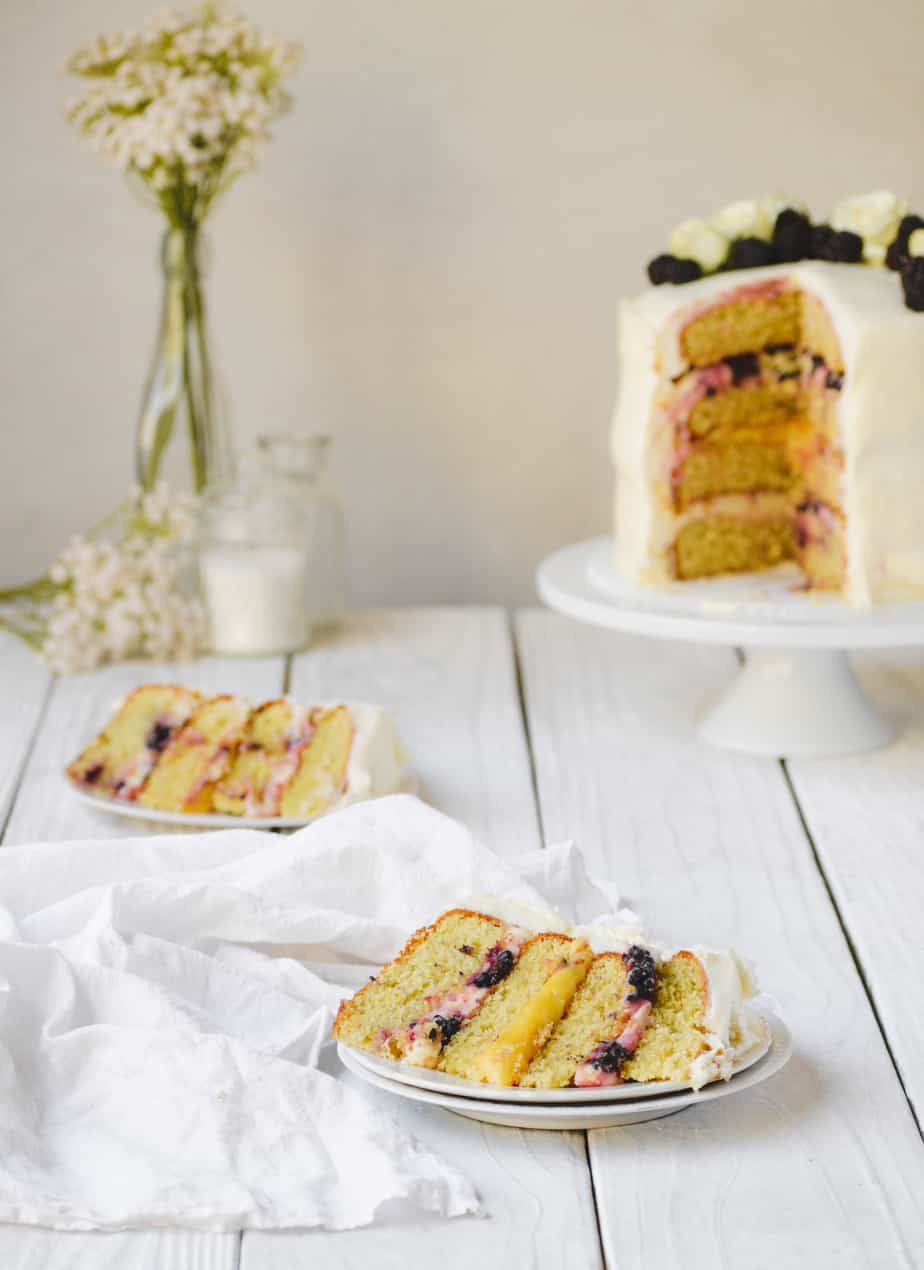 I'm not sure if there is a cake that embodies spring more than this one. Everyone loves a good cake, but during the summer and spring months the weather is getting hotter and all I want is a much lighter dessert. Now this four tier cake might look like a lot but it's actually so light and airy. It's also not overwhelmingly sweet and most of the sweetness comes from the juicy blackberries and citrusy lemon curd. This cake is perfect for the hotter months.
So I had a little leftover lemon curd in my fridge from my lemon curd recipe I made last week. I wanted to come up with a creative way to use it up and I have always wanted to make an olive oil cake. It is also the perfect time of the year for it. Olive oil and lemon are an amazing flavor pairing and throw in some blackberries and you have the perfect eye catching four tiered cake.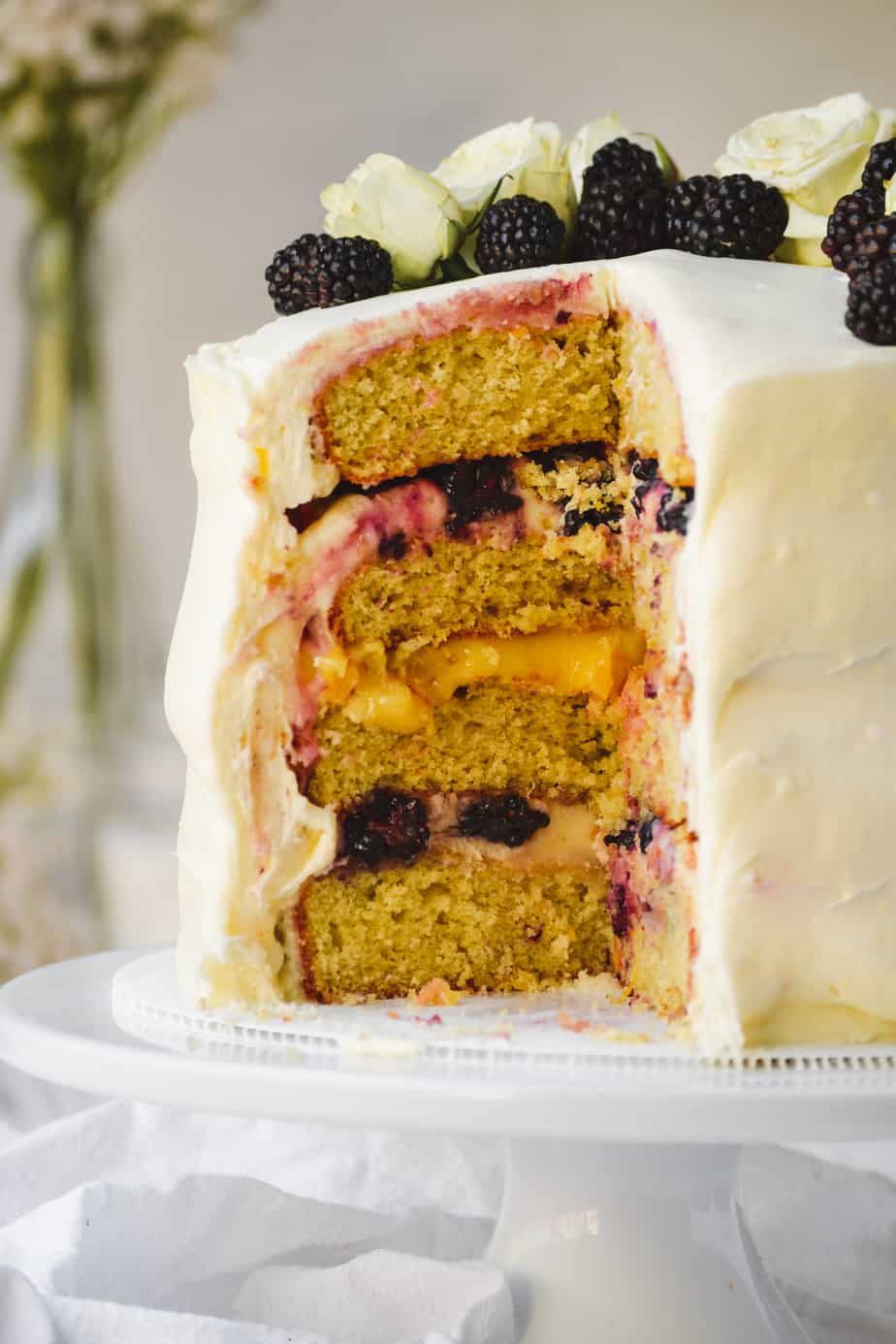 HOW TO MAKE A LAYERED CAKE
So a layered cake can be difficult and intimidating and I am not going to lie, it takes some practice. Even after years of baking, sometimes I still learn new things. But the best part is that you can really adjust this to be a much easier cake if you desire. You can make a naked cake, since the outer frosting layer can be the most difficult, or you can even make it a three layer cake or two layer cake if desired.
First make sure to trim off the top of each cake to level them out. If they are not level, the layers will fall.
Make sure to let the cake set in the fridge in-between each step to let it set. Otherwise the layers can start sliding and become a sloppy mess.
Use a skewer in the center of your cake to help it stand straight while frosting it.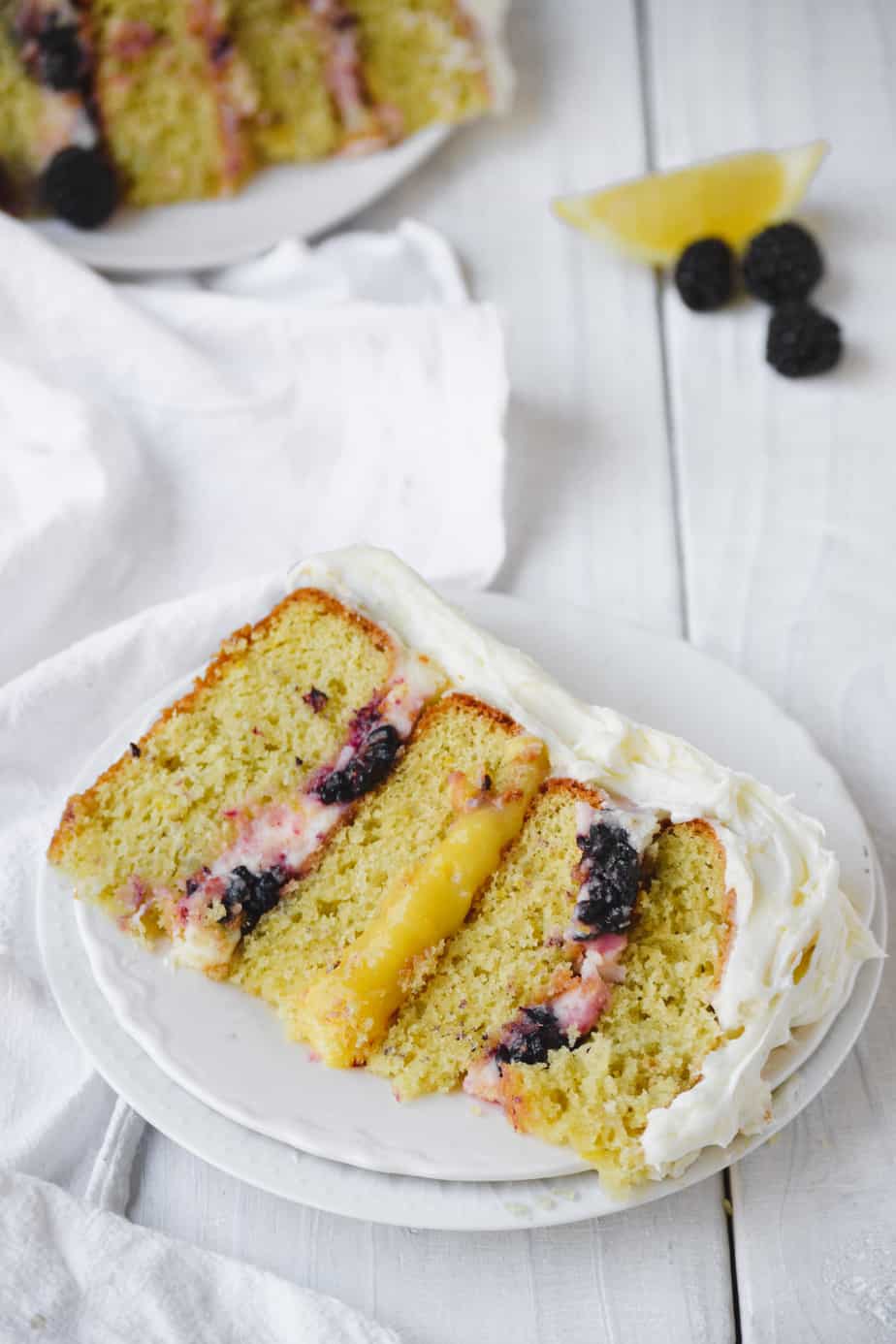 WHAT IS OLIVE OIL CAKE?
An olive oil cake is a traditional Italian cake that uses olive oil so that it is super moist and has a delicious hint of olives. This recipe has less sugar in it so that the flavor of the olive oil can really stand out and create a great canvas for the sweetness of the blackberries and lemon curd. It's less sweet and almost savory, light and fresh!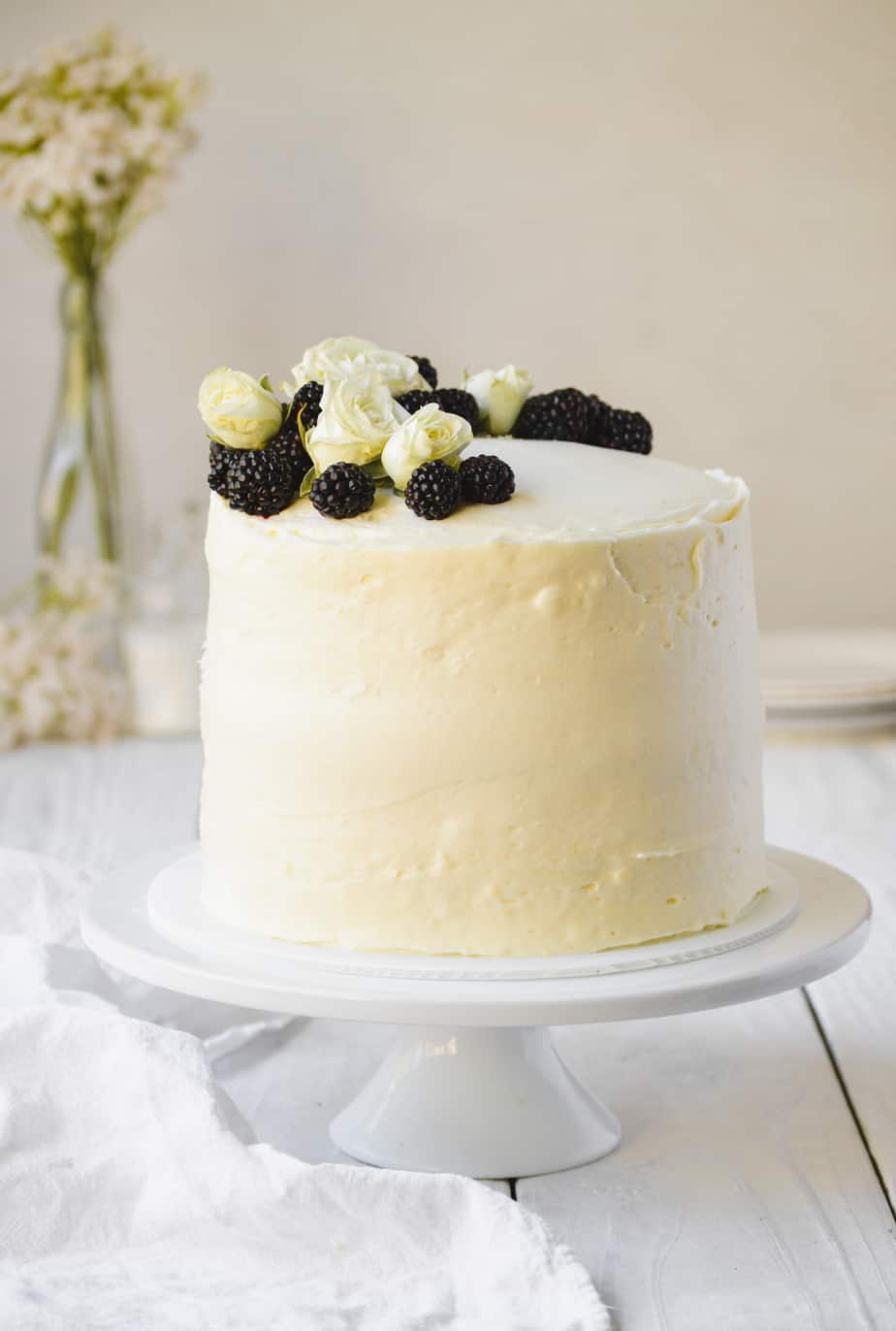 WHAT IS LEMON CURD
Lemon curd is one of my favorite things! It is pretty much just lemon juice, sugar and butter simmered on the stove and reduced until thickened. It is sweet, tart, and citrusy and really makes the cake stand out! You can use store bought or make your own. I have a great homemade lemon curd recipe here that you should check out!
Lastly, if you try out this Italian Olive Oil Cake with a Fruit Filling & Mascarpone Frosting, be sure to leave a comment/rating on how they turned out. I love hearing from you guys and will try my best to reply to every comment! And don't forget to tag me on Instagram!
Italian Olive Oil Cake with a Fruit Filling & Mascarpone Frosting
Ingredients
Cake
1 ⅓

cup

extra virgin olive oil

1 ⅓

cup

sour cream

3

cup

flour

5

eggs

1 ½

cup

sugar

1

teaspoon

baking soda

2

teaspoon

baking powder

½

teaspoon

salt

zest from 3 lemons
Filling
8

oz

blackberries cut in half

6

oz

lemon curd (recipe linked)
Frosting
24

oz

mascarpone cheese

1

cup

butter

5

cups

confectioners sugar

2

tablespoon

lemon juice
Instructions
Cake
In a large bowl whisk together your oil, sour cream, eggs, sugar, and lemon zest. Add your flour, baking soda, baking powder, and salt.

Prepare four 8 inch round cake pans with parchment paper. Divide your batter evenly between these four pans.

Bake your cakes at 350 degrees for 25 minutes.

Let your cakes cool completely.

Trim the tops of your cake layers off to make the tops completely straight and level.
Frosting
In the bowl of a stand mixer, add your room temperature mascarpone cheese and butter and whip on high until soft and airy.

Add your sugar and lemon juice and stir on low until combined.
Assemble
On a cake stand place your first layer of cake. Layer on about ¼ of your frosting. Layer on about half of your blackberries (make sure they are cut in half).

Place your second layer on top of that. Pipe on a border of icing around the outer edge of the cake. In the center of the border spread on all of your lemon curd. At this point place your cake in the fridge for at least an hour to let the curd and frosting set.

Place your third cake layer on top. Spread on about another ¼ of your frosting. Place the remaining blackberries on-top of that.

Place your fourth cake layer on top.

Place a skewer in the center of your cake to help it stand up and cool straight. Place your cake in the fridge for at least 4 hours to set up.

Use the remaining frosting to frost the outside of your cake. Place cake back in the fridge to set up. Place any remaining blackberries on the top for decoration.