So Halloween is coming up and I am craving some homemade candy bars! These Maple shortbread bars are kind of a cross between a twix and a snickers bar. starting with a thick layer of buttery shortbread, then pecans covered in a maple caramel and then topped with a layer of chocolate! These bars are basically like a fall candy bar which you are going to love!
It is the end of September, the beginning of October, the air is getting crisper and the leaves are getting brighter… which means it officially Fall! I have been doing a lot of fall baking. pretty much since the end of august... which may have been a little too early but not for me! Im slightly fall obsessed so the earlier the better. So far I have made tones of pumpkin recipes... tones of pumpkin recipes but what i havn't made yet ( which is a major fall flavor) is MAPLE recipes. I feel like maple is one of the biggest underrated and forgotten fall flavors. I don't know why because it is amazing and gives me major fall vibes. So here is my first maple recipe and i think you are going to love it!
PURE MAPLE VS. REGULAR MAPLE SYRUP
So maple syrup is a syrup that is made and extracted from a sugar maple, red maple, or black maple tree. when buying maple and you want this REAL maple syrup you have to make sure you buy syrup that say PURE maple syrup. otherwise all the others are made with sugar, corn syrup and chemically made flavors. So For this recipe I highly recommend pure maple syrup because if not your bars will just taste like sugar and the maple flavor will be hard to find.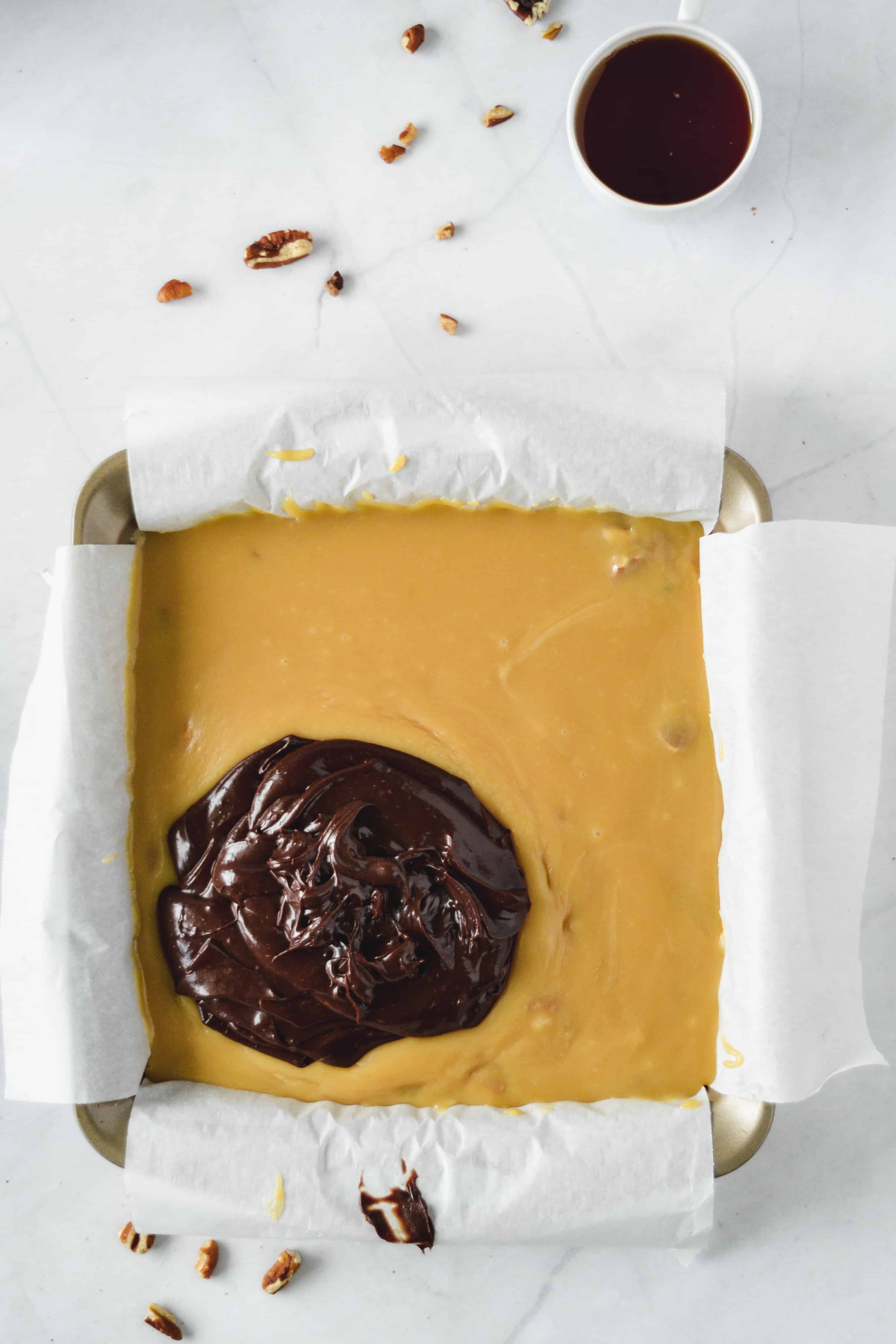 HOW TO MAKE MAPLE SHORTBREAD BARS
These bars are layers with shortbread, pecans, maple caramel, and chocolate. lets make them step by step.
Shortbread. In the bowl a stand mixer combine your butter, sugar, flour, salt and vanilla. whisk until combined and crumbly. Take your crumbly mixture and transfer it into your prepared baking dish. Using your hand press your dough down into your dish. Bake at 325 degrees for 40 minutes. Take out and let cool.
Pecans. roughly chop your pecans and roast them in the oven for 5 minutes. this step is not required but i recommend it because if you directly heat up the nuts it releases the natural oils in the nuts and tastes stronger! Once done, evenly place these nuts on top of your shortbread
Maple Caramel. In a medium sauce pan combine your butter, sugar, condensed milk, and maple syrup. simmer on a medium heat while CONSTANTLY stiring. your mixture will combine, slightly bubble and thicken. simmer for 20 minutes. Then remove from heat. Pour your cooled mixture over your pecans. and chill until your caramel is cooled
Chocolate. chop up your chocolate and add it to a medium bowl. In a medium sauce pan add your heavy cream and warm it up on low hear until it gets steamy (do not boil). Then pour cream over your chocolate. let it sit for a minute. Then slowly stir until combined. Pour chocolate over your cooled caramel. Store bars in the fridge, slice and serve!
MAPLE SHORTBREAD BARS INGREDIENTS/ SUBSTITUTION
BUTTER. butter is in the shortbread which gives it that buttery texture and in the caramel which gives it the creamy texture
SUGAR. These bars are super sweet! but in a good way.
FLOUR. flour is in the shortbread.
SALT. salt helps balance the sweetness and i like to add this to the shortbread
VANILLA. I always use pure vanilla extract and this adds great flavor.
PECANS. These bars have pecans in them which is very fall, but you can switch this out for other nuts like almonds or walnuts if you desire.
MAPLE SYRUP. I use pure maple syrup. not artificial syrup or the maple flavor of your bars may be hard to find.
CONDENCED MILK. This helps thicken your caramel.
DARK CHOCOLATE. I use chocolate that is at least 60 percent coco but i prefer 70 percent coco. this adds a rich coco flavor.
HEAVY CREAM. this helps make your chocolate ganache layer. you can substitute this for half and half as well.
Lastly, if you try out this recipe, be sure to leave a comment/rating on how they turned out. I love hearing from you guys and will try my best to reply to every comment! And don't forget to tag me on Instagram!
Maple Shortbread Bars
A layer of buttery soft shortbread filled with pecans, and maple caramel then topped with a chocolate ganache.
Ingredients
Shortbread
1

cup

salted butter

½

cup

sugar

2

cup

flour

½

teaspoon

salt

2

teaspoon

vanilla
Maple Caramel
½

cup

butter

1

cup

Pure Maple Syrup

1

can

sweetened Condensed Milk (14 oz)

⅓

cup

sugar
Chocolate Ganache
8

oz

Dark Chocolate (about 1 cup chocolate chips)

½

cup

heavy cream
Instructions
Shortbread
In the bowl of a stand mixer beat your butter until softened. Add your sugar, flour, salt and whisk on medium speed until combined. Then add your vanilla at the end of mixing.

Line a 8x 8 inch baking dish with parchment paper (making sure the edges of the paper comes out of the pan for easy removal later). Pre-heat your oven to 325 degrees

Using your hand press in the shortbread onto the bottom of your pan. Bake for 40 minutes. Take out and let cool
Pecans
place your chopped pecans on a baking dish and roast them in the oven at 325 degrees for about 5 minutes. you can do this while your shortbread is baking.

Once your shortbread is cooled you can sprinkle your pecans on top of your shortbread making sure to spread them out evenly.
Maple Caramel
In a medium sauce pan add your butter, maple syrup, condensed milk, and sugar. Simmer on medium heat while continuously stiring. do this for 20 minutes. you should see bubbles forming and the mixture thickening. do not stop stiring or it will burn. Let cool slightly.

Pour your caramel over your pecans using a knife to spread it out evenly.

Place your bars in the freezer for 30 minutes to allow your caramel to solidify and cool completely.
Chocolate ganache
chop your chocolate and place it in a small bowl.

in a small sauce pan add your heavy cream and warm it on low heat until it is steamy and tinny bubbles form. (not too hot, this does not need to boil).

Pour your cream over your chocolate and let it sit there for 2 minutes. Then slowly begin to whisk your chocolate until combined (SLOWLY).

Once done and caramel is stiff to the touch pour your chocolate over your caramel and spread it out evenly.

Store in the fridge. Cut and serve. Enjoy!