Are you a fan of donuts but want a healthier alternative? Look no further!
In this blog post, we'll share a delectable pumpkin healthy baked donut recipe that will satisfy your sweet tooth without compromising your health.
Packed with wholesome ingredients and bursting with flavor, these fluffy donuts are a guilt-free treat you'll love.
From the perfect blend of dry and wet ingredients to the delectable cinnamon-sugar topping, this recipe has it all.
Get ready to indulge in a delightful combination of pumpkin goodness, warm spices, and a cake-like texture that will make these donuts your new favorite breakfast treat.
As the seasons transition and the air becomes crisper, I eagerly anticipate the arrival of fall desserts. There's something truly comforting about fall flavors that captivate our taste buds and warm our hearts. From the cozy warmth of cinnamon and nutmeg to the earthy richness of pumpkin and apple, fall desserts offer an experience that evokes feelings of comfort and nostalgia.
I love fall baking and my go to recipes tend to be my apple pie cinnamon rolls or my old fashioned apple cider bundt cake. However this year I wanted to make something lighter on the pallet and the waist line. Thats how this pumpkin healthy baked donut recipe came about!
Table of Contents
Why you will love this recipe
Wholesome and nutritious. This recipe for pumpkin healthy baked donuts is crafted with wholesome ingredients like fresh fall spices and pumpkin puree. These ingredients provide a nutritious and fiber-rich base for the donuts, making them a guilt-free indulgence.
Healthier alternative. Unlike traditional fried donuts, these baked donuts are a healthier choice. They are baked to perfection instead of deep-fried, reducing the amount of oil used. You can enjoy the same great taste and texture with fewer calories and less fat!
Key ingredients and substitutions
Vegetable oil: I use oil instead of butter, because it creates a fluffier and light donut. For a healthier alternative you can use equal parts olive oil.
Sugar: I use mostly granulated sugar and a little brown sugar for the best combination of flavor and texture. However if you want the healthiest donut possible, you can use equal parts coconut sugar. You can also add a little bit of organic maple syrup. These are healthier alternatives to refined sugars and lend to a delicious caramel-like taste to the donuts without causing crazy blood sugar spikes.
Pumpkin puree: packed with fiber, vitamins, and minerals, pumpkin puree adds a natural sweetness and moistness to the donuts. It also gives them a beautiful golden color.
Spices: I load my donuts with spices. I use the best combination of freshly ground cinnamon, ginger, nutmeg and clove. You can replace this with 2 tablespoon of pumpkin pie spice instead if you do not have all of the individual spices.
Baking powder: this makes your donuts rise! Baking powder unlike baking soda doesn't require an acid in order to rise, so it is my go to when you want a higher rise.
All purpose flour: I use unbleached all purpose flour for this recipe but if you want to add more fiber to your diet you can replace it with equal parts almond flour or oat flour. These gluten-free flours are hearty and nutritious. Oat flour adds a subtle nutty flavor, while almond flour contributes to a moist and tender texture.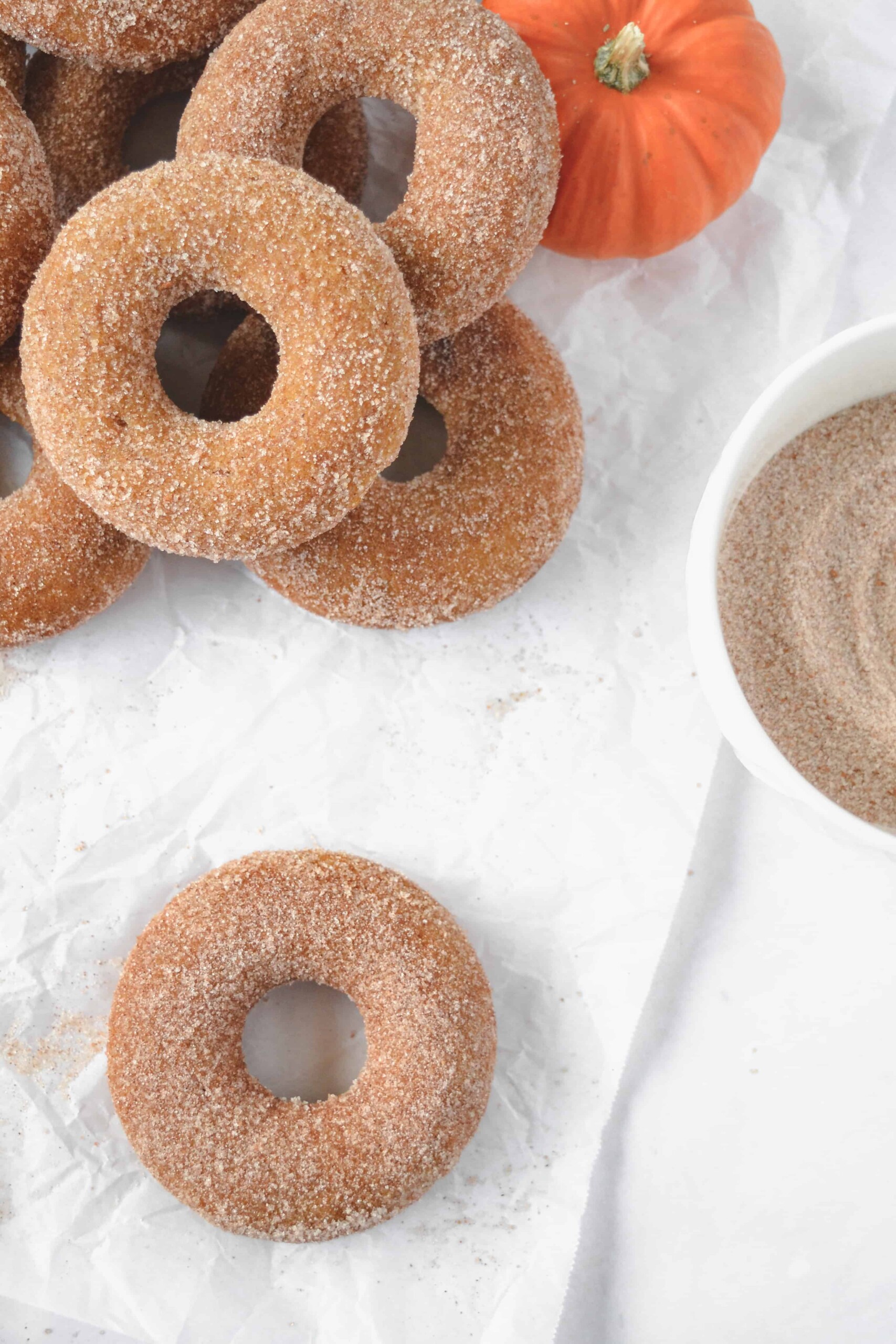 Step by step instructions
Step one: Start by preheating your oven to 350°F (175°C) and greasing a donut pan with cooking spray.
Step two: In a large mixing bowl, whisk together your oil, eggs, sugar, brown sugar, pumpkin, and vanilla until combined. In the same bowl add dry ingredients: flour, baking powder, salt, cinnamon, ginger, nutmeg, and clove. Whisk thoroughly until combined.
Step three: Transfer the donut batter into a piping bag or a ziplock bag with the corner snipped off.
Step four: Pipe the batter evenly into the prepared donut molds, filling each one about two-thirds full.
Step five: Bake at 350 degrees for 12-15 minutes or until the donuts are golden brown and a toothpick inserted into the center comes out clean. Once baked, let the donuts cool in the pan for a few minutes before transferring them to a wire rack to cool completely.
Step six: In a small bowl, mix together sugar and cinnamon to create a fragrant cinnamon-sugar topping. Dip each cooled donut into melted butter, then generously coat them with the cinnamon-sugar mixture. This step adds a delightful sweetness and a touch of warmth to the donuts!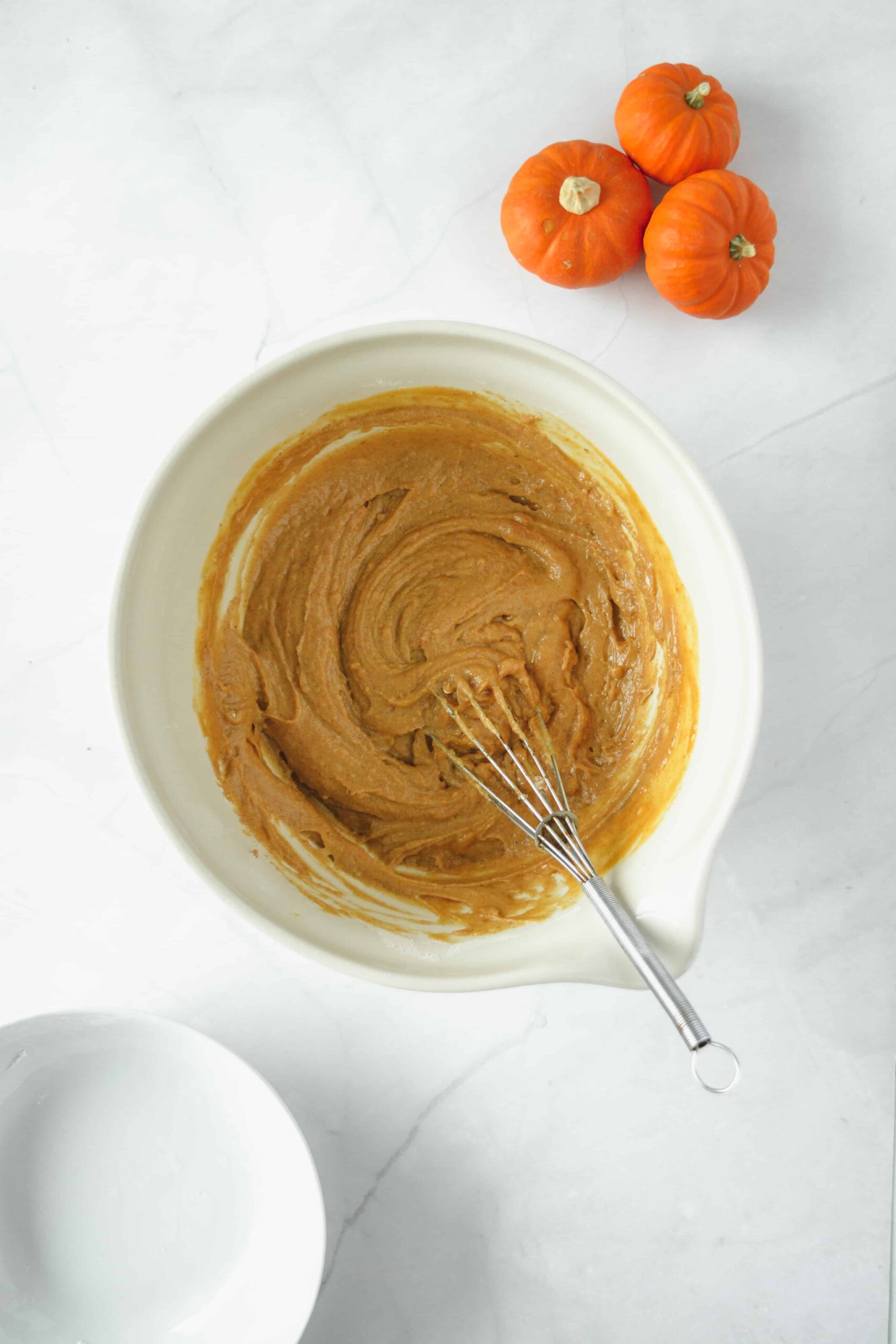 Baking tips
You do not need to mix your dry ingredients in a separate bowl when baking. This is usually suggested so that you combine your dry ingredients evenly first before you add it to your batter and so that you can add them slowly to avoid clumps. And while this may be needed for some recipes it is not required for most. So I like to make less dishes and still get amazing desserts
I also recommend measuring your ingredients precisely. For example a heaping cup of pumpkin puree vs a cup of pumpkin pure could actually add almost an additional ¼ of a cup of pumpkin. That extra water content could keep your donuts from rising. So measure as best you can!
FAQ
Are fried donuts and baked donut recipes interchangeable?
No. So fried donut recipes usually use yeast instead of baking powder to rise since they are being cooked in oil. So no you can not use this recipe to make fried donuts.
Are Baked Donuts healthier?
Kind of. You are eliminating a lot of oil, so there is by far a lot less calories but by no means are these the healthiest donuts. Just enjoy them!
What kind of donut pan should I use?
I use a non stick donut pan. This is best to prevent your donuts from sticking and burning! If you only have a regular donut pan I would prep them by rubbing on some butter and sprinkling on some flour to prevent your donuts from sticking!
Can I make these wit a glaze instead of cinnamon sugar?
Absolutely! I would recommend a maple glaze using 1 cup of powdered sugar, ¼ cup maple syrup and a splash of milk if needed.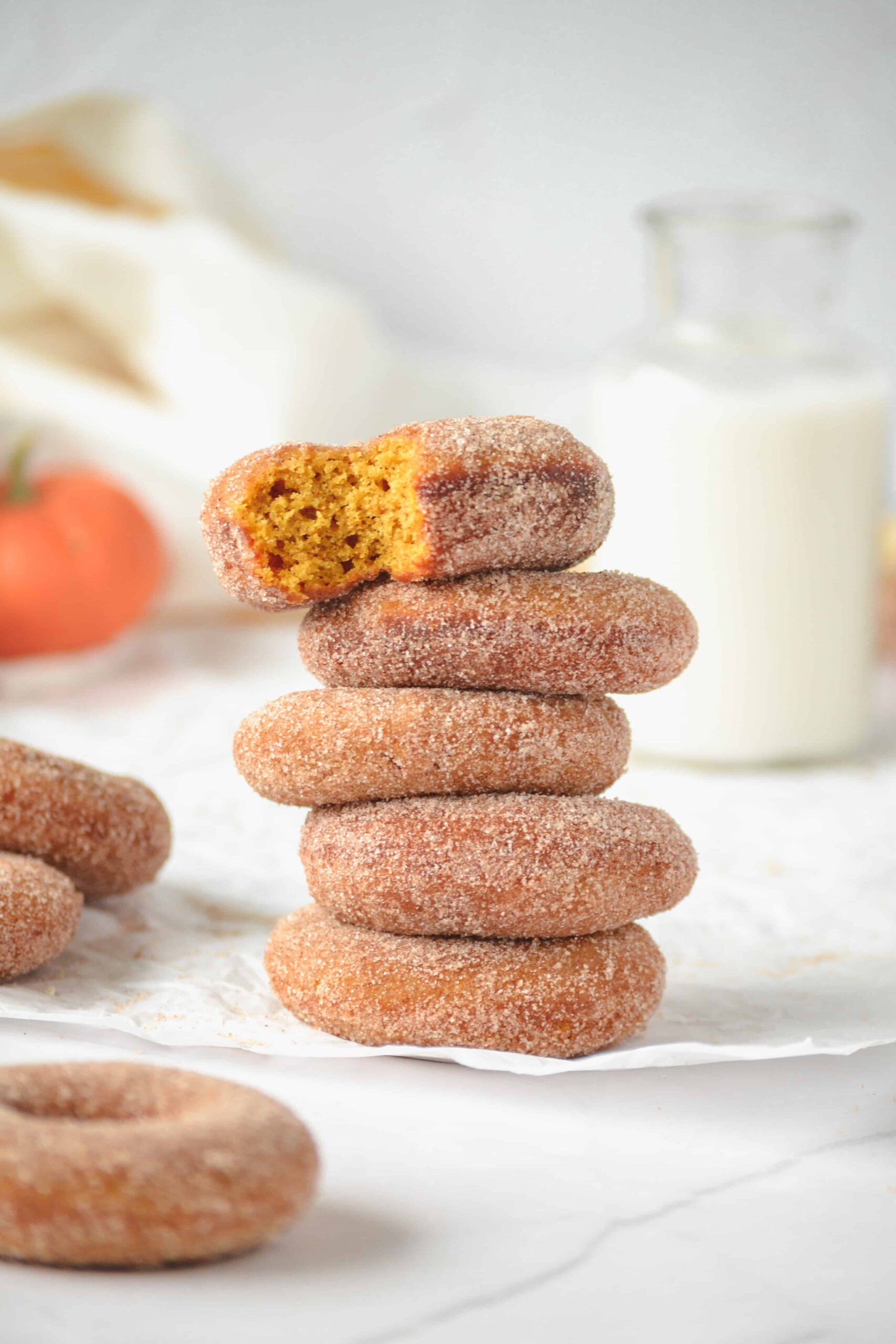 Storing and freezing
These healthy pumpkin donuts are best eaten fresh out of the oven, so I recommend making the batter and if you don't think you will eat all of them in a day or two, then I like to refrigerate half the batter and bake the second half a few days later. You can also freeze the batter in a freezer bag for up to a month. Defrost it and bake like normal.
But the baked donuts themselves can be stored in an airtight container for up to three days. Serve them alongside a glass of your milk of choice for a delightful breakfast or enjoy them as a guilt free treat!
Lastly, if you try out this recipe, be sure to leave a comment/rating on how it turned out. I love hearing from you guys and will try my best to reply to every comment! And don't forget to tag me on Instagram!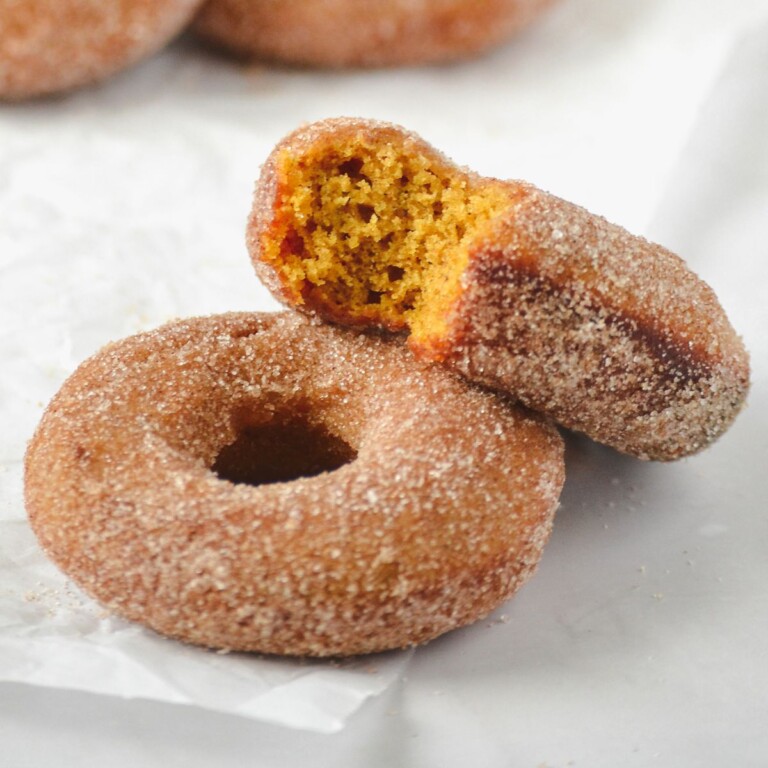 Pumpkin Healthy Baked Donuts
Packed with wholesome ingredients and bursting with flavor, these fluffy donuts are a guilt-free treat you'll love.
Ingredients
Donuts
½

cup

vegetable oil

2

eggs

¾

cup

sugar

¼

cup

brown sugar

1

cup

pumpkin puree

2

tsp

vanilla

1

tablespoon

cinnamon

1

teaspoon

ginger

½

teaspoon

nutmeg

¼

teaspoon

clove

½

teaspoon

salt

1 ½

teaspoon

baking powder

1 ¾

cup

flour
Top
4

tablespoon

butter (melted)

1

cup

sugar

1

tablespoon

cinnamon
Instructions
Pumpkin donuts
In a large bowl whisk together your oil, eggs, sugar, brown sugar, pumpkin, and vanilla until combined. In the same bowl add your flour, baking powder, salt, cinnamon, ginger, nutmeg, and clove. Whisk until combined.

Transfer the batter into a pastry bag.

Using a non-stick donut pan, pipe a ring of batter into each donut ring about ⅔ of the way full. You should be able to fill about 20 donuts. Bake donuts at 350 degrees for 12 minutes.

Once done take out and let cool completely.
Cinnamon sugar coating
In a small bowl combine your cinnamon and sugar and mix.

Brush each donut (front and back) with your melted butter, and then toss your donut into your cinnamon sugar mixture (Both sides).
Notes
NOTE: A stand mixer is not at all required but just makes mixing so much easier!
Storage Instructions: The donuts are best enjoyed fresh, but you can store them in an airtight container for 3-4 days in the fridge. You can also freeze them in a ziploc bag and let thaw in the fridge when you're ready to eat them.
If you are looking for an even healthier option, try the following substitutions:
Swap the all purpose flour with equal parts oat flour or almond flour
Swap the granulated sugar with equal parts coconut sugar
Nutrition
Serving:
1
donut
Calories:
160
kcal