The flavor combination of peanut butter and honey is pretty AMAZING which is why I LOVE these peanut butter bliss balls so much. These little treats are sweet and salty, with the creamy peanut butter and the sweet honey...but they are also SUPER HEALTHY and packed with protein with NO processed sugars! These peanut butter bliss balls are the perfect guilt free snack for an energy boost!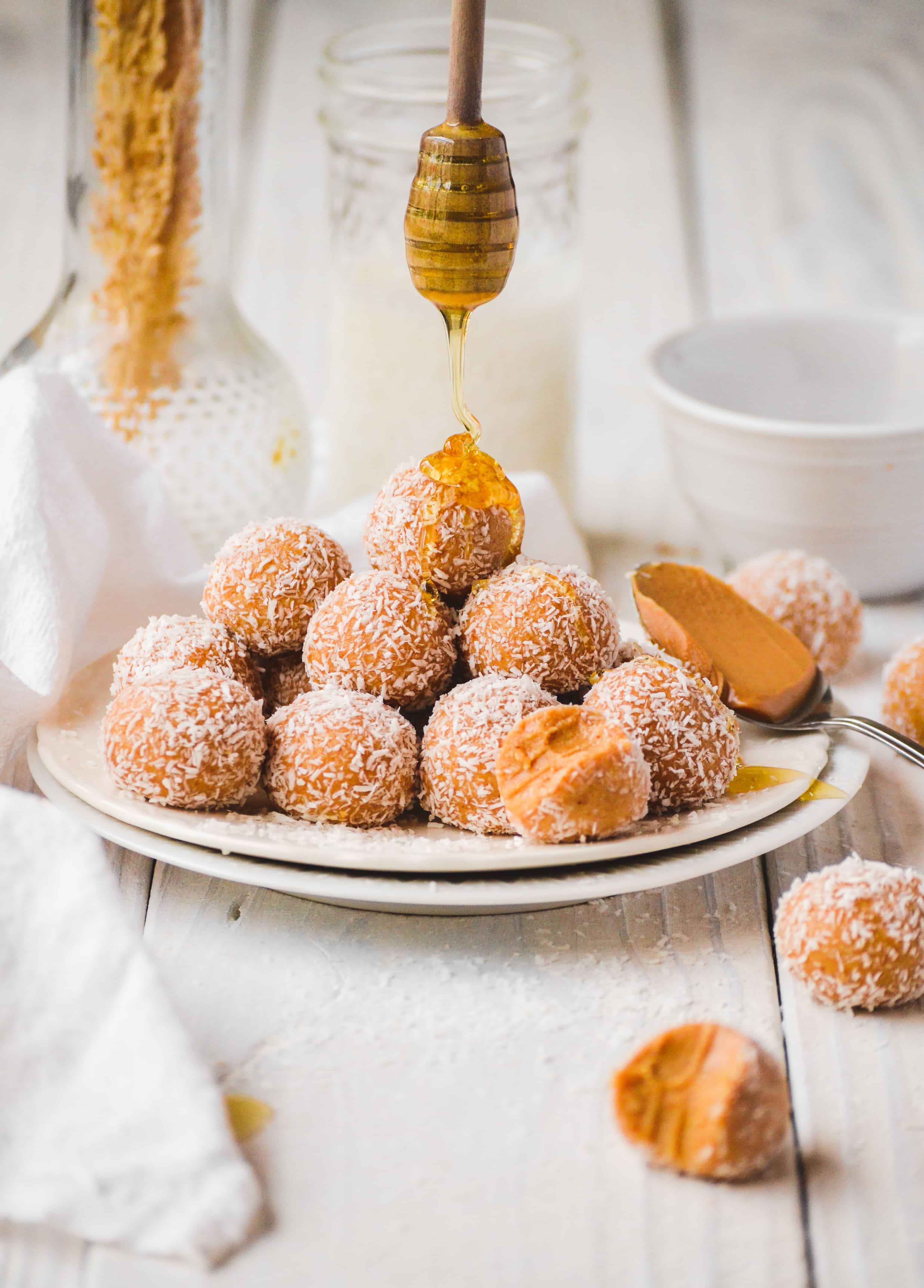 So when I was younger, my mom used to make my sisters and I these peanut butter honey balls that she would make with peanut butter, honey, powdered sugar, and then she would roll them in various things like sprinkles, chocolate chips, walnuts etc. They were so good and so sweet and I remember loving them so much! Actually as a kid I used to hate honey until I had these and they changed my mind. To be honest I don't know what I was thinking because honey is liquid gold so I must have been crazy. Anyway I have such fun and fond memories of making these honey peanut butter bliss balls with my mom and sisters!
So long story short, I decided to remake these peanut butter bliss balls but in a more adult friendly version.. aka a healthier version. My recipe has no refined sugar in it...only honey. I also use natural peanut butter rather than the fun stuff... so it has no added oils or sugars in it. I also roll mine in unsweetened coconut flakes to again limit the refined sugars. So all that said, I promise you these are super healthy and packed with protein!
I thought this was the perfect time to develop a healthy, protein, and energy filled recipe because my husband and I are about to need it! We are packing up the car with our 70 pound dog in the back and we are moving across country! Yup crazy I know! So my husband just graduated from medical school here in El Paso, Texas, which is where we live now. But he just matched in a residency program in New York! We are so excited for this next journey. We loved the southwest and are really going to miss our home here...our friends, the sunsets, and the amazing Mexican food. But New York has always been home to us! We are both from NY and both of our families are still living there. So we are excited to be back home!
So yeah, we are about to do a road trip across country over the span of 8 days. We are stopping in Austin, New Orleans, Nashville, and Charleston! It is going to be so much fun but needless to say, we are really going to need some energy boosting snacks for the drive...which is where these peanut butter bliss balls come in!
WHAT ARE BLISS BALLS
Bliss balls are also called protein balls and are a healthy treat made in various ways. They are filled with energy boosting and high protein ingredients with healthy fats...like nut butters, nuts, seeds, dates, honey, and more. You can use my recipe as a base recipe but still change it up for what you like or have in your pantry. For instance you can switch out the honey for pureed dates. You can also switch out the almond flour for protein powder or you can change out the peanut butter for almond butter. You can even change up the coconut flakes for crushed walnuts or cocoa powder or freeze dried raspberries! The possibilities are endless! Also if you want to increase the fiber in your bliss balls you can always add some flax seeds in there for some extra nutrition.
HOW TO MAKE BLISS BALLS
The best part about these balls is that they literally take minutes to whip up which makes them a perfect grab and go breakfast or snack. In a large bowl or stand mixer, combine your peanut butter, honey, salt and almond flour. Roll out your balls and place them in the freezer to solidify. Then roll them again in your coconut flakes. And that is it! Eat and start your day off right. These store best in the freezer or fridge and can last for weeks in there!
Lastly, if you try out these Honey Peanut Butter Bliss Balls, be sure to leave a comment/rating on how they turned out. I love hearing from you guys and will try my best to reply to every comment! And don't forget to tag me on Instagram!
Honey Peanut Butter Bliss Balls
Ingredients
1

cup

natural peanut butter

1

cup

honey

1

teaspoon

salt

¾

cup

almond flour

½

cup

shredded unsweetened coconut
Instructions
In the bowl of a stand mixer, whisk together your peanut butter, honey, salt, and almond flour.

using a table spoon, scoop out your balls and roll each one in the palm of your hand. Place your balls on a cookie sheet with some parchment paper.

Place your balls in the freezer for 1 hour to harden.

Take them out and let them soften up for no longer than 10 minutes. If you want perfectly round balls then reshape them by rolling each one in the palm of your hands again (if you do not care then you can skip this step). After you re-shape them roll each ball in the coconut flakes.

Place any left over balls back in the freezer for storage.