So I don't know about you but I am kind of muffin obsessed. And since it is spring I am all about citrus flavors. These Blood Orange Ginger Honey muffins are so light, airy, and spongy. They have such warm flavors like honey and ginger but that kick of citrus from the blood orange brightens it up! These honey muffins are not too sweet, which I love, yet perfectly balanced with these flavors. I'm starting my day off with 2 of these as we speak.
So like I said earlier, I am muffin obsessed. There is something comforting about starting my day with a bakery style muffin, a cup of tea, and my daily planner! You know that it is going to be a good day! So I was in the store about a week ago and I saw these beautiful juicy blood oranges. Now where I live in El Paso, Texas these are hard to find. I do not know why, but I knew I had to grab them. So I took them home and knew I wanted to make blood orange honey muffins with them!
WHAT IS THE DIFFERENCE BETWEEN BLOOD ORANGES AND REGULAR ORANGES?
So blood oranges and regular oranges are pretty similar and honestly if you cannot find blood oranges for this recipe, you can easily switch them out for regular oranges as well! But blood oranges are a little sweeter and less tart than regular oranges and they are almost a cross between oranges and grapefruit in that they are more bitter. Not to mention they provide a beautiful red color to your baked goods!
HOW TO GET BAKERY STYLE MUFFIN TOPS
So this may seem like something that should be easy but once you try baking your own homemade muffins, you may realize it's actually really hard. For awhile I was making batches of muffins wondering why they weren't rising. They tasted fine but they wouldn't rise above the muffin liner. I couldn't help but wonder why bakery muffins looked so much better. So of course I tried adding more baking powder and over filling the liners but nothing worked. After a million failed batches, I finally figured it out! Follow these tips exactly and you will have beautiful muffins every single time!
Use the exact ratio of baking powder to baking soda that is in the recipe.
Let your batter rest in the fridge overnight. I know this can be frustrating when you just want to eat a muffin, but it really helps! When your batter rests, it releases some of those air bubbles which helps your muffins rise! The blood orange juice in this recipe will turn your batter pink from green by doing this but do not be alarmed this is just from the acid. They will look and taste beautiful once baked.
Fill your muffin liners all the way to the very top! Now if you only do this step and not the others then your muffin will overflow and you will get a burnt, flat, muffin top mess. BUT if you follow all of the other steps, then they will rise up and not out!
Place your muffins in the top ⅔ of your oven (usually the second rack).
First bake your muffins at 425 degrees F for 10 minutes. Then without opening the oven door, lower the temperature to 350 degrees F and bake for another 10 minutes. This high temperature creates a burst in rise for your muffins. Then the lower temperature will help bake the inside of your muffins.
MOIST DENSE MUFFINS VS. LIGHT AIRY MUFFINS
So there are two kinds of muffins. Some are super moist and usually more dense. Others are very cakey, light, and spongy. This recipe for blood orange honey muffins is the lighter and spongier kind. Honestly I love both types of muffins and make both on my blog, but because this recipe has so much more water content from the blood orange juice, it creates an airier muffin. Muffins with more fat content using things like oil and yogurt tend to be more moist and dense. If you prefer a more moist muffin you can always limit the blood orange juice and add in more oil. But be aware this may limit the delicious blood orange flavor! Overall I think these muffins are perfect as is... still moist but light, airy, citrusy goodness!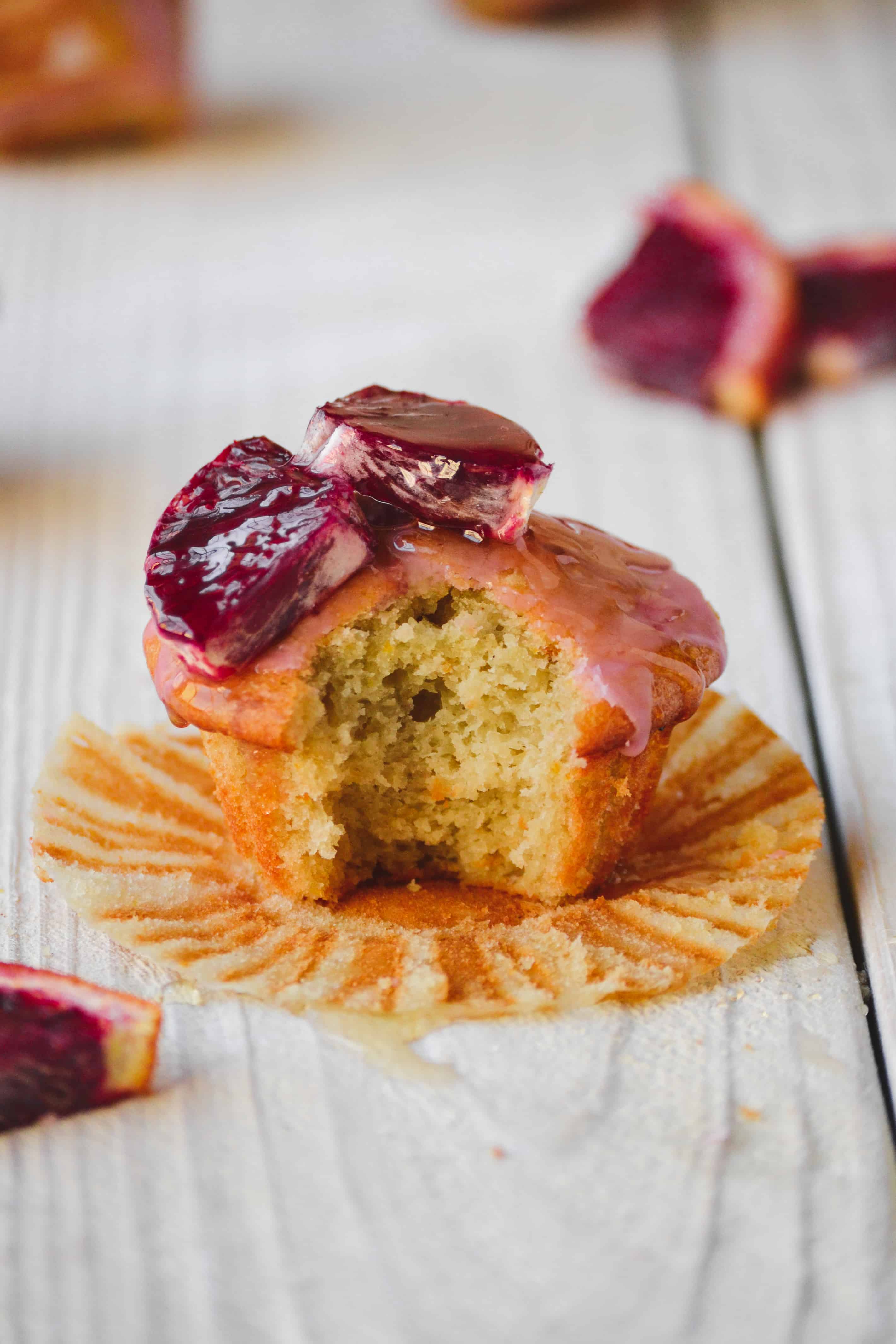 Serve these muffins warm or at room temperature with a little extra drizzle of honey and of course a little butter (because why not) and you have yourself a perfect muffin for your morning!
Lastly, if you try out these Blood Orange Honey Muffins, be sure to leave a comment/rating on how they turned out. I love hearing from you guys and will try my best to reply to every comment! And don't forget to tag me on Instagram!
Blood Orange Ginger Honey Muffins
Ingredients
2

cups

flour

1

tablespoon

baking powder

½

teaspoon

baking soda

1

teaspoon

salt

1

tablespoon

ginger

½

cup

sugar

½

cup

honey

2

eggs

½

cup

vegetable oil

1

cup

greek yogurt

½

cup

buttermilk

zest from 3 blood oranges

juice from 3 blood oranges
Glaze
½

cup

powdered sugar

¼

cup

honey

2

tablespoon

blood orange juice

⅛

teaspoon

ginger
Instructions
In a large bowl whisk together sugar, honey, eggs, oil, yogurt, buttermilk, blood orange juice and zest. Add your flour, baking powder, baking soda, salt and ginger.

Fill your muffin liners to the very top.

Bake your muffins at 425 degrees for 10 minutes at the top ⅔ of your oven. Then without opening up the door, lower the temperature of your oven to 350 degrees and bake for another 8- 10 minutes or until the centers come out dry.
Glaze
In a small bowl mix together all your ingredients.

Top all of your muffins with a little bit of glaze