This Rose Water Cake is literally perfect for Mother's Day because every mom deserves roses and cake! This cake is so delicate, feminine, and honestly just beautiful. It is a light and moist almond flour cake with undertones of citrus from the lemon and floral from the rose water. Then it is topped with a pretty pink rose water glaze! This rose water cake is so delicious and yet not too sweet making it perfect for your afternoon tea or a yummy dessert.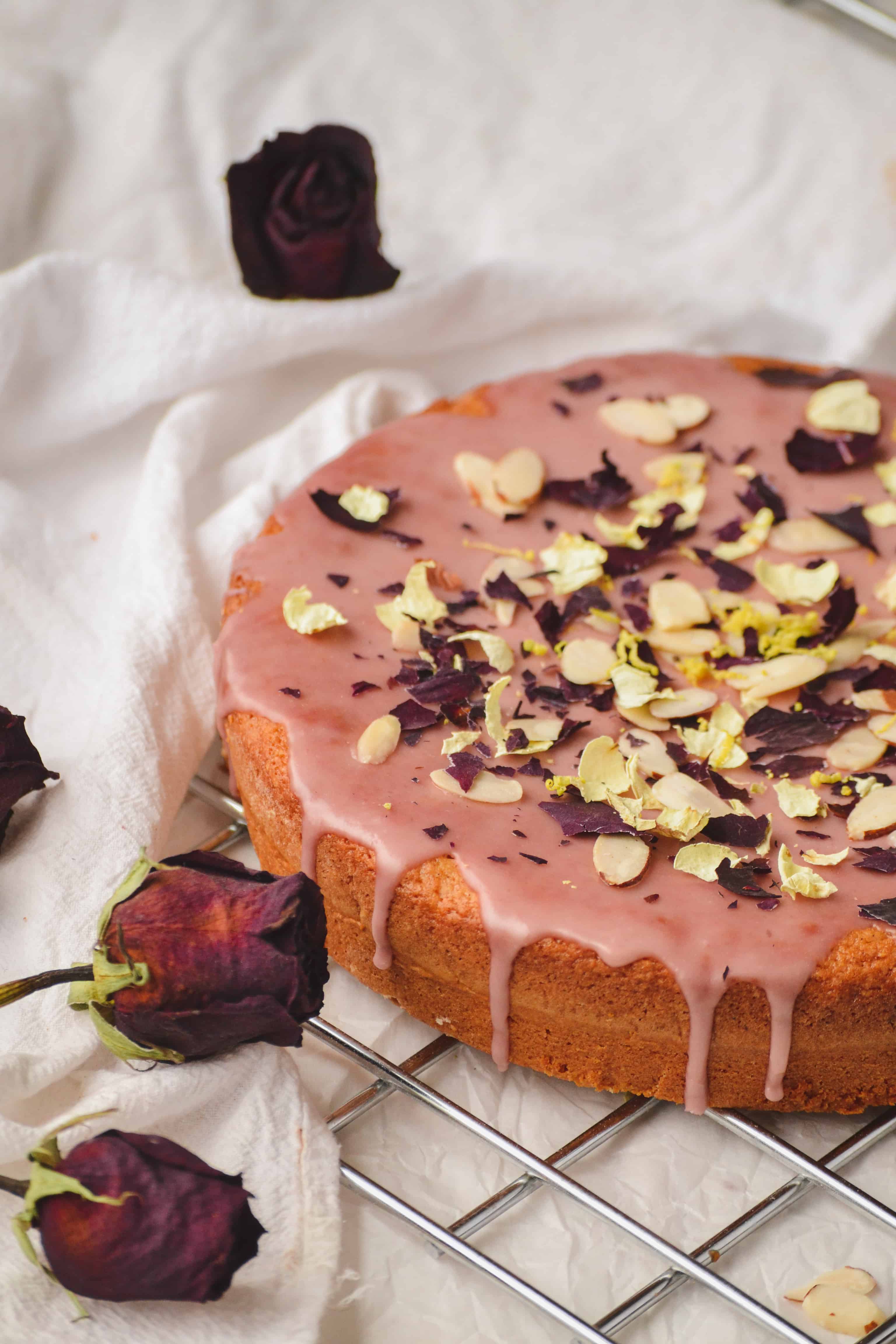 Mother's Day is coming up so of course I am getting some new and improved Mother's Day recipes ready. As you probably already know, I love baking and one of my favorite holidays to bake for is Mother's Day . I think it's because I am all about women supporting women. Being a woman myself, I love supporting and celebrating moms ( especially my mom!). I am not a mom myself, yet, but I think this day is just such a loving and supportive feminine filled day…with roses and cake (who could complain)!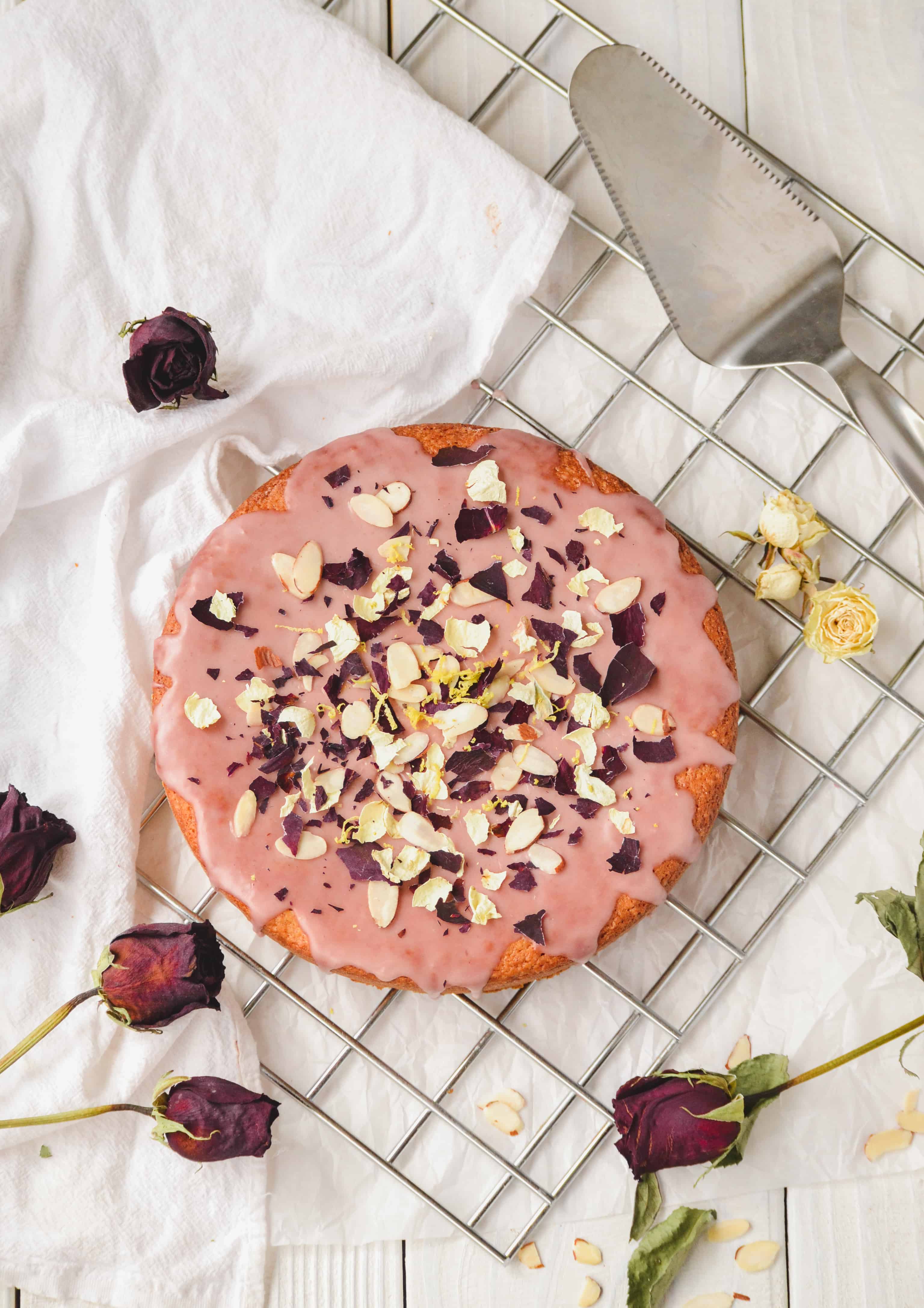 When me and my sisters were little, every year on Mother's Day we would make brunch for my mom! We loved it. My older sister Amanda would be in charge of the pancakes because she was the oldest and those were the "hardest to make". I (the middle child) would cook the eggs and make the coffee, and my youngest sister, Olivia, was the waitress. She was too young to cook so she would write up a menu, give it to my mom, and play waitress. It was always so much fun and my mom LOVED it every year. 
Since then, my cooking skills have improved past scrambled eggs so I am making something a little more elevated this year….Rose Water cake! I love rose water. It honestly just gives a hint of floral flavor but is not over powering at all. And of course baking with it is always more fun around feminine holidays like Mother's Day or even Valentines Day. For some reason I think mostly women can really appreciate this delicate flavor. I guess we are just more refined 😉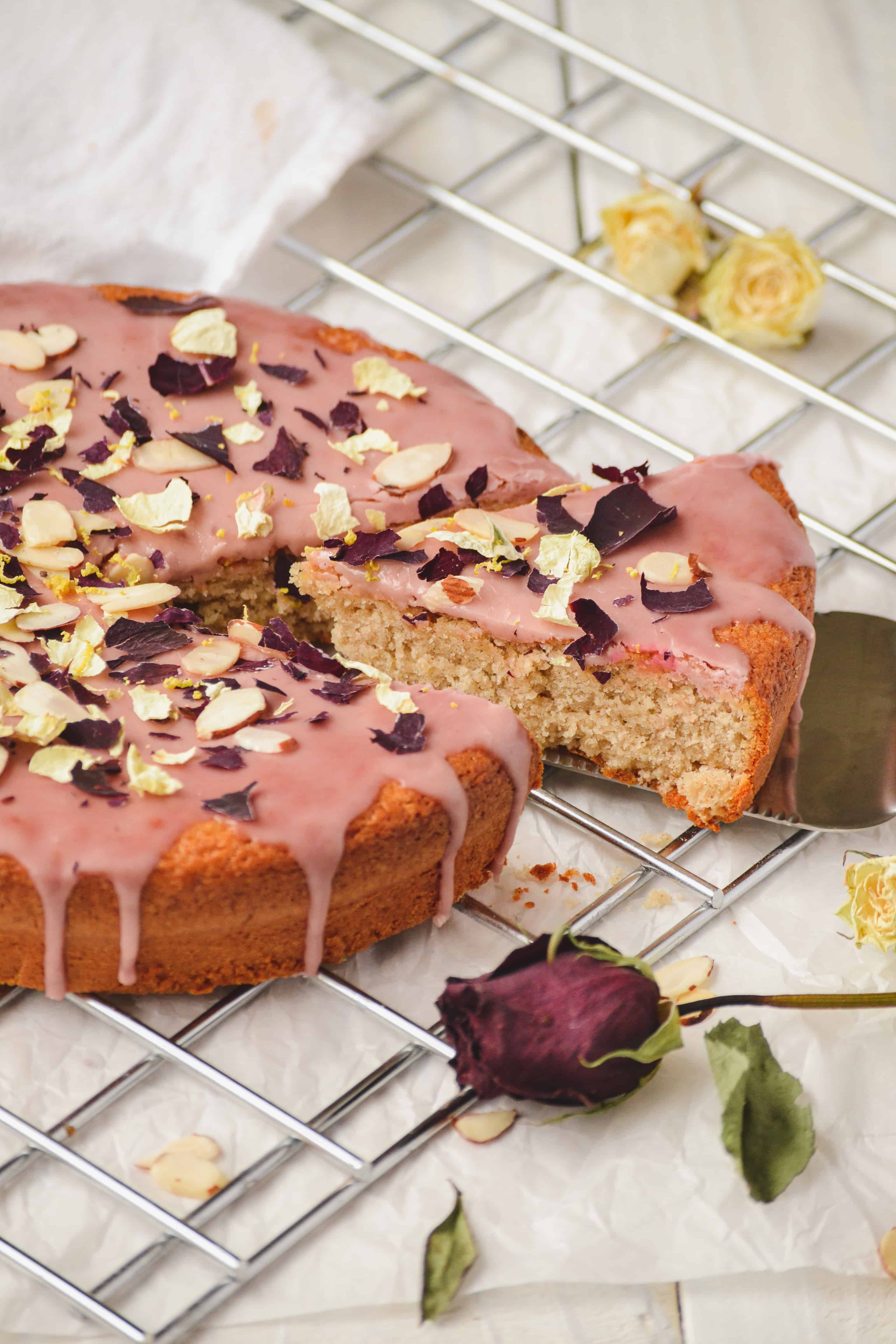 HOW TO BAKE WITH ROSE WATER
Baking with rose water used to be intimidating to me but honestly the more I baked with it, the more I realized there is nothing to be intimated by. I like to think of rose as just another herb that is growing in my garden. Once you get used to it you learn how strong it is and its flavor pairings (just like any other herb). Rose water is not as strong as some may think. Honestly it is a very delicate floral flavor that can be missed if you don't have a refined pallet.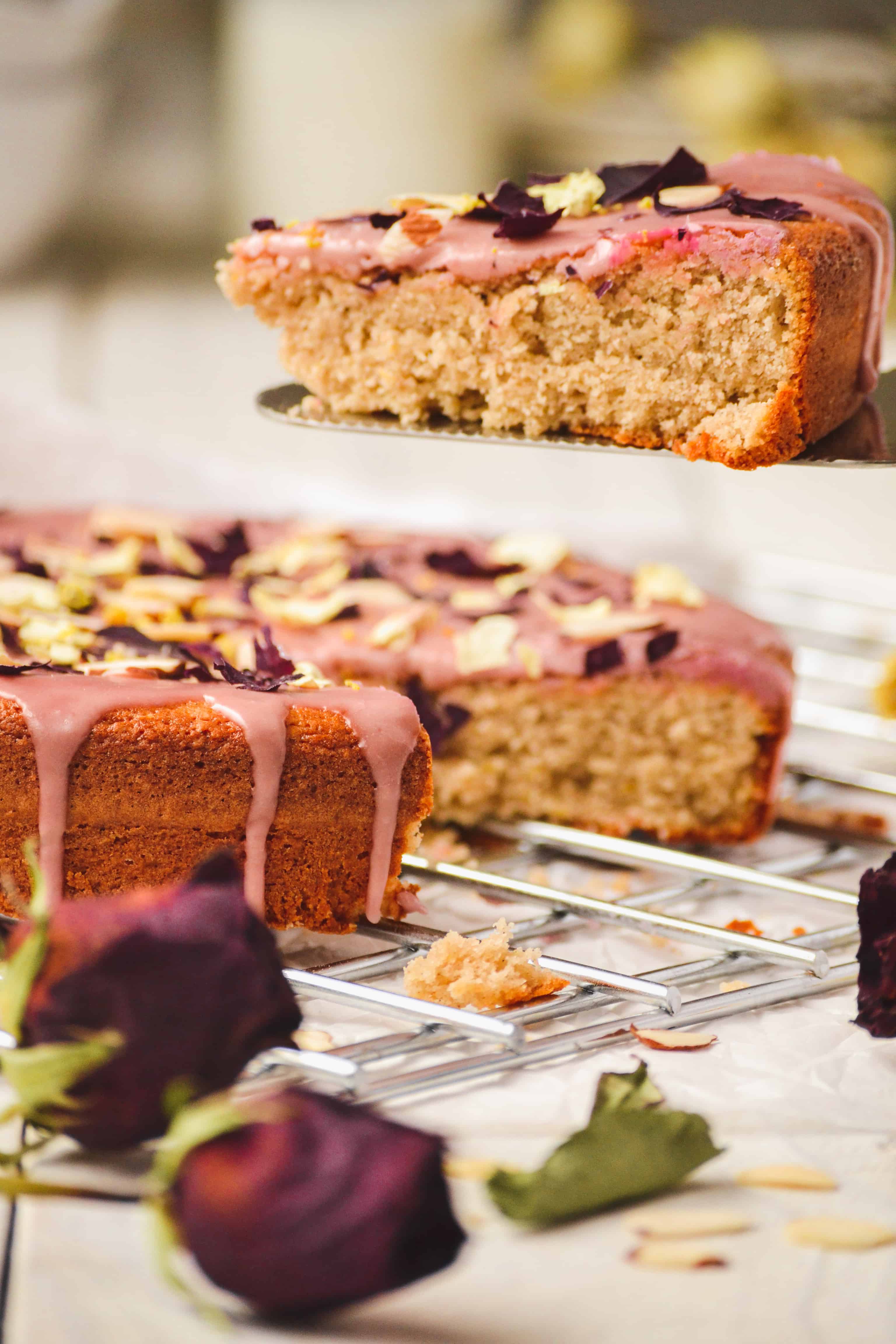 HOW TO MAKE YOUR OWN ROSE WATER
So you can either buy rose water or make it yourself. I have used both store bought and homemade and I personally prefer homemade. The store bought rose water is expensive, hard to find, and honestly kind of artificial. The homemade rose water only takes a few minutes and it creates a more delicious natural flavor and color! If you choose store bought though you can usually find it at specialty stores like Whole Foods. But if you are making it from scratch here is how you do it…
Buy some roses! Any will do, but keep in mind the color roses you choose will be the color of the water you make. For this one I like traditional red roses which create a beautiful pink hue in my cake.
2. Dry your roses. So this is the catch of homemade rose water. You need up to 10 days to dry your roses. So if you are in a time crunch, then store bought might be your best option. To dry your roses tie the stems with a rubber band. Use that to hang them upside down in a dry area. Leave them here for about 10 days to dry.
3. Take your rose petals and break them off one by one into a small sauce pan. Fill with just enough water to cover them (not too much more).
4. Simmer them over a medium low heat for about 20 minutes in order to extract the color and flavor from your pedals.
5. Strain your petals out and you have rose water!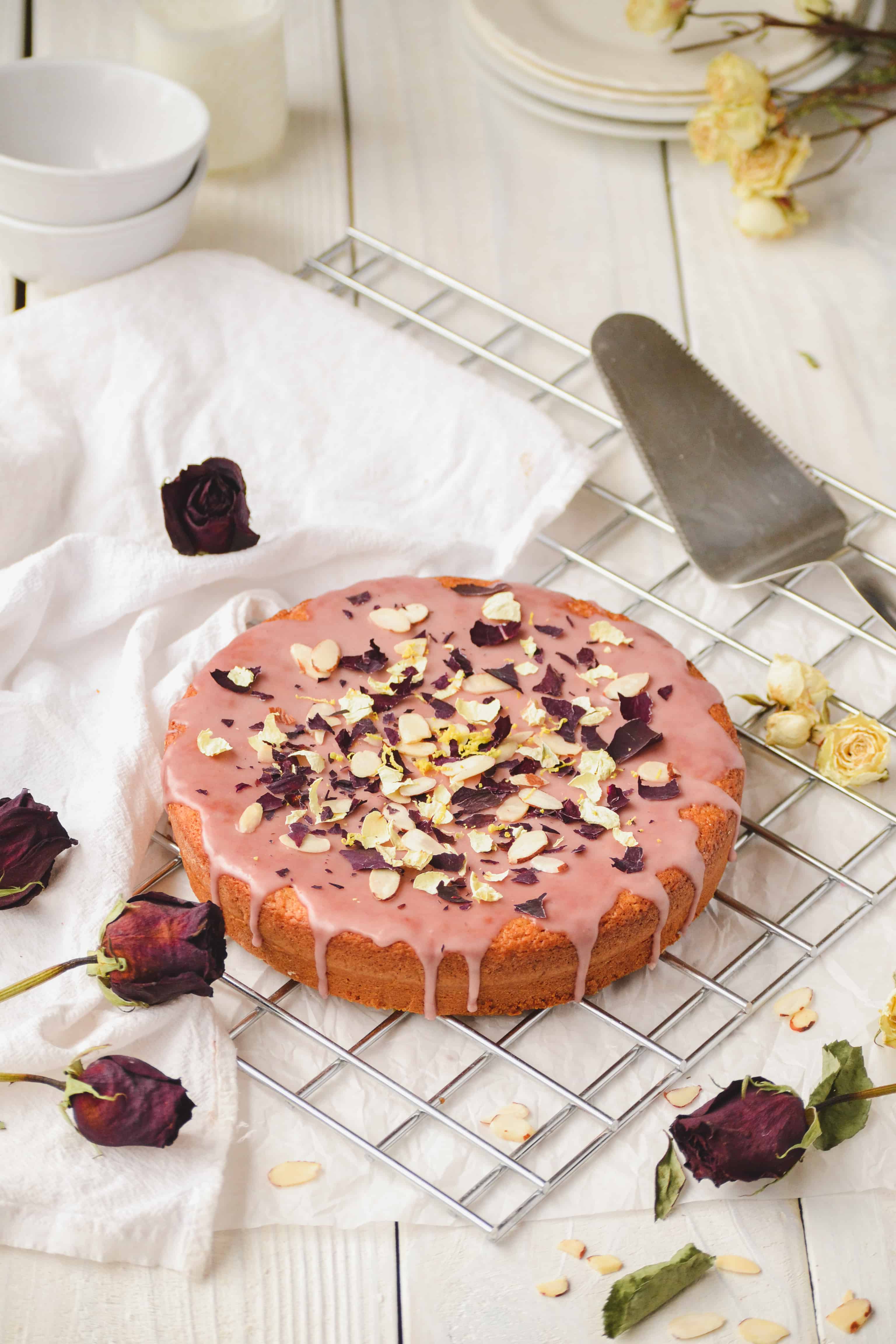 OTHER MOTHERS DAY RECIPES
I think this rose water cake is a sure winner for Mother's Day but if you want some more ideas here are a few options specifically for your Mother's Day brunch!
Churro Waffles with a Chili Chocolate Sauce
Almond, Chocolate, & Date Scones
Brown Butter Cinnamon Rolls with a maple glaze
Cardamom & Rose Water Shortbread Cookies with a Lemon Glaze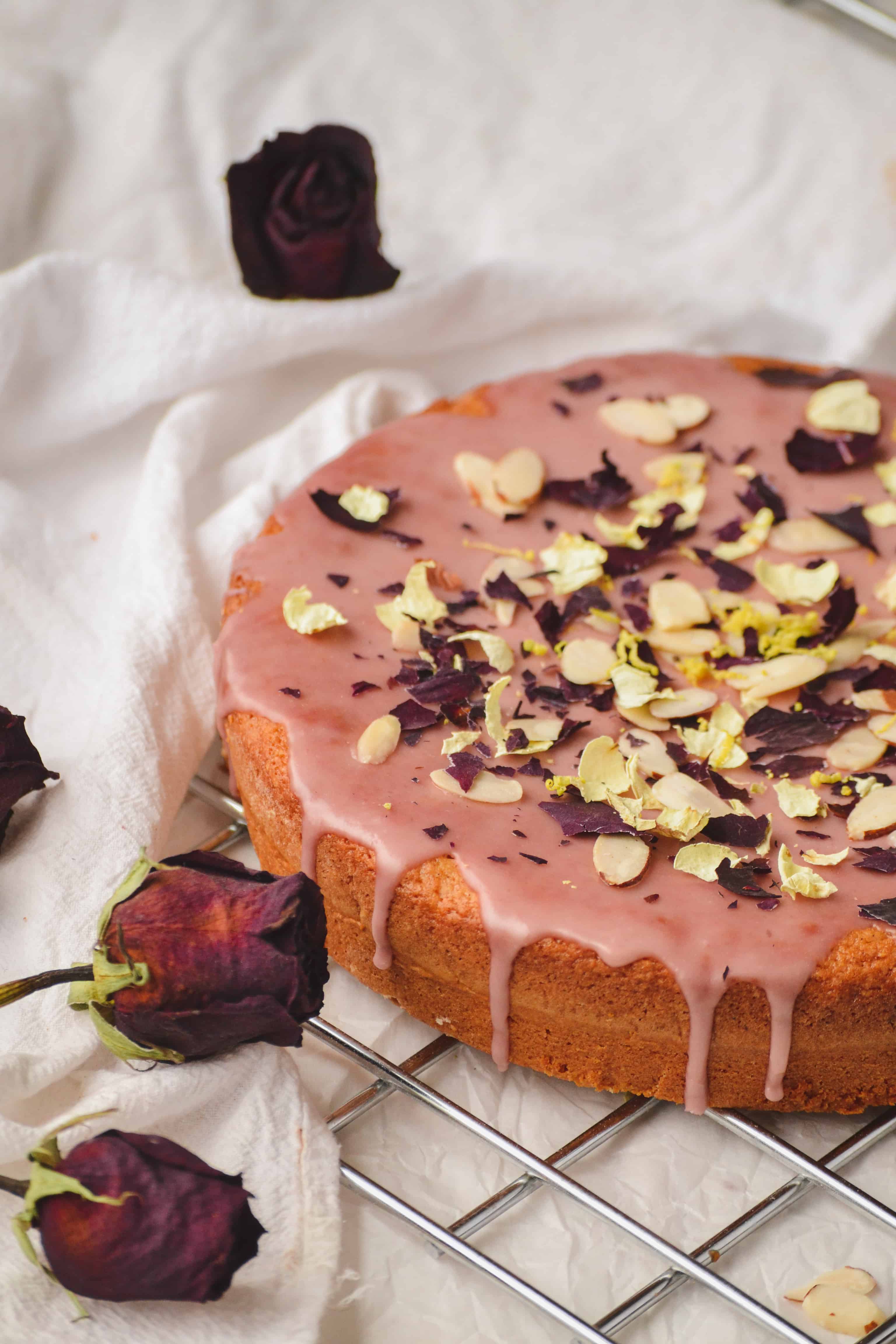 Rose Water Cake
Ingredients
Cake
½

cup

vegetable oil

2

eggs

1

cup

sugar

zest from 2 lemons

juice from 2 lemons

3

tablespoon

rose water (dried rose petals and water)

1

cup

flour

½

cup

almond flour

2

teaspoon

cardamom

1

teaspoon

baking powder

½

teaspoon

salt
Glaze
1

cup

powdered sugar

2

tablespoon

rose water
Topping (optional)
dried rose petals

slivered almonds
Instructions
Rose water
If not using store bought rose water, make your own with dried rose petals and water. In a small sauce pan put about 1 cup of dried rose petals. I like to use red roses to get a pretty pink color. Then cover the petals with about ½ cup of water.

Simmer on medium low heat until all of the color leaves the petals and saturates the water (about 5- 10 minutes). Remove from heat and strain out your petals.
Cake
In a large bowl whisk together your oil, eggs, sugar, lemon zest, lemon juice, and rose water.

Add your flour, almond flour, cardamom, baking powder and salt.

Line a 9 inch baking pan with parchment paper and pre-heat your oven to 350 degrees.

Pour your batter into your prepared baking dish.

Bake your cake for 35 minutes or until the center comes out dry.
Glaze
In a small bowl whisk together your powdered sugar and rose water.

Pour over your cooled cake and immediately top with some extra crushed dried rose petals and slivered almonds for decoration.