These are the prettiest and most romantic Rose Water Cardamom Shortbread Cookies. These homemade shortbread cookies are so buttery, they literally melt in your mouth. With an herbal hint from the rose water, a spicy kick from the cardamom and strong citrus flavor from the lemon, these cookies are so dynamic in flavor and so delicately balanced! You are going to feel so fancy eating them. They are perfect to bake up this valentines day.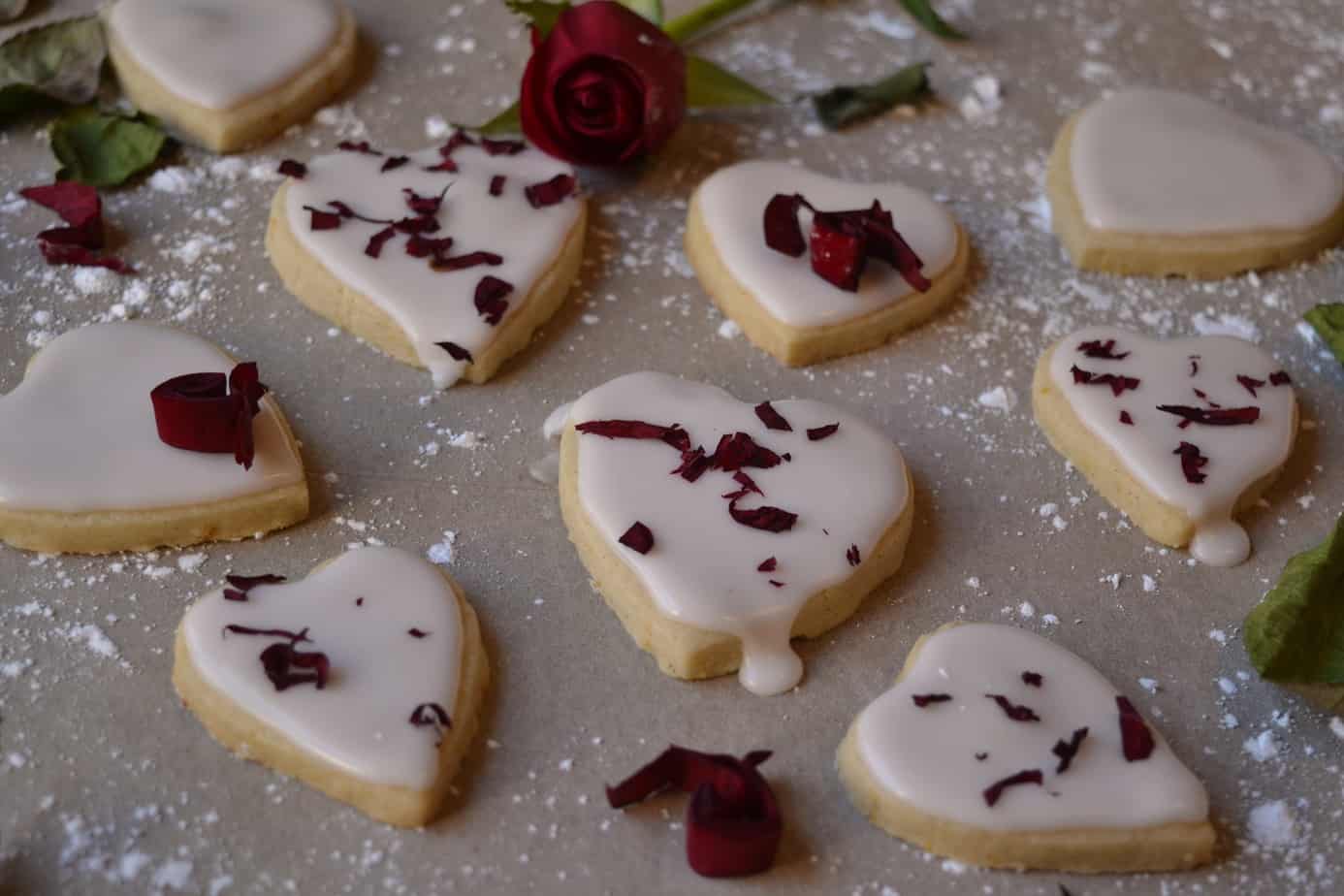 So Valentines Day is coming up and I always get excited for it. I know some might think it's a cheesy Hallmark holiday, but I see it as a day to reflect on, cherish, and celebrate love; no matter what that looks like to you. Some of my fondest memories growing up was my mom giving us little Valentines Day gifts telling us how much she loved us. Now a days, Valentines Day usually consists of me and my husband planning a fun day trip or activity, where we put everything else aside and prioritize quality time. So yeah, I am a typical girl who LOVES Valentines Day (and roses don't hurt). On top of all those fun things, I always show my love through baking. So of course I have to bake my friends and family some beautiful cookies, and this is how I came up with this recipe. These dainty, romantic shortbread cookies are truly just as precious and delicious as they sound. They literally scream love which is why they are perfect for the holiday!
HOW TO BAKE WITH ROSE WATER
So rose water isn't a common ingredient and I know its fancy but hey its Valentines Day, and what better to use than ACTUAL ROSES! Rose water is a flavored water made by steeping rose petals in water. Rose water is actually pretty easy to find now a days in specialty stores. I got mine at Whole Foods. If you can't find this or don't want to use it, you can replace this with vanilla. But I highly recommend it, it really gives a unique herbal flavor that makes these cookies stand out. Now I know what you are thinking... rose water tastes like soap.... and it can you're right, BUT not if you use it right. I have the perfect amount here so you just get a hint of it and not too much that it becomes overpowering.
HOW TO DRY ROSE PETALS
You will also notice that I top my cookies with some crushed up dried rose petals. This is mostly for aesthetics and can be omitted if desired, BUT its SO pretty! I know what you are thinking, and YES you CAN eat roses. To dry your rose petals you can just place a few individual petals sandwiched between parchment paper and inside of a large/heavy book. Keep them closed inside this book for 10 days and they should be dried and ready to crush up and sprinkle on top of your cookies.
HOW TO MAKE THE SHORTBREAD DOUGH
Making homemade shortbread cookies is so EASY! This is secretly why I love them so much. They have very few ingredients and are done in minutes! You simply add all of your ingredients in the bowl of a stand mixer and combine until the dough is crumbly. Then knead together with your hands. From there, roll out your dough and cut out your cookies! I used a heart shaped cookie cutter since these are for Valentines Day but of course you can use any cookie cutter. The next step is crucial: make sure to put your cookies in the freezer before you bake them. This helps the cookies hold their shape in the oven. Then bake, ice and eat!
HOW TO ICE YOUR COOKIES
So flooding your homemade shortbread cookies with royal icing is easier than you think. There are a few tricks. One, you will definitely need a piping bag, if you cant find one use the corner of a zip lock bag, it does the same trick. Next, you DON'T need a piping tip, honestly I prefer to not have one since it usually just gets in my way. Make the opening a very small hole otherwise too much icing will flood out. And last but not least, start your cookie with a flood line. This is a thin outline of icing on the perimeter of your cookie. Then use this to flood the rest of the icing inside. This helps the icing from flooding over the edge. But don't stress out about this, a few drips can be pretty!
Tips
If you cant find rose water, replace it with vanilla but halve the amount used.
Be careful with the rose water. If too much is added, your cookies can start to taste like soap! So start with the suggested amount.
Make sure to freeze your cookies before you bake them. This helps your cookies hold their shape in the oven.
Read my tips on piping your cookies for the best looking cookies.
Use a drop of red food coloring in your icing if you have it. This creates a very mild pink hue to your icing, which is perfect for Valentines Day.
Top your cookies with some crushed dried rose petals. This is mainly for aesthetic, if you have them.
Lastly, if you try out this recipe, be sure to leave a comment/rating on how they turned out. I love hearing from you guys and will try my best to reply to every comment! And don't forget to tag me on Instagram!
Rose Water Cardamom Shortbread Cookies with a Lemon Glaze
Ingredients
Cookie
¾

cup

powdered sugar

2

cups

flour

1

cup

salted butter

2

teaspoon

rose water

2

teaspoon

cardamom

zest of 2 lemons

¼

teaspoon

salt
Glaze
4

cups

powdered sugar

2

tablespoon

lemon juice

2

teaspoon

rose water

3

tablespoon

milk

a few drops of red food coloring
Instructions
Make the cookies
In a large bowl combine your sugar, flour, butter, rose water, cardamom, lemon zest and salt. Mix until combined and crumbly.

Kneed your dough with your hands until it is combined.

Flour your surface and then roll your dough out with a rolling pin; to about ¾ inch thick (Be careful not to roll your dough out too thin).

Transfer your cookies to a cookie sheet with parchment paper.

Place them in the freezer for 15 minutes and pre-heat your oven to 325 degrees F

Bake cookies for 12 minutes. Let cool
Make the Icing
In a large bowl combine your sugar, lemon juice, rose water, and milk. Whisk until combined. If it is too thick you can add a little more milk.

Then if desired; add a few drops of red food coloring to achieve a light pink hue.

Place icing in piping bag and flood your cookies. Look at how to do this above, if needed.

Before the icing dries sprinkle them with a few crushed dried rose pedals for aesthetic.