This Raspberry and White Chocolate Loaf Cake is moist, tender, and bursting with sweet tartness every time you bite into a raspberry.
I was in the mood for an easy laid back morning today, so that calls for another easy loaf cake. I LOVE loaf cakes because they are so simple. I only have to dirty one bowl and I bake the whole thing in one loaf pan, which means no icing or layers or any fuss at all. But they are still just as delicious! There is also something so homey and loving about loaf cakes. I don't know why but when I think of bringing or gifting someone I love with a dessert, I think of a loaf cake tied with a pretty bow. They make for such a loving gift. Who doesn't love receiving that? I also somehow feel less guilty eating them…especially for breakfast. Since it is in loaf form rather than cake form, I associate it with healthier breakfast foods. So in my mind I am making good choices in life.
There is something so sweet and special about raspberries. At least for me. When I was little, we would never buy raspberries because they were too expensive. We didn't have much money growing up so buying a container of like 10 raspberries for 5 dollars was not going to happen. But I used to beg my mom for them. To me they were special little pieces of tart sweet fruity goodness. Now as an adult, I still don't buy raspberries regularly because I finally understand that they are expensive. But I do treat myself with them every now and again, and each time still feels special.
So I was in the store the other day and raspberries were on sale! Of course I had to get them! So I knew I wanted to make something special with them. Something that highlights these precious fruits. I landed on a raspberry and white chocolate loaf cake! This moist and tender cake highlights these delicious red berries, paired with some lemon zest. Perfectly sweet but balanced well by the tartness from the berries. Then finished with some sweet white chocolate on top… absolutely delicious!
HOW TO MAKE THE BATTER
The best thing about this raspberry and white chocolate loaf cake is that you literally only need one bowl and one whisk. I am always making easy and quick recipes because well, who is in the mood for a lot of work or a lot of clean up? Not me! In a large bowl whisk together all your wet ingredients, in any order. In the same bowl, add your dry ingredients. Whisk together. You know that rule in baking where you have to whisk your dry ingredients in a separate bowl and then add it to your wet ingredients? Well that's just not needed. This is an old rule that only creates more dirty dishes. It's really only needed for more delicate baked goods but for the average loaf cake it's not necessary! The last step is to fold in your raspberries. It is key to fold these in with a spatula gently so that you do not crush your berries too much.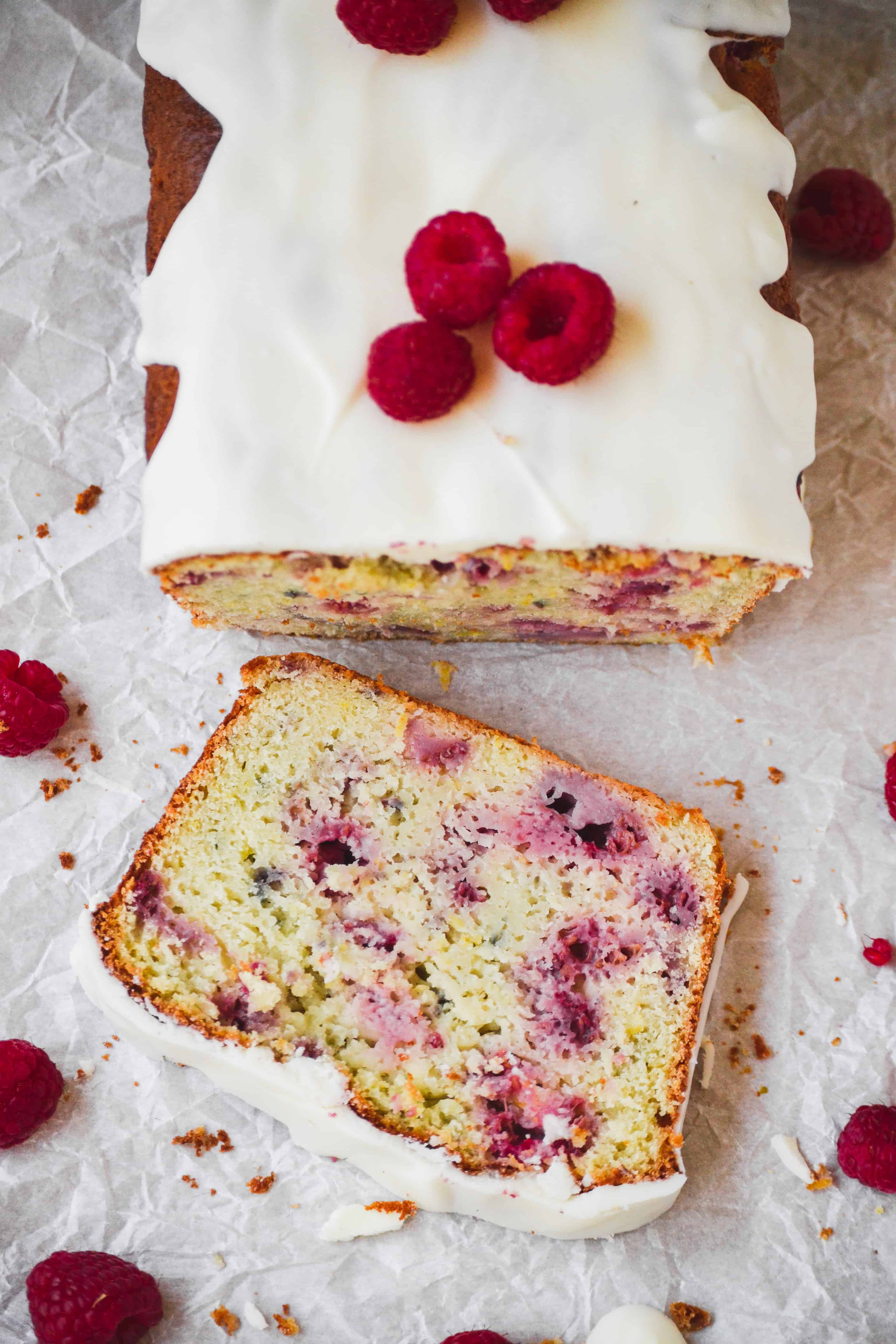 HOW TO KEEP YOUR BERRIES FROM FALLING IN YOUR CAKE
Have you ever baked a cake, loaf, or muffin with berries and then you bite into it and see that all of your berries have fallen to the bottom? I don't know why but that is so frustrating! Well I have two tips that will help prevent that.
1) Toss your berries in a little flour. Then fold them into your batter. The extra flour helps hold the berries up in the batter!
2) Put aside a few of your berries before you fold them in your batter. After you place your batter in the loaf pan… place those remaining berries on the top of your loaf and press them in!
Now you have an evenly distributed raspberry loaf cake.
Lastly, if you try out this Raspberry and White Chocolate Loaf Cake, be sure to leave a comment/rating on how they turned out. I love hearing from you guys and will try my best to reply to every comment! And don't forget to tag me on Instagram!
Raspberry and White Chocolate Loaf Cake
Ingredients
2

cups

flour

1

tablespoon

baking powder

½

teaspoon

baking soda

1

teaspoon

salt

2

eggs

½

cup

coconut oil

1

cup

buttermilk

1

cup

sugar

½

cup

greek yogurt

1

teaspoon

vanilla

zest from 3 lemons

2

cups

raspberries
white chocolate
1

cup

white chocolate chips

1

tbs

shortening
Instructions
In a large bowl combine your eggs, oils, buttermilk, sugar, yogurt, vanilla, and lemon zest.

Add your flour, baking powder, baking soda, and salt. Whisk well.

Fold in your raspberries (saving a handful).

Place a piece of parchment paper in your loaf pan and pre heat your oven to 425 degrees.

Fill your prepared pan with your batter. Place the last few raspberries on the top of your loaf (pressing them in).

Bake your loaf at 425 degrees for 20 minutes. Then lower the temperature of your oven to 350 degrees, without opening up the oven, for another 35 minutes or until the center comes out clean.
White Chocolate Topping
In a small saucepan add your white chocolate and shortening. Heat on low heat until melted.

Top your cooled loaf with the chocolate!