I am starting summer off with my favorite Pina Colada Inspired Tarte Tatin with Coconut ice cream. What else says summer more than Pineapple, ice cream, and Rum... (at least that is what my summers look like). With that brown sugar caramel, Rum Chata, Coconut and juicy summer pineapple in each bite, this Pineapple Tarte Tatin is insanely delicious and just perfectly sweet. And it only gets better with a scoop of my homemade No-Churn Coconut Ice Cream on top…I mean this is roll your eyes back delicious.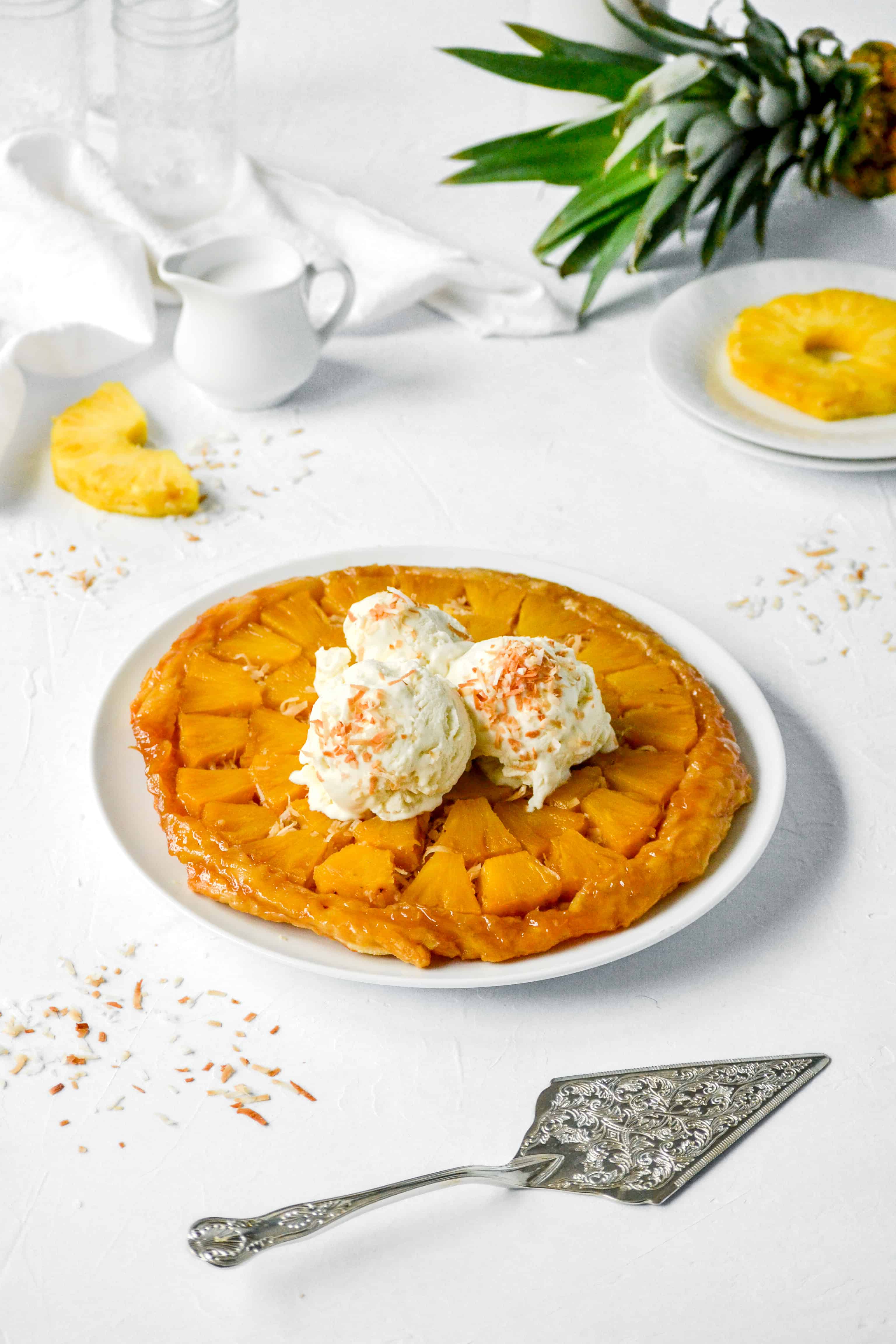 So let me tell you why I have been in such a big tropical flavor mood recently. My husband and I just came back from our HONEYMOON! And we didn't just go anywhere, we went to Hawaii, and needless to say… WE LOVED IT!! And let's just say this honeymoon has been a long time coming… so I feel extra excited about it. I and my now husband originally planned a wedding and honeymoon for June of 2020. but as you all know, COVID happened and we had to cancel everything last minute. We were devastated but we decided to legally get married anyway and reschedule everything for 2021… which we did. Our original honeymoon was planned for Iceland and we were so excited for a super adventurous honeymoon with lots of beautiful vast landscapes. But even in 2021, international travel was not about to happen so we had to choose somewhere within the United States, and of course, we chose beautiful Hawaii. Completely opposite from our original choice but we are so glad we went there. We needed the sun more than we knew.
We did no many amazing things on our honeymoon... hiking into volcanic craters, snorkeling, saw the most amazing sunsets... but probably our favorite part of the whole thing was simply sitting by the pool drinking Pina Coladas. I know it is so cheesy and typical but I'm not embarrassed about it, it was amazing! But now we are home again, in New York, and we have no more pool or Pina Coladas so I need a little reminder of beautiful Hawaii. So I'm making a pina colada Tarte Tatin!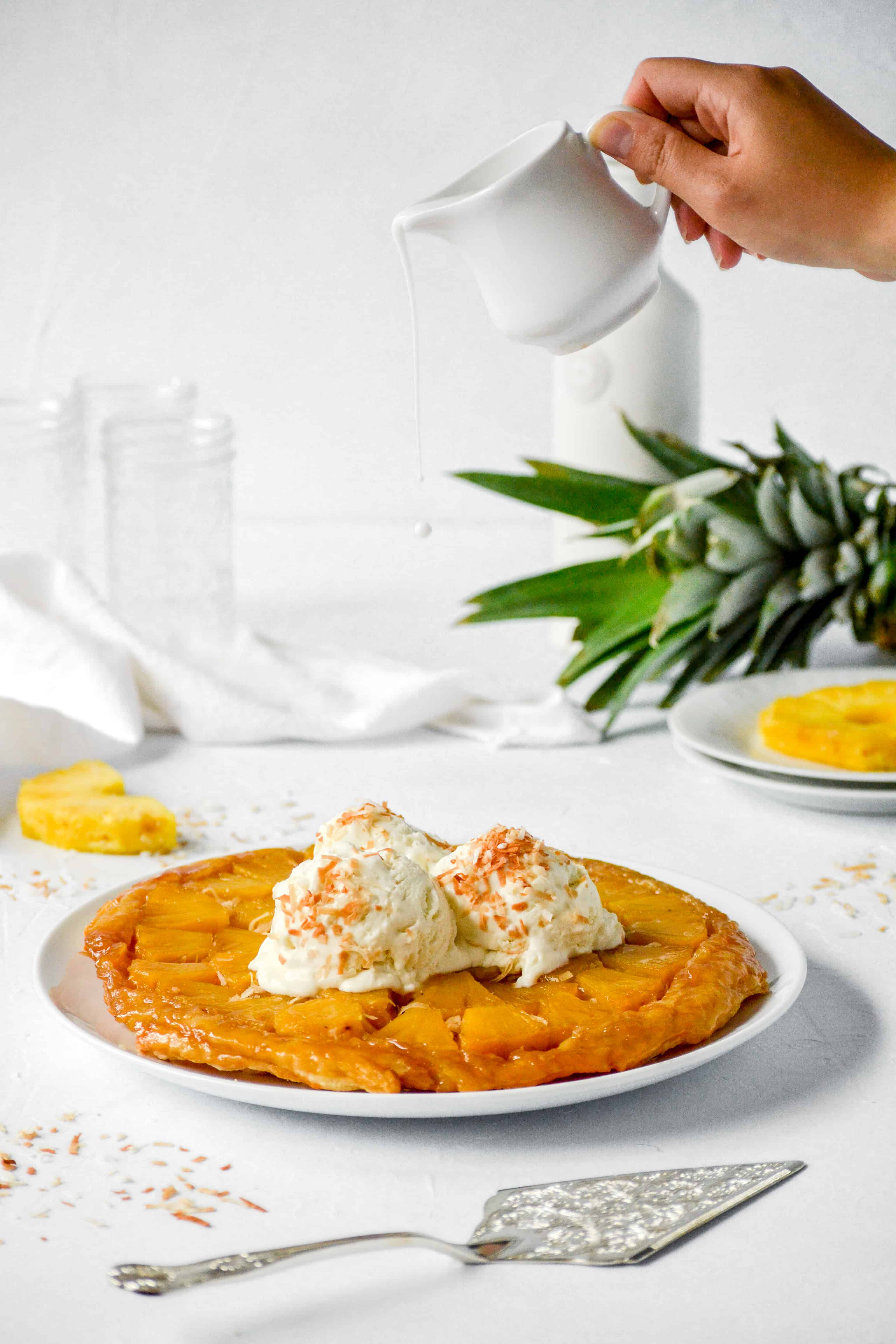 WHAT IS A TARTE TATIN
This Tarte Tatin is stunning to look at but takes minimal effort, which is exactly what you need for a quick summer dessert. A Tarte Tatin is a pastry where the fruit is cooked in caramel and then baked upside down, usually with a puff pastry crust. You can make lots of different fruit Tarte Tatins. I then topped mine with my No Churn Coconut Ice Cream, which pairs so nicely with pineapple. You can get my recipe for that here! I highly recommend it and it is so quick to make! But if you are in a time crunch, any store-bought vanilla ice cream would also go amazing with this!
PINEAPPLE TARTE TATIN INGREDIENTS/ SUBSTITUTIONS
Pineapple: So if you can get your hands on in-season ripe juicy pineapple then definitely use those! If you are not in pineapple season, you can always substitute fresh pineapples for canned pineapples. BUT BE CAREFUL. These pineapples are soaking in juice which will leave a lot of extra water in your tart. You MUST pat them dry completely, a few times getting all that extra water out before you add them to your tart or you will have a soggy mess at the end.
Brown Sugar: a lot of Tarte Tatins use regular sugar but I love that caramel color and flavor that the brown sugar adds. But if you do not have it by all means you can substitute it for white sugar but you may want to cook your sugar a little longer to get that brown caramel look.
Rum Chata: So Rum Chata is perfect for this recipe because it is rum, which adds to the pina colada flavor, but it is also creamy, perfect for my caramel. If you do not have this you can substitute it for any other rum.
Coconut Milk: This little splash of coconut milk adds to the coconut flavor but also gives our caramel a beautiful color and texture. If you do not have this you honestly can just leave it out. the caramel will be fine without it and you still get a lot of coconut flavor from the shredded coconut.
Coconut: The layer of shredded is so important. It adds so much flavor and texture to the tart but also is key in this tatsting like a pina colada.
Puff Pastry: store-bought puff pastry is perfect for this. Thaw it out ahead of time and do not forget to poke some holes in it before baking so it does not puff too high.
HOW TO MAKE A PINEAPPLE TART TATIN
The best part about this dish is that it is simple and it is all made in one pan! Make sure to use a pan that is oven safe like a cast-iron skillet. Start by making your caramel, which is basically just melting your sugar and butter together until bubbly, then add your coconut milk and rum chata and take it off the heat. Add your pineapples, placing them in a fun pattern, then sprinkle with your shredded coconut. Top it off with your puff pastry, tucking in your edges. Bake and you are done! The trickiest part is flipping it. The key is to let it completely cool first. Then place your plate on top of your pan and flip it quick!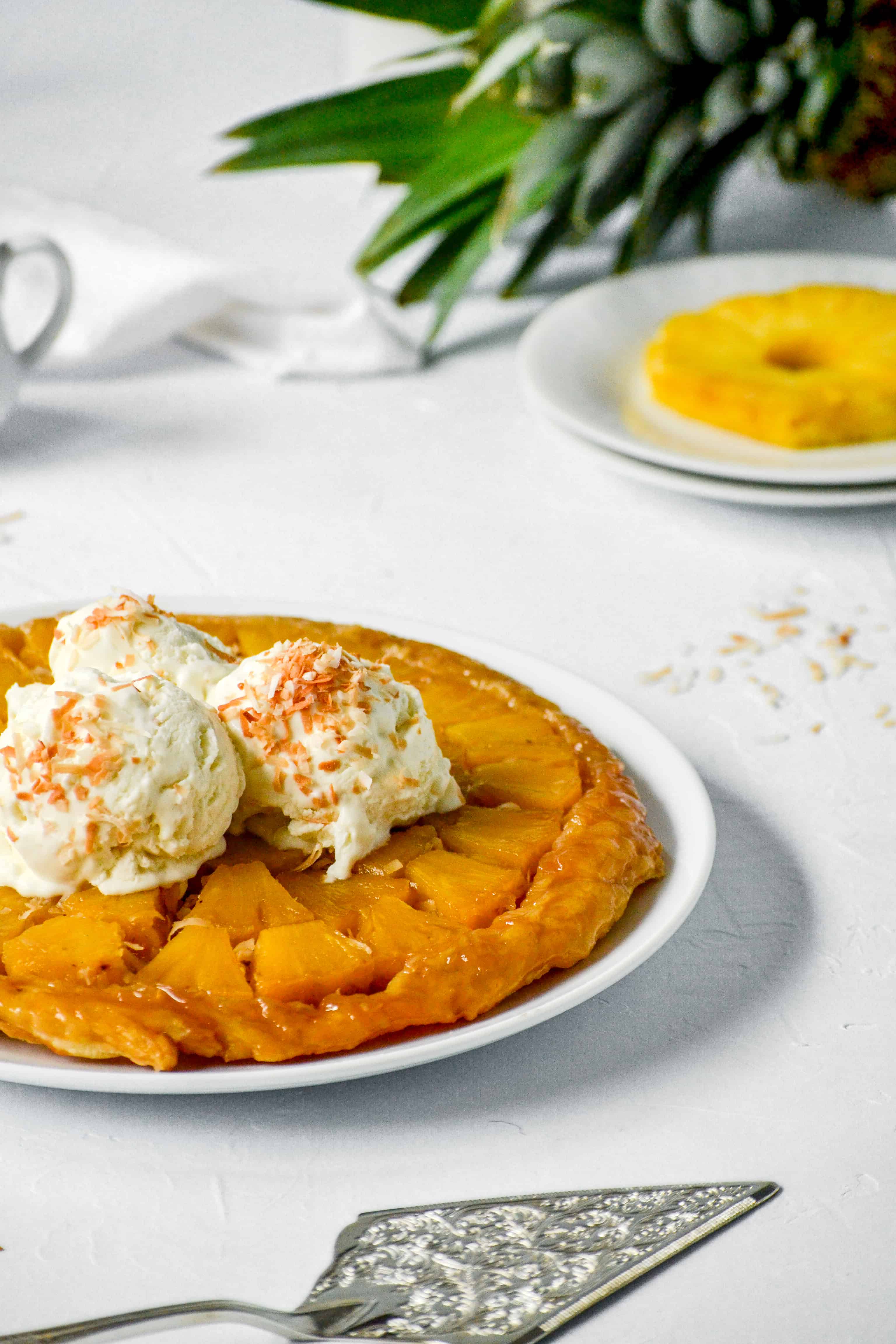 Lastly, if you try out this recipe, be sure to leave a comment/rating on how it turned out. I love hearing from you guys and will try my best to reply to every comment! And don't forget to tag me on Instagram!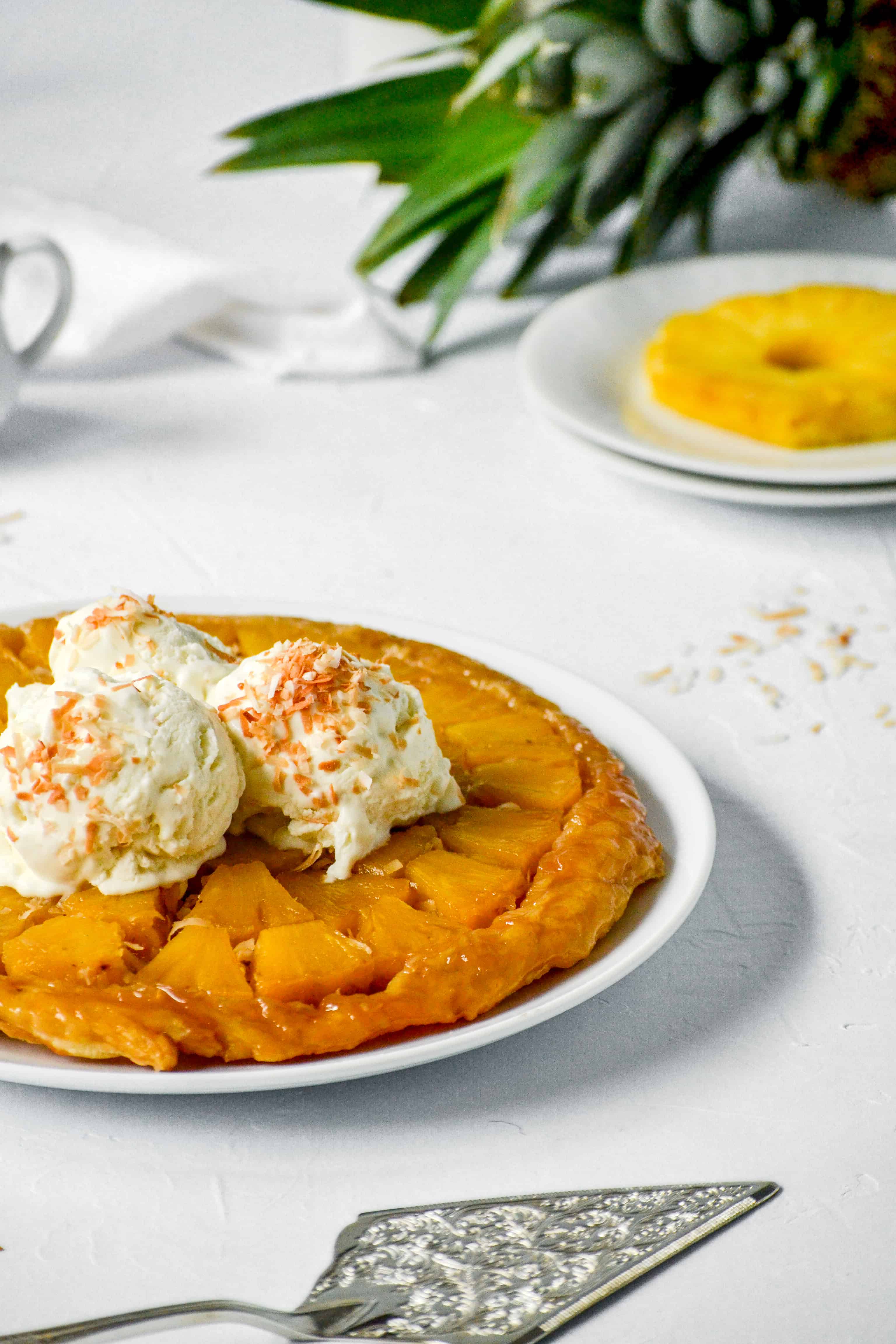 Pina Colada Pineapple Tarte Tatin
Ingredients
1

Puff Pastry

½

cup

brown sugar

3

tablespoon

salted butter

3

tablespoon

coconut milk

2

tablespoon

rum chata

you can subsititute this for any rum

½

pineapple diced up

½

cup

shredded coconut
Instructions
In a cast iron skillet melt together your butter and sugar until bubbly and fluffy.

Add your coconut milk and rum and immediatly take off the heat.

In your skillet, Layer your pineapples in a desired pattern of your choice, over your caramel.

Sprinkle your shredded coconut evenly ontop of your pineapples.

roll out your puff pastry and use a fork to poke multiple holes in it.

Place your puff pastry over your pineapples, tucking in your edges.

still leaving your pastry in your skillet, Bake your pastry at 375 degrees for 45 minutes.

Take out and let your pastry compleatly rest

place a large plater over your skillet and flip over to release your pastry.

Serve warm with some coconut ice cream and an extra splash of rum chata on top.