No Churn Coconut Ice Cream. So ice cream season is the best season but I might be biased being that I am an ice cream addict. I'm obsessed with ice cream and always want to try a new fun flavor. So I truly LOVE to make my own ice cream. Homemade ice cream is just always better than store-bought. But this coconut ice cream recipe is even better because it is NO CHURN! This means you do not need any fancy ice cream makers to make it! It is super easy, creamy, and delicious!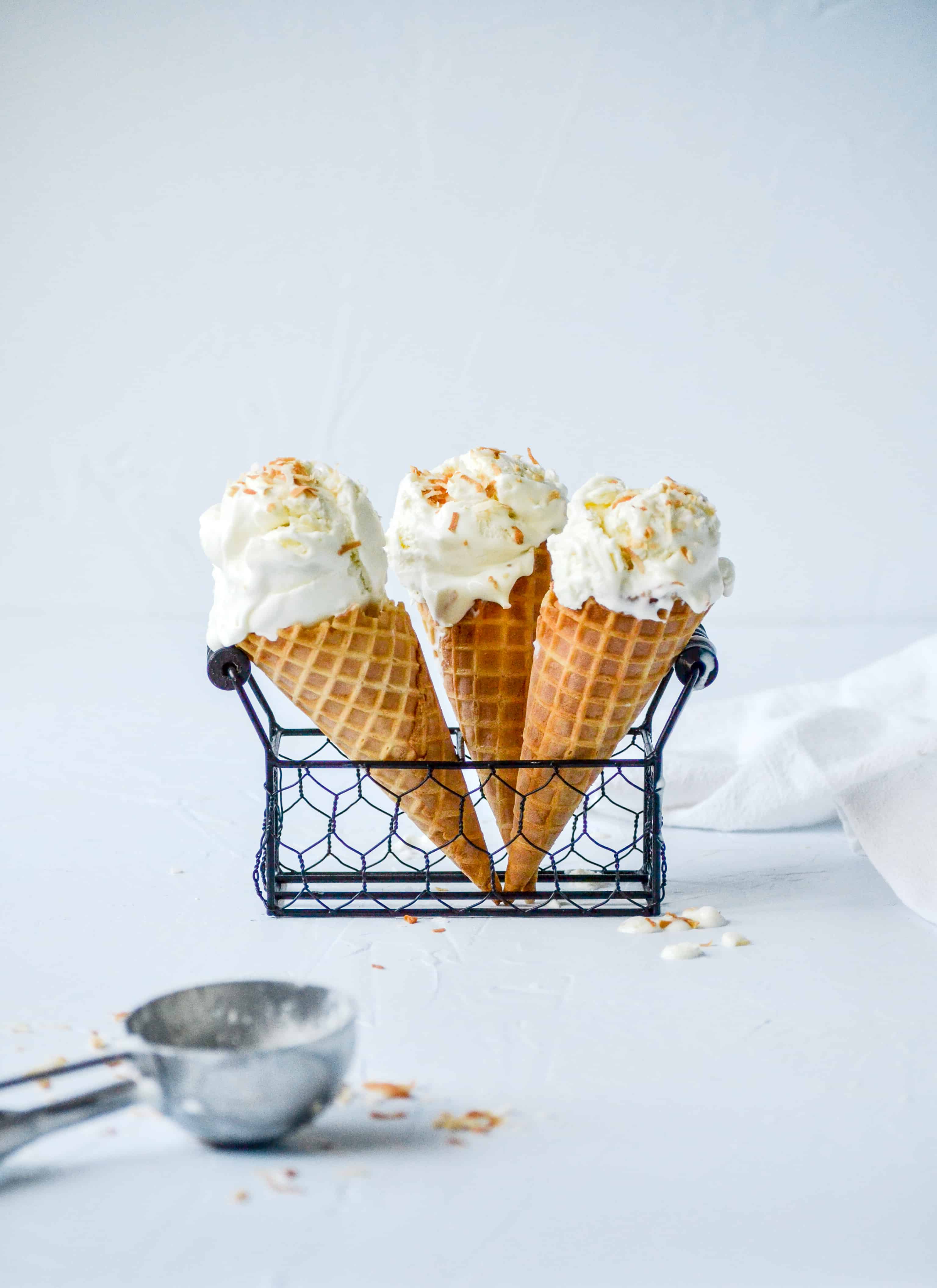 So let me tell you why I have been in such a big tropical flavor mood recently. My husband and I just came back from our HONEYMOON! And we didn't just go anywhere, we went to Hawaii, and needless to say…WE LOVED IT!! And let's just say this honeymoon has been a long time coming so I feel extra excited about it. We originally planned a wedding and honeymoon for June of 2020 but as you all know, COVID happened and we had to cancel everything last minute. We were devastated but we decided to legally get married anyway and reschedule everything for 2021… which we did. Our original honeymoon was planned for Iceland and we were so excited for a super adventurous honeymoon with lots of beautiful vast landscapes. But even in 2021, international travel was not about to happen so we had to choose somewhere within the United States, and we chose beautiful Hawaii. Completely opposite from our original choice but we are so glad we went there! We needed the sun more than we knew!
Anyway, long story short our favorite part of our honeymoon was probably stopping at all of the local roadside stands and getting the freshest tropical fruit, cut up for you right there, especially the COCONUT! We were able to drink fresh coconut water right out of the coconut and I promise you there is nothing like it. Hawaii also has THE BEST mangos, pineapples, coconuts, and bananas. We ate so much fruit! But now we are home again, in New York, and it has been raining all week and I need a little reminder of beautiful Hawaii. So I'm baking with coconut this week!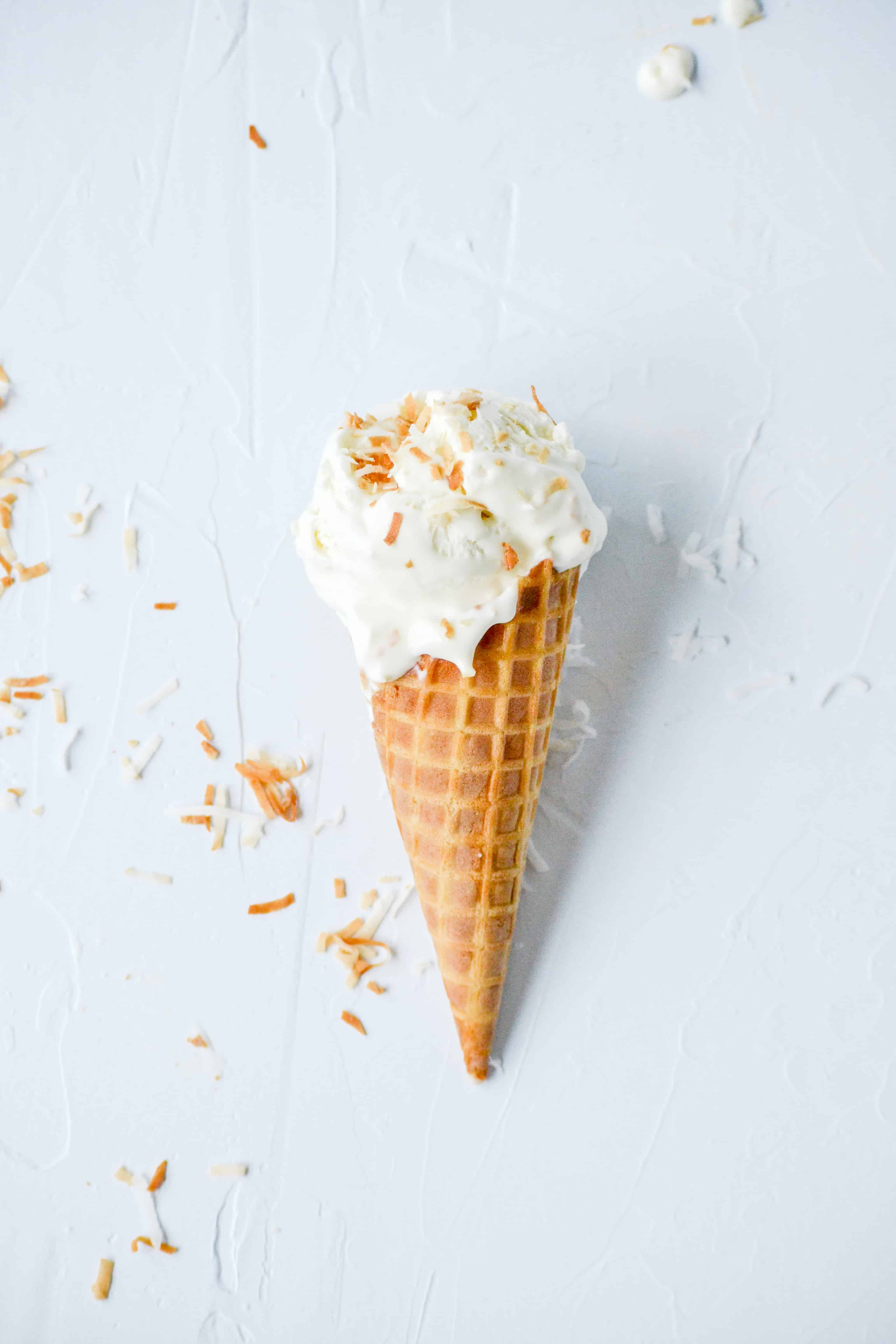 ICE CREAM MACHINE VS NO CHURN
Despite the fact that I have an ice cream maker, I usually choose to make no-churn ice cream. Of course, churn recipes are delicious and arguably even better than no-churn. It whips so much air in it and allows for egg mixtures, which overall give you such a thick and creamy result. BUT no churn is amazing as well and it is HALF THE TIME AND EFFORT! It is just so simple! I do not have to worry about freezing the machine a day in advance and then chilling my ice cream base before I put it in the machine...all of that takes so much time. So honesty I almost always go no-churn. If you want to try a churn-based ice cream recipe check out my Mascarpone Peach and Basil Ice Cream.
COCONUT ICE CREAM INGREDIENTS
Sweetened condensed milk. So all no-churn ice cream recipes have sweetened condensed milk in them to make it sweet and creamy.
Whipped cream. Whipping your heavy cream is key. Adding that air into your mixture is what is going to make your ice cream look and taste and feel like ice cream. If you do not want to take the time to whip your own cream (or you do not have a stand mixer) you can always buy whipped cream instead. I just choose not to because so much of that store-bought stuff is full of oil and high fructose corn syrup which may give your ice cream a weird flavor.
Coconut Cream. This is SO important! DO NOT confuse this with coconut milk! Coconut milk has too much water in it and will not freeze up properly and it will not have a strong enough coconut flavor! If you cannot find coconut cream, you can get coconut milk and let your can sit still for a day. Then when you open your can poor out the water that is sitting on the top and only use the thick cream sitting on the bottom (you may need two cans if you do this).
HOW TO MAKE NO CHURN COCONUT ICE CREAM
To make no-churn ice cream you start by whipping your cream to soft peaks (or until it looks like whipped cream). This is crucial because all of that air that you just added to your cream will make your ice cream creamy and thick.
Then in a separate bowl combine your condensed milk, flavoring (in this case it is coconut cream), and salt. Mix.
Then fold in your whipped cream. Place mixture into a container. Now would be the time to fold in any solid mix-ins that you desire like cookie crumbles, chocolate chips, nuts, jams etc. Freeze overnight. Then you are ready to serve!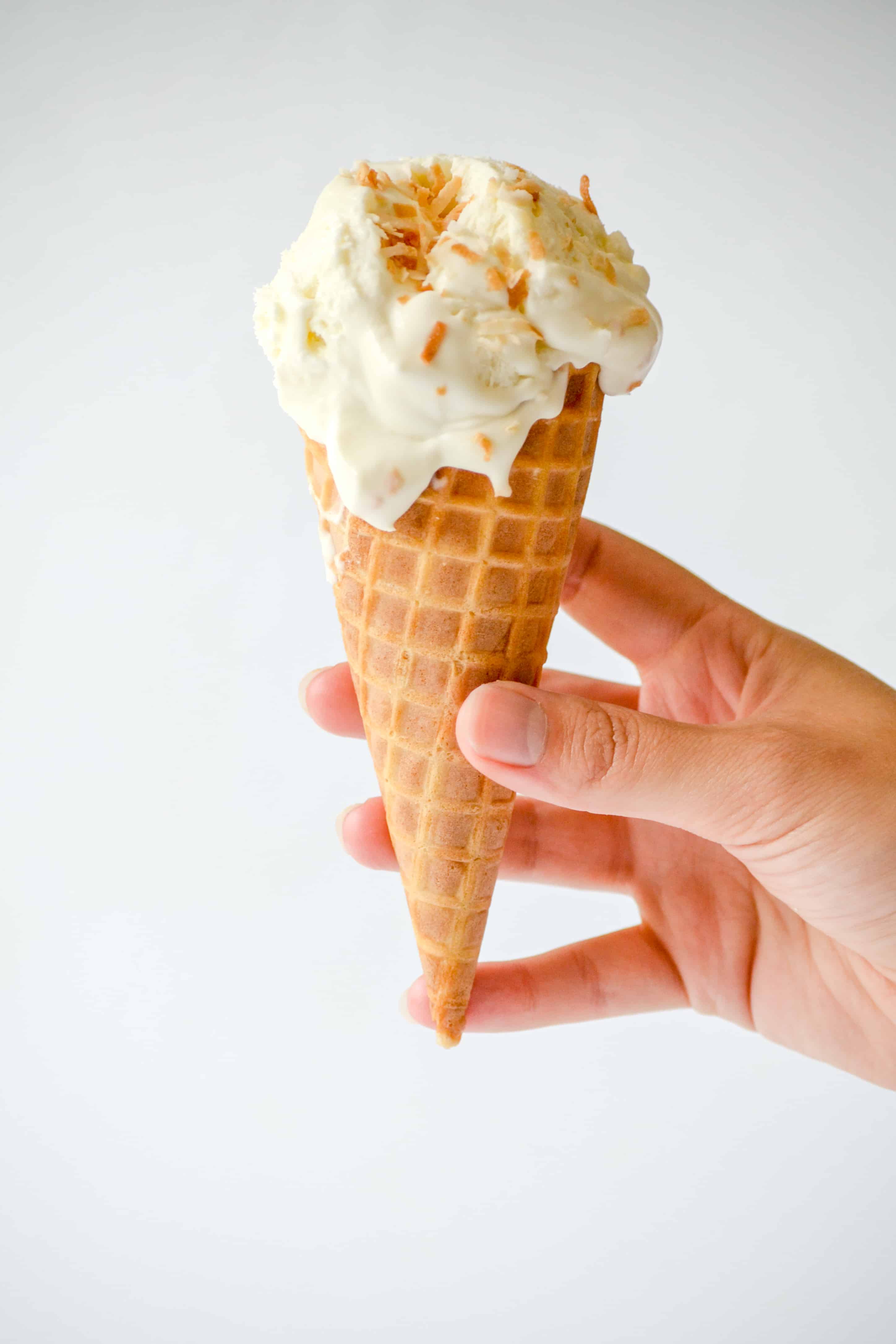 Lastly, if you try out this No Churn Coconut Ice Cream recipe, be sure to leave a comment/rating on how it turned out. I love hearing from you guys and will try my best to reply to every comment! And don't forget to tag me on Instagram!
No Churn Coconut Ice Cream
Ingredients
14

oz

sweetened condensed milk

2

cups

heavy cream

½

cup

coconut cream (NOT coconut milk)

½

teaspoon

salt

¼

cup

shredded coconut (optional)
Instructions
In the bowl of a stand mixer, add your heavy cream. Whip on high speed until your cream reaches soft peeks. (be careful not to over mix it). Put aside.

In a large bowl combine your condensed milk, coconut cream, and salt. Once combined, fold in your whipped cream.

Add mixture to a loaf pan or desired container. Place in the freezer and let it chill overnight or at least 8 hours.

Toast your shredded coconut by placing your coconut on a baking dish and bake at 350 degrees for 5 minutes (keep an eye on it, take out once lightly browned).

Serve ice cream and top with the toasted coconut. Enjoy!