There is nothing I need more on this 100-degree hot day than some chilling, refreshingly sweet peach basil ice cream. This flavor combination is perfect for summer: light, fruity, and fresh! It is mascarpone-based ice cream with a swirl of peach and basil jam. I promise this ice cream will become your go to summer dessert!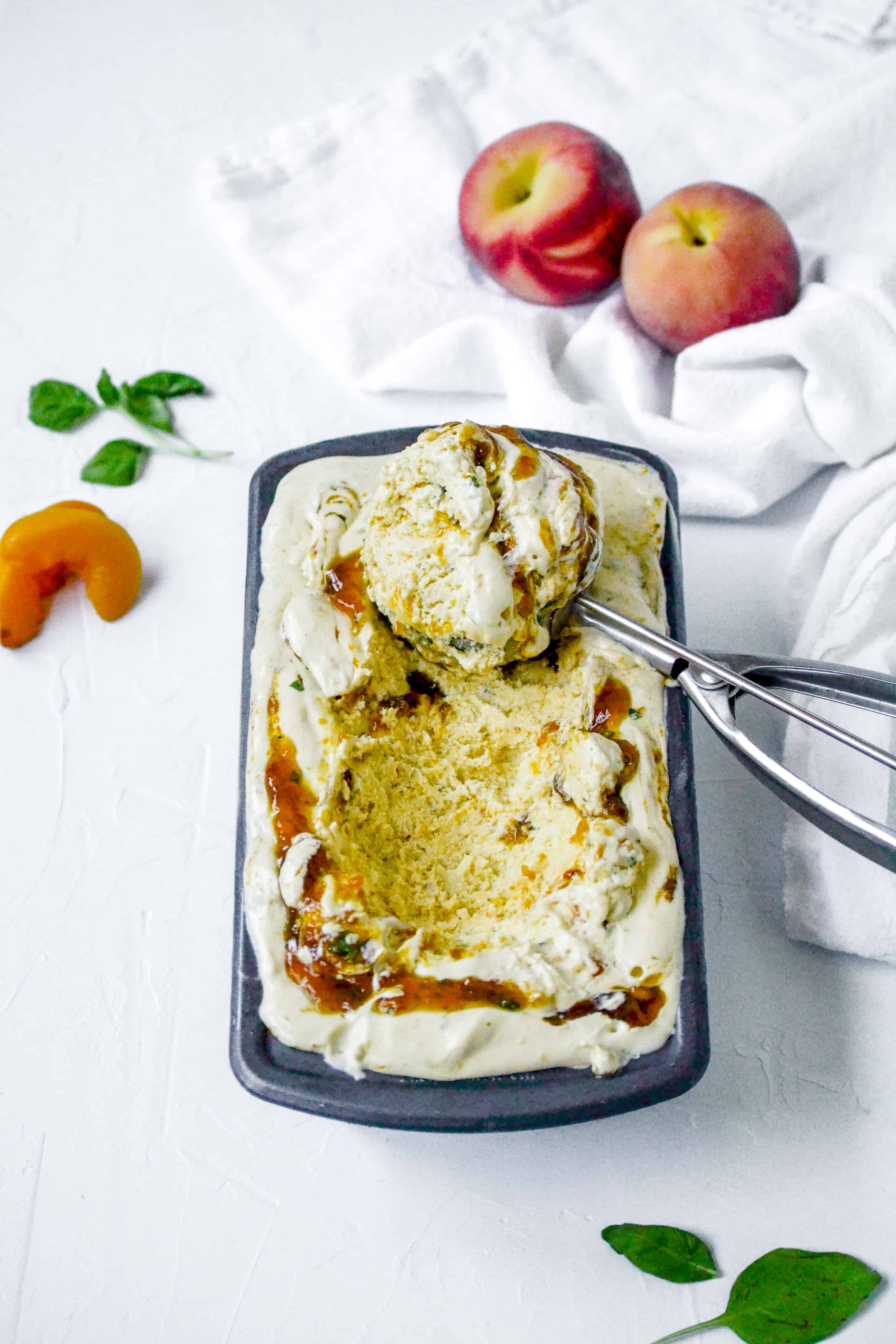 So my husband and I just moved from El Paso, Texas to New York just in time to avoid the crazy heat of the El Paso summer. Those summers living there were brutal...it was not abnormal for it to reach over 110 degress! And while I was excited about a slighly cooler summer in New York, I did not expect the CRAZY humidity! New York summers are so humid! To be honest I am not sure which is worse, but either way, no matter where you are located, you probably could use some ice cream right about now. So I am using my favorite base ice cream recipie and adding some of my favorite flavors. Today it's peach and basil!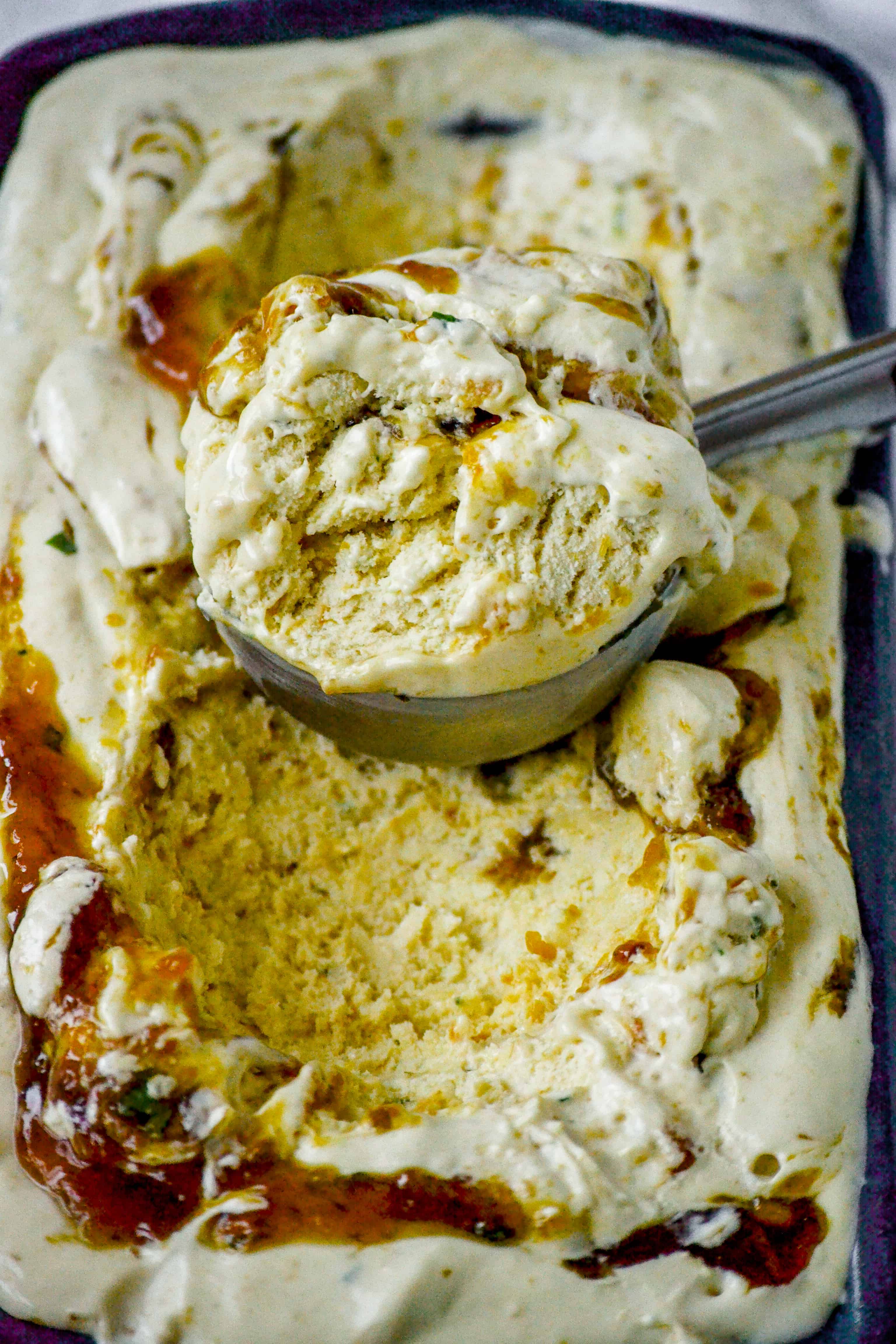 ICE CREAM MAKER VS. NO CHURN
So this recipe does use an ice cream maker. You cannot use this recipe and try to make it no churn because it has eggs in it and it just wont turn out right. But if you do not have an ice cream maker, you can check out some of my other no churn ice cream recipes on my blog which are also amazing! When it comes to whether or not to use an ice cream machine, I always opt to use one. To be honest no churn recipes are way easier and faster, but churn recipes are just undoubtably CREAMIER! So when I want the BEST ice cream I usually pull out my old ice cream machine.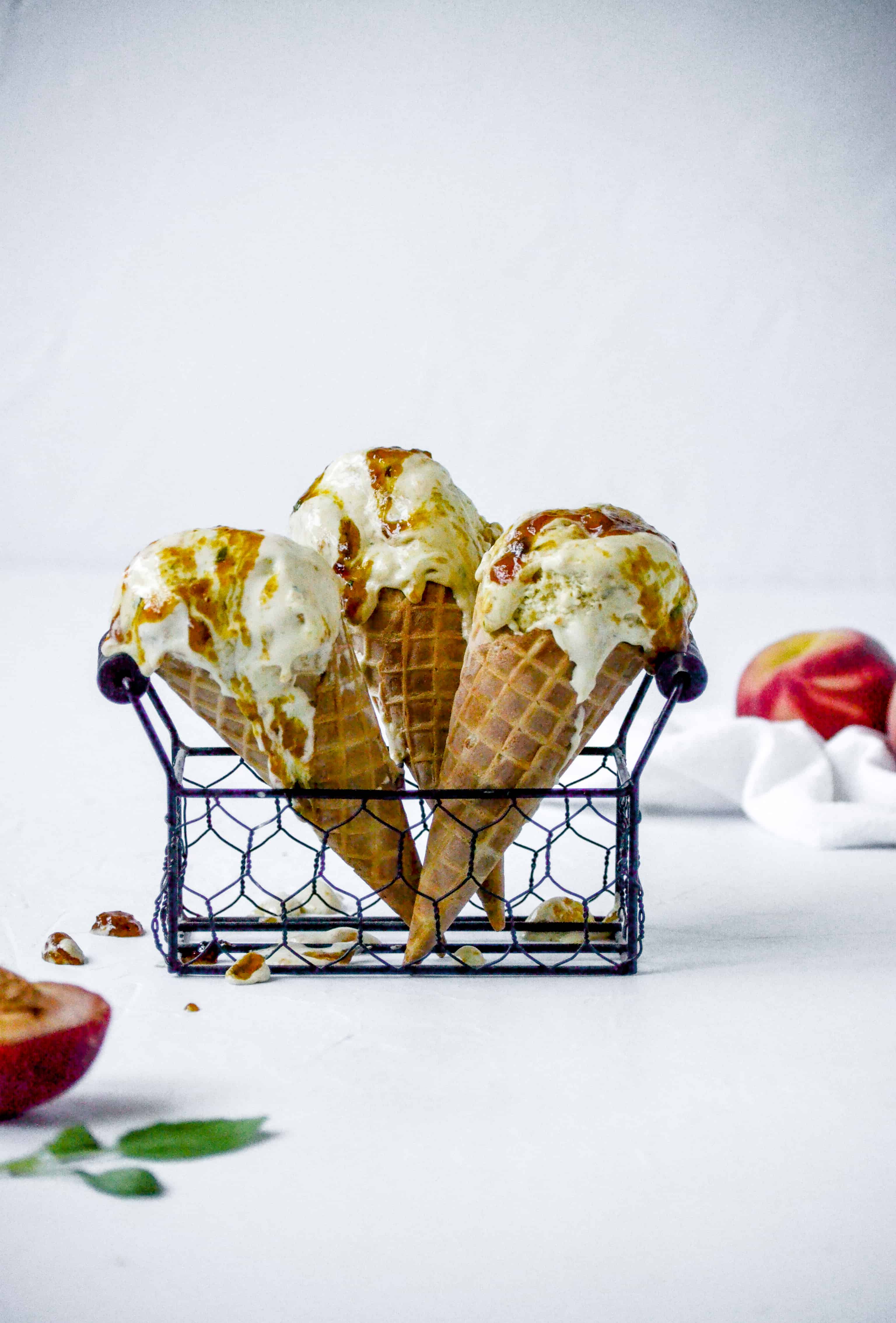 INGREDIENTS/ SUBSTITUTIONS
Mascarpone. So this classic italian cheese is one of my favorites and adds an extra creamy, cheesy tang to your ice cream. It is similar to cream chesse so think kind of like a cheesecake flavor. Actually you can easily replace this for cream chesse if you desire.
Eggs. So eggs are in every classic ice cream recipe and they are key to making your ice cream richer and creamier. We will make sure to temper our eggs so they are safe to eat.
Peach Jam. So I chose to make my own peach and basil jam to swirl into this ice cream. This flavor combination is amazing and perfectly balanced. You can always buy your own peach jam and just add some basil in it and even choose any flavor fruit jam you desire.
Basil. So basil is one of my favorite summer flavors. It's so refreshing and really cuts through the richness of the ice cream. I like peach and basil together but you can always choose an herb you enjoy...like mint, sage, or rosemary.
HOW TO MAKE MASCARPONE PEACH BASIL ICE CREAM
So be aware that this recipe (like most egg based ice cream recipies) takes about 2 days to actually make because it has to freeze overnight. I know it takes some time and effort to make this but I promise you this peach basil ice cream is worth it. Now depending on what ice cream maker you are using, you are going to want to make sure it is frozen ahead of time. I like to put mine in the freezer the night before so I know it is ready.
2. Then I like to start making the jam. This takes about an hour to make/simmer on the stove. Start by peeling and slicing your peaches. I like to pulse mine in my food processor leaving some chunks. Then add it to the sauce pan. Then I blend my basil and sugar together, add that to the pan and simmer it all together for 30- 60 minutes until it has thickened. Once the jam is ready let it cool. After it has cooled I like to add some more finely diced up basil to it.
3. Next I like to make my ice cream base. I start by simmering my half and half and sugar on the stove unitl it is lightly simmering. Then I whisk my eggs in a seperate bowl. I then temper my eggs by slowly adding half of my heated half and half to my eggs while vigorously whisking. I then add my egg mixture back to my pan while whisking. Next add your cream and mascarpone to your pan and stir until it has all melted and has thickened enough to coat the back of your spoon. Take your ice cream off the stove and let it cool in the fridge for at least 4 hours or longer.
4. Time to churn your ice cream! Take out your ice cream machine right before you are about to use it! Pour your mixture into it and turn it on. I like to start mine on medium speed and then after a few minutes increase it to medium high. I leave that chrning for about 30 minutes or until the ice cream has doubled in size and it looks thick and creamy.
5. Transfer your ice cream to a bowl or loaf pan and then swirl your jam in it. Do this in layers so your jam is evenly distributed. Place your peach basil ice cream into the freezer and let it sit over night. Serve the next day!
Lastly, if you try out this Mascarpone Peach Basil Ice Cream recipe, be sure to leave a comment/rating on how it turned out. I love hearing from you guys and will try my best to reply to every comment! And don't forget to tag me on Instagram!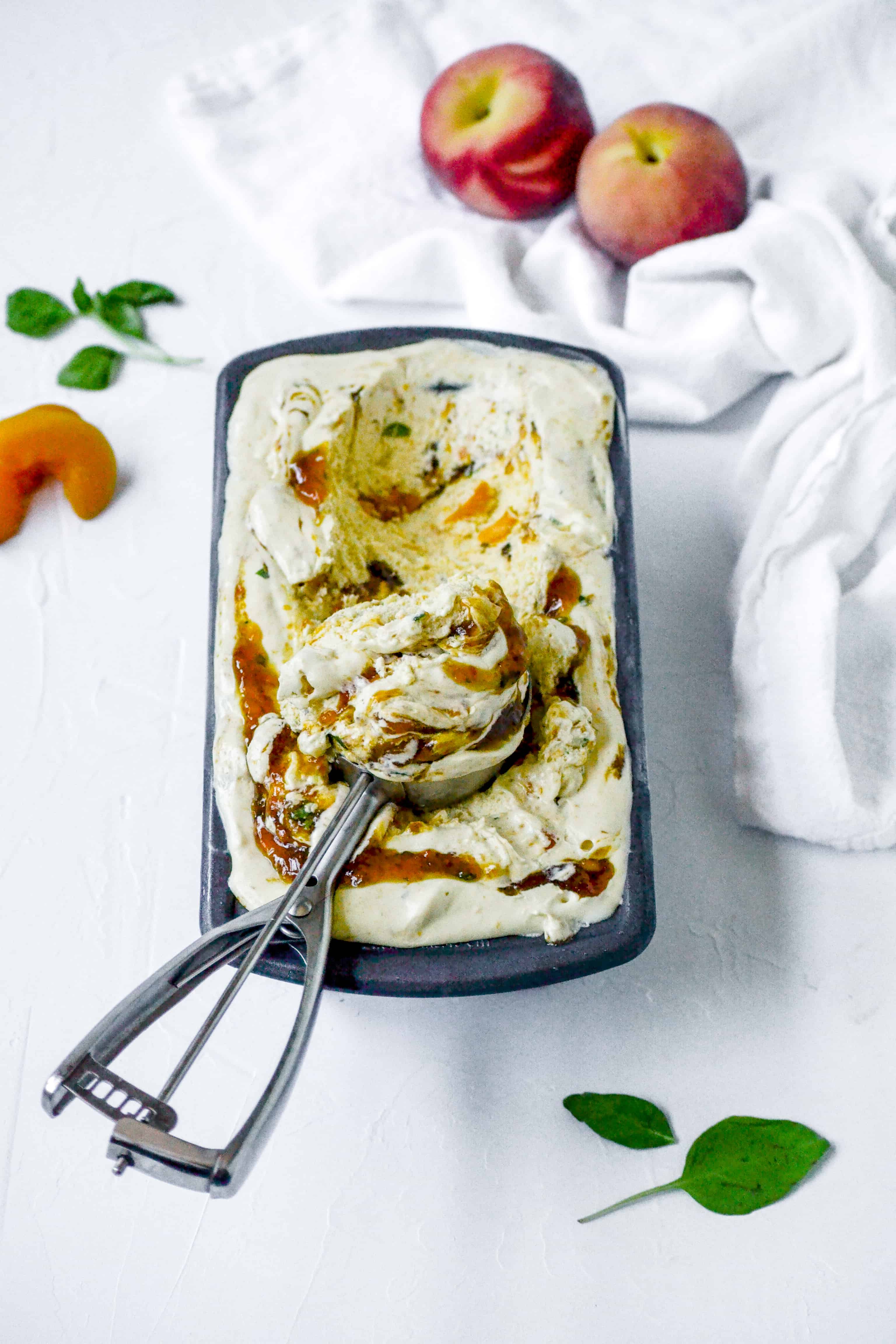 Peach Basil Ice cream
Ingredients
Mascarpone Ice Cream
1

cup

sugar

1 ½

cups

half and half

2

eggs

1

cup

heavy cream

16

oz

mascarpone cheese
Peach and Basil Jam
2

cups

peeled and sliced peaches (about 3 peaches)

1

cup

sugar

large handful of basil (about 40 leaves)
Instructions
Jam
Start by making the jam. Place your peaches in your food processor. Pulse the peaches lightly leaving some chunks. Then add your peaches to a medium sauce pan.

In a food processor add your sugar and most of your basil (reserve about 5-10 leaves). Blend on high until the leaves are completely gone. If there are any leaves left, remove them with your hands.

Place basil sugar mixture in your saucepan.

Simmer jam on medium low heat, stiring continuously until your mixture thickens. This can be anywhere from 30 minutes to an hour depending on how much liquid your peaches have in them. Do not stop stiring or it will burn.

Once your jam is the right consistency, remove from heat and let cool completely.

Finely dice up your remaining leaves. Mix it into your cooled jam.
Ice Cream
In a medium sauce pan heat your half and half and sugar over a medium low heat until it is simmering. Then remove from heat.

In a bowl, whisk your eggs. Then temper them. To do this, slowly pour about half of your half and half mixture into your egg mixture, while whisking vigorously. Then slowly add your egg mixture back to your sauce pan with the remaining half and half mixture. While doing this whisk vigorously.

Add your heavy cream and mascarpone cheese.

Place pan back on the stove and heat over medium low heat continuously stirring until your cheese is melted. Continuously mix until your mixture as thickened enough that it coats the back of your spoon (about 30 minutes). Do NOT stop stirring or the bottom of your mixture will burn.

Then take it off of the stove and cool to room temperature for about an hour. Then place mixture into fridge for about 4 hours or overnight.

Pour mixture into ice cream mixer and churn until mixture has doubled in volume and it is thick fluffy and creamy looking (about 30 minutes).

Place half of your ice cream in a loaf pan. Then dollop about half of your jam mixture on top of that. Layer the rest of your ice cream on top and then add the remaining jam on top of that. Using a knife swirl together your ice cream and jam.

Place ice cream in the freezer and let it freeze overnight.