So it looks like summer is officially here because I am making my all-time favorite Cheesecake Mango Trifle. Layers of smooth, silky, creamy mango mousse with a tart, cheesy, cheesecake mousse, and buttery, shortbread cookie crumble...this is summer in a cup!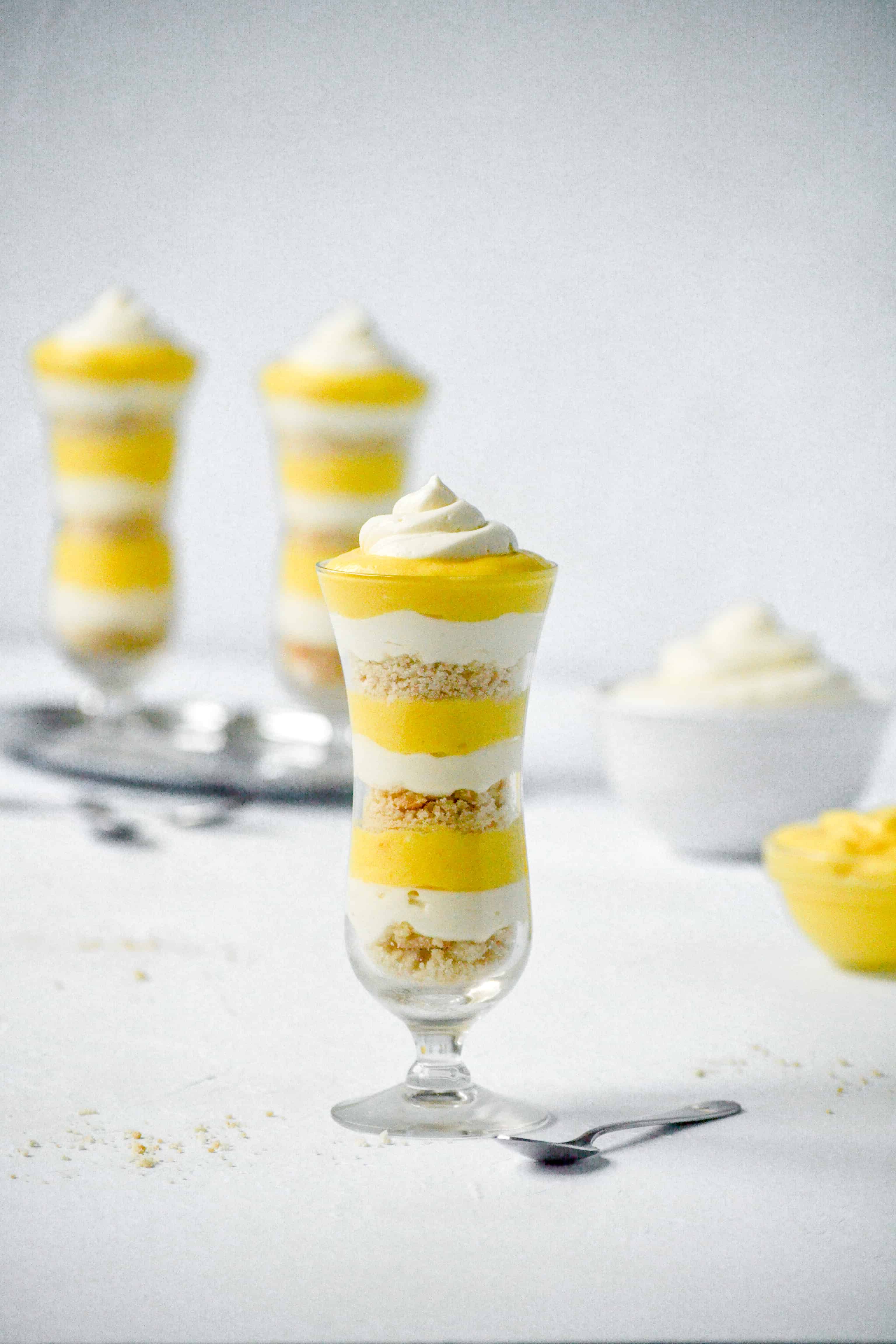 So let me tell you why I have been in such a big mango mood recently. My husband and I just came back from our HONEYMOON! And we didn't just go anywhere, we went to Hawaii and needless to say... WE LOVED IT!! And let's just say this honeymoon has been a long time coming... so I feel extra excited about it. Me and my now husband originally planned a wedding and honeymoon for June of 2020. but as you all know, COVID happened and we had to cancel everything last minute. We were devastated but we decided to legally get married anyway and reschedule everything for 2021... which we did. Our original honeymoon was planned for Iceland and we were so excited for a super adventurous honeymoon with lots of beautiful vast landscapes. But even in 2021, international travel was not about to happen so we had to choose somewhere within the United States, and of course, we chose beautiful Hawaii. Completely opposite from our original choice but we are so glad we went there. We needed the sun more than we knew.
Anyway, long story short our favorite part of our honeymoon was probably stopping at all of the local roadside stands and getting the freshest tropical fruit, cut up for you right there! Hawaii has THE BEST mangos, pineapples, coconuts, and bananas. We ate so much fruit! But now we are home again, in New York, and it has been raining all week and I need a little reminder of beautiful Hawaii. So I'm baking with mangos this week!
MANGO TRIFLE INGREDIENTS AND SUBSTITUTIONS
Shortbread Crumble. So the first layer of this mango trifle is the shortbread crumble, which is basically a short bread cookie crumbled up! I make mine out of flour, powdered sugar, and butter. If you do not have the time to bake and you want an easy shortcut, you can switch this out for something store-bought. Any kind of vanilla or butter flavored cookie or cake would go well. A store-bought pound cake diced up, vanilla wafer cookies layered in there, or Vienna finger cookies crushed up would all be amazing substitutions.
Mango Mousse. So the next layer is the mango mousse which is made out of fresh mangos and homemade whipped cream. The ingredients in this layer are simple and I do not recommend switching them out. Make sure to use fresh, ripe mangos... that is KEY. BUT you can buy store-bought whipped cream instead of making your own to save some time. If you do this, add about 3 cups of whipped cream to it.
Cheese Cake Mousse. This layer basically tastes like a cheese cake and I LOVE it. If you are feeling fancy you can replace the cream cheese with mascarpone cheese which is a little bit more rich and creamy! You can also replace the homemade whipped cream for store-bought whipped cream. If you do this, add about 3 cups of whipped cream to it.
HOW TO MAKE A MANGO TRIFLE
A trifle is a layered dessert, usually containing a fruit component, whipped cream or custard component, and a cake component (in this case a cookie component). They are also usually served in a clear glass bowl or cup so you can see all the beautiful layers! Once you have all three components prepared making the trifle is easy. You literally just layer them in a continuous pattern until you reach the top. I try to aim for at least 2 or 3 sets of each layer depending on the depth of my trifle dish... I just think the more layers the prettier.
Start by making the shortbread crumble. You just have to combine all your ingredients in a stand mixer. Mix on low speed until combined. Then add your crumbly cookie mixture and press it into the bottom of your loaf pan. Bake at 325 degrees for 30 minutes. Let cool and crumble it completely using your hands. DONE!
2. Next make your mango mousse. Start by pureeing your fresh mangos. Then fold in your whipped cream. DONE!
3. Lastly, make your cream cheese mousse. Start by mixing your cream cheese, vanilla, and sugar in the bowl of a stand mixer until soft, smooth, and combined. Then fold in your whipped cream.
4. Layer your components in your dish and you are finished! Be sure to serve cold and store by covering your dish with plastic wrap and keeping it in the fridge.
Lastly, if you try out this Cheesecake Mango Trifle recipe, be sure to leave a comment/rating on how it turned out. I love hearing from you guys and will try my best to reply to every comment! And don't forget to tag me on Instagram!
Mango Trifle
Ingredients
Shortbread crumble
1

cup

flour

¼

cup

powdered sugar

½

cup

salted butter (diced up and cold)

1

teaspoon

vanilla

¼

teaspoon

salt
Whipped Cream
2

cups

heavy whipping cream

⅔

cup

powdered sugar
Cheesecake Mousse
16

oz

cream cheese

¾

cup

powdered sugar

1

tablespoon

vanilla
Instructions
Shortbread Crumble
In the bowl of a food processor, add your flour, sugar, butter and salt. Mix on low speed and then increase the speed to medium until mixture is all combined. Add your vanilla and continue to mix. Your dough may be crumbly.

Line a loaf pan with parchment paper that hangs over the edge for easy removal.

Press your dough into the bottom of the pan.

Bake shortbread at 325 degrees for 30 minutes.

Once done let cool. Remove from pan and crumble the cookie up completely using your hands.
Whipped Cream
In the bowl of a stand mixer add your cream and sugar. Mix on high speed until your cream forms stiff peeks.

Divid mixture in half and set aside.
Mango Mousse
Peel and dice your mangos. Puree mangos in a food processor.

In a bowl add your mango puree and half of your whipped cream mixture. Fold in your cream.
Cheese Cake Mousse
In the bowl of a stand mixture add your cream cheese, sugar, and vanilla. Mix on low speed for a minute then increase speed to medium high until cheese is softened.

Scrape the cheese mixture off the side of the bowl. Then add the other half of the whipped cream to your mixture. Fold in the cream.
Assemble
You can use individual trifle cups or one large trifle dish. Either way start by adding about a half an inch layer of the shortbread crumbles. Then add about half an inch layer of the cheese cake mousse on top. Spread out this layer evenly. Then add about half an inch layer of the mango mousse on top of that. Repeat until you reach the top of your dish. Garnish with a few fresh mangos if you have any. Serve and store cold.
Nutrition
Serving:
1
serving
Calories:
708
kcal
Carbohydrates:
53
g
Protein:
7
g
Fat:
53
g
Saturated Fat:
32
g
Polyunsaturated Fat:
2
g
Monounsaturated Fat:
14
g
Trans Fat:
1
g
Cholesterol:
174
mg
Sodium:
380
mg
Potassium:
277
mg
Fiber:
2
g
Sugar:
37
g
Vitamin A:
2831
IU
Vitamin C:
29
mg
Calcium:
109
mg
Iron:
1
mg