This is the best Pumpkin Bread there is. This Pumpkin Cream Cheese Bread is SUPER moist and packed with pumpkin spice, then swirled with a cream cheese frosting swirl. This is the perfect holiday breakfast to share with your family or the perfect dessert for any crisp fall night. This Pumpkin Cream Cheese Bread is comforting and soft, dense, moist and tender!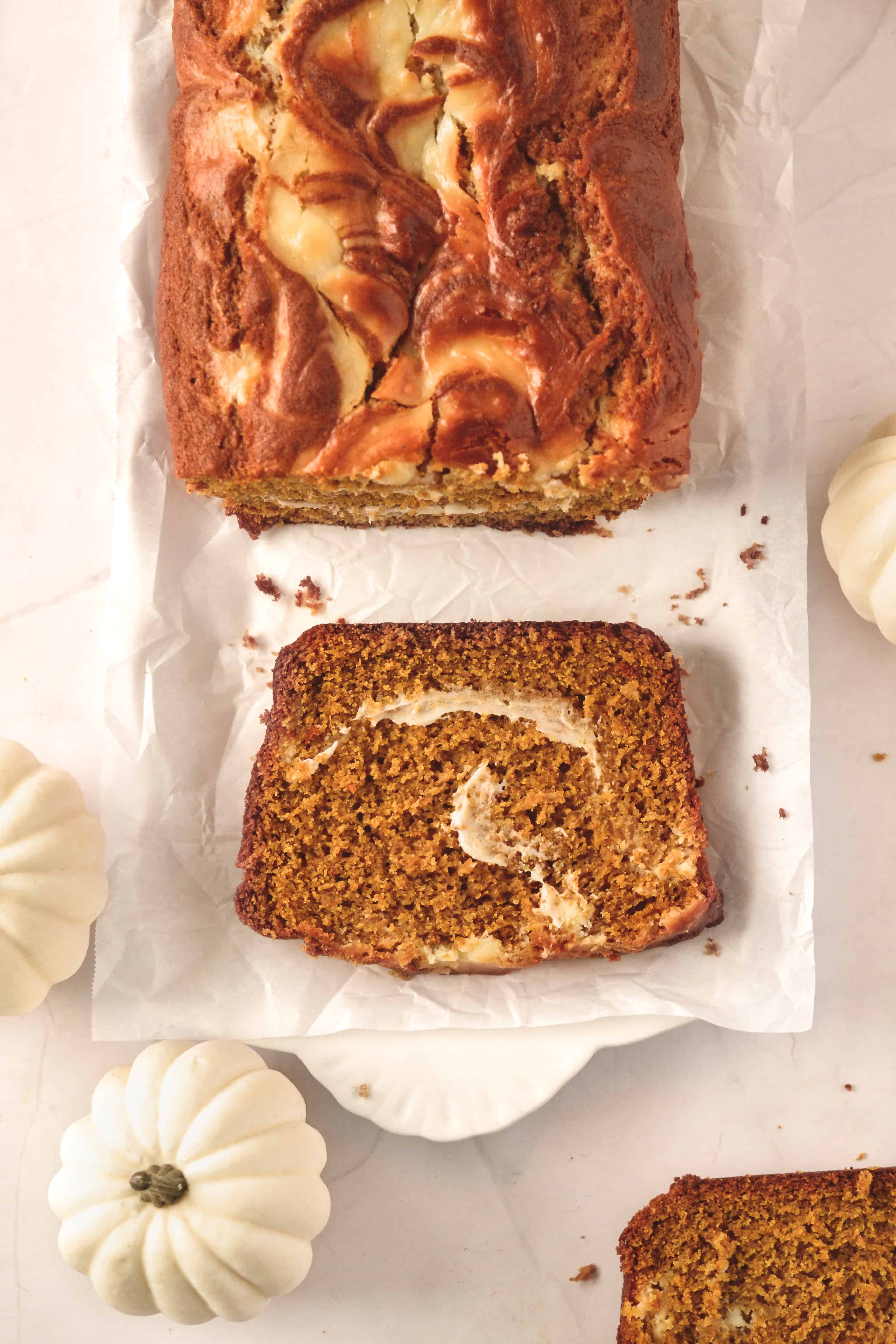 My mom never let a thanksgiving go by without making her famous Pumpkin Bread. She always made two at a time because they were so popular she always needed one to give away to people. This recipe is inspired by her and her recipe. It holds so many amazing memories to me and I am so happy to share those with you through this recipe! If you are looking for other holiday breakfast ideas here are a few to try out:
Cinnamon Rolls with Apple Pie Filling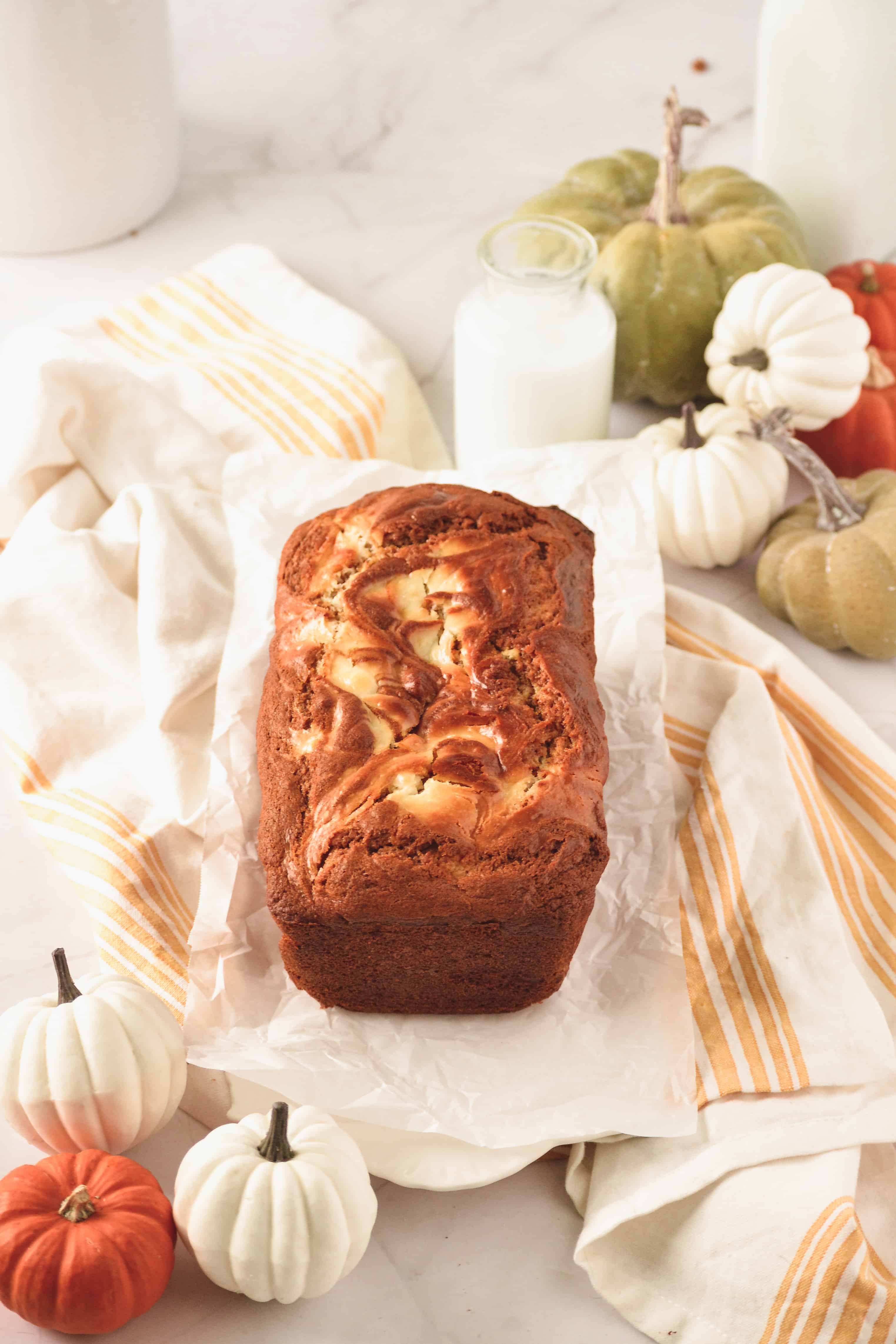 PUMPKIN CREAM CHEESE BREAD STEP BY STEP INSTRUCTIONS
PUMPKIN BATTER
In the bowl of a stand mixer, beat your butter until soft and airy. Then add your oil and sugar and beat together. switch to your whisk attachment and add your pumpkin, eggs and buttermilk. whisk until combined.
In a small bowl combine your flour, cinnamon, ginger, nutmeg, clove, allspice, baking soda, baking powder, salt. Then add to your wet ingredients and whisk until combined.
divide in half and set aside
CREAM CHEESE SWIRL
In the bowl of a stand mixer beat your cream cheese until soft and airy. add your powdered sugar and milk and beat until combined.
divide in half and set aside
ASSEMBLE/ BAKE
line your loaf pan with parchment paper letting it hang over the sides slightly (for easy removal). Pour your first half of the pumpkin batter in the pan. Then add the first half of your cream cheese mixture on top of that in 4-5 dollops. repeat by adding the second half of your pumpkin batter and then top with the remaining half of the cream cheese mixture (4-5 dollops).
Using a knife, swirl your bread and cream cheese together.
Bake bread at 425 degrees for 10 minutes and then change the temperature of the oven to 350 degrees (without opening up the oven) and bake for another 50 minutes. you might need to lightly place a piece of foil on the top of your bread in the last 10 minutes of baking if it is getting too brown.
once done let cool and serve
PUMPKIN CREAM CHEESE BREAD KEY INGREDIENTS/ SUBSTITUTIONS
PUMPKIN. the most important ingredient. this adds that amazing pumpkin flavor. make sure to get canned pumpkin puree and NOT pumpkin pie mix.
SPICES. i use a combination of cinnamon, ginger, all spice, nutmeg and clove. I think this is the best balance of spices to really highlight that pumpkin. But if you do not have all of them the most important ones are cinnamon, ginger and nutmeg.
OIL. oil makes for a super mist bread which is why i use more oil than butter (it has more fat content) always use a flavorless oil like vegetable oil.
BUTTERMILK. This also makes for a super moist bread. if you don't have this you can substitute it for sour cream also.
CREAM CHEESE. This makes the best center swirl. make sure it is room temperature before baking
BUTTER. I use butter in my bread to get the best texture and crumb. but if you are out you can replace it with extra oil.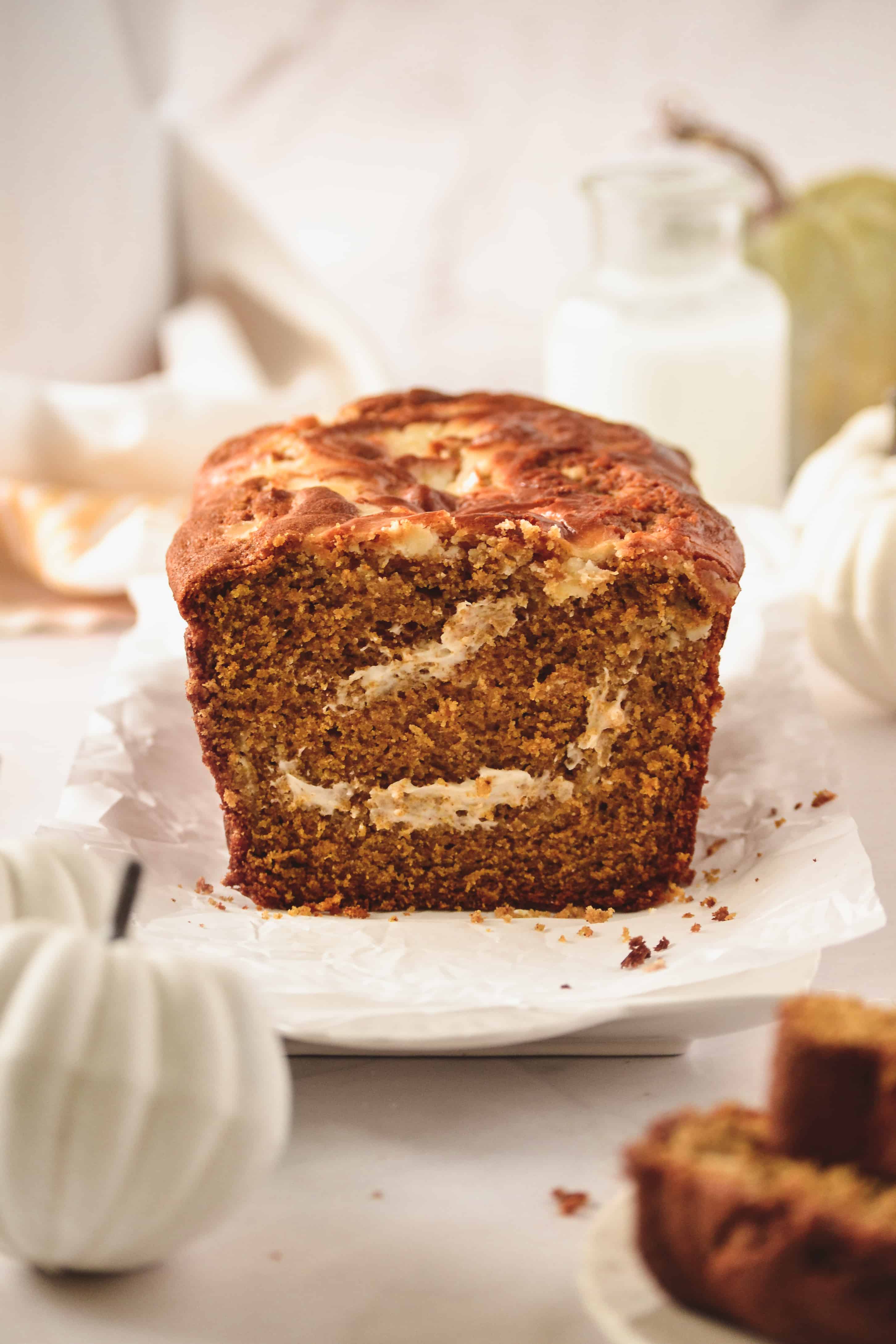 BAKING TIPS
To get the highest rise of your cake I have a little trick I always like to use. That is to start baking your cake at 425 degrees for 10 minutes. The burst of super hot heat will help create a burst in the rising process. Then change the temperature of the oven to 350 degrees (without opening the oven ) and bake for the remaining 50 minutes to bake the center of the cake.
Check your bread about 10 minutes before it is done to make sure it is not getting too brown on top. if so, gently place a sheet of foil on top of your bread to prevent it from burning.
To asure your cake is baked throughout, use a skewer stick and poke it in the center of your cake. when you pull it out the stick should be dry. If so it's done. If it is still wet then its not read yet keep baking.
To asure your bread comes out of the pan nicely, line your pan with a sheet of parchment paper. I like to leave a little paper hanging over the edges to use when taking out of the pan.
FAQ
If I don't like cream cheese could i put something else in it? Yes! This bread would be amazing with some fresh cranberries mixed in or some chocolate chips. You could even try pecans, a crumb top, or a combo of these.
STORING AND FREEZING
Wrap any left over bread in plastic wrap tightly and then place in an air tight container or zip lock bag, keep for 3 days or Freeze for up to a month.
Lastly, if you try out this recipe, be sure to leave a comment/rating on how it turned out. I love hearing from you guys and will try my best to reply to every comment! And don't forget to tag me on Instagram!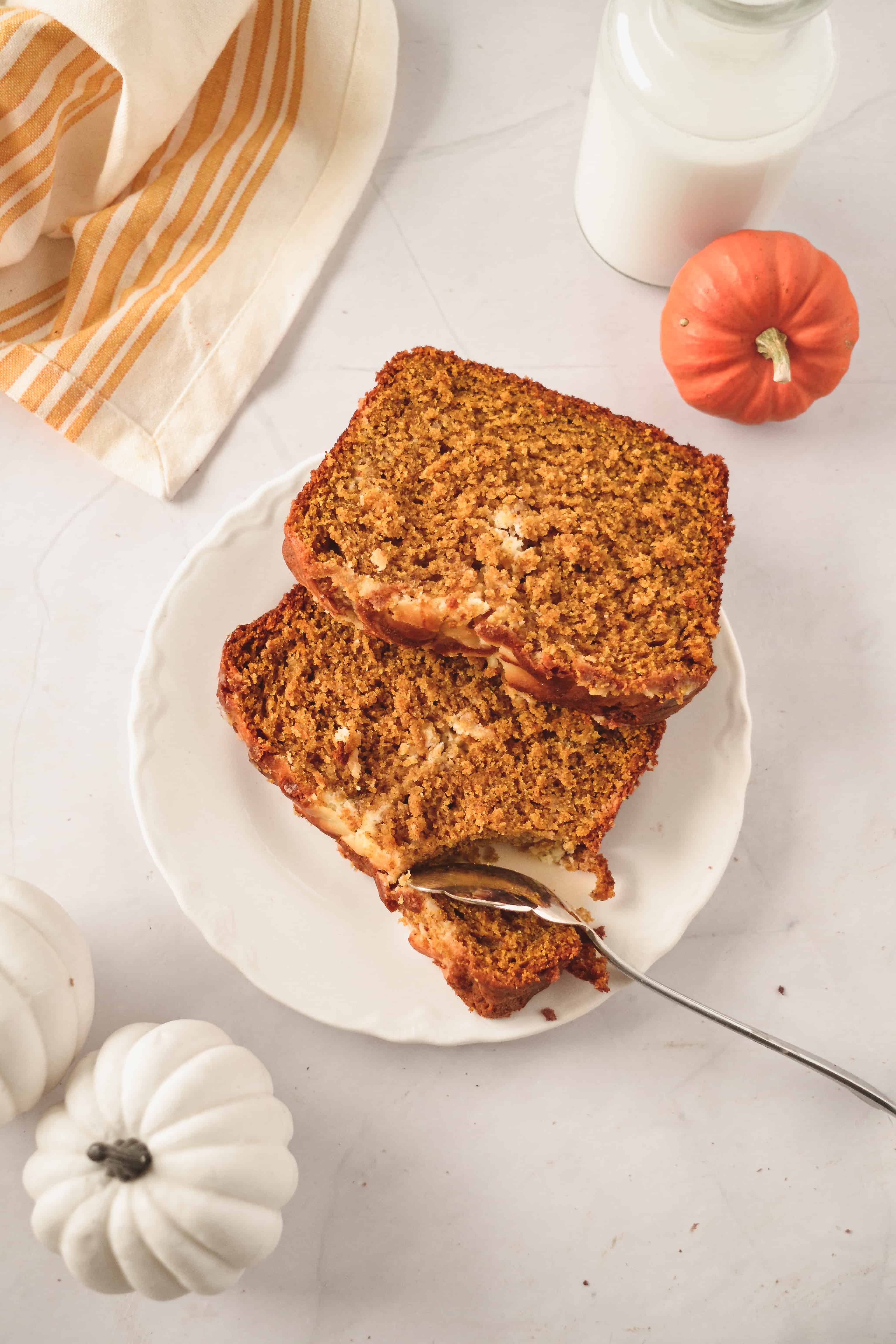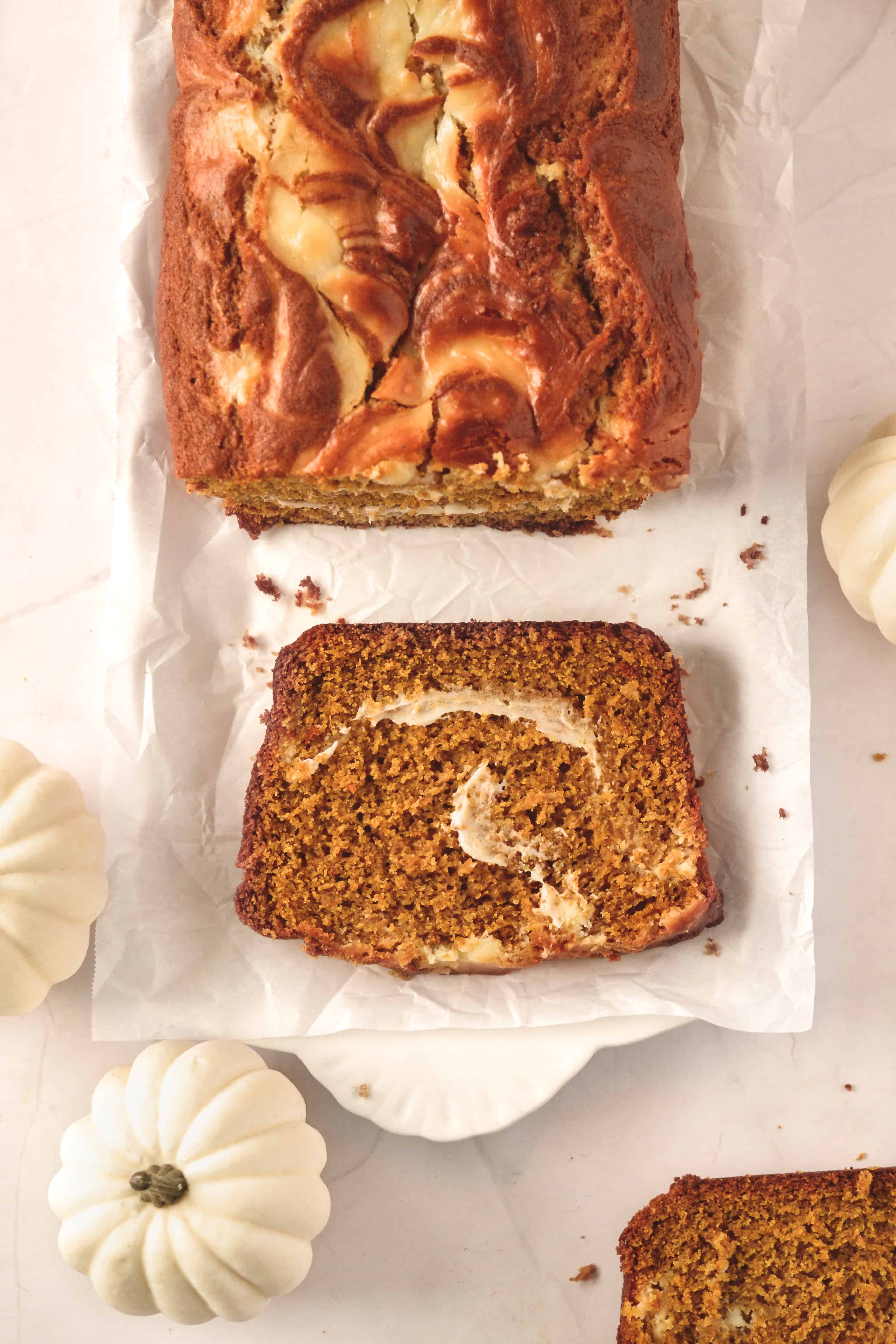 Pumpkin Cream Cheese Bread
A super moist pumpkin bread loaded with pumpkin spice and swirled with cream cheese frosting.
Ingredients
pumpkin bread
2

cups

flour

1

tablespoon

cinnamon

1

teaspoon

ginger

½

teaspoon

allspice

¼

teaspoon

nutmeg

⅛

teaspoon

clove

1

tablespoon

baking powder

1

teaspoon

baking soda

½

teaspoon

salt

1 ½

cups

sugar

1

cup

pumpkin

2

eggs

½

cup

vegetable oil

¼

cup

salted butter

⅓

cup

buttermilk
cream cheese swirl
8

oz

cream cheese

½

cup

powdered sugar

1

tablespoon

milk
Instructions
pumpkin bread
In the bowl of a stand mixer, beat your butter until soft and airy. Then add your oil and sugar and beat together. switch to your whisk attachment and add your pumpkin, eggs and buttermilk. whisk until combined.

In a small bowl combine your flour, cinnamon, ginger, nutmeg, clove, allspice, baking soda, baking powder, salt. Then add to your wet ingredients and whisk until combined.

divide in half and set aside
cream cheese swirl
In the bowl of a stand mixer beat your cream cheese until soft and airy. add your powdered sugar and milk and beat until combined.

divide in half and set aside

line your loaf pan with parchment paper letting it hang over the sides slightly (for easy removal). Pour your first half of the pumpkin batter in the pan. Then add the first half of your cream cheese mixture on top of that in 4-5 dollops. repeat by adding the second half of your pumpkin batter and then top with the remaining half of the cream cheese mixture (4-5 dollops).

Using a knife, swirl your bread and cream cheese together.

Bake bread at 425 degrees for 10 minutes and then change the temperature of the oven to 350 degrees (without opening up the oven) and bake for another 50 minutes. you might need to lightly place a piece of foil on the top of your bread in the last 10 minutes of baking if it is getting too brown.

once done let cool and serve