So if there is ever a classic brownie recipe for you to try, it is this one! These crinkle top brownies are literally the MOST fudgy, gooey, rich, extra chocolatey crinkle top brownies you will ever eat!!
Valentines day is coming up which has me thinking of only one thing...CHOCOLATE!! This is one of my easiest but chocolatiest recipes that will leave your loved ones wanting more. One of my favorite flavor combinations is chocolate and flaky sea salt. So I top these brownies with just that and trust me it is what pushes these crinkle top brownies over the edge.
One of the key ingredients in these brownies is the instant coffee granules. The coffee is meant to enhance that chocolate flavor, not necessarily make them taste like coffee. Since instant coffee is a concentrated form of coffee, you have to be really careful with it. Trust me a little can go a long way! The first time I made these for my husband, I put too much instant coffee in them and he said that the coffee flavor was too overpowering. He didn't like it so I had to alter the ratios and find the perfect balance. Coffee and chocolate share the same flavor profile, so when adding a hint of coffee to chocolate, you amplify and enhance those rich flavors.
When you start the recipe you have to melt your chocolate and butter together over a double a boiler. This just helps you from burning your chocolate or over cooking and unevenly melting your butter and chocolate which may happen if you use a microwave. A double boiler is a heat proof bowl placed on top of a pot with boiling water inside of it. The steam from the water slowly and evenly melts the chocolate. After it is melted be sure to cool it down to room temperature before adding it to your egg mixture or you will cook your eggs.
Lets talk about the big brownie controversy.... gooey and fudgy or cakey. In my opinion if you want cake, make cake. These are not that. They are the classic fudgy, gooey center brownies with the crinkly crisp top and edges that everyone loves! You may notice that this recipe has very little flour. This helps keep your crinkle top brownies gooey, moist and fudgy. If you prefer a cakey brownie you can add more flour.
Tips:
Use baking quality dark chocolate cocoa powder. You will be surprised at what a difference the quality of cocoa makes.
Add both melted chocolate and chocolate chips. This creates an extra rich chocolate center in the batter but still provides those hidden morsels of melted chocolate throughout.
Add instant coffee or espresso powder! This brings out and enhances the chocolate flavor.
Top your brownies with flaky sea salt. Do this immediately when they come out of the oven. This creates an incredible flavor combination. Don't substitute this for regular sea salt! It wont work the same.
Line your baking pan with parchment paper so you can easily lift the brownies out of the pan to cut and serve.
LOTS of butter... salted butter to be exact. This helps create that chewy texture and the salt balances out the bitterness and sweetness of the chocolate.
DONT over bake. You want your brownies to stay fudgy and gooey and over baked brownies just won't do that. When in doubt err on the side of less baking time... a little extra gooey center is better than a dry one!!
Lastly, if you try out this Salted Crinkle Top Brownies recipe, be sure to leave a comment/rating on how they turned out. I love hearing from you guys and will try my best to reply to every comment! And don't forget to tag me on Instagram!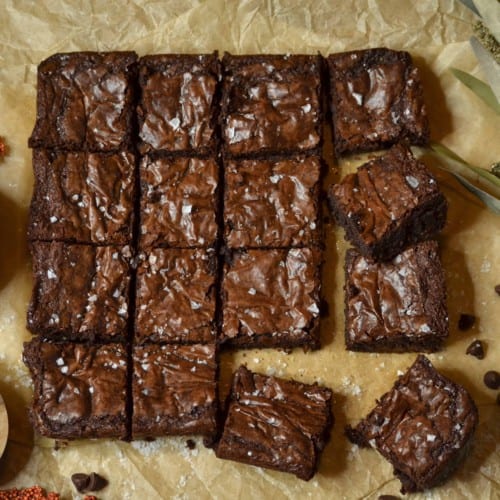 Salted Crinkle Top Brownies
Ingredients
1

cup

salted butter

1 ½

cup

semisweet chocolate chips

3

eggs

1 ¼

cup

sugar

1

tbls

vanilla

1

tbls

instant coffee

½

cup

flour

¼

cup

coco powder

1 ½

teaspoon

baking powder

1

teaspoon

salt

pinch

flaky sea salt
Instructions
Preheat oven to 350 degrees.

Melt together the butter and 1 cup of semisweet chocolate chips over a double boiler. Reserve the remaining ½ cup of chocolate chips for the end. Once melted set aside and let cool to room temperature.

In a large bowl mix together the eggs, sugar, vanilla and coffee.

Then slowly add the chocolate mixture to your bowl.

In a separate bowl combine your flour, coco powder, salt and baking powder. Do not add your flaky sea salt, reserve that to the end.

Slowly add your dry ingredients to your wet ingredients

Once combined mix in your remaining ½ cup of chocolate chips.

Line your 8x8 inch baking dish with parchment paper and then pour your batter in it.

Bake your brownies at 350 degrees for 25- 30 minutes or until your toothpick comes out dry.

When they come out of the oven immediately sprinkle with your flaky sea salt.