If you have never had lemon and chocolate together, then let me introduce you to this Citrus Black Bottom Pie. I know you may be uncertain, but trust me it is AMAZING! The buttery and flaky crust is filled with a layer of dark and sweet chocolate then topped with a smooth citrusy tart lemon and orange custard. This black bottom pie is sweet and tart and balanced so nicely...not to mention it is so absolutely stunning with that bright yellow color. This pie will look beautiful on your Spring table.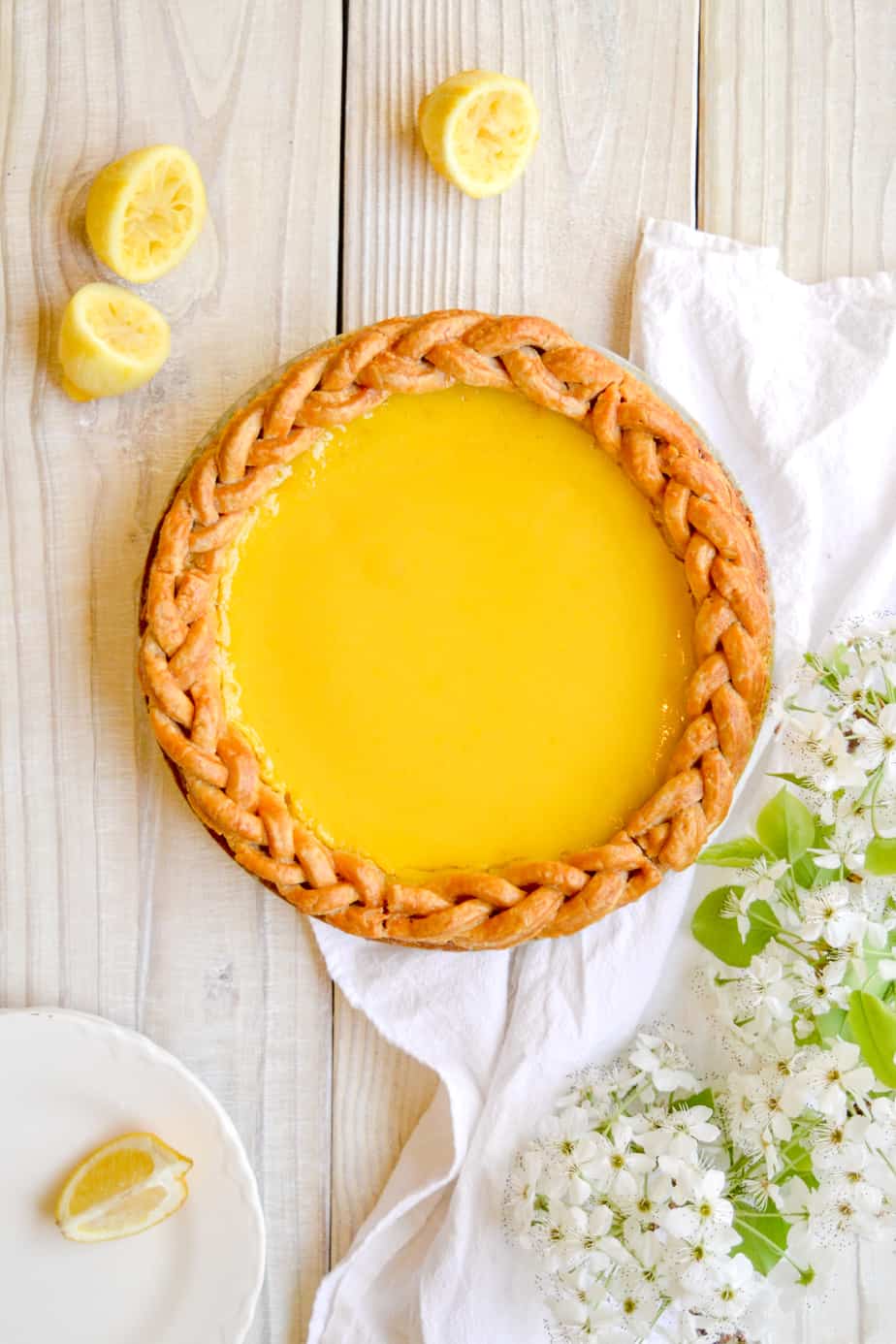 So I don't know about you but when I think about spring I think of warm weather, birds chirping, and a freshly baked pie in the oven! So I wanted to kick off Spring with one of my favorite pie recipes…and this delicious citrus black bottom pie is just the right one! It is unique, bright, and light!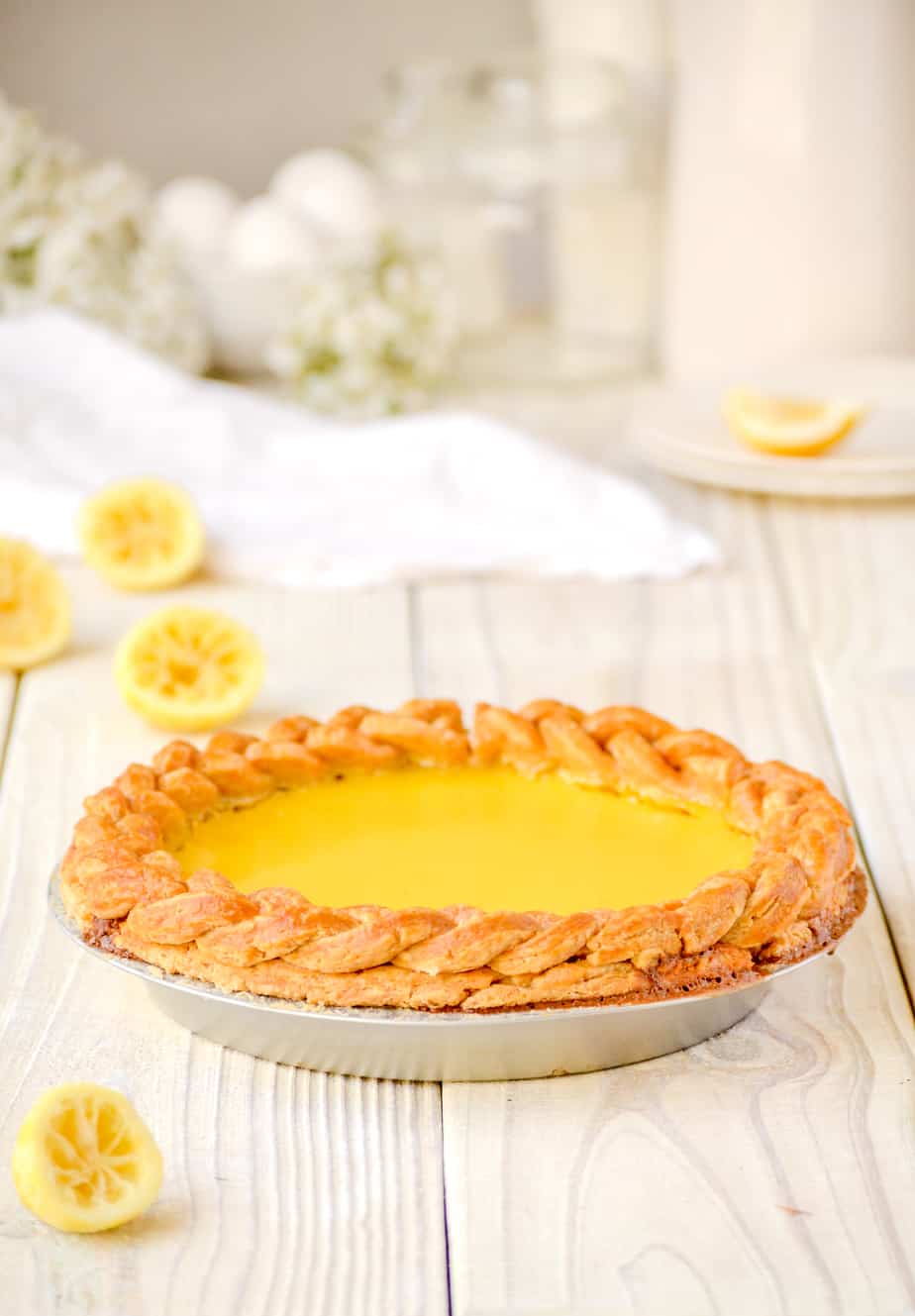 HOW TO MAKE THE PERFECT FLAKY PIE CRUST
Use butter and shortening to get a super flaky pie crust.
The vinegar makes for a more tender crust.
Make sure your butter is COLD. This helps for a more flaky pie crust.
Do not over mix your dough. This will create a tough dough…. just mix until the dough is combined evenly throughout.
Finish your crust with an egg wash for a golden color.
Use a fork to poke holes in the bottom of your crust, so it doesn't puff up.
Use pie weights when baking, so that your crust does not sink while baking.
DO LEMON AND CHOCOLATE GO TOGETHER?
So not everyone knows how well lemon and chocolate pair together... I'm not sure why this has gone unknown by so many but I need to spread the word! Chocolate goes well with almost all fruits and citruses... and lemon is no excuse. The tartness from the lemons needs something sweet to balance it out and vise versa!
Lastly, if you try out this recipe, be sure to leave a comment/rating on how they turned out. I love hearing from you guys and will try my best to reply to every comment! And don't forget to tag me on Instagram!
Citrus Black Bottom Pie
Ingredients
crust
3

cup

flour

1

teaspoon

salt

¾

cup

vegtable shortening

¾

cup

salted butter

1

egg

1

tablespoon

white vinegar

3-5

tablespoon

cold water
Chocolate Filling
4

oz

bittersweet chocolate

¼

cup

heavy cream
Custard Filling
½

cup

heavy cream

3

eggs

3

egg yolks

1 ¼

cup

sugar

½

teaspoon

salt

½

cup

lemon juice (2-3 lemons)

¼

cup

orange juice (1-2 orange)

zest from one lemon

zest from one orange
Instructions
Crust
In a large bowl combine your flour and salt. Cut in your diced up/cold butter and vegetable shortening until your butter is the size of oats.

Add your egg, vinegar and just enough cold water until the dough combines.

Knead your dough until just combined.

Let your dough rest in the fridge for at least 4 hours.

Roll out your dough and place it in your pie pan. Using a fork, poke some holes in the bottom of your crust. Brush your edge with an egg wash.

Using parchment paper and pie weights bake your crust for 10 minutes at 350 degrees. Then take out your weights and paper and bake for another 10 minutes.

Let crust cool. For more details and pie crust designs check out my pie crust recipe.
Chocolate filling
In a saucepan, heat the cream on low until small bubbles start to form. Take the cream off of the heat and add your chocolate. Stir until fully melted.

Add chocolate to the bottom of your completely cooled pie crust.

Let chocolate completely cool and solidify to the touch.
Custard Filling
In a food processor blend your sugar and zests.

In a large bowl whisk together your cream, eggs, yolks, sugar mixture, salt, lemon and orange juice.

Strain your mixture twice to get a smooth custard.

Pour mixture on top of your chocolate and into the pie crust.

Bake pie at 350 degrees for 50- 60 minutes or until the center is no longer jiggly.

Let pie cool at room temperature for 1 hour. Then place in fridge and let cool for at least 4 hours or over night.