Extra lemony, extra tart, extra sweet....these Rosemary Lemon Bars with a Shortbread Crust are one of my favorite Spring desserts. These bars have a buttery shortbread crust and are filled with a sweet and tart lemon custard with a fresh herby undertone of rosemary! The rosemary really brightens up these bars and cuts through the tartness nicely. A truly decadent and beautiful dessert!
So I don't know about you, but I was that weird kid who would suck on lemons while everyone else was sucking on candy. Now years have gone by and I am still OBSESSED with lemon. I literally just posted my homemade lemon curd recipe as well as my Black Bottom Lemon Pie recipe! I put lemon in almost everything I bake so of course I LOVE lemon bars. In my opinion, the more tart, the better. When developing my own recipe for lemon bars I wanted to have a classic bar, sweet and tart, but I also wanted to add something a little unique that really brings out the lemon flavor and even cuts through the tartness. The fresh rosemary does just that! I know not everyone loves rosemary and it can be overpowering but I promise you this is just a very light hint of rosemary; just that thing that makes people go "what is that?". These rosemary lemon bars with a shortbread crust are the prefect Spring dessert for any table!
MAKE SURE TO STRAIN THE ROSEMARY
So you may notice this recipe has a lot of rosemary in it, but you need it because you will be straining out most of it and leaving behind tiny little specks of rosemary. Make sure you strain it four or more times, otherwise you will be biting into chunks of rosemary which will not be pleasant! Not to mention that it will be overpowering!!
TIPS AND TRICKS ON HOW TO GET THE BEST LEMON BARS
DO NOT use a metal pan or bowl! When you do this, you may detect a slight metal taste in your bars caused by the acid in the lemon.
Use FRESH lemon juice!! So this is a big rule! I NEVER use that juice in a plastic bottle... you may as well just use water. Fresh juice and zest is the only way to go.
The air bubbles on top are inevitable! Cover it with some powdered sugar and no one will know 🙂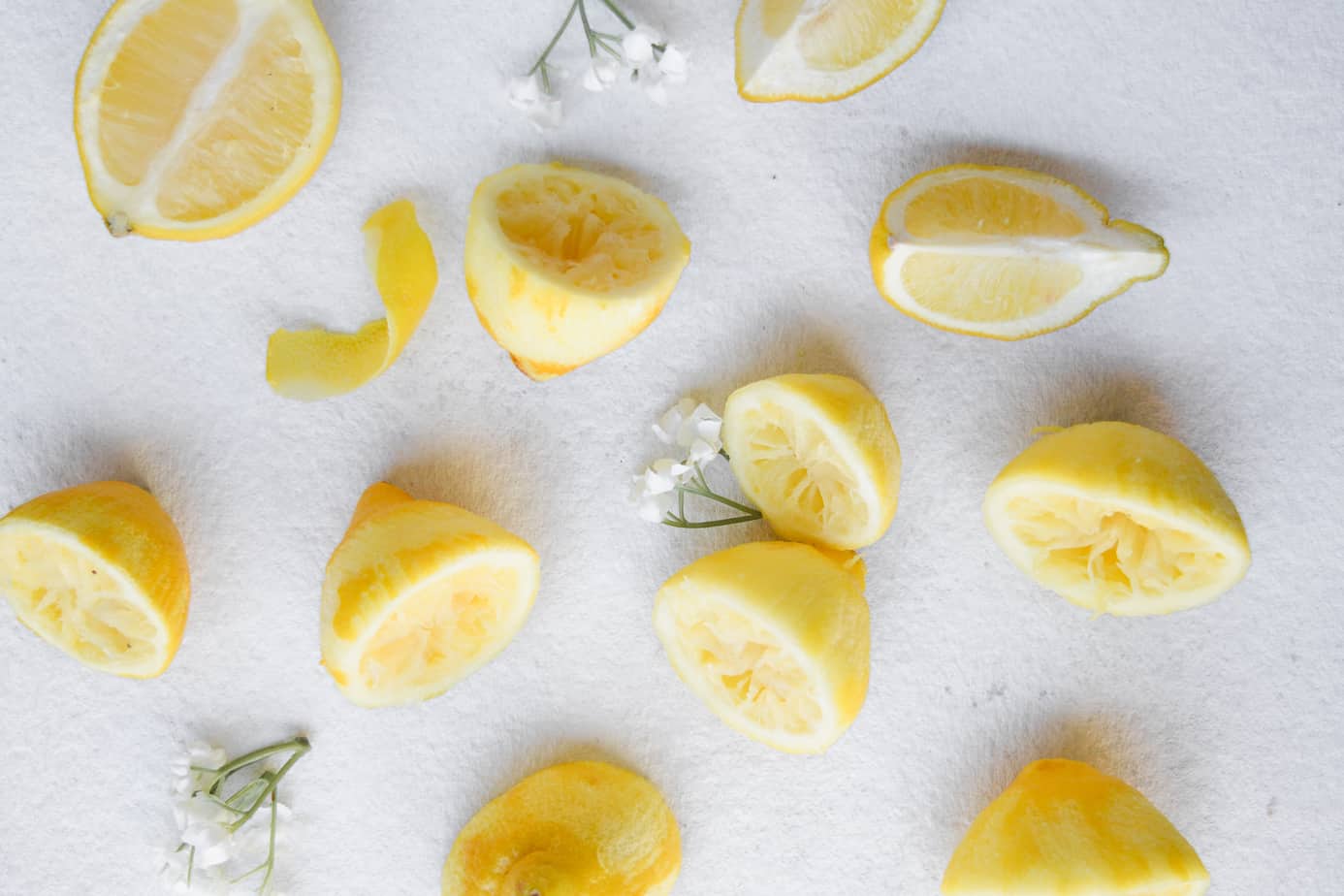 SAME RECIPE, DIFFERENT BAR
You can change the recipe up slightly to your liking. Here are a few suggestions:
Take out the rosemary for a more classic lemon bar.
Replace the rosemary for a different herb that also goes well with lemon, like basil or mint!
Replace the lemon juice and zest for a different citrus bar completely, like orange or grapefruit!
Looking For More?
In the mood for more delicious lemon desserts? Try these out!
Lastly, if you try out this recipe, be sure to leave a comment/rating on how they turned out. I love hearing from you guys and will try my best to reply to every comment! And don't forget to tag me on Instagram!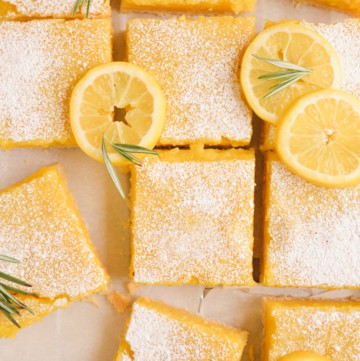 Rosemary Lemon Bars
Ingredients
Crust
1

cup

Salted Butter

½

cup

sugar

2

cup

flour

¼

teaspoon

salt

2

teaspoon

vanilla extract
Filling
2 ½

cup

sugar

6

tablespoon

flour

6

eggs

6

egg yolks

1

cup

lemon juice ( about 8-9 lemons)

zest from 3 lemons

3

tablespoon

rosemary
Instructions
Crust
In the bowl of a stand mixer, put all of your ingredients and mix until combined. Your crust should be the consistency of sand.

In a 9x13 inch pan, place a sheet of parchment paper. Then place your crust mixture in the pan. Press your mixture down into the pan.

Bake your crust at 325 for 20 minutes.
Filling
In a food processor, blend together your sugar, lemon zest and rosemary.

In a large bowl whisk together your sugar mixture, flour, eggs, yolks, and lemon juice.

Strain your mixture about 4 times, until all of the chunks of rosemary are out and your mixture is completely smooth. Your rosemary should look like specks of finely ground pepper and nothing bigger than that. Otherwise strain again. You will be removing most of the rosemary but that is ok.

Pour the strained mixture on top of your crust. Bake at 325 for 35-40 minutes or until the center is no longer jiggly.

Let cool at room temperature for 1 hour. Then cool in the fridge for 4 plus hours.

Top with powdered sugar and enjoy!