This sweet, cinnamony, cast iron peach cobbler is the perfect spring dessert. Every bite is layered with fresh juicy peaches with a hint of bourbon and then topped with a buttery cakey biscuit layer...crisp on the edges and soft in the center. This cast iron peach cobbler is super simple to make and when topped with vanilla ice cream, you have the best spring or summer desert you could ask for!
So spring is officially here and I love spring because it opens up so many opportunities and flavors for my baking. Berries are starting to come into season and everyone is craving fresh lemons and peaches are just showing up! So I'm sitting at home with the Easter and spring season approaching and I am trying to think about what I want to bake. One thing that comes to mind is my time in Italy. When I was 22 years old, fresh out of college, I traveled to Italy for the very first time. I stayed in Sicily at this beautiful old olive oil farm, with this super cute family. Well on this farm one of the many fresh fruits that they would grow was these amazing peaches. OMG I can not even begin to describe how juicy and flavorful these peaches were. They were super small unlike our peaches here in the US and when freshly picked from the tree, they were the best peaches I had ever tasted. So of course every time around this season I think about those peaches and wish that I could have them again. And although I can not have those exact peaches again, it did give me an idea to make a delicious cast iron peach cobbler!
FRESH OR CANNED PEACHES
Peach season is usually from May to September depending on where you live so this recipe is ideal for late spring and summer. But if you are not in peach season yet, you can use frozen or canned peaches instead. Now of course if you have freshly picked peaches from a tree in Italy then definitely use those. But if not, canned or frozen peaches are good too! Below I have some tips and tricks if you are using frozen or canned peaches. I used fresh peaches for this recipe but instead of Italy I got them from Walmart.... close enough.
PEACH COBBLER BISCUIT TOPPING
There are a few different ways to make a peach cobbler top. Some use a crumbled brown sugar topping, some make a flakey biscuit topping and some, like me, prefer a more soft, cakey biscuit topping. That is what we are making here. To make this batter you essentially mix it like you would mix any other biscuit mixture. Combine your dry ingredients and then cut your butter in until they are small oat size pieces and then mix in your heavy cream. Drop your biscuits on top of your peaches. Do not worry about covering it all because the biscuits will spread. I like to finish my biscuits with a little extra cream and some cinnamon sugar to get a crunchy golden top.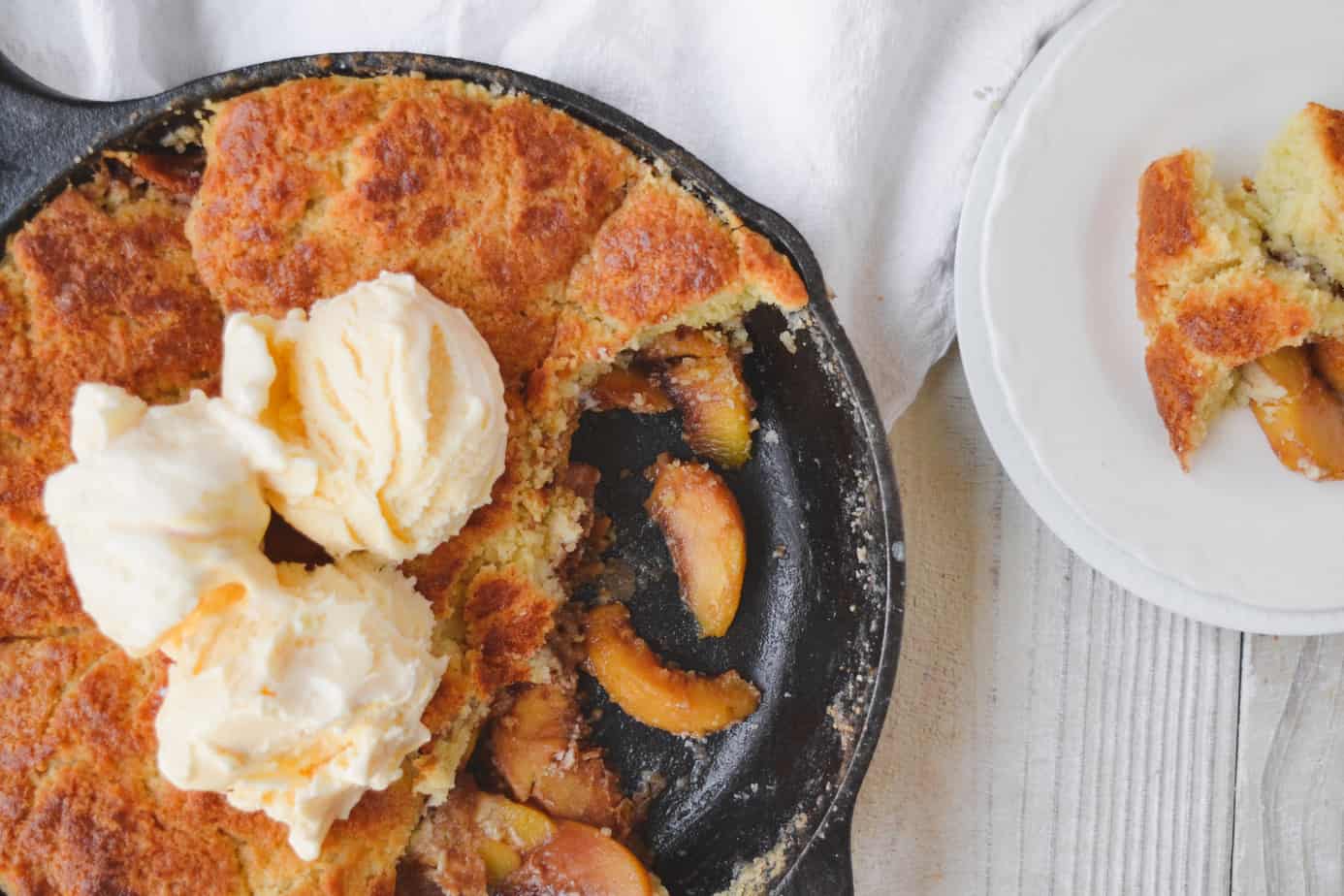 TIPS TO THE PERFECT PEACH COBBLER
Don't forget the bourbon! I don't know what it is, but peaches and bourbon go so well together...plus you need that extra liquid to really create a nice syrup on the bottom!
If possible use fresh and in season peaches. If the peaches are not juicy or ripe your cobbler wont be flavorful. If you are out of peach season or they just do not look good in the store that day, opt for frozen peaches instead.
If using frozen peaches defrost them at room temperature before hand
Canned peaches are your last option because they usually do not have much flavor left in them but if you use them, drain them first.
You can use this same recipe for any flavor fruit cobbler! Just adjust the amount of fruit you will need. I have tried it with blueberry and even pumpkin in the fall!
Use a cast iron skillet! It is easy to cook with and looks nice and also creates a nice crust along the edges! If you do not have one, then you can cook everything on the stove and then transfer to a baking dish before you put it in the oven.
SERVING AND STORING YOUR COBBLER
Serve this cast iron peach cobbler warm and straight out of the oven! You can make this ahead of time and I recommend baking it about an hour before you want to serve it for the best flavor! Top your warm cobbler with vanilla ice cream and your eyes will roll back. To store your cobbler you must keep it in the fridge in an air tight container for up to 3 days or freeze it for 3 months.
Lastly, if you try out this Old Fashioned Cast Iron Peach Cobbler recipe, be sure to leave a comment/rating on how it turned out. I love hearing from you guys and will try my best to reply to every comment! And don't forget to tag me on Instagram!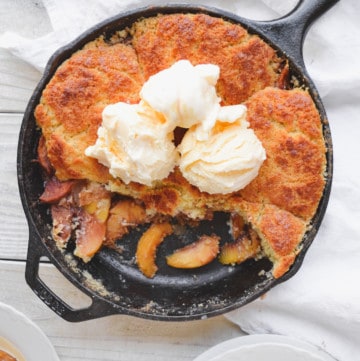 Skillet Peach Cobbler
Ingredients
Peach Mixture
8-9

peaches

¼

cup

bourbon

¼

cup

sugar

¼

cup

brown sugar

2

tablespoon

corn starch

2

teaspoon

cinnamon

4

tablespoon

salted butter
Topping
1 ½

cup

flour

2

teaspoon

baking powder

½

cup

sugar

1

teaspoon

salt

1

cup

salted butter- diced up

¾

cup

heavy cream
Instructions
Peach Mixture
Peel and slice all of your peaches.

In a large bowl, combine your peaches, bourbon, brown sugar, sugar, corn starch, and cinnamon.

In a cast iron skillet, heat your 4 tablespoon of butter on a medium heat. Add your peach mixture and cook on medium heat for about 5 minutes. Put aside, keeping your mixture in the skillet.
Topping
In a large bowl mix together your flour, baking powder, sugar, and salt.

Using a pastry cutter, cut in your cold butter until the mixture resembles the size of oats.

Add the heavy cream to your mixture. Mix until combined.

Divide the dough into about 6 large balls. Place these balls of dough on top of your peaches.

Using any remaining cream, brush some on top of your dough and then sprinkle with a little extra sugar and cinnamon.

Place skillet in the oven at 375 degrees for 45 minutes.

Serve warm with vanilla ice cream!