I know I might be biased but this coconut and fig carrot cake will be the best carrot cake you will ever taste. It's not your moms old carrot cake. It is updated and unique with three coconutty, carrot layers full of so many delicious spices like cardamom, ginger and cinnamon. Then it's packed with walnuts for crunch and my favorite part...dried figs! The figs provide a sweet fruity flavor as well as a chewy bite! Three layers generously frosted with a fig jam and cream cheese frosting... yep...this coconut and fig carrot cake takes carrot cake to the next level!
There is something about a carrot cake that always has me thinking about the start of spring. I get excited for the warm weather, the flowers starting to grow, and of course the Easter holiday coming up! If you are looking for a new and improved carrot cake for Easter, this fig carrot cake is the one! It has all of the classic flavors of a traditional carrot cake but with some unique flavor additions like coconut, fig and cardamom, that will have your guests saying... what is that!? Not to mention it is SUPER moist and tender from the buttermilk and the coconut oil. I promise it is all things awesome and perfect!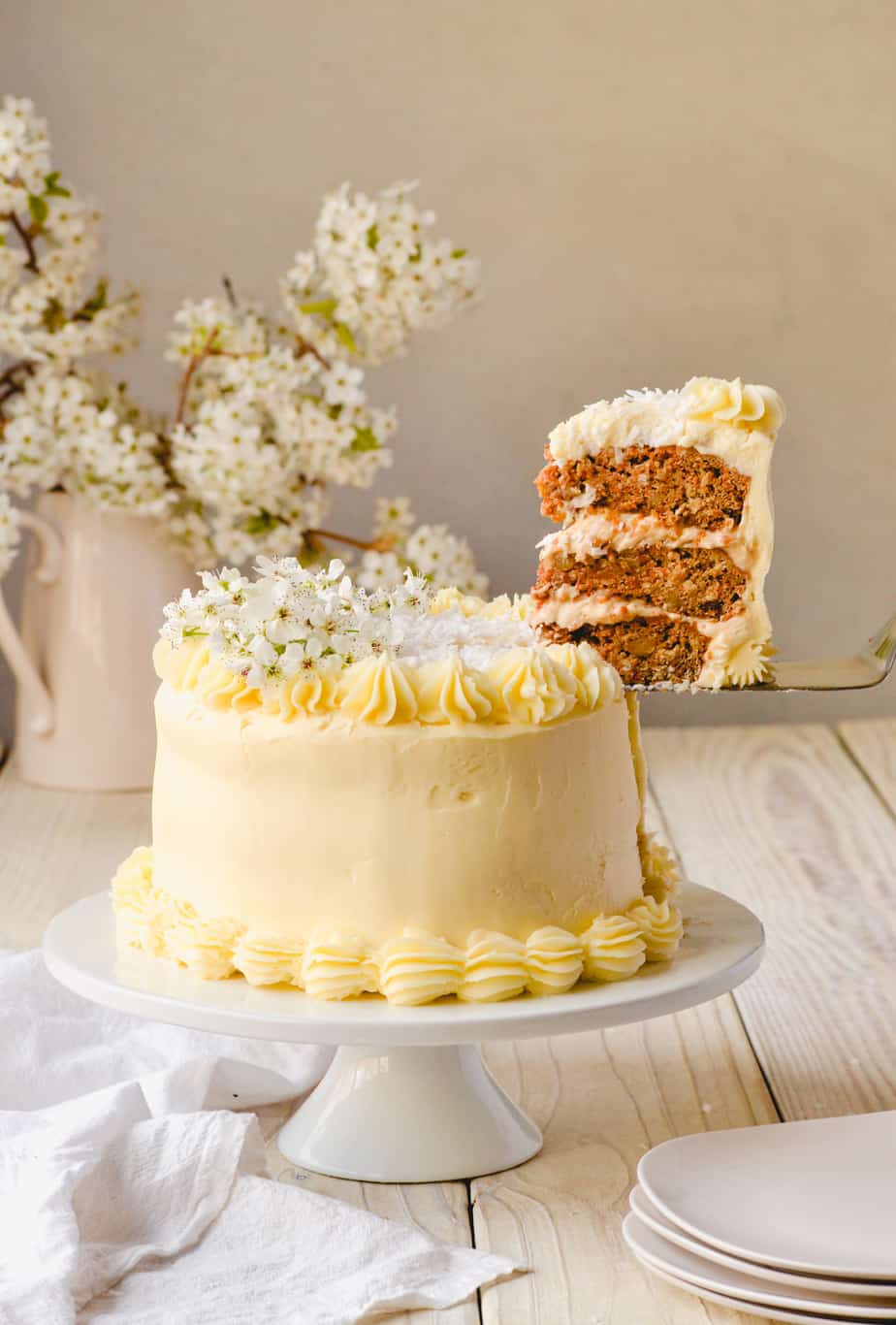 HOW TO MAKE THE BATTER
The batter is so simple to make. First thing is first, shred your carrots. Now it is really important to freshly shred your carrots and not to buy pre-shredded carrots. That is because the pre-shredded carrots have been dried up and have lost all of their flavor. Secondly, it is important to drain your carrots so that you wring out all the excess water. Otherwise you will be watering down your batter! Then combine all of your ingredients and that's it!
WHAT SIZE CAKE PANS TO USE
I use three 8 inch cake pans because I love the look of a three layered cake! You can also switch this out for two 9 inch cake pans but you will need to adjust your baking time for that.
HOW TO GET A MOIST CAKE
The secret to a super moist cake is the buttermilk and the oil. I used coconut oil because I love the flavor combination of coconut and carrot but you can replace this with vegetable oil if you need to.
HOW TO FROST A CAKE
So frosting a cake can be a little tricky and does take some time and or practice. But let me break it down step by step.
I like to use a piping bag because its cleaner but you can of course just frost using an icing spatula. Layer a thick amount of frosting on top of the first cake layer. Then top that with the middle cake layer. Frost another generous amount of frosting on top of that. Then place the third cake layer on top of that.
Place your cake in the fridge for at least an hour to let your frosting harden and stabilize your cake.
Now it is time for your crumb coat. Use a thin amount of frosting and frost the entire outside of your cake. This helps catch all the loose crumbs so that your frosting looks clean!
Place this cake back in the fridge for another hour to allow this layer to harden.
Then the finial frosting! Use the rest of the frosting to ice the entire outside of your cake. Using an icing spatula spread your icing evenly and then smooth it out.
Place in fridge to set and then serve!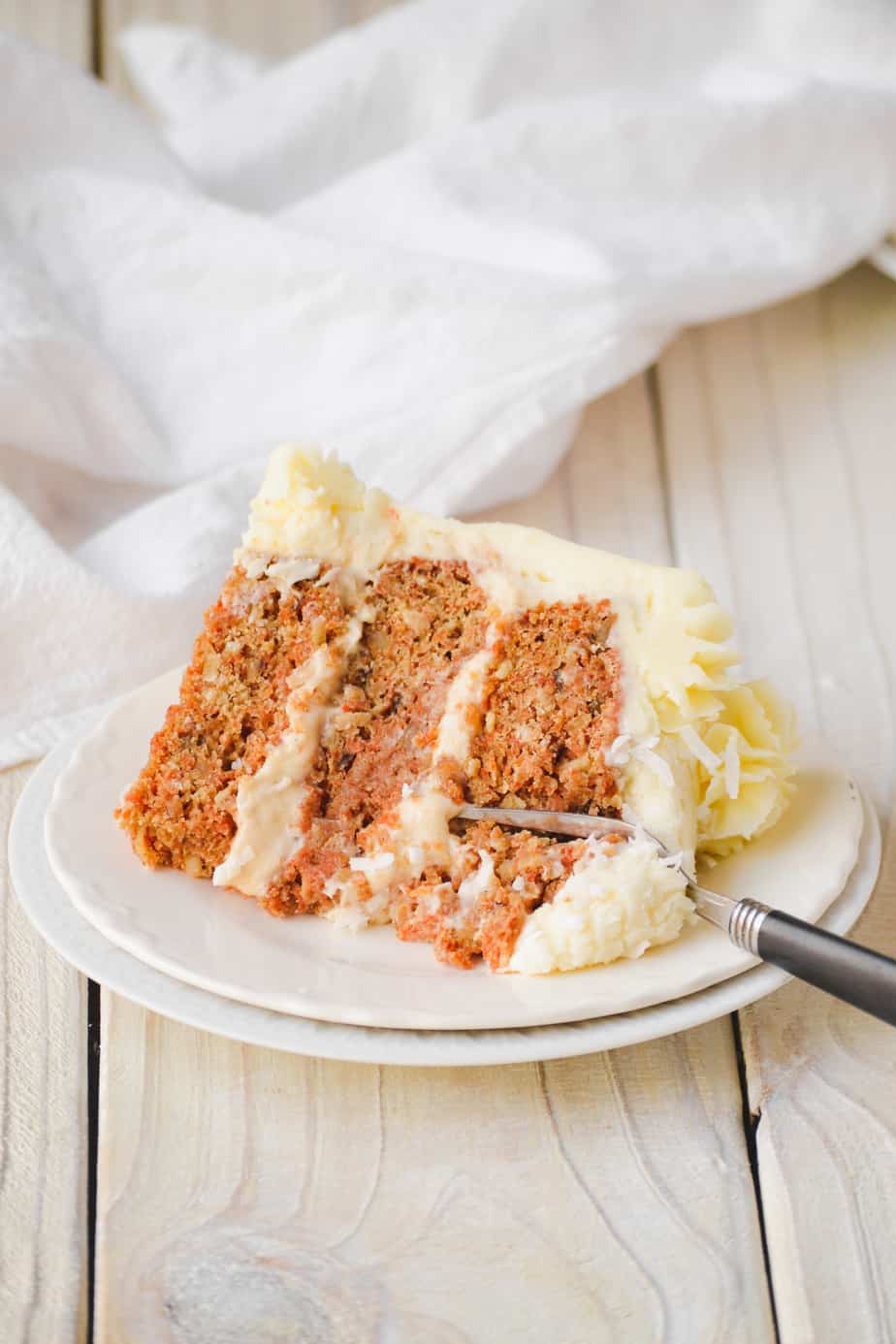 Lastly, if you try out this Coconut and Fig Carrot Cake recipe, be sure to leave a comment/rating on how they turned out. I love hearing from you guys and will try my best to reply to every comment! And don't forget to tag me on Instagram!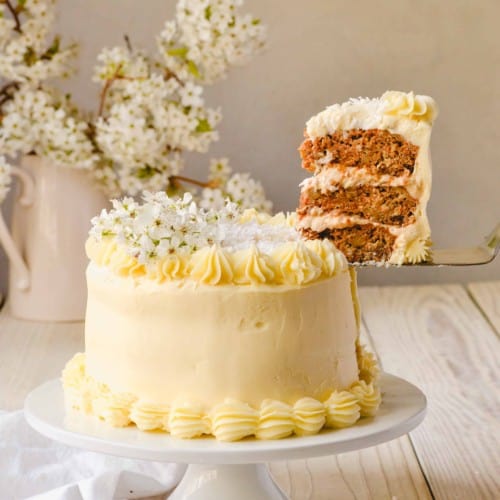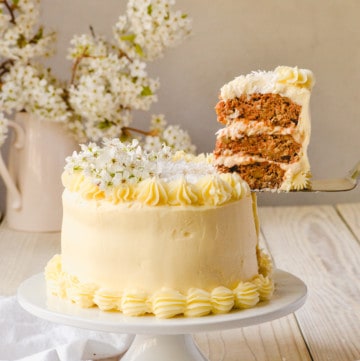 Coconut and Fig Carrot Cake
Ingredients
Cake
3

cups

freshly grated carrots (about 6 large carrots)

1 ½

cups

brown sugar

½

cup

sugar

1

cup

buttermilk

½

cup

coconut oil

4

eggs

2

teaspoon

vanilla

2

cups

flour

2

teaspoon

baking powder

1

teaspoon

baking soda

1

teaspoon

salt

1

tablespoon

cinnamon

1

tablespoon

ginger

1

tablespoon

cardamon

½

teaspoon

nutmeg

1

cup

shredded coconut (optional)

1

cup

chopped walnuts (optional)

1

cup

dried figs chopped up (optional)
Frosting
24

oz

cream cheese

1 ½

cup

salted butter

6

cup

powdered sugar

splash buttermilk

½

cup

fig jam (optional)
Instructions
Cake
Shred your carrots with a grater or food processor. Then wring out the excess water.

In a large bowl combine your sugars, eggs, buttermilk, oil, and vanilla.

Add your flour, baking powder, baking soda, salt, cinnamon, ginger, cardamom, and nutmeg.

Mix in your carrots, coconut, walnuts and dried figs.

Line three 8 inch cake pans with parchment paper. Divide your batter evenly between all 3 pans. bake these cakes at 350 degrees for 30 minutes or until the toothpick comes out clean.
Frosting
In a stand mixer, mix your cream cheese until softened. Add your softened butter and mix until combined and softened.

Add your powdered sugar and mix on low until combined

Slowly add a splash of buttermilk until you get the right consistency.

Divide your frosting in half. In one half, add your fig jam and mix until combined.

Use your fig frosting to layer in between your three layers of cake. Place cake in the fridge for at least an hour to let your frosting set.

Using the other half of your frosting, frost your cake with a crumb coat. This is a thin layer of frosting on the outside of your cake, which helps you create a clean outer frosting. After your crumb coat, place the cake in the fridge for at least an hour to let the frosting set. Then use the rest of the frosting to frost the outside of your cake.