When it comes to indulging in the perfect breakfast pastry, two options stand out among the rest: Danish pastries and croissants.
These buttery delights have become breakfast staples worldwide, tempting our taste buds with their flaky layers and mouthwatering fillings.
In this article, we explore the differences between a danish vs croissant, shedding light on their origins, preparation methods, and the unique factors that set them apart.
So, whether you're craving a decadent chocolate croissant or a traditional Danish pastry, let's dive into the world of laminated dough and buttery goodness.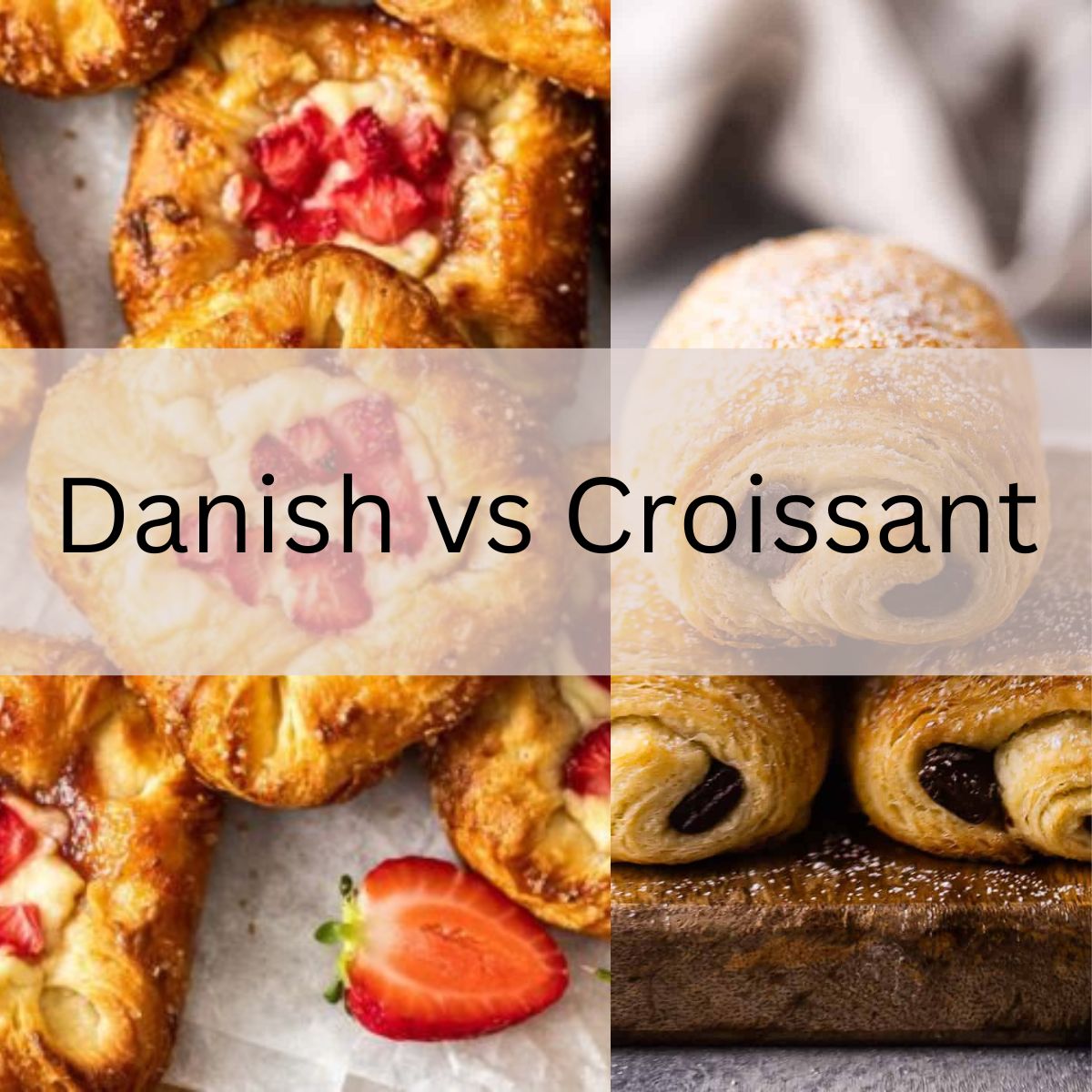 Table of Contents
Origins and History
Danish pastries, also known as Viennese bread, trace their roots back to the 19th century when Austrian bakers brought their expertise to Denmark. These talented bakers introduced the art of working with laminated dough—a type of dough that involves rolling butter into thin layers of pastry. The result was a flaky pastry with a rich history, evolving over time to incorporate various fillings like cream cheese, fruit jams, or the classic apple filling.
Croissants, on the other hand, emerged from the vibrant culinary traditions of France during the 17th century. Although inspired by Turkish pastries, the French perfected the technique of creating flaky pastries by folding layers of butter into the dough. The result was a delicate and buttery pastry that gained worldwide fame. From the classic plain croissant to the irresistible pain au chocolat, croissants offer a variety of options to suit every palate.
Preparation and Ingredients
The key to the delectable texture of Danish pastries lies in their unique preparation method. Danish dough, a yeasted dough, is rolled out and layered with butter, creating thin layers that turn flaky when baked. This process, known as lamination, requires a lot of time and attention to detail from pastry chefs. The dough is then filled with a range of delightful options, such as cream cheese or fruit jams, before being shaped into pretzel shapes or pinwheels.
Croissants, on the other hand, are made from puff pastry dough. This delicate dough is also layered with butter through the lamination process. The dough is rolled out into a thin rectangle shape, and a butter block is placed in the center. The dough is then folded and rolled multiple times, creating more layers and flakiness. The result is a versatile pastry that can be enjoyed plain, filled with almond paste, or even as a savory version with ham and cheese.
Texture and Flavors
When it comes to texture, both Danish pastries and croissants excel in their own unique ways. Danish pastries are known for their flaky and buttery layers, boasting a lightly crisp exterior that crumbles delicately with each bite. The yeasted dough creates a soft and moist interior, allowing the flavors of the filling—be it cream cheese, fruit, or chocolate—to shine.
Croissants, on the other hand, offer a different textural experience. With their flaky and golden exteriors, croissants are a visual and tactile delight. Breaking into a croissant reveals an airy and tender interior, thanks to the thin layers of dough and butter. Each bite offers a subtle sweetness that harmonizes with the buttery richness, creating a truly delightful experience.
Variety and Presentation
Both Danish pastries and croissants present an array of shapes, flavors, and toppings. Danish pastries come in an assortment of pretzel shapes, snails, pinwheels, and more. The presentation is often enhanced with elaborate toppings like streusel, powdered sugar, or a drizzle of chocolate.
On the other hand, croissants are famously recognized for their signature crescent shape. While typically enjoyed plain, they can also be adorned with a light dusting of powdered sugar or a tempting chocolate drizzle.
Cultural Significance and Consumption
Danish pastries hold a special place in Danish culture and are cherished as breakfast pastries or festive treats. In Denmark, these flaky pastries are often enjoyed with a cup of coffee or tea, becoming a staple morning indulgence.
Similarly, croissants have become a symbol of French gastronomy, offering a taste of French elegance and sophistication. Whether enjoyed at a café or taken on the go, croissants have gained global popularity as a classic breakfast pastry.
Final Thoughts
When trying to pick a winner between a Danish vs croissant, it's challenging to declare a clear victor.
Danish pastries delight with their flaky layers, variety of fillings, and cultural significance. On the other hand, croissants impress with their delicate texture, buttery richness, and global recognition.
Ultimately, the choice between Danish pastries and croissants boils down to personal taste and preference. So, whether you opt for a warm blueberry Danish or a perfectly baked butter croissant, both pastries promise a delightful experience that celebrates the artistry of pastry-making and the joys of breakfast indulgence.