Looking for the perfect summer cookie recipe? Whether you're planning a picnic in the park, hosting a backyard barbecue, or simply craving a sweet treat on a lazy afternoon, we've curated a delightful collection of summer cookie recipes that will make your taste buds dance with joy!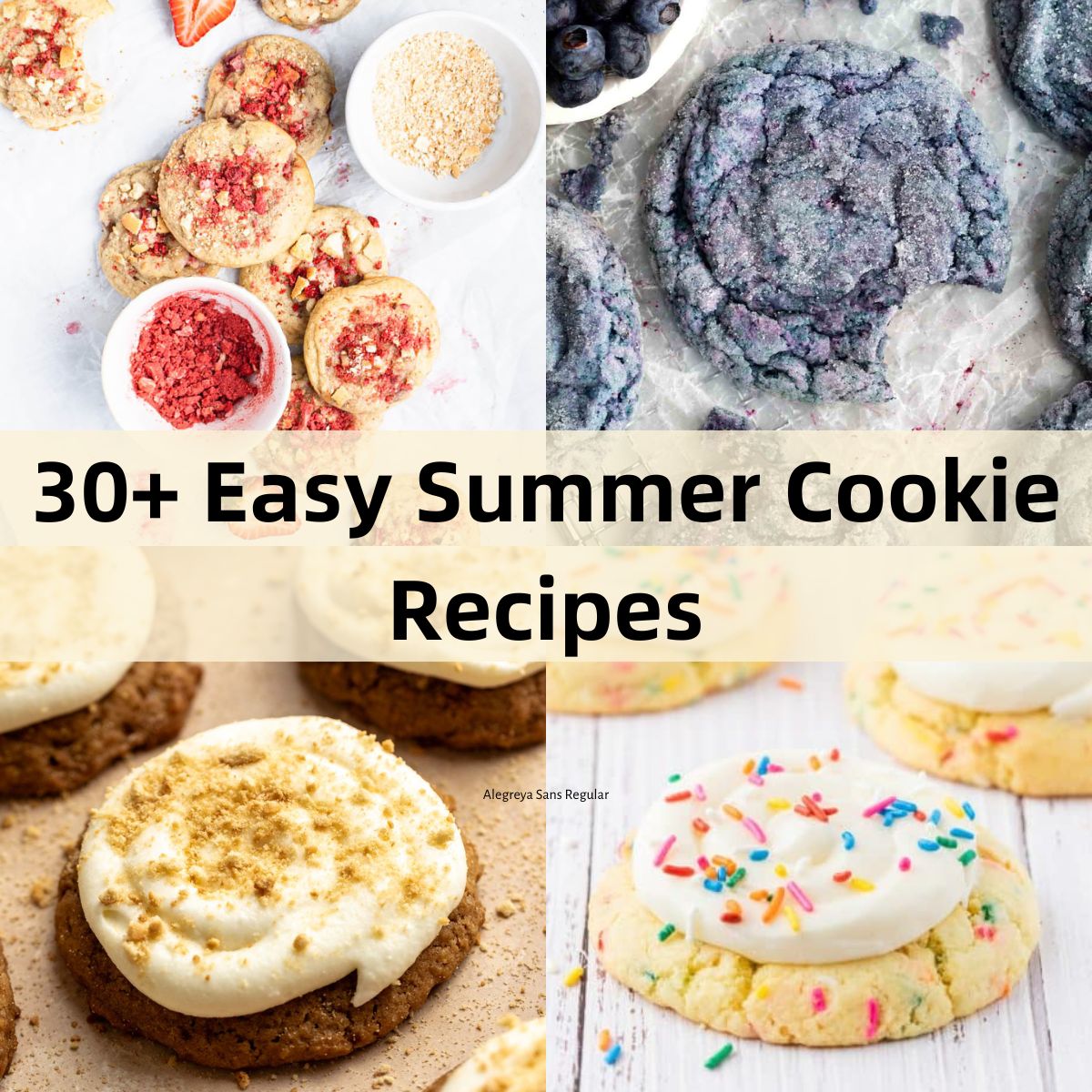 As the sun casts its warm glow and the scent of flowers and barbecues fills the air, it becomes clear that summer has officially begun! And what better way to kick off the summer festivities than by baking fresh summer cookies? My go-to summer cookies tend to be my strawberry cheesecake cookies, my rosemary lemon bars, and my oreo chocolate chip cookies if I'm craving a quick chocolate fix.
However this summer I decided to adventure outside of my comfort zone and try out recipes from my fellow bakers. I've compiled the ultimate list of deliciously easy summer cookie recipes and don't worry, I sacrificed my calories and waist line so you don't have to!
Summer Cookies vs Fall Cookies
I am often asked questions about which season is best for baking certain cookies. The short answer is that you can bake any cookie at any time. However, when people mention specific cookies being suitable for a particular season, they are usually referring to the flavor profile of those cookies.
Summer cookies tend to embrace light, refreshing, and fruity flavors that align with the vibrant and warm nature of the season. They often incorporate ingredients like citrus fruits, berries, tropical flavors, and even herbs like mint or basil.
On the other hand, fall cookies are more inclined towards warm and cozy flavors that complement the crisp air and changing leaves of autumn. Traditional fall spices like cinnamon, nutmeg, ginger, and cloves often take center stage in these cookies, infusing them with a comforting aroma and a touch of nostalgia. Ingredients such as pumpkin, apples, caramel, and maple syrup are commonly used in fall cookies, adding richness and depth to their taste.
In general, you can't go wrong with making any cookie at any time!
Bright and Delicious Summer Cookie Recipes
My Favorite Summer Cookies
One classic favorite that never fails to please is the sugar cookie. With its buttery texture and golden brown edges, it's a good cookie for any occasion.
For a refreshing twist, try adding a touch of lemon zest and a splash of lemon juice to the dough. These lemon cookies will transport you to a sunny paradise with every bite. Decorate them with yellow icing or sprinkle them with graham cracker crumbs for an extra burst of flavor.
If you're a fan of fruity delights, the fresh strawberry shortcake cookies are the perfect treat. Packed with the juicy goodness of fresh strawberries, these cookies capture the essence of summer in every bite.
The secret lies in the cookie dough, which is infused with room temperature fresh strawberries and a hint of vanilla extract. The result is a buttery, melt-in-your-mouth cookie that bursts with the fresh and sweet flavor of the season. Enjoy them on a warm summer day with a scoop of ice cream or as a delightful accompaniment to your afternoon tea.
For peanut butter lovers, peanut butter cookies are a must-try. With their rich and creamy texture, these cookies are a delicious treat that can be enjoyed all summer long.
Whip up a batch using a simple recipe that combines creamy peanut butter, brown sugar, and a touch of vanilla extract. Bake them to a golden brown perfection, and you'll have a plate of irresistible cookies that are perfect for sharing at your next pool party or enjoying as a sweet snack any time of day.
Another summer favorite is the orange creamsicle cookie. Reminiscent of the classic frozen treat, these cookies bring together the flavors of tangy orange zest and creamy vanilla in a soft and chewy delight. The combination of citrus and sweet makes them an ideal choice for special occasions or lazy rainy days when you want to treat yourself to a burst of sunshine in every bite.
No summer cookie roundup would be complete without mentioning the beloved s'mores cookies.
With a nod to the campfire classic, these cookies capture the gooey goodness of marshmallows, rich chocolate, and graham cracker crumbs all baked into a golden brown cookie. The combination of flavors and textures takes s'mores to the next level, making these cookies a hit at summer parties and a perfect way to enjoy the flavors of a traditional favorite without the need for a fire.
Whichever summer cookie recipe you choose to bake, be sure to store them in an airtight container to keep them fresh and ready to enjoy. From pool parties and family reunions to lazy afternoons spent indoors, these delicious cookies are a fantastic way to celebrate the flavors and traditions of the season. So, grab your baking sheet, gather your ingredients, and get ready to create sweet memories with these delightful summer cookies!
Thoughts? I'd love to hear them! Please leave a comment below!