When it comes to decadent desserts, two flavors stand out among the rest: red velvet and chocolate. These two cakes have captivated our taste buds and become staples in the world of confectionery.
If you've seen my blog before, its no secret that I love both red velvet and chocolate! My red velvet oreo cookies and red velvet brownies are my go too recipes when I'm craving that tangy, rich, red velvet flavor. But I'm also obsessed with chocolate. From my oreo chocolate chip cookies to my moist chocolate wet cake, I am a chocolate fanatic!
In this article, we will delve into the key differences between red velvet vs chocolate, explore their unique flavors, and understand the reasons behind their popularity.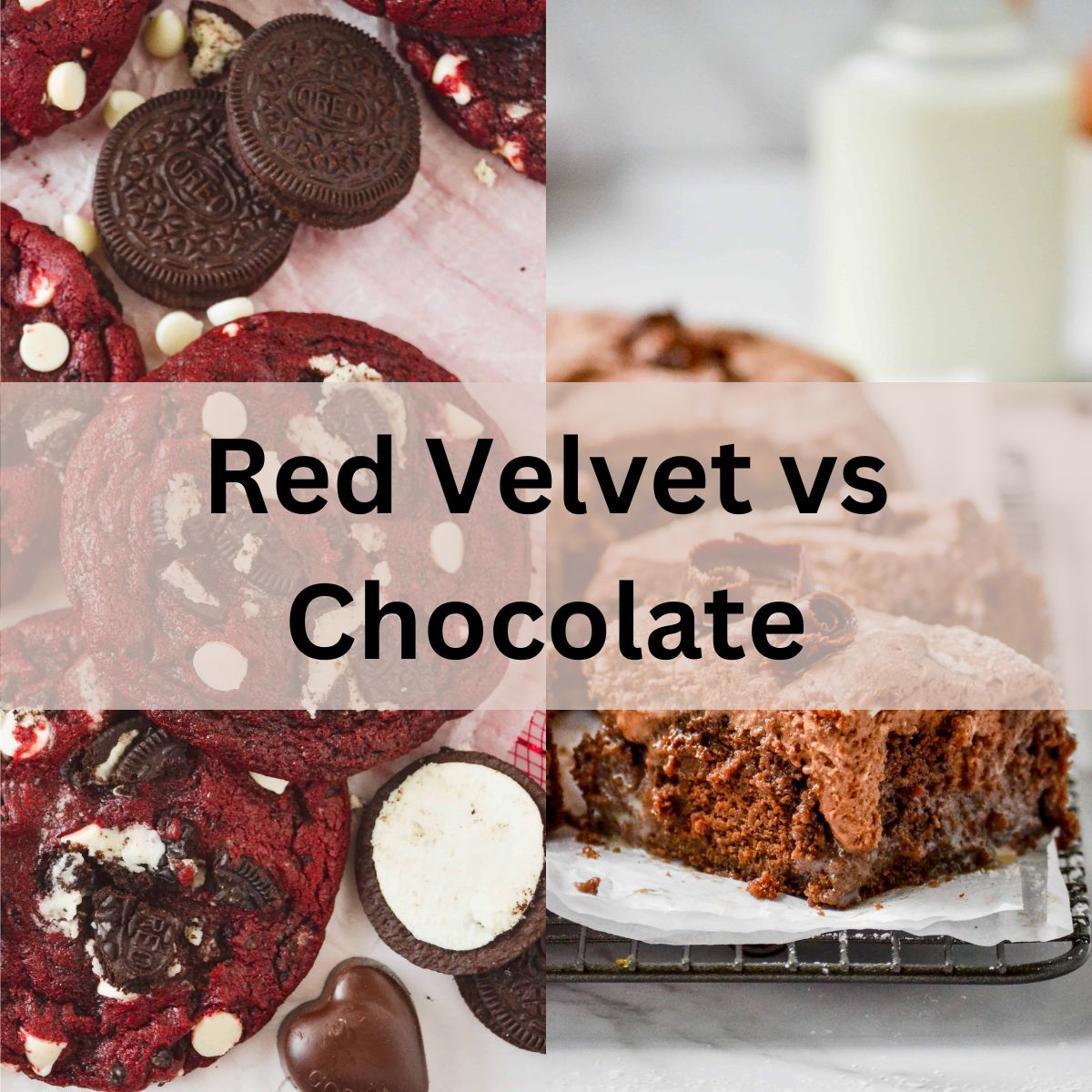 Table of Contents
Red Velvet: The Mystery Behind the Crimson Delight
Red velvet cake is a confectionery marvel with its vibrant red hue and tender crumb.
Its origins can be traced back to the Victorian era, where it gained popularity as a rich and luxurious treat.
The traditional red velvet cake recipe includes main ingredients such as cake flour, buttermilk, cocoa powder, vinegar, and red food coloring. However, in earlier versions of the recipe, the red hue was achieved naturally using beet juice, and the cake had a slightly different taste.
The secret behind red velvet's distinctive flavor lies in a chemical reaction between the cocoa powder and the acidic ingredients like vinegar and buttermilk. Baking soda is added to the batter to enhance this reaction, resulting in a subtle chocolate flavor with a hint of tanginess. The acidity of the vinegar and buttermilk also contributes to the cake's moist texture.
Chocolate: A Classic Indulgence
Chocolate cake, on the other hand, needs no introduction. Its rich, velvety texture and deep cocoa flavor have made it a beloved dessert for centuries.
There are various types of chocolate cakes, such as Devil's Food cake, German chocolate cake, and simple chocolate cakes, each with its own unique flavor profile.
Unlike red velvet, chocolate cakes rely heavily on the use of cocoa powder or melted chocolate to achieve their signature taste. The amount of cocoa powder used determines the intensity of the chocolate flavor. Darker chocolate cakes often contain more cocoa powder, while lighter ones have a milder cocoa taste.
Chocolate cakes can be paired with a variety of frostings, such as chocolate frosting, cream cheese icing, or ermine icing, to further enhance their richness.
Flavor Comparison: What Sets Them Apart?
The main difference between red velvet and chocolate lies in their flavor profiles.
Red velvet has a more complex flavor, combining the tanginess from the buttermilk and vinegar with a hint of chocolate. It offers a unique taste that is difficult to replicate with other types of cake.
On the other hand, chocolate cakes boast a straightforward and intense chocolate flavor that chocolate enthusiasts crave.
Visual Appeal: Red Velvet's Vibrant Hue vs. Chocolate's Tempting Darkness
One cannot discuss red velvet without mentioning its striking red hue. Originally achieved using beet powder or juice, modern recipes often rely on red food dye to create the desired color.
This bright red color makes red velvet cakes a popular choice for special occasions like Valentine's Day or weddings, where it adds a touch of elegance and romance.
In contrast, chocolate cakes showcase a deep, velvety brown color that exudes richness and indulgence. The allure of a chocolate cake lies in its visual simplicity and the promise of pure chocolate pleasure!
Popularity and Occasions: Where Do They Shine?
Red velvet has been associated with elegance and special occasions for many years. Its red hue, combined with tangy cream cheese frosting, makes it a sought-after choice for weddings, anniversaries, and Valentine's Day celebrations. The cake's unique flavor and eye-catching appearance add a touch of luxury to any event.
Chocolate, on the other hand, is a universal favorite that knows no boundaries. It is equally at home in birthday parties, celebrations, or as a comforting treat on any given day. The versatility of chocolate cakes allows for endless variations, making it suitable for any occasion.
The Versatility Factor: Adaptability in Different Treats
While red velvet shines in the form of cakes, it is also a popular choice for cupcakes, cookies, and even pancakes. The addition of cream cheese frosting elevates these treats to new heights, enhancing the unique flavor of red velvet.
Chocolate, being a widely loved flavor, can be incorporated into various desserts. From chocolate cakes, brownies, and cookies to mousses, truffles, and chocolate-covered fruits, the possibilities are endless!
Final Thoughts
In the battle between red velvet vs chocolate, it's clear that both flavors have their own distinct charm. Red velvet entices with its vibrant color, tangy flavor, and hint of chocolate, while chocolate captivates with its intense cocoa richness.
The choice between the two ultimately comes down to personal preferences and the occasion at hand.
So, indulge in the beauty of both flavors, explore their variations, and enjoy the sweet journey that red velvet and chocolate both have to offer.