Lazy weekend mornings are made for french toast. especially this hawiian French Toast. This cakey, moist and sweet french toast is made out of banana bread! each slice of banana bread is dipped in a vanilla, eggy and coconut milk custurd... then cooked in some butter.. making it toasty and crisp on the edges... then topped with banana, macadamia nuts, coconut, pineapple and of course some whipped cream. This breakfast screams hawaii, summer, and feel good mornings.
So let me tell you why I have been in such a big tropical flavor mood recently. My husband and I just came back from our HONEYMOON! And we didn't just go anywhere, we went to Maui, and needless to say… WE LOVED IT!! And let's just say this honeymoon has been a long time coming… so I feel extra excited about it. I and my now husband originally planned a wedding and honeymoon for June of 2020. but as you all know, COVID happened and we had to cancel everything last minute. We were devastated but we decided to legally get married anyway and reschedule everything for 2021… which we did. Our original honeymoon was planned for Iceland and we were so excited for a super adventurous honeymoon with lots of beautiful vast landscapes. But even in 2021, international travel was not about to happen so we had to choose somewhere within the United States, and of course, we chose beautiful Hawaii. Completely opposite from our original choice but we are so glad we went there. We needed the sun more than we knew.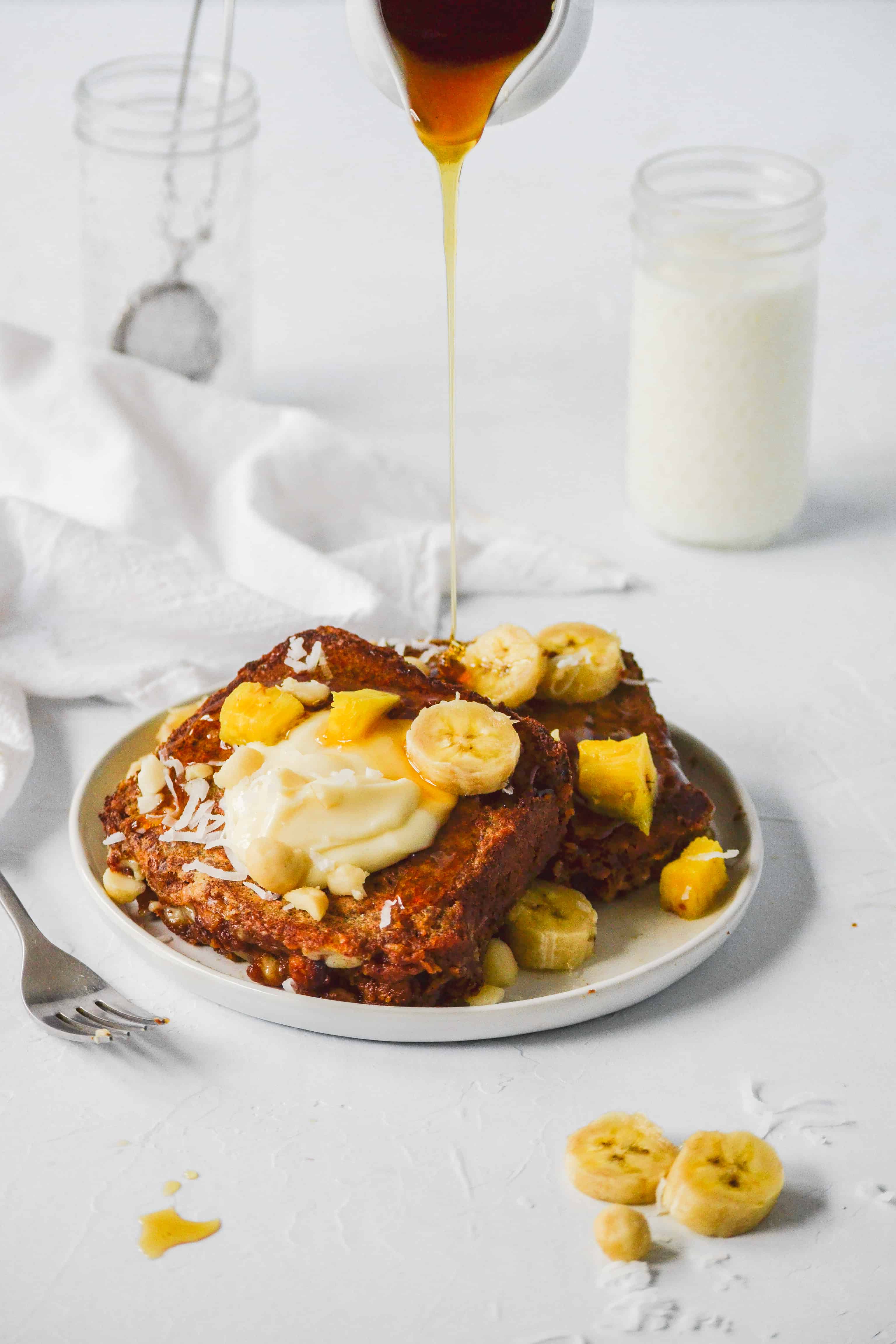 We did so many amazing things on our honeymoon… hiking into volcanic craters, snorkeling, saw the most amazing sunsets… but one thing that really stood out to me was the banana bread. So apparently Maui is famous for its amazing banana bread and we learned that quickly. On the side of almost every road in Maui, they had local fruit and food stands with all the locals selling produce, food, and tons and tons of banana bread. well of course we had to try eachone, each being better than the last. so now coming home, i have been in a banana bread phase to the point where i was making a loaf a week. well as deliciuos as it was eventually me and my husband were getting sick of it. so i had to get a little creative. as i am looking at the loaf of bread on my counter top i thought to myself... why havnt I ever heard of banana bread french toast? and thats how this recipe was invented!
HOW TO MAKE HAWAIIAN FRENCH TOAST
So for me i used my maui banana bread recipe to make the french toast but you could use any loaf of banana bread. But if you do decide to bake your bread fresh, then make sure to let your bread rest in the fridge for a few hours or even over night before you start your french toast. otherwise it may crumble in the custard. But besides that its pretty simple! Slice up your bread into 8 even slices, set aside and the mix your custard. Whisk together your eggs, vanilla, coconut milk, salt, cinnamon, and sugar. dip each slice into your custard for about 10 seconds on each side. Then heat up your skillet with some butter on medium heat and then cook each slice for about 3 minutes on each side. Now here is the most important, what makes this french toast hawaiian, top your stack of french toast with slices of banana, pineapple chunks, macadamia nuts, and or some whipped cream. Done!
FRENCH TOAST INGREDIENTS/ SUBSTITUTIONS
BANANA BREAD. So i think the best banana bread for this recipe is my Maui Banana Bread. But you could make any banana bread recipe or even by a pre made loaf at the store. If you are not into banana bread you could replace it for other breads like brioche but know it wont be very Hawaiian without the bananas!
COCONUT MILK. so being that i am inspired by the Hawaiian flavors i decided to use coconut milk to pump up those Hawaiian flavors, but if you do not have it you could use any kind of milk.
EGGS. Eggs is a classic ingredient for the custard of your french toast and is not replaceable.
CINNAMON. the touch of cinnamon adds a warm spicy flavor to your french toast. if you do not have it you could leave it out.
TOPPINGS. so the topping are probably the most important part of this recipe. They are what makes this toast Hawaiian! I chose banana slices, macadamia nuts, pineapple chunks and coconut flakes. you could use one or all of these or replace them with any fruit or nut you desire!
Lastly, if you try out this recipe, be sure to leave a comment/rating on how it turned out. I love hearing from you guys and will try my best to reply to every comment! And don't forget to tag me on Instagram!
Banana Bread Hawaiian French Toast
Ingredients
1

standard loaf of banana bread

recomend using mr recipe for https://theartofbaking.org/maui-banana-bread/

3

eggs

1

cup

coconut milk

½

teaspoon

salt

1

teaspoon

cinnamon

1

teaspoon

vanilla

1

tablespoon

sugar

4

tablespoon

butter

½

cup

macodamia nuts chopped(optional)

½

cup

pineapple diced(optional)

½

cup

banana slices (optional)

½

cup

whipped cream (optional)
Instructions
Start with a loaf of banana bread. I recommend making a loaf from scratch using my Maui Banana Bread recipe. but any store bought standard loaf will do as well. If using a homemade loaf i recommend letting it rest out of the oven over night in the fridge so it does not fall apart on the stove.

Slice you loaf into 1 inch slices (about 8 slices).

In a large bowl whisk together your eggs, coconut milk, salt, cinnamon, vanilla, and sugar.

Heat a large skillet on the stove over medium heat melting 1 tblsp of butter. While that is heating, start by soaking your first two slices of bread. dunk each slice of bread in your egg mixture for about 10 seconds on each side.

Transfer your bread to your hot skillet. Cook two slices at a time (if they fit). Cook on each side for about 3 minutes.

Repeat for each slice. In between batches add a tablespoon of butter to your skillet.

Serve Warm topped with your choice of macadamia nuts, banana slices, pineapple, and whipped cream.