What is better than a homemade, fresh, hot, fluffy donut? Maybe one filled with plum jelly and candied oranges. These donuts are light, airy and hinted with orange throughout. and that plum jelly.... oh my. And that powdered sugar that gets all over your face is truly the icing on the donut!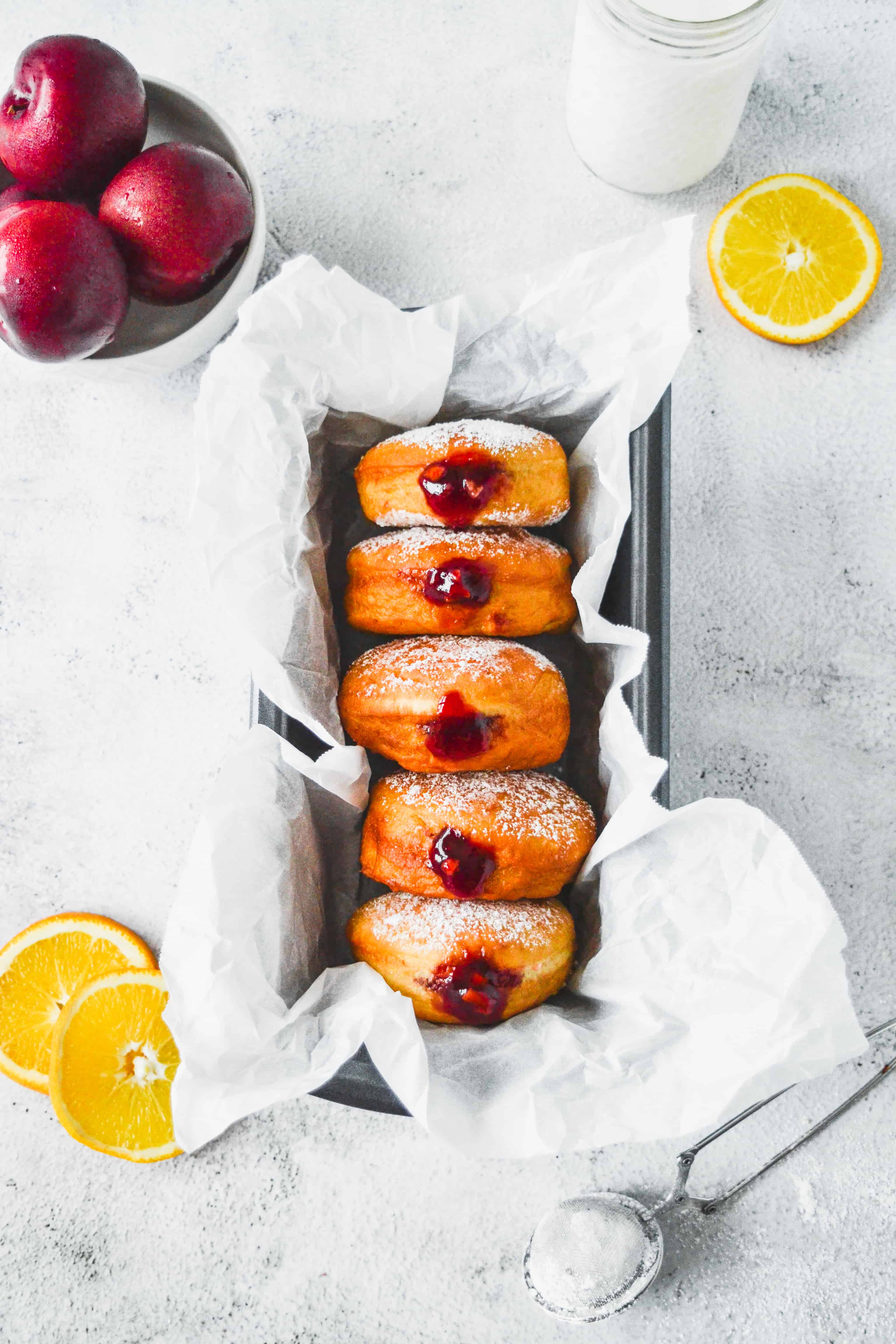 So this is actually my first perfect donut recipe and i decided to make it becsuase i have recently been craving them thinking back to my days in brooklyn. So before I got married I lived in brooklyn and that was such a great time in my life. brooklyn is such a beautiful place, it is full of so many different types of people, cultures, food, ways of life. I like to say brooklyn was a place that a bunch of misfits went to go find eachother. As an artist I always felt at home there. When i lived and worked in brooklyn I lived in greenpoint. And every Day I would walk about 2 miles to work and two miles home. Along that walk there wasnt much of anything except one old school polish bakery. Greenpoint has so much polish history and residents there so the polish food was always on point! Any way every once in a while i would stop in on this bakery on the way home from work and my favorite thing in there was these Paczki, which were basily these plum jelly donuts topped with sugar and candied orange peel. and omg when i say these were amazing... i mean i can taste them now. Thank God I had a 4 mile wlak each day or i for sure would be 2 pant sizes too big. Long Story short, i no longer live there but i still crazy those donuts, so i decided to try to recreate this recipe.
HOW TO MAKE HOMEMADE DONUTS
So i use to think making donuts was almost impossible. It seems so intemindating... pretty much anything with yeast or frying in the recipe use to intimadte me. But after a few trials i realized as long as you know these few screats its honeslty fool proof and pretty easy. I will say even though this recipe is simple to execut it does take some time. I would probably recomend making the jelly a day or two before hand to help you spread it out. Here are a few tips you need to know in order to make the perfect donuts
make sure your water is between 90 and 100 degress F. If your water is too hot it will kill it. If it is too cold it wont grow either, causing your donuts not to rise. S i recomend getting a candied thermometer. but if you dont have one, use your finger, your water should feel slightly warm, not hot.
Make sure all your wet ingredients are also at room temperature. If you add in hot butter or cold milk it will also effect your rise.
Before you add your wet ingredients let your water and yeast sit together in the bowl for a minute and ket your yeast grow/ bubble slightly. this will help it rise.
When you let your dough rest wrap your bowl with plastic wrap to keep the moisture in and help the dough rise. Do the same for the second rise.
PLUM JELLY AND CANDIED ORANGE DONUTS INGREDIENTS/ SUBSITUTIONS
Yeast. this is the most important ingredient and helps your dough rise so do not replace this. I like to use Fletches instant Yeast.
Milk. Whole milk is needed here because the fat is needed. make sure it is at room temperature
eggs. The eggs help bind and with texture
flour. The flour helps add bulk. i always use unbleached
orange. Orange zest runs through the dough and the jelly giving the fried dough a fresh citrusy flavor. This goes perfect with the plum jelly. You can always take out the candied orange if you cant find it and just add more orange zest into the jam.
plum. I chose jam because that was the flavor that the polish bakery used but you can make any flavor jam you desire by just switching out the fruit.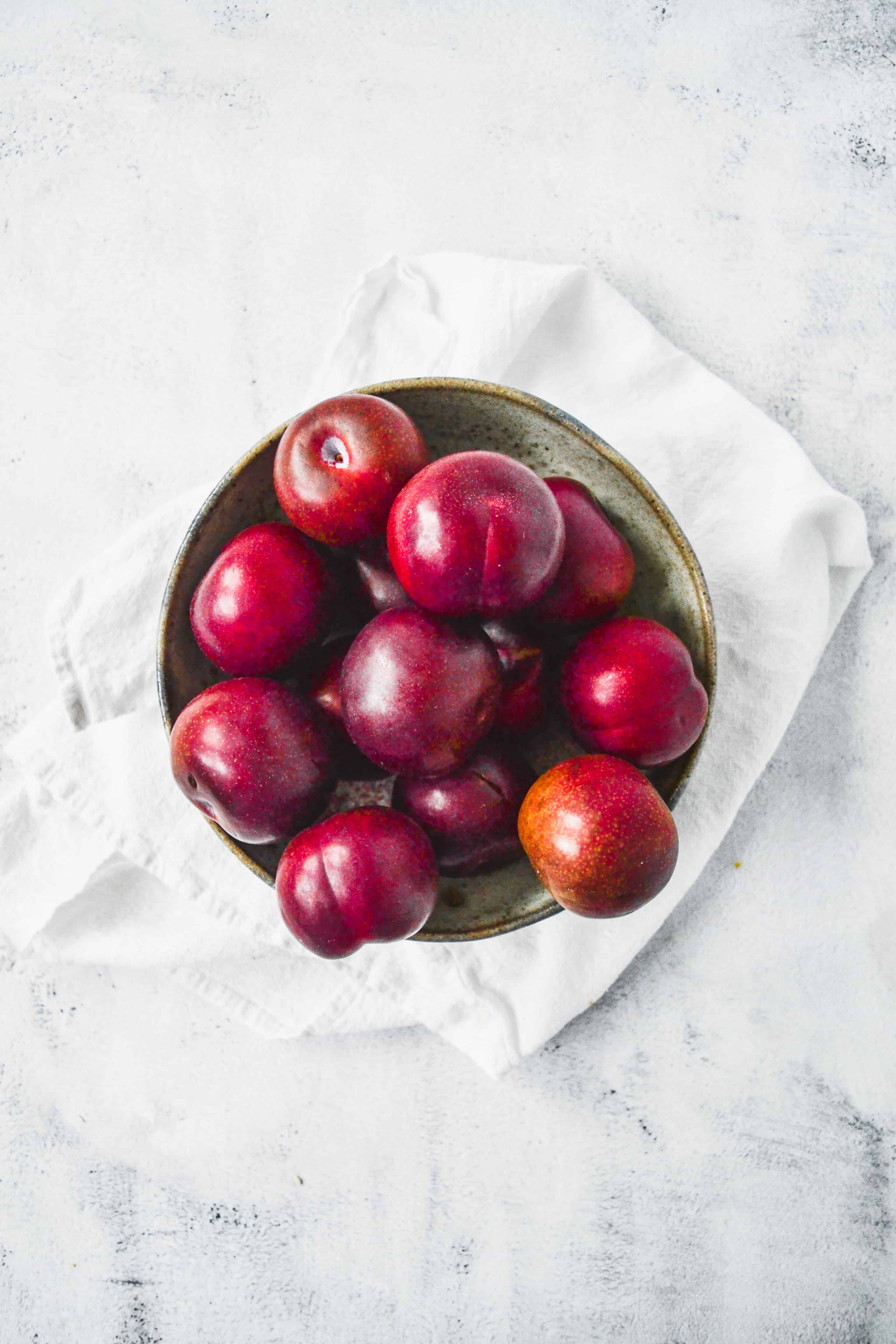 Lastly, if you try out this recipe, be sure to leave a comment/rating on how it turned out. I love hearing from you guys and will try my best to reply to every comment! And don't forget to tag me on Instagram!
Paczki: Plum Jelly and Candied Orange Donuts
Ingredients
½

cup

warm water (90-100 degrees)

2

packets instant yeast

8

cups

flour

½

cup

sugar

1

teaspoon

salt

1 ½

cup

whole milk (room temperature)

4

tablespoon

salted butter (melted and at room temp)

1

teaspoon

vanilla

zest of 2 oranges

3

eggs

canola oil

powdered sugar
Plum Jelly
10

plums (pitted and sliced)

2

cups

sugar

zest and juice of 1 orange

½

cup

candied orange peel
Instructions
plum jelly
in a food processor place your plums and pulse until pureed.

in a medium sauce pan place your plums, sugar and orange juice.

simmer on medium low heat for at least an hour or until your mixture thickens. make sure to keep stirring so you do not burn the bottom.

in you food processor finely chop your candied orange peel. make sure they are finely chopped or they will clog your pipping bag.

in your jam add your orange peel and orange zest. mix and place in the fridge to set.
donuts
in the bowl of your stand mixer, add your water and yeast and mix. Then let it sit about 5 minutes until it gets foamy and bubbly and smells like strong yeast.

Then add your milk, butter, vanilla, eggs, orange zest, and sugar. mix until combined.

Add your flour and salt, then using your dough attachment mix your dough on low speed first then medium speed until your dough is combined and pulling away from the bowl.

transfer dough to a very large bowl and cover completely with plastic wrap. Let it sit for 2 hours or until your dough doubles in size.

place your dough onto a floured surface, and roll out your dough until it is about ¼ inch thick. Then using a 3 inch biscuit cutter, cut out your doughnuts. you should get about 24 donuts. discard scraps.

Place your donuts on a cookie sheet lined with parchment paper. Wrap with plastic wrap and let it sit again for 30 minutes to rise again.

In a wide pot, fill it up about half way with canola oil. heat up your oil to about 360 degrees. using a metal slotted spoon place your donuts in the oil (as many as can fit without overlapping them). cook each side for about 30 seconds each.

place each donut on a cooling rack.

Let them completely cool and the fill your donuts with jelly. To do so use a knife to create two small slits on each side of each donut. then using a piping bag filled with jelly, insert your jelly and fill.

sprinkle some powdered sugar over all of them and enjoy!
Video