Pretzel Knots with a Beer Cheese Sauce. Homemade soft pretzels baked until golden brown with a melted, gooey, stretchy, cheese beer dip...this is the definition of comfort food. Serve them up at your Super Bowl party and I promise they will be a HUGE hit!
So the Super Bowl is this weekend, and I have to admit I am not a big football fan. I honestly don't even know who is playing. But invite me to a Super Bowl party and I am there. I mean the fun finger foods and the half time show....it is always a good time.
So I was trying to come up with the perfect Super Bowl appetizer. I was over the usual 3 layered dip, wings and sandwiches but wanted something everyone would love. Then I thought of how I haven't had a warm homemade pretzel in so long and it would be the perfect recipe to pull out for the big day!
I usually make these into full size pretzels but for a party, its best to make them into mini sizes aka pretzel knots. Now of course you can pair these with anything... honey mustard or coated in cinnamon sugar, but my choice was easy... CHEESE. I am a huge cheese girl...put it on anything and I'm eating it. So I made a delicious melted gooey cheese sauce for these pretzels. Then I figured its the Super Bowl, so why not add a can of beer into it? DELICIOUSNESS!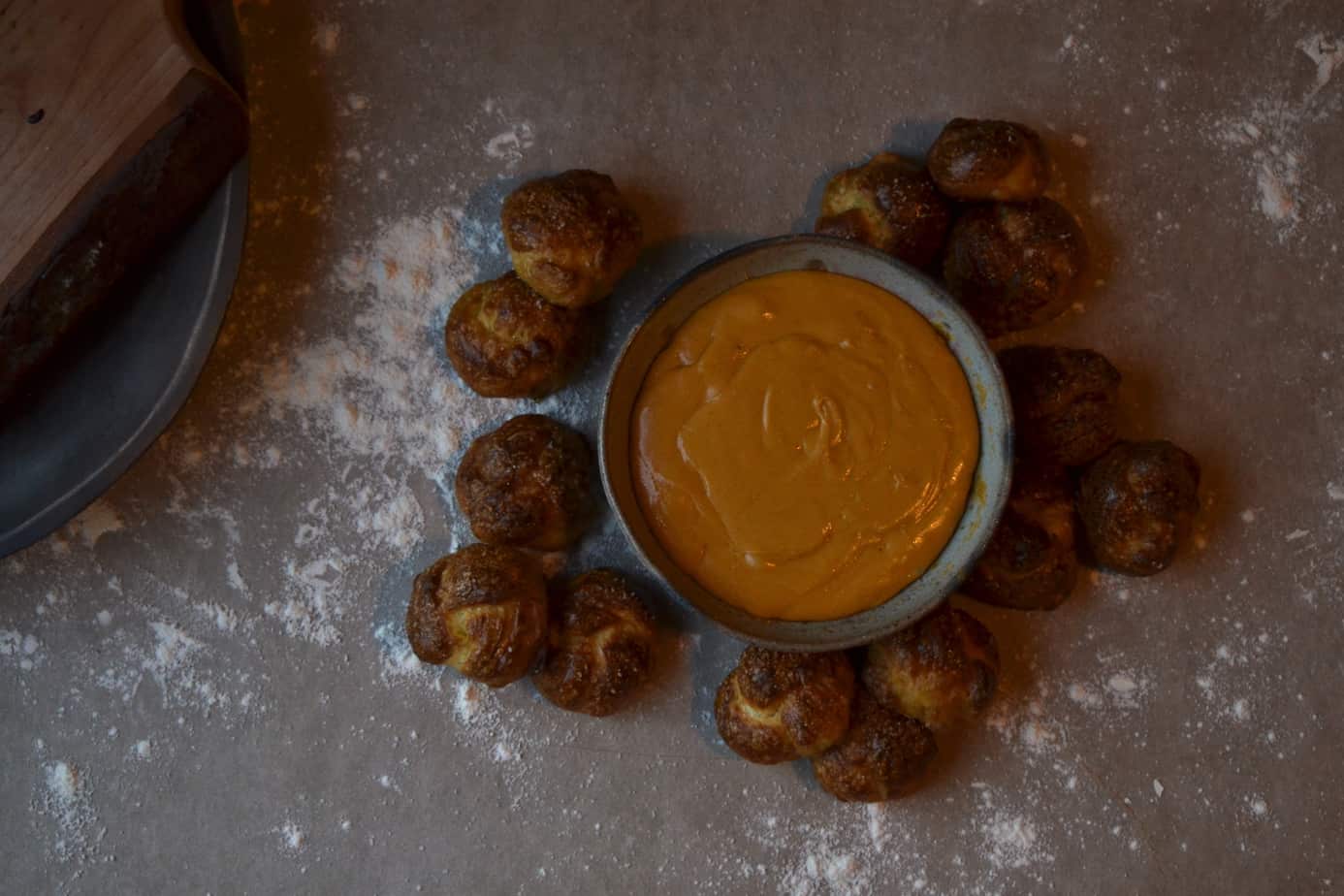 How to make pretzel dough
So any recipe with yeast in it used to intimidate me, but trust me when I say there is nothing scary about this recipe. It is so simple. First you want to combine your yeast sugar and warm water. The key is that the water is at about 115 degrees F. If it is too much hotter than this, then it can kill the yeast. This is a common problem that people face and then get defeated and scared of yeast recipes. But once you get this right, it is easy sailing from here. Wait until you see your yeast water start to foam, this means its active! If it doesn't do this you might have killed it, so start over. Add the rest of your ingredients and knead together. Let your dough rest in a greased bowl and let your dough rise. It should double in size. At this point you literally can't mess it up. Knot up your pretzels and you are good to go! The next big step is soaking them in a baking soda bath. This is what gives your pretzels that perfect golden crust to the outside that everyone is waiting for. Brush with an egg wash and sprinkle with salt and you are done!
How to tie pretzel knots
Tying your pretzel knots is similar to how you tie your shoes. First you take your dough and cut it into 16 even sections. Then you take these pieces and roll them out into about a 6 inch log or snake form. With each individual piece, you take the ends of the log and criss-cross them, threading one end through the center hole. Then you take the other end to meet the first end and pinch both of then together. Repeat this for all 16 pieces. I like to try to bake them seam side down to ensure they stay in this pretty knot shape.
How to store them
If by some miracle you have any of these pretzels left over you can store them for up to two days. I recommend wrapping each pretzel in plastic wrap and leave them at room temperature.
Tips
Use a thermometer to see how warm your water is. You want it to be at about 115 degrees F. If it is higher than 120 degrees it can kill the yeast. SO BE CAREFUL!
Wait until your yeast foams, If it does not then throw it away and start over. This can be for many reasons such as your water was not the right temperature or the yeast expired etc.
Let your dough rest. This will allow your dough to rise and create super fluffy pretzels.
The knot is similar to how you tie your shoe laces. But you can shape it in any way.... traditional pretzel shapes or even a simple stick shape.
Don't skip the Baking Soda Bath! This is what creates that beautiful chew on the outside of your pretzels!
If you don't like beer you can replace the beer in your sauce with milk.
Lastly, if you try out this recipe, be sure to leave a comment/rating on how they turned out. I love hearing from you guys and will try my best to reply to every comment! And don't forget to tag me on Instagram!
Pretzel Knots with a Beer Cheese Sauce
Ingredients
Pretzels
3

cups

flour

1

teaspoon

salt

1

tbls

sugar

2 ¼

teaspoon

instant yeast

1

cup

warm water (about 110 degrees F)

4

tbls

melted salted butter (warn, NOT hot)
Pretzel Tops
4

cups

boiling water

½

cup

baking soda

1

egg

coarse salt
Beer Cheese Sauce
4

tbls

salted butter

4

tbls

flour

¾

teaspoon

cayenne pepper

1

teaspoon

onion powder

1

teaspoon

garlic powder

2

tbls

mustard seed

1

12oz can

Stout Beer

8

oz

sharp cheddar cheese

8

oz

Gouda
Instructions
Pretzels
In a stand mixer combine the sugar, yeast, and warm water. Stir lightly and let sit for about 5 minutes or until frothy.

In a separate bowl combine your flour and salt.

Using your dough attachment, mix in your flour slowly. Once combined increase your speed to medium high to knead your dough.

Transfer your dough to a lightly oiled bowl. Cover with a towel and keep at room temperature for about an hour or until the dough doubles in size.

Cut your dough into 16 even pieces. Then roll each piece out into about a 6 inch snake or log form. Then knot each piece by putting end in through the center and then pinching both ends together.

Let the knots rest again for about 30 minutes for a second rise.
Pretzel Tops
Boil the water and add your baking soda. Mix until dissolved. Set aside to cool.

Place your pretzel knots in this solution and let sit for 5 minutes.

Line baking sheets with parchment paper and oil. Pre-heat oven to 425 degrees F.

Place knots on the baking sheet. Brush each knot with your egg wash and then sprinkle with your coarse salt.

Bake pretzel knots for 12 minutes.
Beer Cheese Sauce
In a sauce pan melt your butter and add your flour. Whisk together for a few minutes.

Add your cayenne pepper, onion powder, garlic powder, and mustard.

Whisk in your cheese until melted

Serve pretzels warm with your sauce. Enjoy!