Single or not, one of my favorite parts about Valentines Day is that I always have an excuse to make this chocolate molten lava cake. These cakes are gooey, rich, chocolate HEAVEN. I am a chocolate fanatic, which is why Valentines Day is my favorite holiday and this recipe is probably the only one that quenches my craving for chocolate completely. I am going to show you how to make homemade molten chocolate lava cakes guaranteed to have the perfect gooey center every single time. It's actually easier than you think! I am using Abuelita chocolate, which is a Mexican chocolate, but if you wanted a more traditional molten cake, you can use bittersweet chocolate instead.
What is Abuelita Chocolate?
Abuelita is a brand of chocolate tablets or powdered drink mix that was first created in 1939 and primarily sold in Mexico. The main ingredients in this Mexican chocolate are sugar, coco, and cinnamon and it is usually melted into milk to make a hot chocolate like concoction. The chocolate flavor is mellow and not overbearing which allows the cinnamon to really shine. There is this beautiful spicy and warm kick to it that makes this chocolate so amazing.
Honestly I had no idea what Abuelita was until I moved down to El Paso Texas. Since El Paso is so close to the border of Mexico, it has a strong Mexican influence. During the past holiday season, my neighbors made me Abuelita hot chocolate and I was hooked! Why was I eating any other chocolate other than this one? I was immediately looking for a way to bake with it and I wanted to make sure it was the highlight of the recipe. That's how I came up with this twist on the chocolate molten lava cake.
How To Make The Batter
Honestly the batter is really simple and only consists of a few ingredients. First melt your chocolate and butter together over a double boiler, or even slowly in a microwave will do the trick. Then in a Kitchen Aid or using a hand mixer, whisk together your eggs and sugar on high until you get this thick consistency that is pale in color. This is key because it makes your cake rise. Then simply add your melted chocolate while continuing to whisk. After that, add in all of your dry ingredients and you are done.
You will notice there is very little flour in this recipe. That is because I like to keep this cake EXTRA moist and gooey and fudgy. There is also no leavening agent which is why we add so many eggs to do the trick while still keeping the cake gooey in texture. And lastly I add some extra cinnamon and even a little chili powder to my cakes. Now you can leave this out if you want and it will be just as good but I add it because the kick from the chili balances out the sweetness from the chocolate perfectly! The Abuelita chocolate already has some cinnamon in it but I love to add some extra to highlight that flavor. I think it's the perfect balance of spices to warm you up!
How To Store The Cakes and Make Ahead
If you want to make these cakes ahead of time you can. You can make the batter and even fill you ramekins up the night before, so all the hard work is done, and store them in the fridge. BUT DO NOT bake these until you are just about to serve them. I recommend taking them out of the fridge about 30 minutes before putting them in the oven. Once they come out of the oven you only want to wait about 20 minutes before you serve them, otherwise your molten center might solidify.
If by some miracle you have extra of these after you have served them, you can wrap them in plastic wrap and store them in the fridge up to two days. I recommend warming them up slightly in the microwave for 20 seconds before serving again.
Tips
If you cant find Abuelita you can always switch it out for any other bittersweet chocolate. It will be just as delicious! This recipe still has some cinnamon in it so you will still get that warm spicy flavor.
Make sure to butter and 'flour' your ramekins with butter and cocoa powder first. This helps your cake come out easily when done. I use cocoa powder instead of flour so I don't get any ugly white flour on my beautiful dark chocolate cakes.
When whisking your eggs and sugar, make sure to whisk on high until you get a pale color and thick consistency. This gives your cake a soufflé like consistency and helps your cake rise!
Make sure your melted chocolate is cooled slightly before adding it to your egg mixture or you may cook your eggs. Another way to avoid this is to make sure you are whisking while pouring in the chocolate.
Wait 20 minutes for these cakes to cool before serving but not much longer than that. This is key...you want your cake to cool enough so that you can flip your cakes neatly but not too long so that your molten center solidifies!
I recommend serving this with whipped cream or ice cream but it's just as delicious on its own!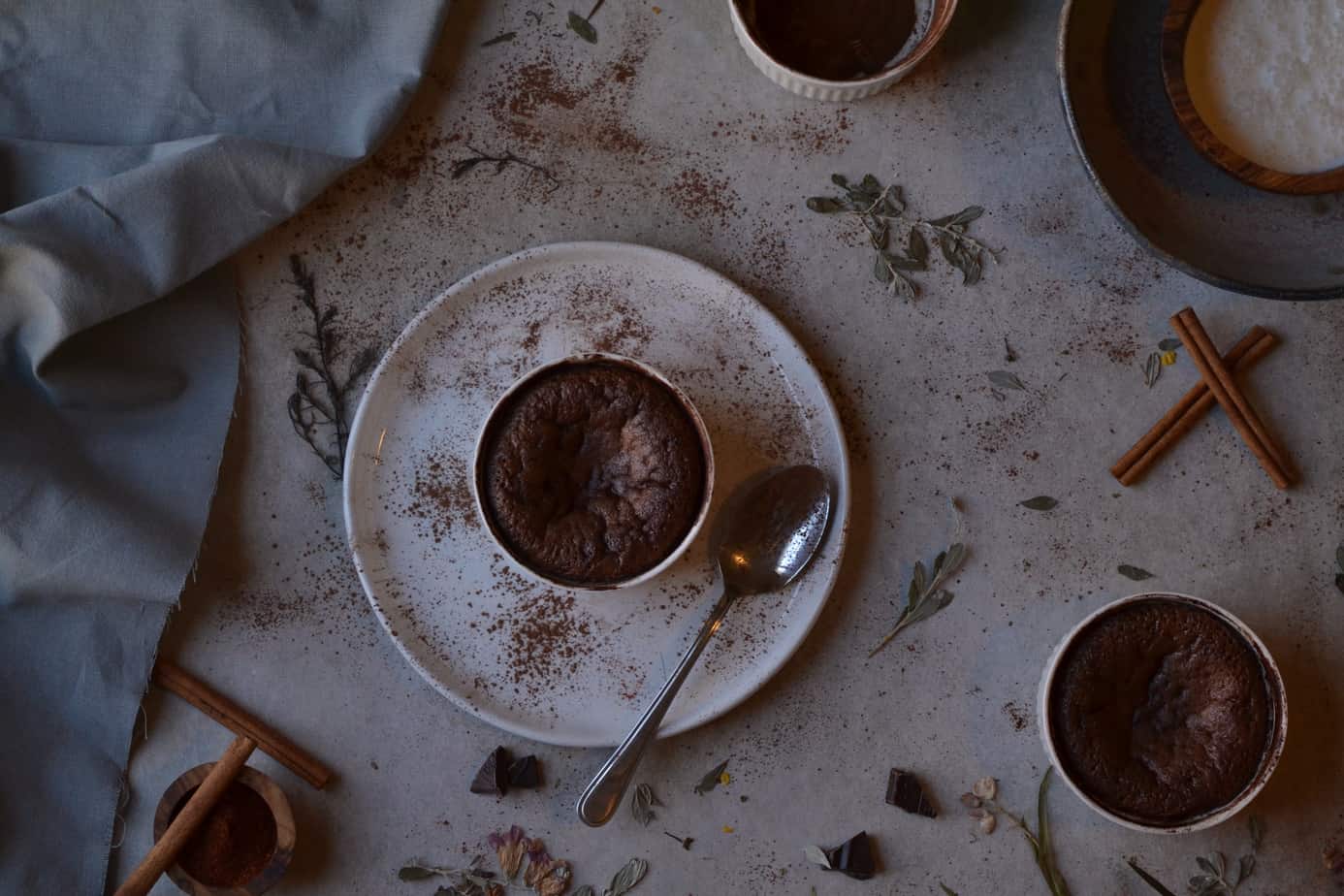 Other Recipes To Try If You Love Chocolate
Lastly, if you try out this recipe, be sure to leave a comment/rating on how they turned out. I love hearing from you guys and will try my best to reply to every comment! And don't forget to tag me on Instagram!
Molten Chocolate Lava Cake
Ingredients
½

cup

salted butter

6

oz

Abuelita chocolate

¼

cup

sugar

2

eggs

2

egg yolks

1

teaspoon

vanilla

2

tablespoon

flour

¼

teaspoon

salt

1

teaspoon

cinnamon

½

teaspoon

chili powder
Instructions
Start by preparing your ramekins. Using Three, 8oz ramekins; butter each one and the coat in coco powder to prevent sticking. If using 6oz ramekins you should be able to get 4 cakes.

Over a double boiler melt your chocolate and butter. Set aside to cool.

In a large bowl beat your eggs, egg yolks, sugar on high until thickened and pale in color.

Add the chocolate mixture slowly to your egg mixture while mixing on high.

In a separate bowl mix your flour, salt, cinnamon and chili powder. Mix this into your wet ingredients.

Pour your batter evenly into your prepared ramekins. Bake at 450 degrees F for 14min if you are using 6oz ramekins OR 18 minutes if you are using 8oz ramekins or until the edges are firm but the center is still slightly soft.

Once they come out of the oven let them rest for 20 minutes. Then place a plate on top of your ramekin and flip over. Serve immediately! If you wait too long after this or refrigerate them the molten center will solidify.