Are you wondering how long do brownies last in the fridge? If so, you're not alone! One of the biggest dessert worries is that you're going to make too big of a batch of brownies and have to toss some in the trash!
But guess what? That isn't true at all! In fact, your fridge and your freezer can be a great way to have your brownies live to see another day (or more) so that you can enjoy those homemade brownies over and over again!
The next time that you have leftover goodies and need to know how to store brownies fast, you'll find out the best way to make that happen below. Rest easy, knowing that you can enjoy those moist brownies another day!
Speaking of delicious brownies, be sure to check out my Extra Fudgy Cosmic Brownies for a fast and easy recipe.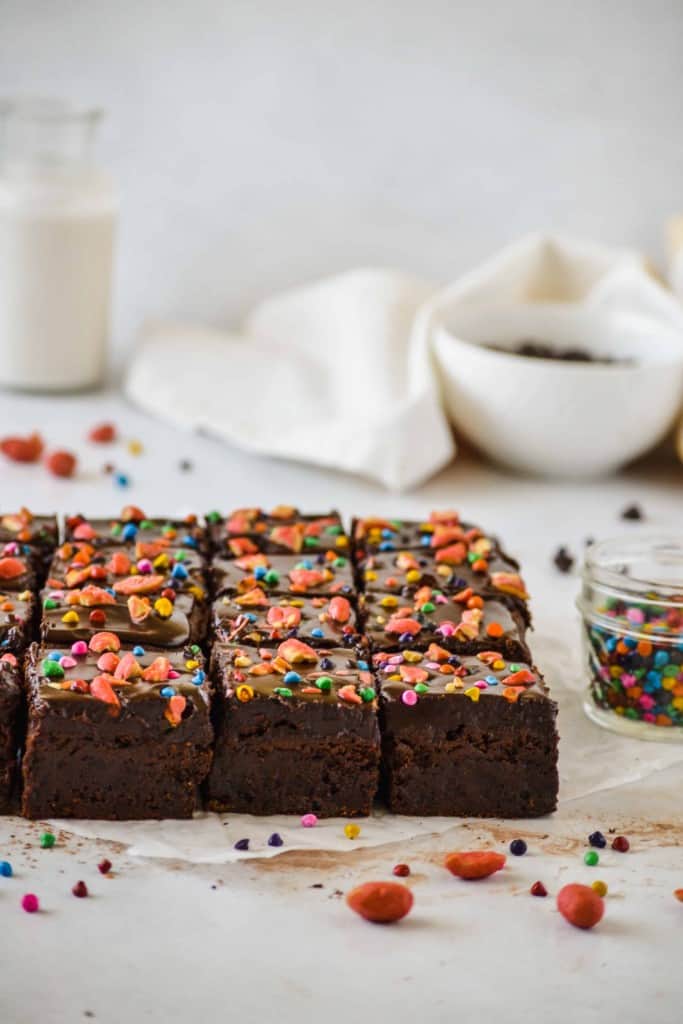 How do you increase the shelf life of brownies?
When it comes to storage methods for brownies, the best way to get the best results for storing brownies is to wrap them first in saran wrap. I know it might sound a little odd, but it works!
The plastic wrap is just another barrier to the air, which is what you're trying to protect your brownie recipes from.
If you can wrap the leftover brownies before storing them in an airtight bag or container, this can be a great way to keep your individual brownies fresher for longer.
You can also use aluminum foil as well.
What baked good lasts the longest?
You better believe that fresh brownies are going to last for quite a few days! If you know that it's just you that is going to be eating the brownies, the best option is to keep them in a sealed container so you can finish them up over the next couple of days.
Cookies are also another dessert that has a longer shelf-life, too. The best place to store cookies would be in cookie tins or an airtight container.
How long do brownies last in the fridge?
This is it. This is the question that everyone wants the answer to. And it's important to know so that you can store a bunch of brownies in your fridge and not feel like you have to rush to eat them all the next day. (unless you want to!)
On average, extra brownies that you store in the fridge could last up to a whole week, as long as you're storing them properly. It's important to have proper storage, or you won't be able to keep the brownies fresh.
The best method for storing your favorite dessert is to cut these delicious treats into small squares and then wrap them in plastic wrap and store them in sealable bags or containers in the fridge.
The double layering method is the best method to use to extra a brownies' shelf life.
It doesn't matter if they're fudgy brownies, gooey brownies, or cake brownies - that is key for storing them and keeping them delicious.
If you decide to leave the whole slab of brownies in the baking pan and just put on a lid, they are probably going to harden up quickly and start to dry out.
This doesn't mean that they're bad, but it does mean that you'll have to eat them quickly as they won't last as long this way.
Can you freeze baked brownies?
You bet - and the same storage rules apply! Wrap the brownies in plastic freezer wrap and then store them in the freezer.
Go ahead and air on the side of caution and put them in a freezer-safe container or baggie as well.
The best thing that you can do for all types of brownies is to keep out the air during storage time. The air is what is going to make these fresh-baked brownies harden up and possibly change up the flavor of the brownies as well. You don't want freezer-burnt brownie taste in your mouth!
Delicious Brownie Recipes and Tips